Plum Jam Thumbprint Cookies – Childhood Joys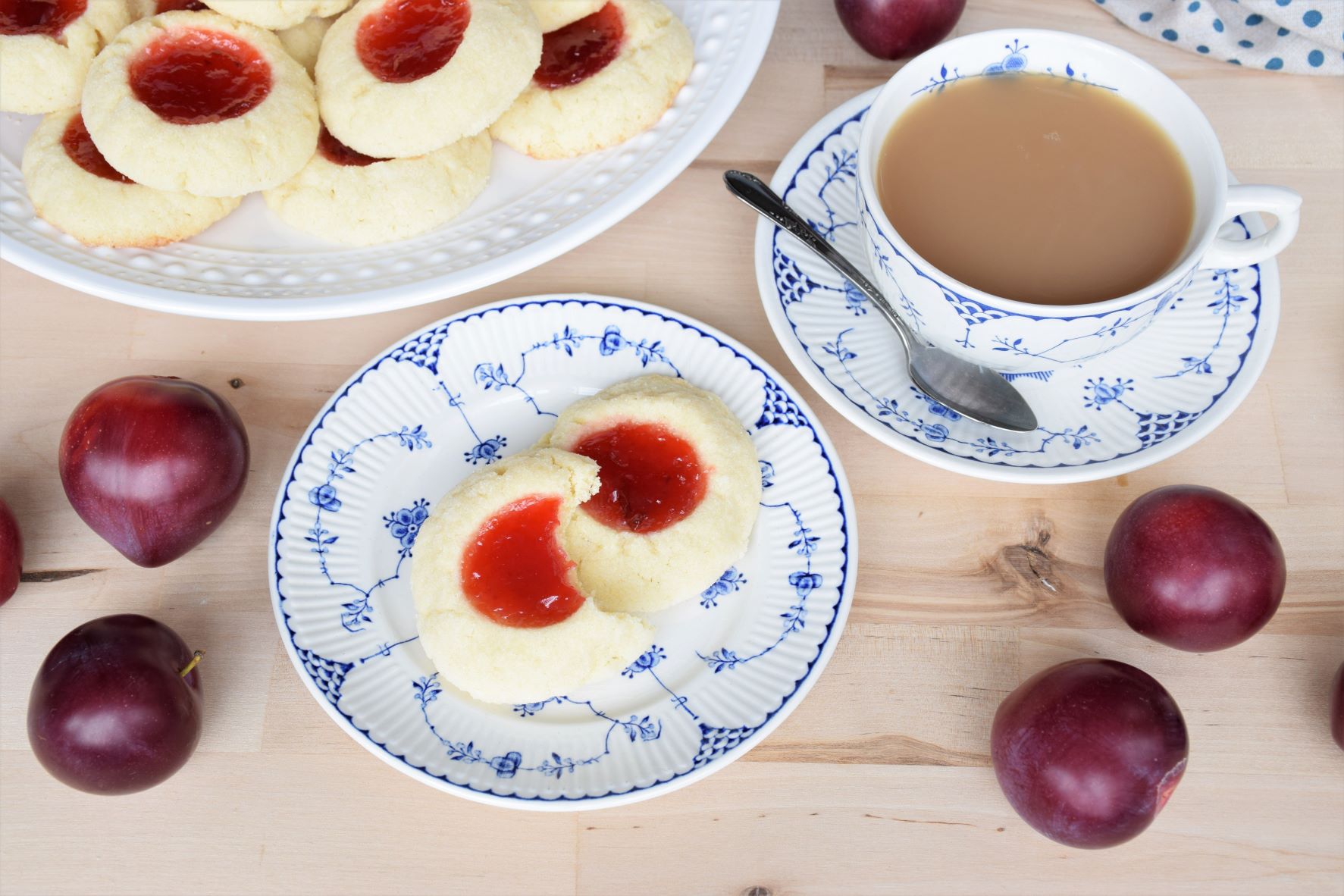 Some foods are just like time machines. One bite and they take you back to cassette tapes and overalls with only one side buckled. On the shortlist for me are PB&Js with homemade jam, an ooey-gooey grilled cheese with tomato soup, little smokie pigs in a blanket, and thumbprint cookies. I will admit that my palate still wears overalls, but buckles both sides now, and I enjoy ALL the flavors of my childhood. No that's wrong, I CRAVE the favors of childhood at times and treasure the joy that comes with them.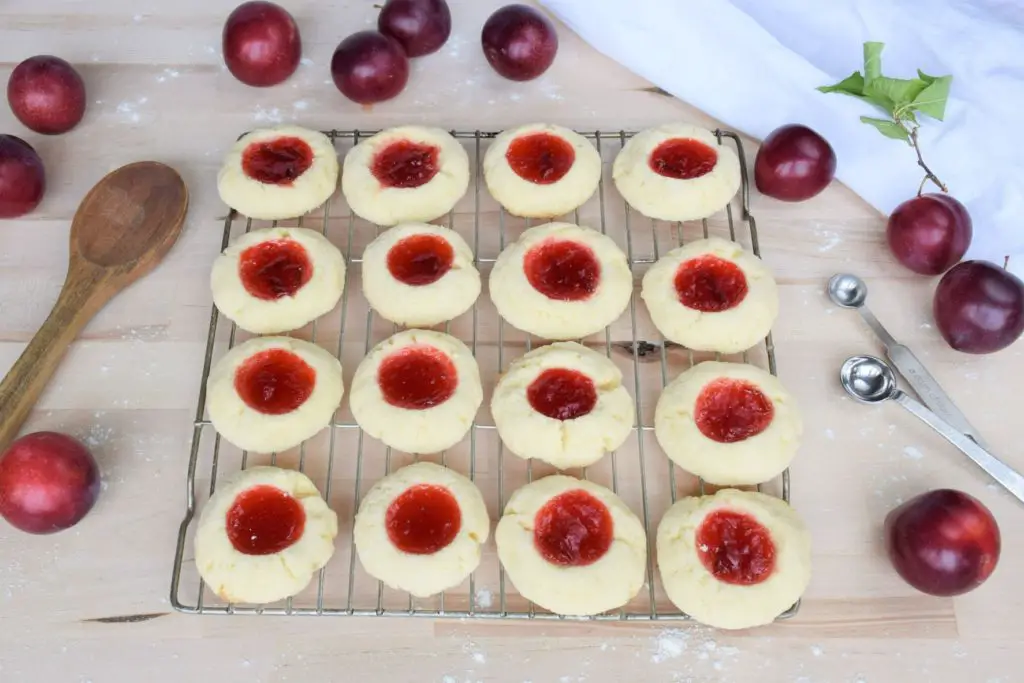 An updated childhood favorite
So buckle up those overalls folks (both sides, c'mon) because I'm going to take you for an updated flavor trip to your childhood. 
This summer, when I ended up with a bountiful supply of plums turned to jam, I tried them all! Grilled cheese made with muenster or Havarti with a little cheddar then dipped in the plum jam. Amazing. Nut butter and plum jam sandwich. Delicious. Tiny pigs in a blanket accompanied with mustard and plum jam as condiments. So good.
What was left? Obviously, the gem of the childhood cookie world. The thumbprint cookie.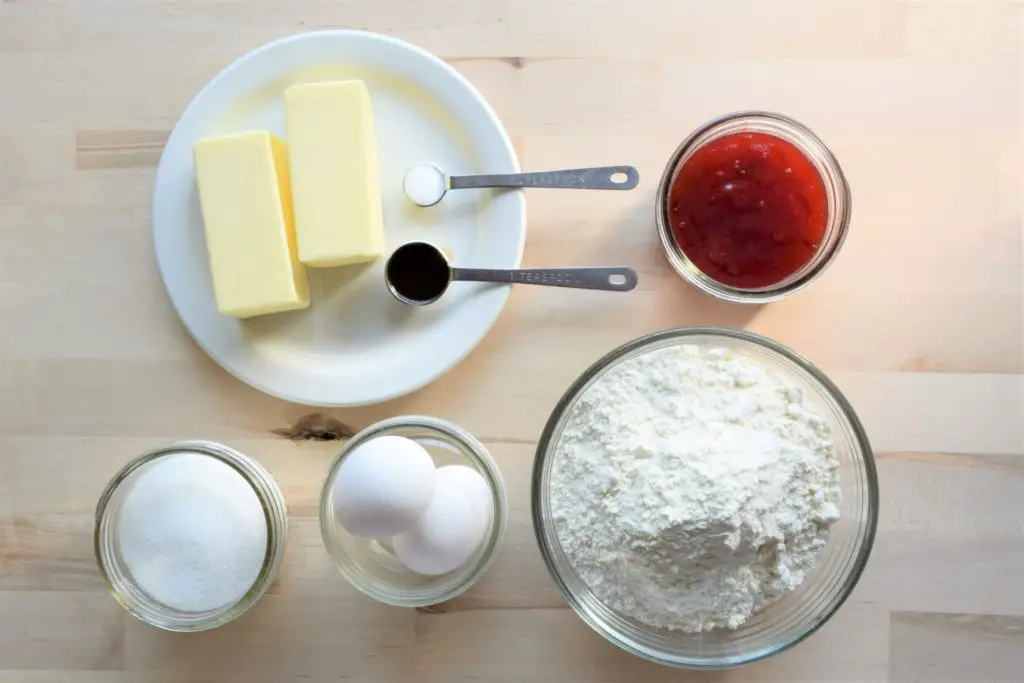 An underrated cookie no longer – the thumbprint
I recently made some thumbprint cookies with Rosie after making my third or fourth batch of plum jam and then looking through my 'Land O Lakes Cookie Collection' recipe book from childhood. Oh heavens was that a good choice. Anyone else love that little cookie cookbook? Anyone else dream of starting a book club where that is the first book and we bake our way through it and all coast through life on a sugar high? No? Just me? I'm here for when you change your mind.
As a child, I don't think I appreciated the flavor of the thumbprint cookie as much as I loved sticking my thumb into a ball of cookie dough again and again. I'm ready to right that wrong! This cookie shines in all the right areas. The faint barely perceptible crunch of the sugar they are rolled in provides just the right amount of subtle texture when you first sink your teeth in. The crumb is so tender it melts in your mouth and is so deliciously buttery. The plum jam is bright with just the right amount of tart and sweet, it completely balances this cookie.
 If you don't have plums or want to go through the process of making jam, that's okay, I get it and feel the same way at times. Grab your favorite jam or jelly, preferably one that is on the tart side or has some zing to it (like a raspberry) and bake on!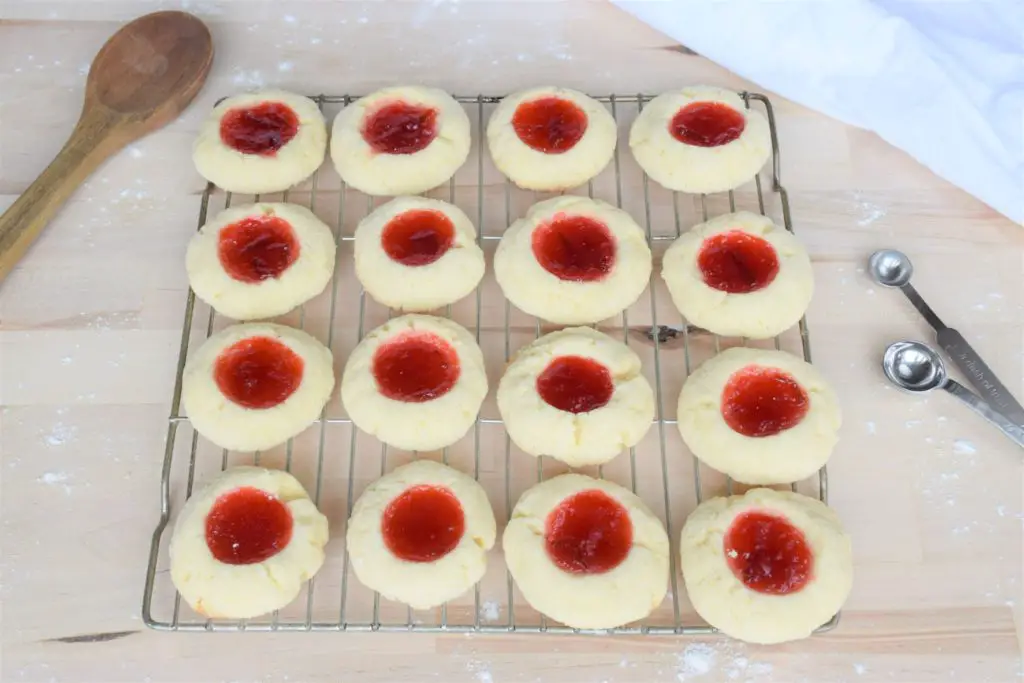 Traditional
I adapted this recipe, like I said, from a cookie recipe book that was always present, and slightly dusted with flour from use, in our kitchen. Our family has baked many gems from this cookbook and I continue to bring it out and share the same traditions now with Rosie. I changed a few things, like what kid (or me) wants their thumbprint cookie rolled in pecans? There is a time and place for pecans in a cookie most definitely, but this is not one of those times. (It's okay if you disagree, just still try this cookie!) I changed the brown sugar to granulated, because I really wanted the flavor of the jam to take center stage. I also increased the salt a bit, because salt brings out so much flavor – and you don't want to miss any of this flavor!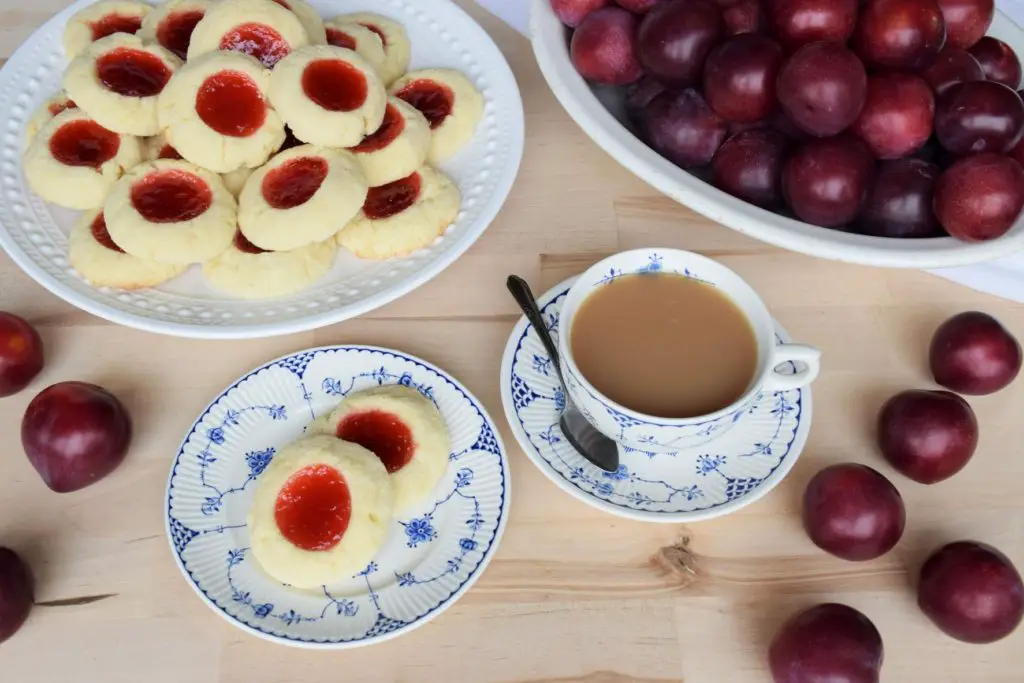 Substance over Style
Now I will admit that my cookies are not going to end up on the cover of Baker Blog Weekly, and I'm sure there are many who may cringe at their slightly cracked or imperfect circles (me, I'll be honest). However, let me say this. The joy of having my child help me in the kitchen and bake alongside me will win out every time over a perfect looking cookie.  Now, this philosophy does not come naturally to me, I work hard at it. Folks, if you have a hard time having room for both your children and perfection in areas of your life and need practice letting go a little on the perfection front (like me!), cookies are a GREAT place to start. The JOYS of childhood are not to be overlooked.
If you never ate or enjoyed thumbprint cookies as a child, it is NOT too late for you, give these cookies a try. These Plum Jam Thumbprint Cookies may not take you back to your childhood, but for a moment they will take you somewhere sweet. Especially if the jam is shaped like the enthusiastic finger of your little one who thinks baking together is perfect. 
More Recipes to Enjoy
Raspberry Orange Shortbread Bars
Cinnamon Applesauce Snack Cake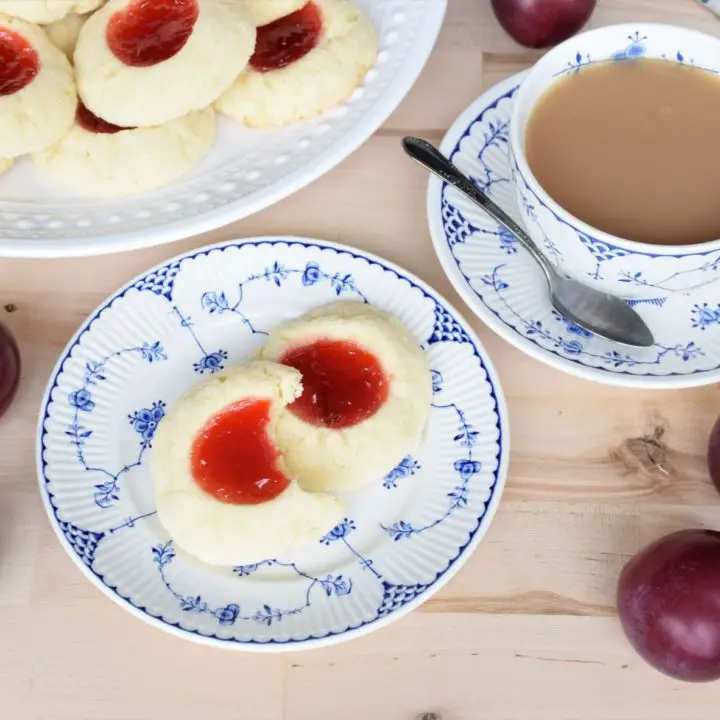 Plum Jam Thumbprint Cookies
This cookie shines in all the right places and takes you back to the joys of childhood. The faint crunch of the sugar they are rolled in. The tender and deliciously buttery crumb. Then the bright plum jam with just the right amount of tart and sweet, all come together to completely balance this cookie.
Ingredients
1/2 cup granulated sugar
1 cup butter - room temp
2 egg yokes
1 tsp vanilla
1/2 tsp salt
2 cups all-purpose flour
1/2 cup plum jam (or jam or jelly of your choice)
1/4 cup of granulated sugar (for rolling cookie dough balls in)
Instructions
Preheat oven to 350 degrees Fahrenheit. Line a baking sheet with parchment paper.
In a large mixing bowl cream the butter and sugar together on medium speed until fluffy and light in color.
Mix in egg yolk one at a time, mixing well after each addition. Mix in vanilla until well combined.
Stir in flour and salt until just combined, don't over mix.
Roll tablespoon sized balls in sugar. After each ball is rolled, place the ball on the parchment paper lined cookie sheet and use your thumb or the back of a measuring spoon (or your child's thumb!) to gently press an indent in your cookie ball.
Repeat until cookie sheet is full with room for cookies to spread slightly. Drop a 1/2 tsp sized dollop of plum jam (or jam of your choice) into the indent in each cookie.
Bake cookies for 9-12 minutes, or until edges are just starting to lightly brown.
Let cookies cool on the cookie sheet for a few minutes before transferring them to a cooling rack to cool completely.
Once completely cooled, you can store in a closed container for a week, but I would be very surprised if you had cookies left that long to test it. I think the cookies I hid away to test how they did being stored a couple days were just as good - if not better - than the fresh cookies. You truly can't go wrong, every cookie WILL be enjoyed.
Nutrition Information:
Yield:

24
Serving Size:

1
Amount Per Serving:
Calories:

154
Total Fat:

8g
Saturated Fat:

5g
Trans Fat:

0g
Unsaturated Fat:

3g
Cholesterol:

36mg
Sodium:

112mg
Carbohydrates:

19g
Fiber:

0g
Sugar:

10g
Protein:

1g
This information was obtained using an ingredient calculator to provide an idea of nutritional value. To obtain the most accurate numbers for nutrition information of any recipe, you should figure the nutritional information with the ingredients you used in the recipe. Each individual user is responsible for making sure that any nutritional information used is correct.
---
---