Southern Peach Crisp Recipe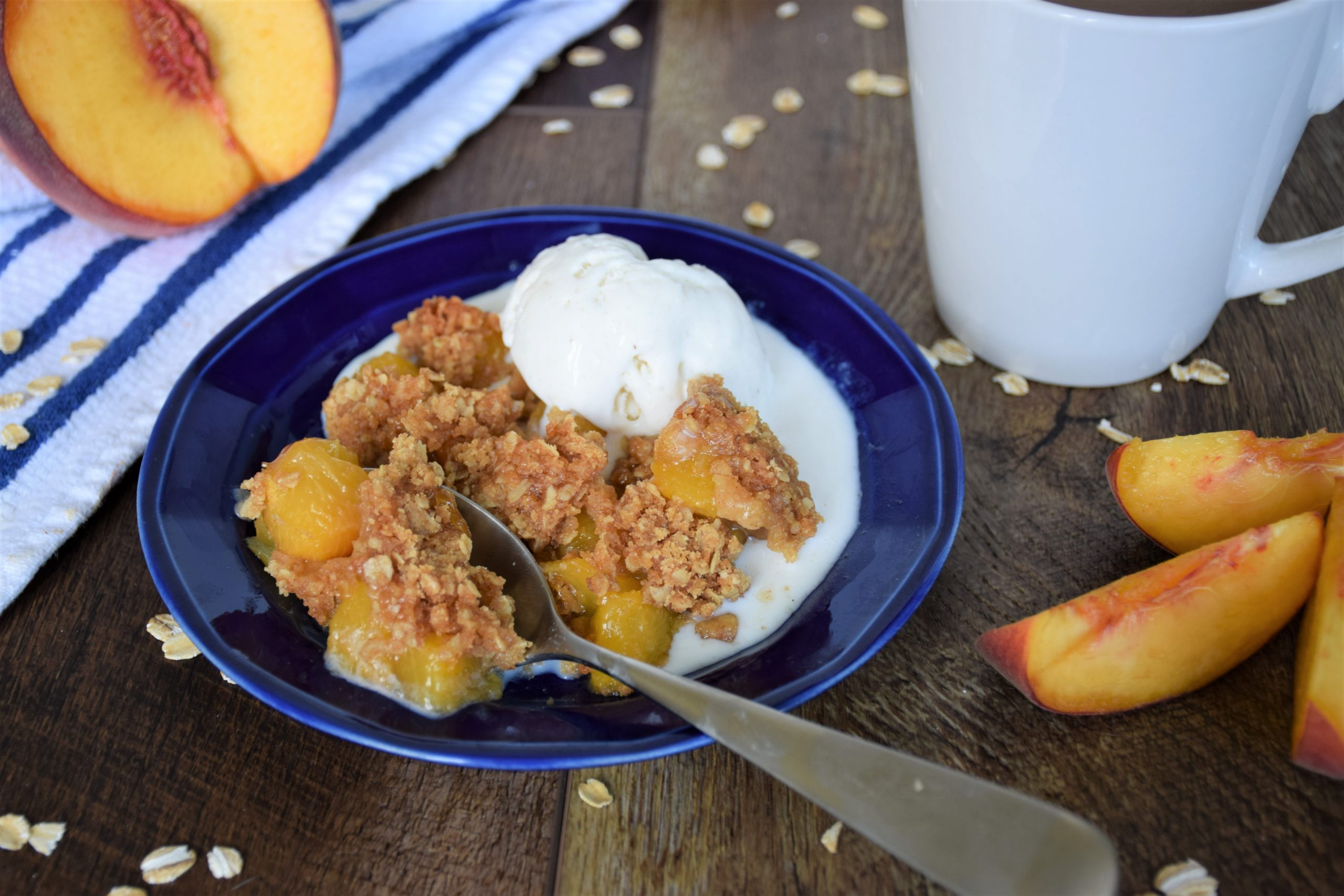 My mom was raised in the South – where fresh tomato sandwiches, biscuits and cornbread with every meal, and sweet tea reign supreme. Let me just tell you how happy I am to have been born into a southern woman's kitchen. (Okay I wasn't actually born in the kitchen, but so many of my memories are centered there, I may as well have been.) And let me let me tell you, my Southern Mom loves this peach crisp recipe!
I remember hearing stories about my mom's life in the south, breaking open a watermelon just off the vine and scooping out the heart of the melon with her hands to take a huge bite. Now this sounds incredibly sticky, but after hearing this story so many times I felt like I could taste the sweetness from the watermelon myself. To my Alaska girl, born and raised self, I had tasted fruit of course, but I was fully missing out on the fresh fruit experience. See my plum crisp post for another example.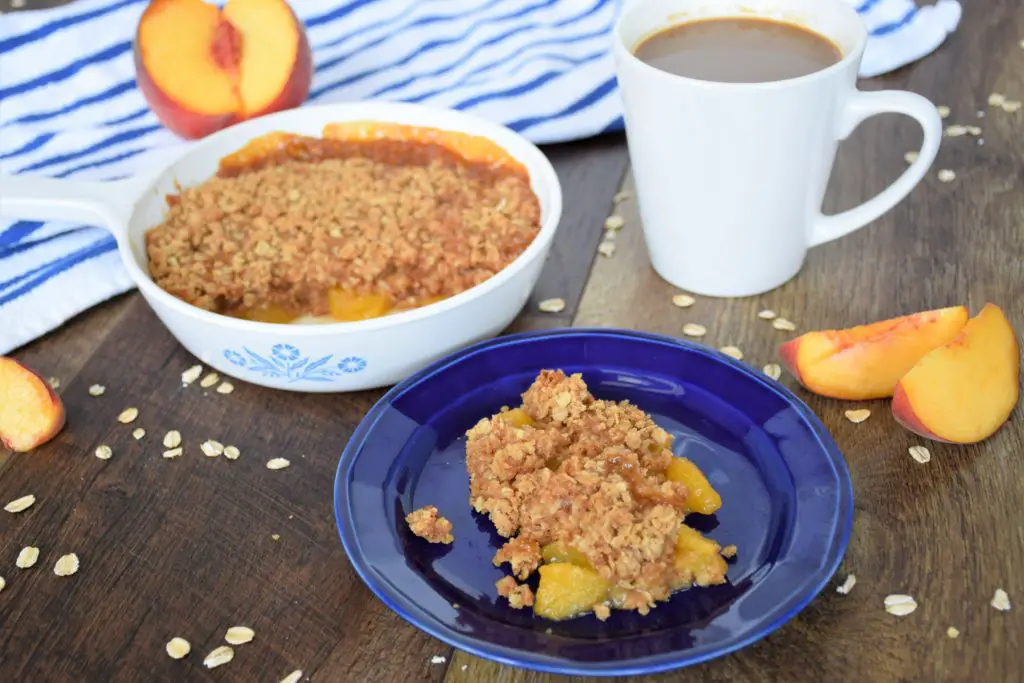 Celebrating the Peach
Visiting my relatives in the south I was able to taste fruit the way God intended. So full of flavor and sweetness with juice running down your hand with each bite. Peaches, melons, plums, blackberries, and strawberries all had their rightful place in gardens, orchards, and fruit stands!
It was at one of these fruit stands that my little Alaskan self, first tasted a peach. Not the mealy tasteless thing they called a peach that we got back at home in Alaskan stores, but a true Southern peach. My mom's favorite fruit finally made sense to me. THIS was something to be celebrated.
Celebrated it was. Peach ice cream, peach cobbler, peach turnovers, peach muffins, peach cakes, and peach crisp! Is it wrong to love my relatives so much, in part because the food they make is incredible?! Well, this, my friends, is a peach crisp recipe from my Mom's southern kitchen.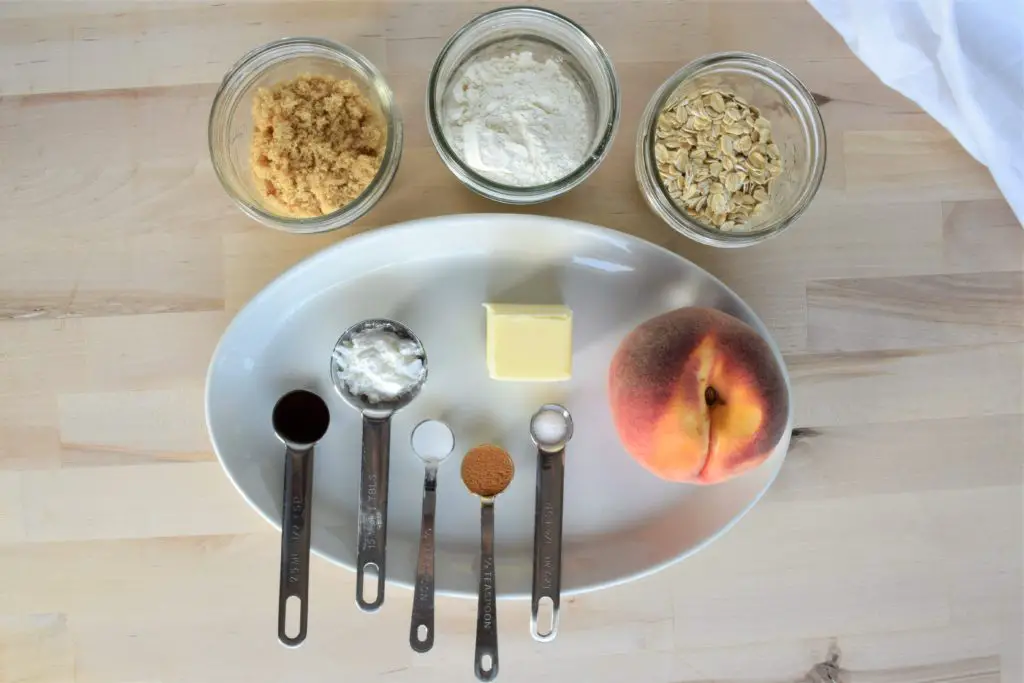 Fresh Peaches for A Delicious Southern Crisp
I am happy to say that these days it seems like we are able to get pretty tasty fruit (peaches included) in stores seasonally. So even if you don't live next to a peach orchard you can still enjoy this delightful southern dessert. (And if you live in Alaska…really give those hard as a rock suckers at Three Bears a good sniff before bringing them home to ripen them in a paper bag.) 
In this peach crisp recipe, the peaches are juicy and sweet, ooey-gooey and everything that you could want from a fruit dessert. The topping in this crisp is just the sweet oat cookie crunch that the peaches need. The oats give it some heartiness and the brown sugar and cinnamon bring the caramel notes and warmth without threatening to overwhelm the real star. The peaches!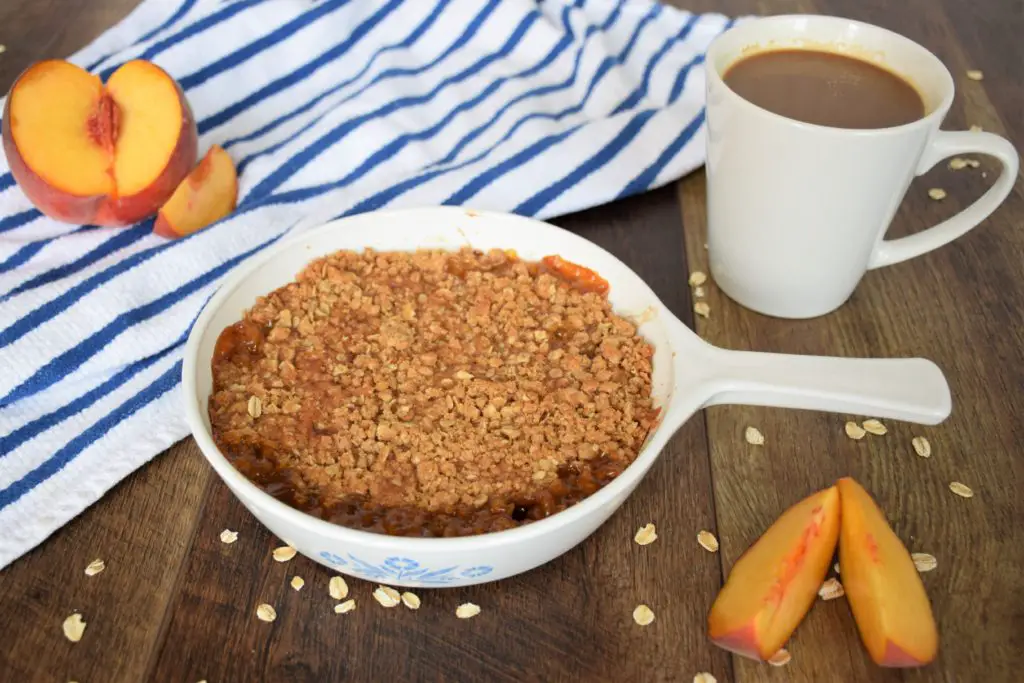 Peach Crisp: To Share or Not to Share
I originally made this recipe as a crisp for two, to celebrate my pregnancies with the girls. Both pregnancies happened to fall during peach and nectarine season. For whatever reason (pregnancy brain?) I made a personal sized crisp every night for most of the second trimesters. Why I didn't just make one big one, I'll never know. If you want to just have crisp for yourself for a night or two, make this recipe. If you want to make a full crisp – which you probably will after you have tasted this – just double the recipe!
This peach crisp recipe is delicious, period, so how could I not share? But also, I think everyone needs a little Southern hospitality and flavor in their kitchen.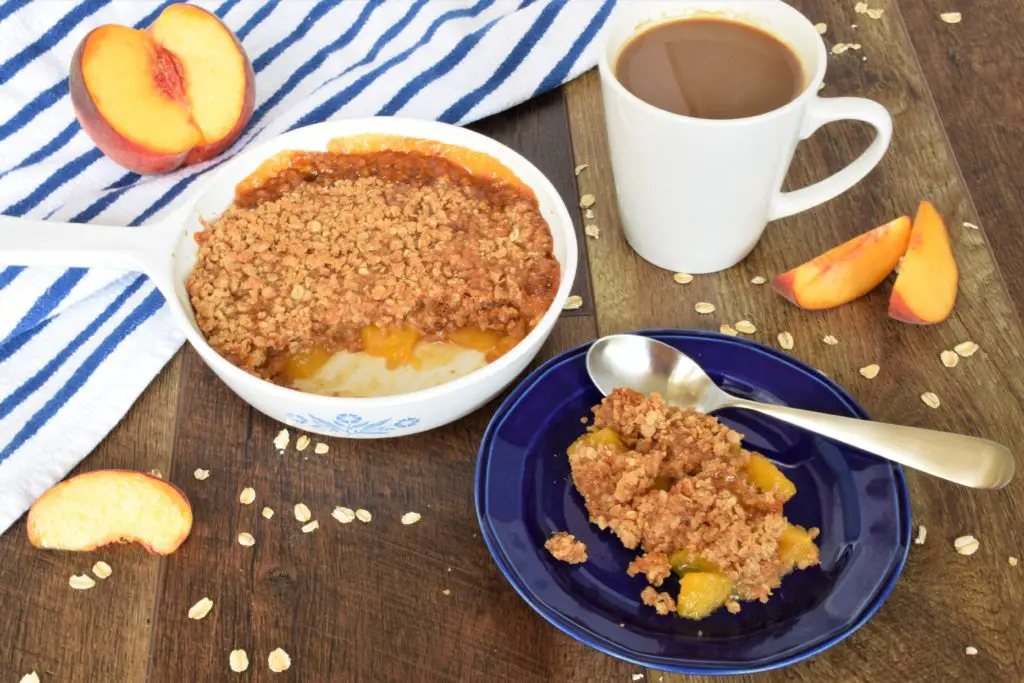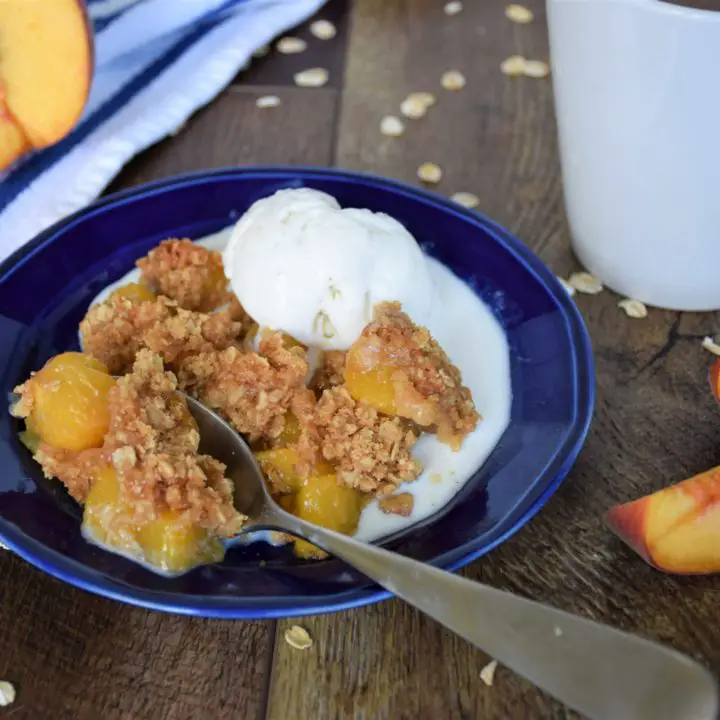 Southern Peach Crisp
It doesn't get much more rewarding than the sweet flavor of this peach crisp. It is made easily with pantry staples and those beautiful gems of the stone fruit family, the Southern peach.
Ingredients
1/4 cup flour
1/4 cup quick oats
3 T brown sugar
1/2 tsp cinnamon
1/8 tsp salt
1/4 tsp baking powder
2 T butter - softened
2 large peaches, about 2 cups chopped
2 T brown sugar *
1 1/2 tsp corn starch
1/2 tsp vanilla
Instructions
Preheat oven to 350 degrees Fahrenheit. Spray the inside of a baking dish that is about half the size of a 9 x 9. (Mine was a circle 6" in diameter and holds about 4 cups.)
In a medium bowl mix together the dry ingredients of the topping: flour, oats, 3 T brown sugar, cinnamon, salt, and baking powder. Using your 'impeccably clean hands' (see this post for book reference), squish in the butter. You can also use a fork if you feel so inclined. Mix the butter in until the mixture is crumbly and you no longer see unmixed butter.
Cut your peaches into bite sized pieces. (No need to peel the peaches first - my family never did, and there were never any complaints.) Place peaches into a separate bowl and sprinkle 2 T brown sugar, 1 1/2 tsp corn starch, 1/2 tsp vanilla over the peaches. Gently stir peaches until you no longer see any un-mixed corn starch.
Pour the peaches into the prepared baking dish. Sprinkle topping evenly over the peaches. Sample a couple bites of the topping because, well, quality control - right?!
Bake the crisp for 35-45 minutes, or until the peach juice is bubbling and the topping is golden brown.
Enjoy hot or cold. Topped with ice cream, whipped cream, or straight out of the dish. You truly can't go wrong!
Notes
*Depending on the sweetness of your peaches you may need to add a little extra brown sugar. If they aren't those amazing southern peaches or peaches picked fresh from an orchard, try a bite of peach after you stir in the brown sugar. If it isn't quite to the level of 'sweetness' you desire, just sprinkle on a little more brown sugar. Taste and repeat as needed.
Nutrition Information:
Yield:

2
Serving Size:

1
Amount Per Serving:
Calories:

367
Total Fat:

13g
Saturated Fat:

7g
Trans Fat:

0g
Unsaturated Fat:

4g
Cholesterol:

31mg
Sodium:

323mg
Carbohydrates:

62g
Fiber:

4g
Sugar:

40g
Protein:

4g
This information was obtained using an ingredient calculator to provide an idea of nutritional value. To obtain the most accurate numbers for nutrition information of any recipe, you should figure the nutritional information with the ingredients you used in the recipe. Each individual user is responsible for making sure that any nutritional information used is correct.
---
---