Almond Amazingness Ice Cream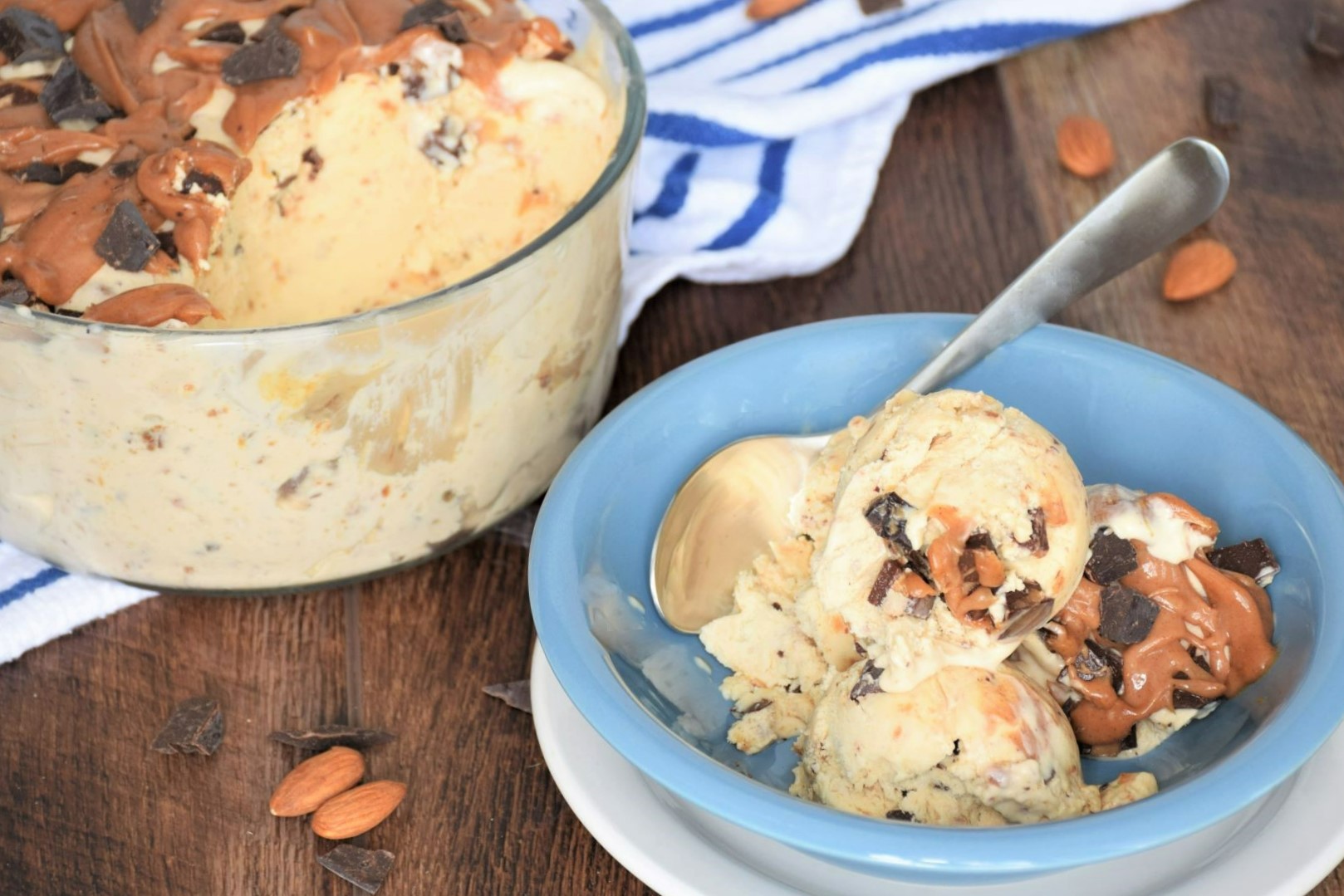 To celebrate the end of summer I want to share with you…. ICE CREAM! I am not late, you're late. Fall? Now? Did I tell you it has a magic almond caramel-like swirl in it? This ice cream has a lot going on, dark chocolate chunks, decadent almond butter cups, the amazingly delicious 'almond caramel', and the texture is oh so creamy and luscious… Let's just call it 'Almond Amazingness Ice Cream' for short, because that's what it is, amazing. Yes, I understand that looking forward to fall may not have many of you screaming ICE CREAM TIME! But well, then you wouldn't be from Alaska.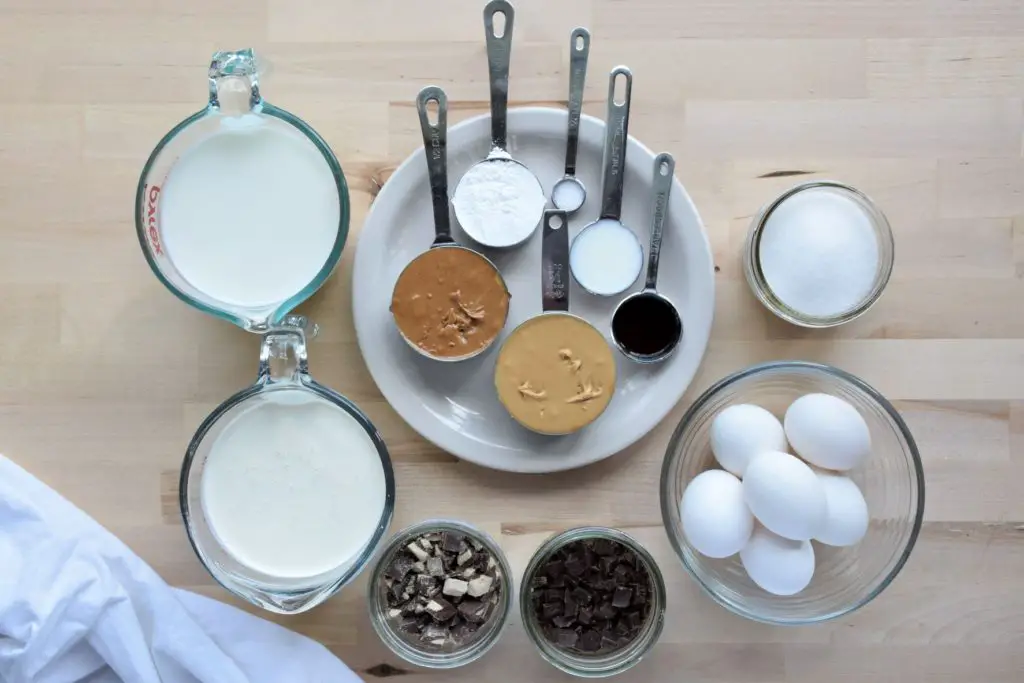 Alaskans and their ice cream
Fun fact, did you know that Alaskan residents have the highest consumption of ice cream per capita than any other state. Makes sense, right? If you are already cold, might as well eat something frozen! But really, how else do you think we got through the long winter? By eating a lot of REALLY tasty food, like ice cream!!
Ice cream tradition
I remember it being a family tradition to pull out the crank ice cream maker on every holiday to churn some of my mom's delicious peach ice cream. (Yes, it was always peach. It's her favorite after all, as discussed in this peach crisp post.) We would put the ice cream base in the inner canister and close it with high hopes of soon having a delicious creamy treat. Ice and salt went into the outer bucket and the cranking began. 
This was always the kids' job, young backs, the promise of ice cream and all that.  We took turns hand cranking until our arms were about to drop off (maaaaaybe one of those memory exaggerations). Since waiting for ice cream to freeze feels like years, we would come up with games to play while cranking.
I remember one year one of the dads had just gotten a new digital watch. We took turns seeing how fast we could press the start/stop button, I think the winning time was around 0.3 seconds. Sounds exhilarating doesn't it? Also, why can I remember that, but go into the grocery store for eggs and come out with everything but eggs? Well, we endured this challenge of keeping the ice cream maker turning, so we could enjoy the delicious reward at the end. Eating homemade ice cream is reward in and of itself. Period. The End.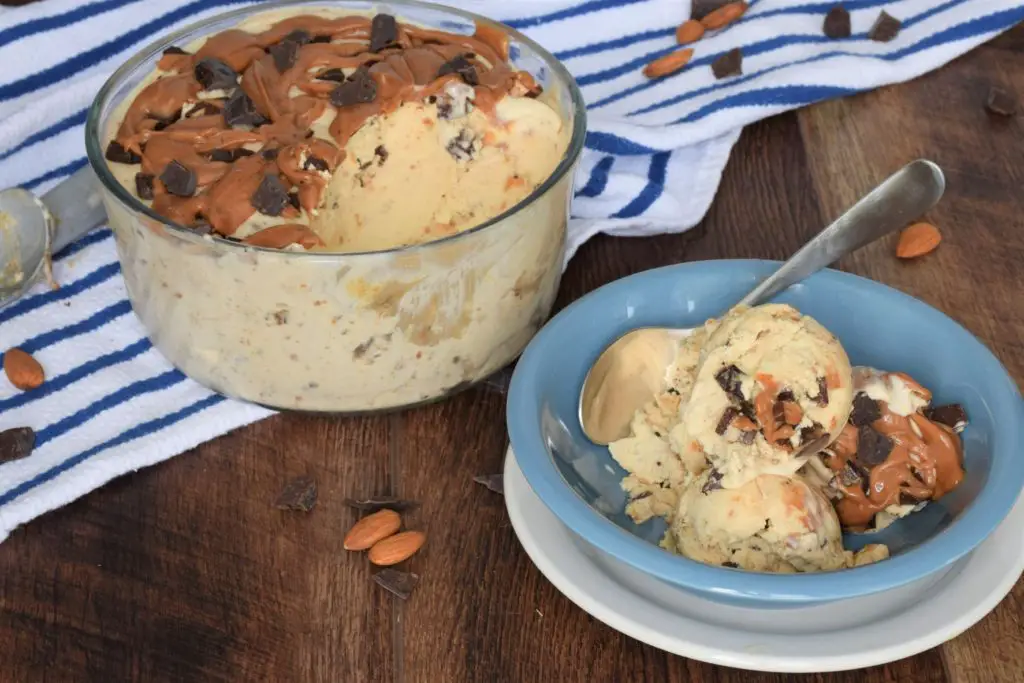 For the love of – ice cream!
My husband loves ice cream. He would choose ice cream over a baked good if given a choice – I love him anyway. However, because I make tasty treats to show my love for people, I make him ice cream. It couldn't just be any ice cream though; he is picky with his texture. It HAS to be creamy. I am not talking slightly creamy either, I am talking smooth as custard and as rich as butter and, well, cream.
I didn't have a recipe like that starting our marriage, but after gifting him this ice cream maker for Father's Day (probably the best present I have ever given him) I now had to come up with an ice cream he LOVED.  Also, please note that I got him an electric ice cream maker because I do not have the time or old enough kids to crank an old-fashioned ice cream maker forever!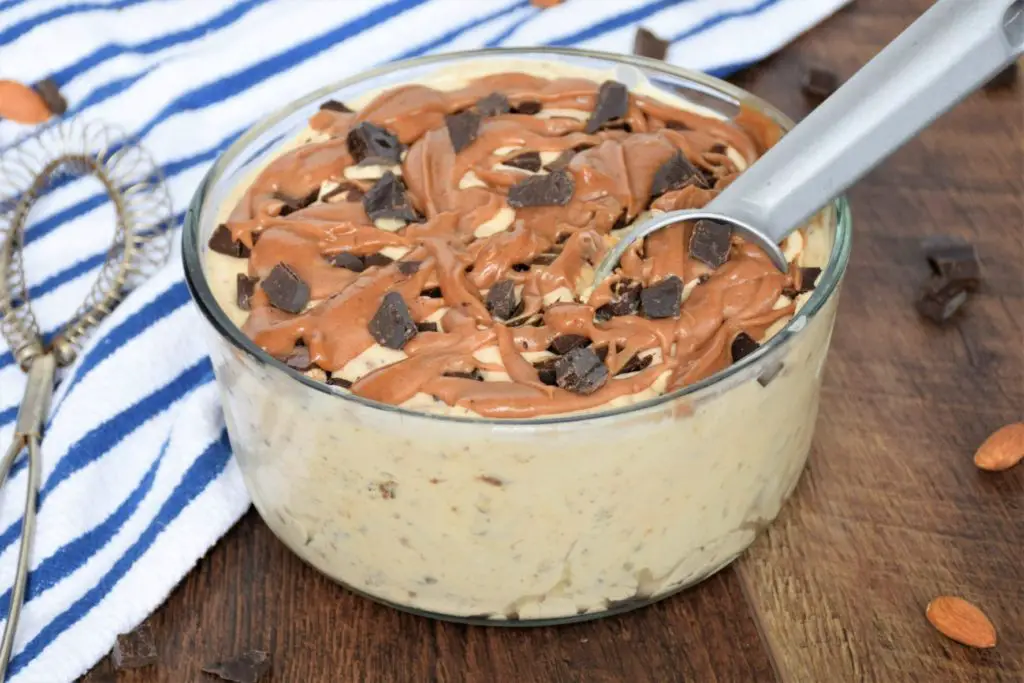 I came close with a peanut butter ice cream. Then a coffee ice cream. Both were good, I daresay great, but they just were missing a little something. (Also we can't do peanut butter right now because of Ellie, so there's that.) I started playing with bases and flavor combinations. In all honesty, fruit flavors were not in the running to be my husband's favorite flavor. For him, I'm talking almond butter, coffee (in ALL forms), chocolate, and even cashew butter.
There were several creations that were quite amazing. Let me just say that we didn't suffer trying all the variations of flavors in ice cream. I am sure I will post a couple more of them later, but for now – the winner!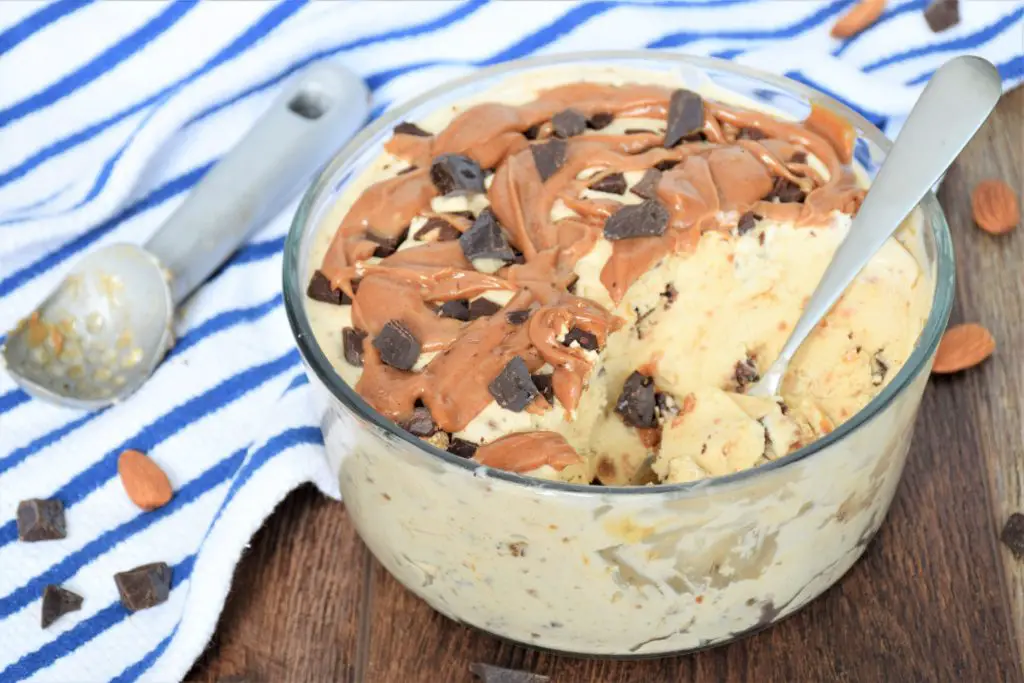 Almond Amazingness Ice cream
We are talking drool inducing delicious, folks. Creamy decadence is an understatement. Adding cashew butter to the already rich custard base took this ice cream to a whole different level of luscious. The cashew butter gives the creamy base a slight nuttiness, but doesn't overwhelm the vanilla and pure cream flavors. The dark chocolate chunks and dark chocolate almond butter cup pieces are, well, delicious – duh, chocolate! The bites of chocolate make this truly feel like a dessert for everyone.
The Magical Almond Swirl
The pièce de resistance, however, is the almond caramel swirl. I don't really know if that is the correct definition of it, but it just happened when I was trying different flavors. Who knew that almond butter with a little sugar and cream could turn into something so magical? When you swirl or mix that into the ice cream and drizzle a little on top, MMMMMMMMM. You just have to take my word on that. No wait, you don't! Make this ice cream, so you too can enjoy this deliciousness.
More Delicious Desserts To Enjoy
Coffee Cookies with Chocolate Drizzle
Cinnamon Chocolate Chip Cookies
Raspberry Orange Shortbread Bars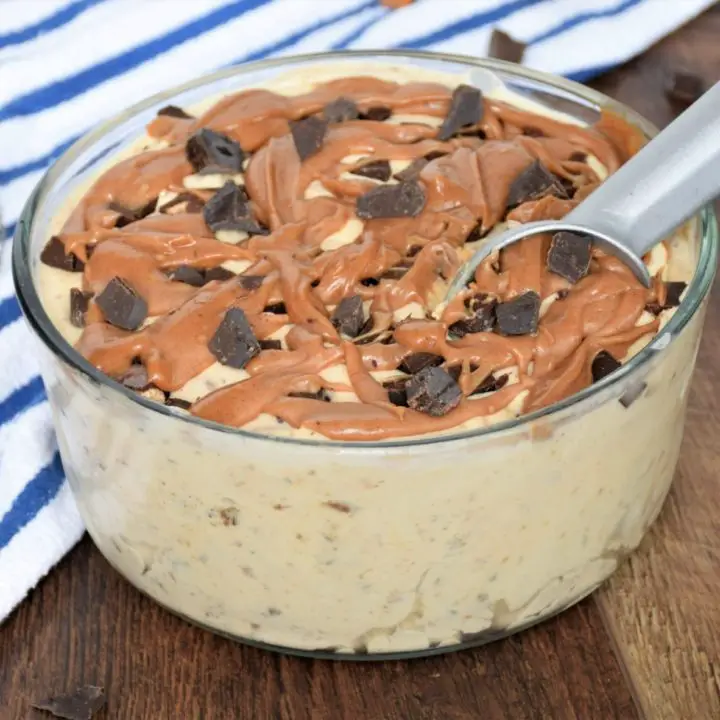 Almond Amazingness Ice Cream
Additional Time:
30 minutes
Total Time:
1 hour
5 minutes
This ice cream is decadent. Its flavors all come together in a symphony. The texture of the almond caramel swirl throughout, with the slight crunch from the suspended chocolate and almond butter cups, are all contrasted beautifully with the silky smooth, beyond creamy base. I can't say enough wonderful things about this ice cream. Go make it and see for yourself!
Ingredients
2 cups whole milk
2 cups heavy whipping cream (divided)
3/4 cup granulated sugar
1/2 cup cashew butter*
1/4 tsp salt
6 egg yolks
2 tsp vanilla
1/2 cup almond butter**
1/4 cup confectioner sugar
2 T heavy whipping cream***
1 3oz dark chocolate bar (chopped)
6 dark chocolate almond cups (chopped)****
Instructions
The most important thing before starting this ice cream base is to make sure your ice cream canister is frozen at least 24 hours before churning the ice cream. If you have made the base and realized that your canister is sitting on your shelf NEXT to the freezer but not IN the freezer (yes, I have done that), never fear. Put your canister in the freezer and your base in the fridge and you will be good to go the next day.
In a medium saucepan whisk together your whole milk, 1 cup of your heavy whipping cream, granulated sugar, cashew butter, and 1/4 tsp of salt. Heat on medium heat, stirring frequently until almost simmering around edges.
While milk mixture is heating up, whisk your 6 eggs yolks slightly in a large bowl and set aside with whisk. In a separate large bowl pour your remaining 1 cup of heavy whipping cream (I always use my 4 cup glass measuring cup and overflow it about every time, don't be me - learn from your mistakes, use a bigger bowl). Place a fine mesh metal strainer over this bowl. Set this second bowl with the cream and the strainer over it, in an ice and water bath. You are now ready.
When your milk mixture is starting to simmer, take it off the heat and slowly whisk the hot mixture into the eggs yolks, whisking constantly. Once combined, pour the now hot milk and egg mixture back into the pan. Cook over medium heat, stirring constantly, until thickened. ***** This can take 10-20 minutes.
Pour hot thickened custard base through the strainer into the large bowl that has the whipping cream in it. This is the bowl sitting in the ice bath. Gently stir custard in the strainer, pushing all the smooth cream through the fine strainer holes. There may be a few pieces of cooked egg remaining in the strainer. That's okay, it happens, that's why we use a strainer! Throw away the couple egg pieces and be proud of your now super smooth base. Remove the strainer and stir the base until it is combined. Stir gently for a few minutes allowing the base to cool down quicker with the ice bath. (Make sure your ice bath water level is LOWER than the top of your bowl, we don't want water splashing in your amazing base and thinning it out.)
Store base in the fridge for 8 to 48 hours until you are ready to churn the ice cream in your ice cream machine. (If you don't have that amount of time, put base in your freezer, just make sure to stir it about every 30 min so it doesn't freeze on the edges. Your base will be cool enough to use in about 1.5 to 2 hours.) You want your base really cool to start when churning your ice cream. Not only does that increase the thickness of the base allowing for a super creamy ice cream, but it also allows for even and near complete freezing of the ice cream base during the churning.
Now is the time. You have done so much to get here, and I know you are eagerly awaiting the end reward. Set up your ice cream machine per model instructions and start churning your ice cream base. Churning time is like Christmas morning. You know it's coming and you keep wanting to take a peek to see what amazing treat is in store.
While ice cream is churning, chop the dark chocolate bar into small pieces, like chocolate chip size). Chop the almond butter cups into pieces as well. Put both chopped chocolates in the freezer while ice cream is churning. (I also like to put my container that my ice cream is going into in the freezer while the ice cream is churning.)
Now is the time to make the almond caramelly goodness. Mix together the almond butter and 1/4 cup confectioner sugar in a microwave safe bowl. Heat for 20-30 seconds until heated and smooth. Mix 1 Tbs of cream into the almond butter mix. If almond butter mix still needs to be a bit thinner to be a thick pour, then add another splash of cream. It shouldn't take more than 2 Tbs. Add a pinch of salt and stir. If almond butter goodness is too warm, stir a bit to cool it off. (This is Rosie's job.)
I have found that my ice cream takes about 30 minutes to churn. At 28 minutes when ice cream is close to being done, add your 2 tsp vanilla. Now you should probably taste the base just to make sure it is delicious. It will be. Churn for a couple more minutes until frozen. It will be more like soft serve at this point. If your machine can handle having the chocolate added now, go ahead and continue the churning until chocolate is mixed in. If not, stop the machine and mix in the chocolate by hand, reserving a handful to sprinkle on top.
You have the option to pour the almond caramel into your ice cream machine and let it churn for just a few seconds to have the machine swirl it in for you. This does sometimes mix in the almond swirl a bit more at times, but it is still DELICIOUS! You can also put a third of the ice cream in the frozen container you have ready and then drizzle a third of the almond goodness on top and repeat with the remaining ice cream, drizzle, ice cream, drizzle. Then finish off this masterpiece with the handful of chocolate pieces you saved. Cover with a lid and place in the freezer for a couple hours.
If your ice cream is really hard when you take it out of the freezer (because you have a fantastic freezer that REALLY freezes) let the ice cream sit at room temp for about 10-15 minutes before scooping, to soften the ice cream as well as the almond swirl.
Scoop a bowl, put your feet up, and enjoy the heavenly creaminess and flavor combination that you have created. Friends and family will be amazed, if you share some with them that is. 🙂
Notes
*Both the cashew butter and almond butter I use are the 'no stir' variety and have added sugar.
**If you don't have almond butter, you can use a different nut butter, but you might need to change the amount of cream added.
***You can use any kind of cream you have available if you don't have left over heavy whipping cream, even half and half or evaporated milk.
****I use the Justin's brand almond butter cups that are the same size as the original Reese's cups. You can also use the mini almond butter cups, just use the equivalent of around 4oz.
*****To test the custard's thickness, coat the back of a spoon with the ice cream base and run your finger across the spoon. If the line your finger makes stays, then it is thickened, if the line doesn't stay, it needs a bit more time to thicken. The base thickens up even more in the fridge, but to get that beyond amazing creamy base you want the custard to be thick coming off of the stove as well.
Nutrition Information:
Yield:

10
Serving Size:

1
Amount Per Serving:
Calories:

1113
Total Fat:

88g
Saturated Fat:

34g
Trans Fat:

1g
Unsaturated Fat:

49g
Cholesterol:

174mg
Sodium:

150mg
Carbohydrates:

62g
Fiber:

17g
Sugar:

32g
Protein:

27g
This information was obtained using an ingredient calculator to provide an idea of nutritional value. To obtain the most accurate numbers for nutrition information of any recipe, you should figure the nutritional information with the ingredients you used in the recipe. Each individual user is responsible for making sure that any nutritional information used is correct.
---
---