'Good' Coffee Cookies with Chocolate Drizzle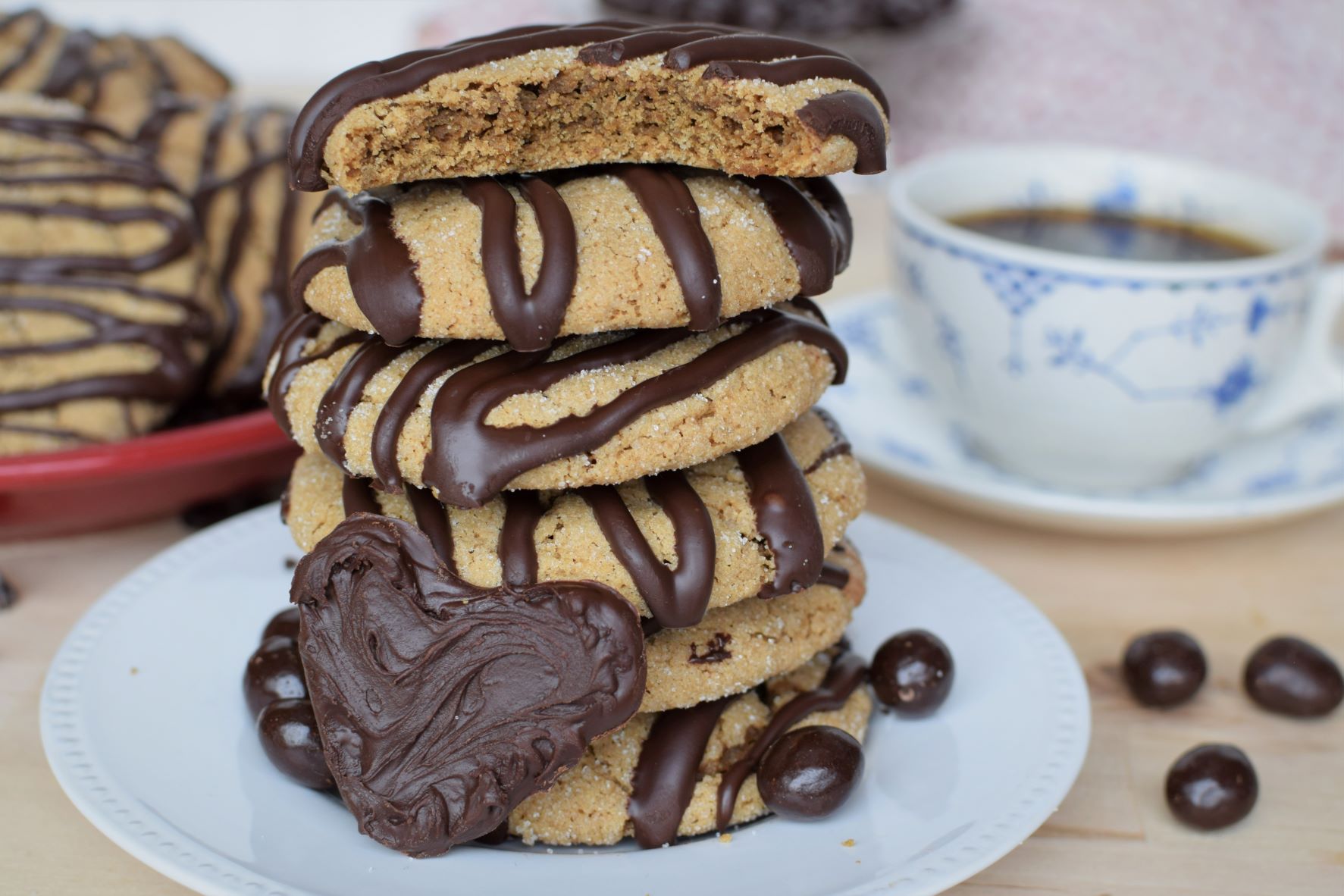 Marriage, I feel, is comprised largely of opportunities for compromise. Cotton or flannel sheets? Music or audiobooks? Hiking to a lake or to a mountain ridge? Chocolate and coffee desserts or fruit-based baked goods? Since I love my husband, I am happy to compromise – sometimes. So, I made him these soft Coffee Cookies with Chocolate Drizzle. After tasting them, I feel like we were both victorious!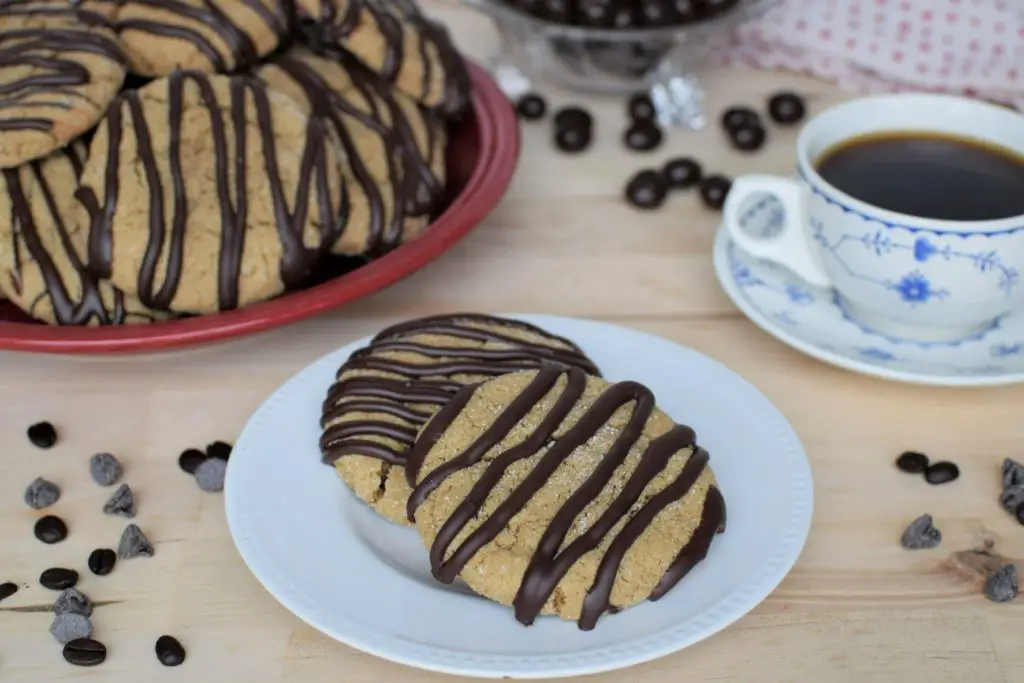 The gift of cookies
I will be the first to admit that I am not the best gift-giver, I am horrible about shopping for gifts. I do, however, love to bake for people. Since Valentine's is coming up, I decided to create another recipe for my husband. To speak his dessert love language, I needed to go with ice cream or cookies. Since I have already gone through MANY batches of ice cream to come up with the PERFECT ice cream for him, I went with cookies – coffee cookies.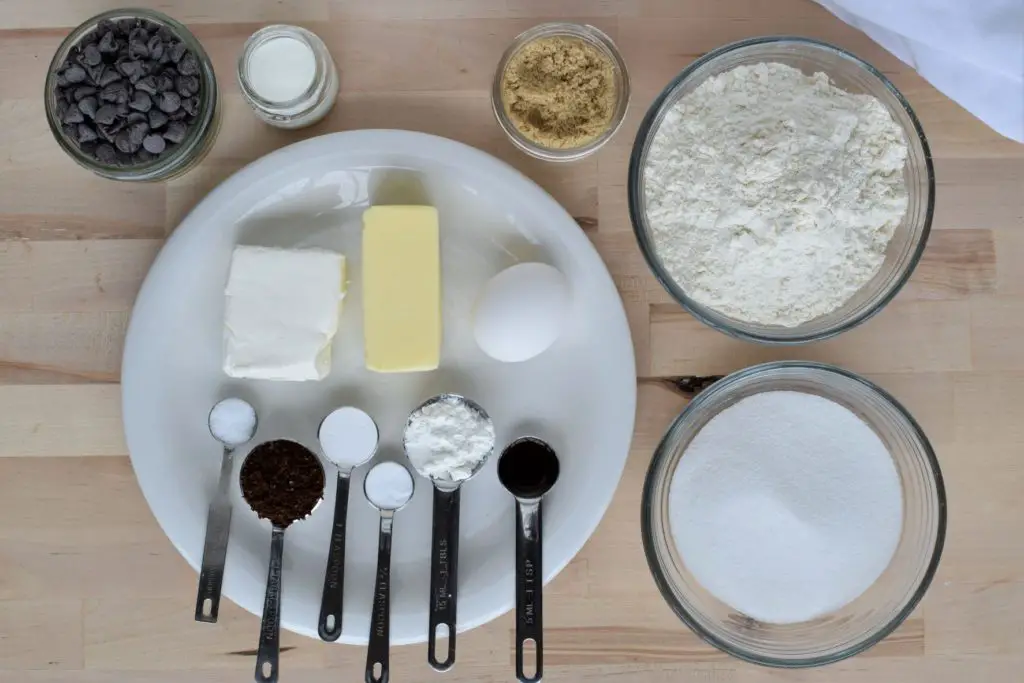 Not just another cookie
Sometimes I feel like I get stuck in a chocolate chip cookie rut. My feelings reach the level of 'meh' when I think of eating just another chocolate chip cookie. YOU SHOULDN'T FEEL MEH ABOUT A COOKIE! This called for drastic – rise up out of the ordinary – action.
My plan: Take my husband's favorite flavors of coffee and chocolate to make something magical. So, I modified a cream cheese cookie recipe to still give me the soft chew it is known for but BAM, hit it with a delicious mild coffee flavor. Rolled that deliciousness in granulated sugar for a slight crunch and then topped with the perfect addition of chocolate drizzle. Success!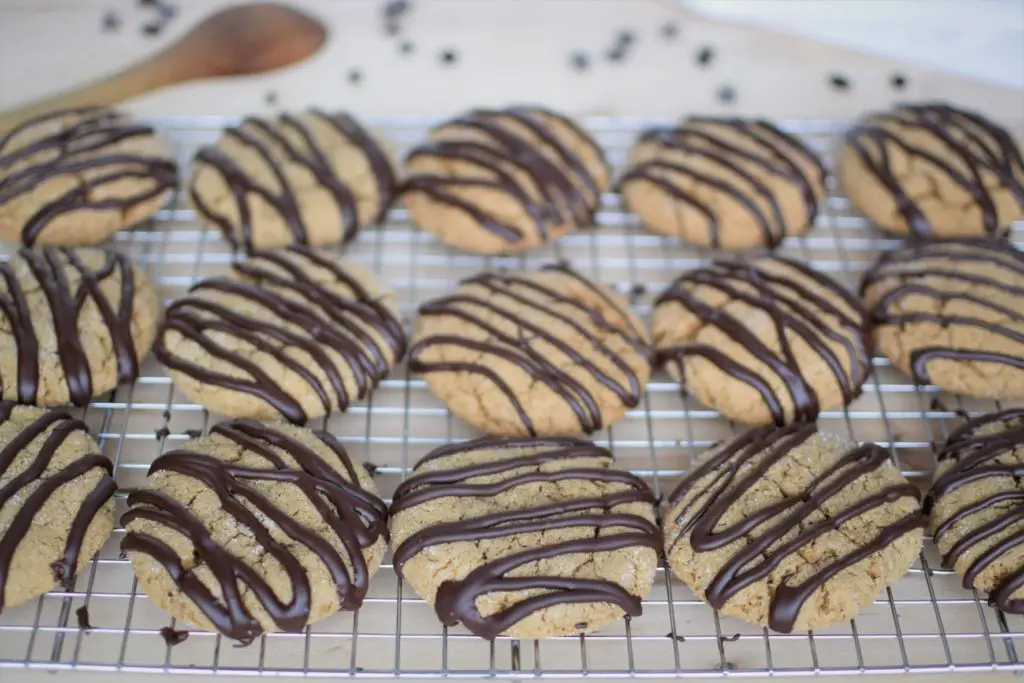 Coffee Cookie success
My husband declared these coffee cookies "good," which for him is high praise and about as much as I get out of him in terms of a food compliment. The biggest indication of the success of these cookies was how quickly they disappeared. I'll take it and call them winners!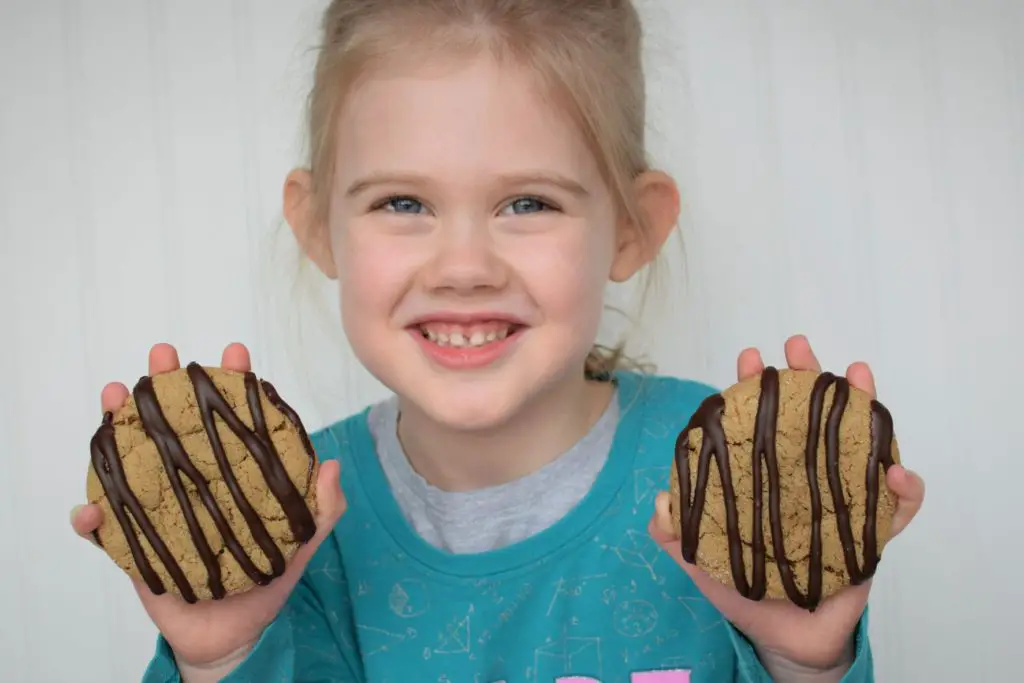 Rave Reviews
I shared these coffee cookies with several friends and their families to trial the new recipe before declaring the cookies perfection. Some were coffee lovers and others were not, but coffee COOKIES got rave reviews all around. Such things as "texture of a molasses cookie with incredible flavor," "almost sinful," and "amazing, perfect flavor and texture" were uttered. So, what can I say that they haven't already said for me *humble brag* – these cookies are fantastic!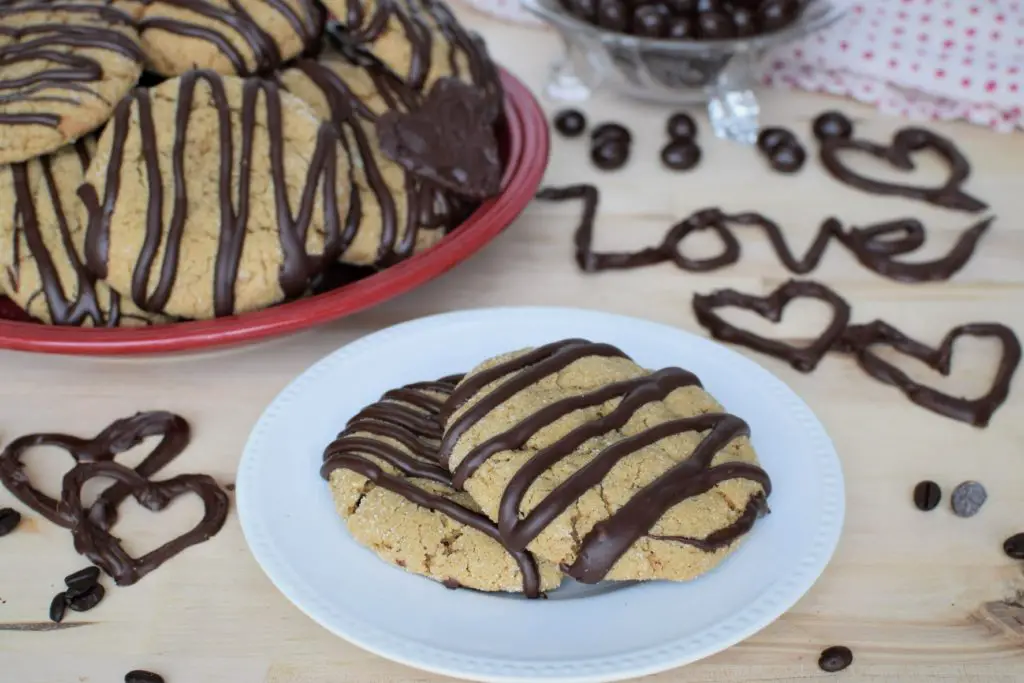 'Good' Coffee Cookies
With many high praises for these coffee cookies, I still count my husband's "good" as the final word. So please, go enjoy these 'good' cream cheese coffee cookies with chocolate drizzle and see how many non-coffee drinkers you can bring to the dark side!
More Treats to enjoy
Raspberry Orange Shortbread Bars
Raspberry Muffins with Crumb Topping
Cinnamon Applesauce Snack Cake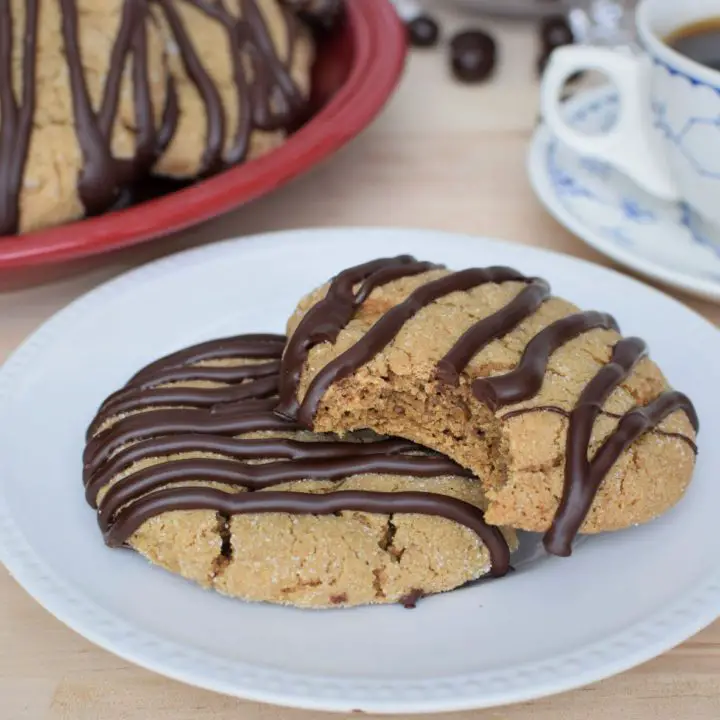 'Good' Coffee Cookies with Chocolate Drizzle
These soft and chewy cookies with the perfect hint of coffee are everything you have been wanting in a cookie, but haven't found yet. The granulated sugar they are rolled in give just the hint of a crunch. Then the chocolate drizzle on top adds just the right amount of richness - and it's fancy!
Ingredients
1/2 cup butter, room temperature
4 oz cream cheese, room temperature (1/2 an 8 oz block)
3/4 cup granulated sugar
1/4 cup brown sugar
1 egg, slightly beaten
1 tsp vanilla
2 Tbs instant coffee granules (I used decaf)
1 Tbs milk
2 cups all purpose flour
2 tsp corn starch
1/2 tsp baking soda
1 tsp baking powder
1/2 tsp salt
Granulated sugar (for rolling cookie balls in)
Chocolate drizzle Ingredients
1 cup chocolate chips
1 Tbs coconut oil or shortening
Instructions
Preheat oven to 375 degrees Fahrenheit. Prepare your cookie sheets by lining them with parchment paper.
In a large mixing bowl cream together the butter and cream cheese until well combined.
Add in the sugars and cream until fluffy.
Stir in the egg and vanilla.
Mix milk and coffee together in a little cup, stir until all combined. Mixture will look like a thick syrup - that's flavor right there! Stir coffee and milk mixture into butter mixture until well combined. Make sure to scrape the sides of the bowl to get everything incorporated.
Whisk together the remaining dry ingredients. Stir into creamed mixture until just combined. Dough will be sticky, but that's okay!
Wet a paper towel and use it to dampen your fingers to measure and roll balls. Scoop out a ball about the size of 2.5 Tbs, if you have a cookie scoop that size, that makes it even easier. Anywhere from 2 to 3 Tbs would work, these cookies are FORGIVING, choose your preferred size!
Roll sticky cookie dough ball with your wet fingers (no sticking, yay!) and drop into the bowl of granulated sugar for rolling. Coat cookie ball in sugar and place on prepared cookie sheet. Flatten cookie balls into rounds until they are about 1" thick, these cookies do not spread very much.
Continue with the remaining dough. Depending on your size of cookie balls you should get 10-15 cookies (12 if you used a 2.5 Tbs scoop).
Bake cookies for 9-13 minutes depending on the size of your cookie. You want to take them out just after the middle is set, but before they start browning. Let cookies cool on the cookie sheet for a couple minutes and then transfer to a cooling rack to cool.
After cookies are completely cool, drizzle with chocolate to create a cookie that is just above and beyond!
Chocolate Drizzle Instructions
Place chocolate chips in a microwavable bowl with 1 Tbs oil or shortening. Heat for 30 seconds on medium power (50%) and stir. Heat in 15-20 second intervals after that stirring after each. When chocolate is completely smooth and drizzle consistency it is ready. If it got too warm, that's okay, just let it cool a bit before you use it. Drizzle chocolate over your cookies in any pattern you fancy.
Let cookies cool until chocolate is firm. Place in an airtight container and store at room temp. Cookies will be 'good' (read delicious and fantastic!) for a few days, if they last that long.
Notes
For the chocolate drizzle,
Nutrition Information:
Yield:

12
Serving Size:

1
Amount Per Serving:
Calories:

344
Total Fat:

18g
Saturated Fat:

11g
Trans Fat:

0g
Unsaturated Fat:

6g
Cholesterol:

46mg
Sodium:

291mg
Carbohydrates:

44g
Fiber:

1g
Sugar:

25g
Protein:

4g
This information was obtained using an ingredient calculator to provide an idea of nutritional value. To obtain the most accurate numbers for nutrition information of any recipe, you should figure the nutritional information with the ingredients you used in the recipe. Each individual user is responsible for making sure that any nutritional information used is correct.
---
---