Cinnamon Applesauce Snack Cake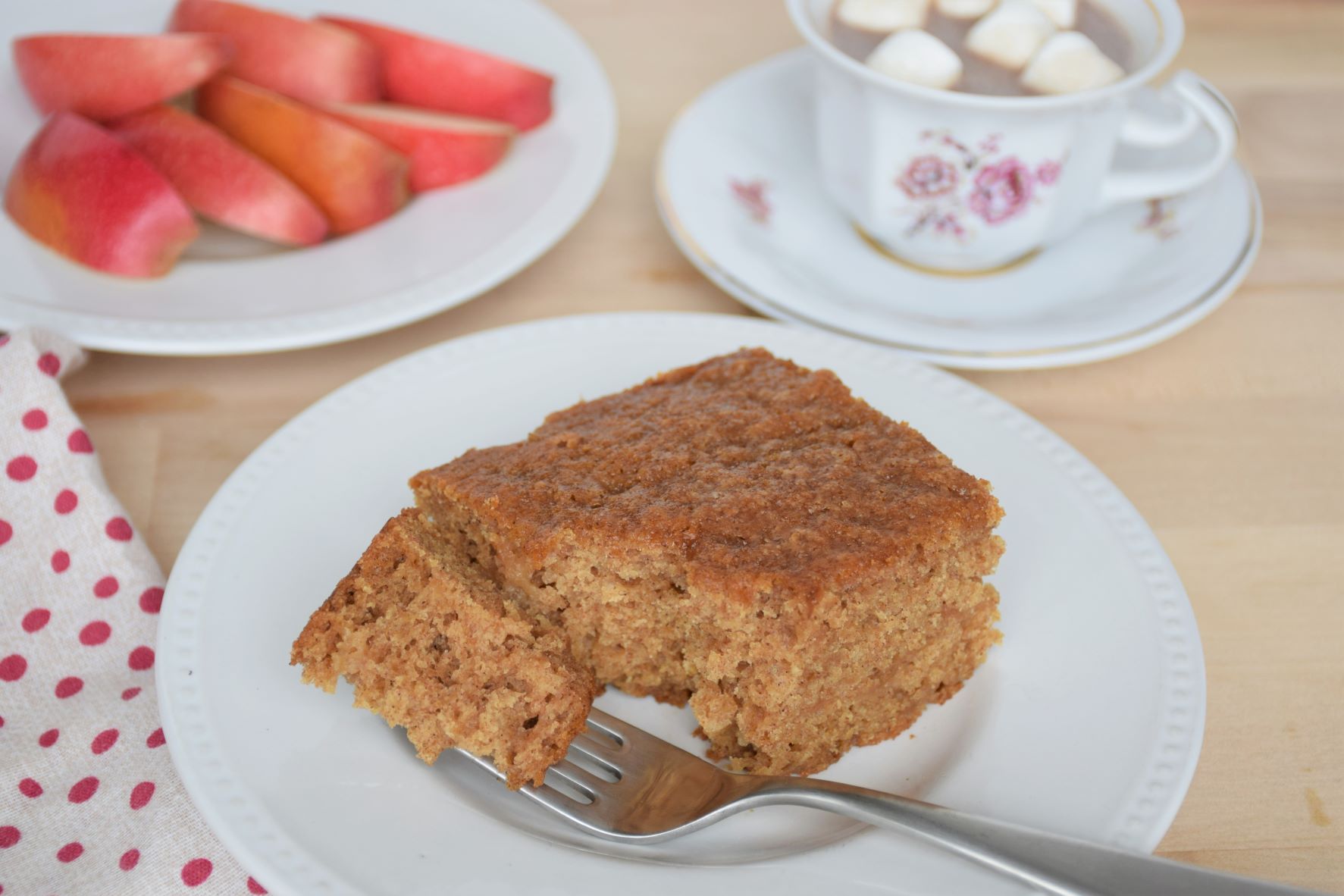 Comfort is something I always crave. Doesn't everyone though? Since Fall is the season of comfort – sweaters, hot beverages, warmly spiced baked goods – I give in to the comfort. Welcome Cinnamon Applesauce Snack Cake.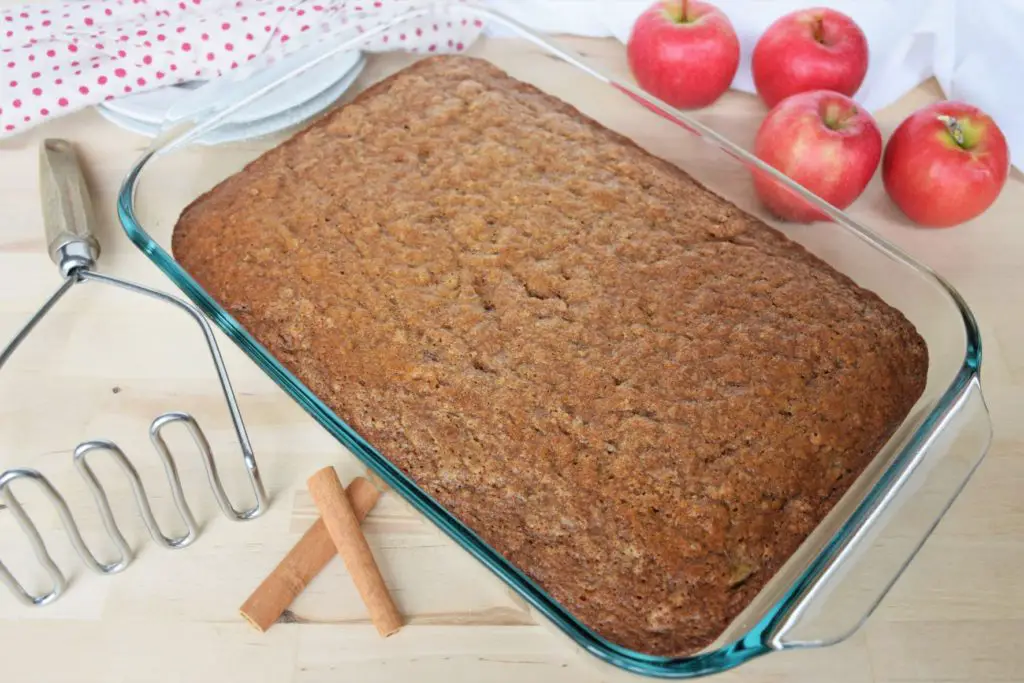 Fall brings apples
 I have many fond memories of making applesauce growing up from the small apples that a friend let us pick from her apple tree. I have even fonder memories of eating delicious things made from that applesauce. Since we planted two apple trees and FINALLY managed to get a few apples on the tree, (you can read about my fruit tree struggle in this Plum Honey Almond Crisp recipe post) Rosie has been eagerly awaiting the day we get to pick the apples. Well friends, a couple days ago was the day!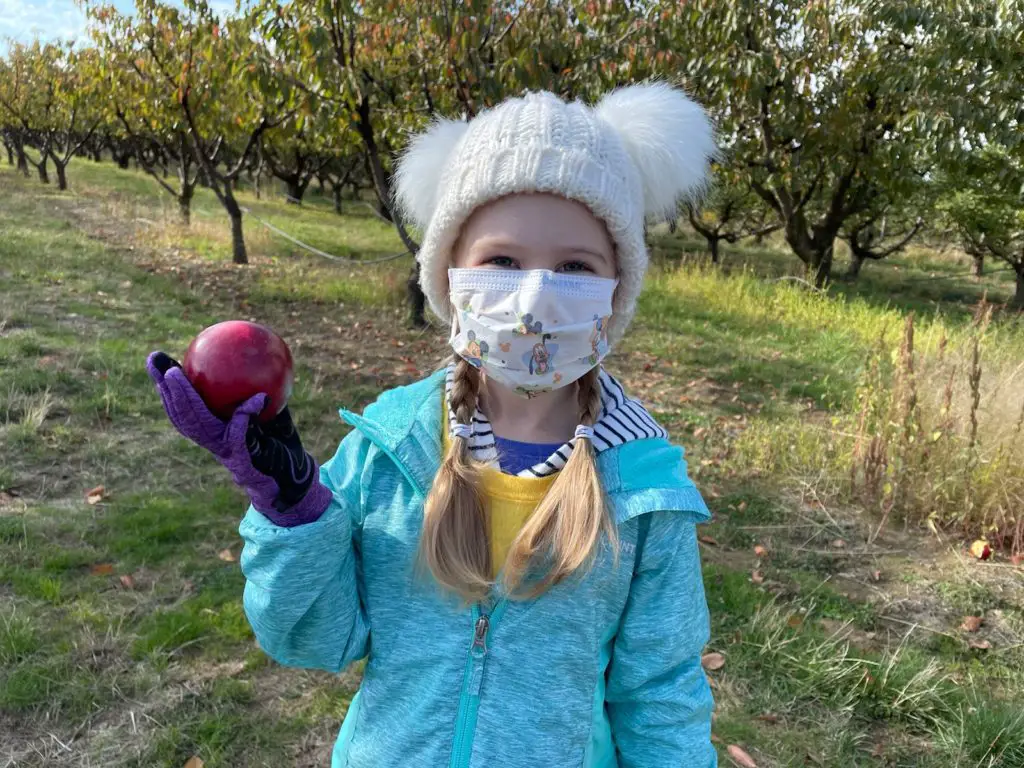 Apples make applesauce
Disappointingly they weren't the most delicious apples we have ever tried, and Rosie tried a good many of them. Never fear though – that's what applesauce is for!
Baking with applesauce can be a wonderful thing if you have never tried it. It is in my go to baked oatmeal recipe and I frequently use it when I am lightening up a recipe to make it a healthier option without sacrificing flavor, or when converting a recipe to be dairy-free. You do have to be careful though when altering a recipe that doesn't typically call for applesauce to not add too much or it could end up gummy. No one wants a muffin that can bounce itself across the kitchen floor.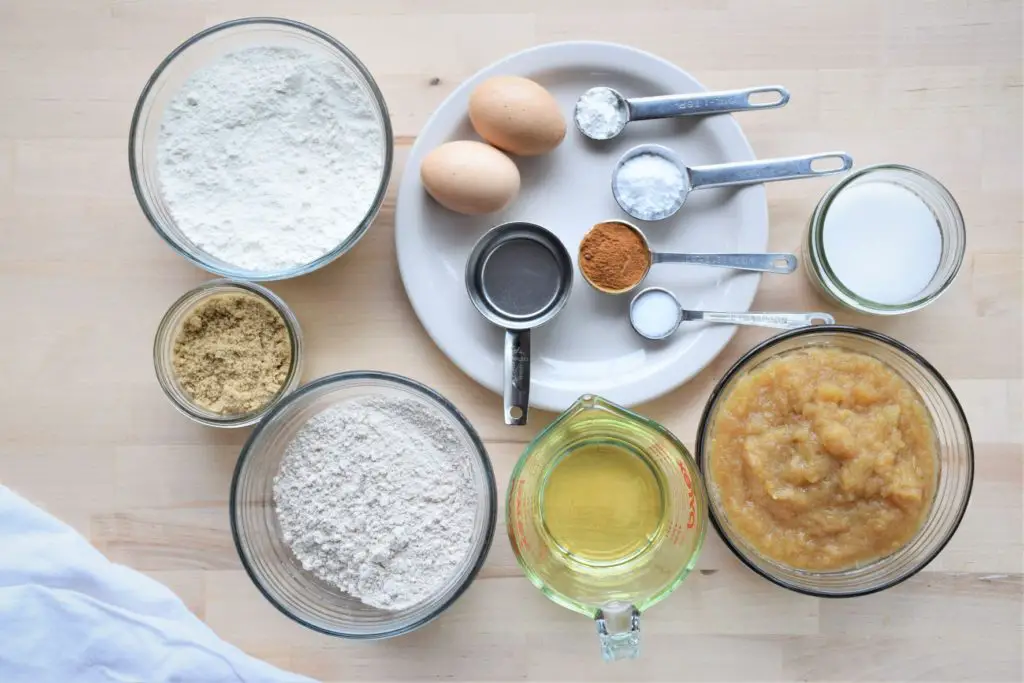 Applesauce leads to amazing snack cake
Okay, I feel like I put in my two cents on applesauce baking, now back to this snack cake! I had this yummy homemade applesauce (although store-bought works as well) that was just begging to be baked into something delicious. Since apples should ALWAYS be paired with cinnamon, I wanted those two flavors to shine together. Shine they do!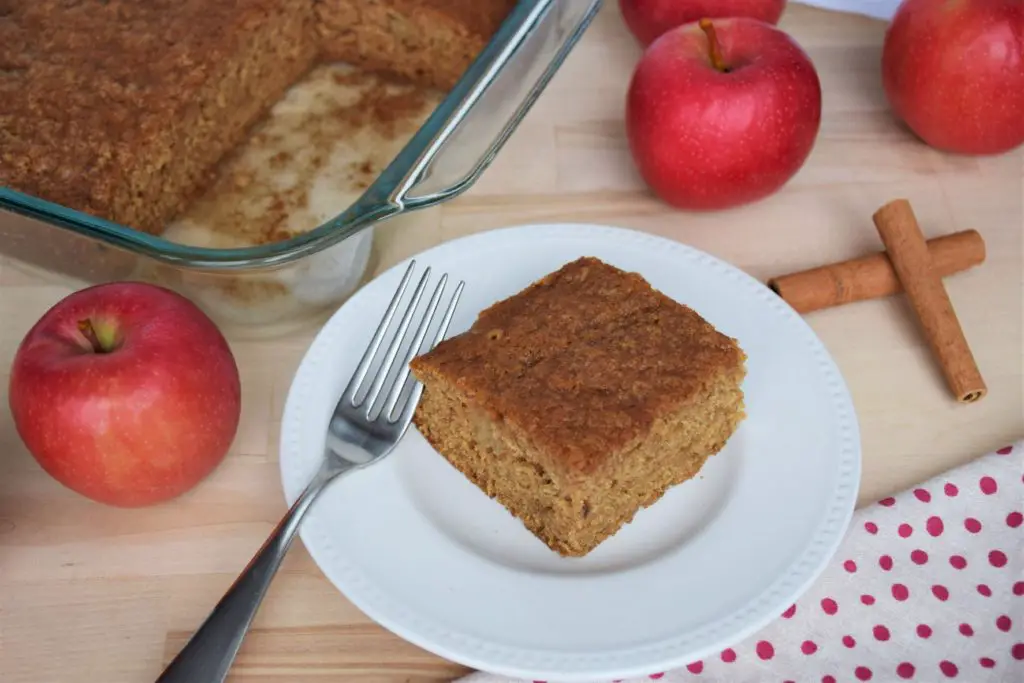 The need for a comforting snack – cake
Rosie started preschool this year after 'homeschooling' for preschool last year. Let's just say it has been a very big and challenging adjustment. I could have a whole long conversation about just that, but instead I'll just say that I wanted to bake her a treat. A treat that she looks forward to eating when she gets home from preschool. Because I wanted to be able to serve her this delicious snack cake with her lunch, I wanted it to be a little more on the healthier side of the cake world. Is cake ever really healthy though? In comparison people… Wheat flour, applesauce, decreased sugar, and eggs for protein was my answer! Okay so it's not a 'health food', so what, it's better. It's COMFORT! Boy do we appreciate having some extra comfort around the house some days.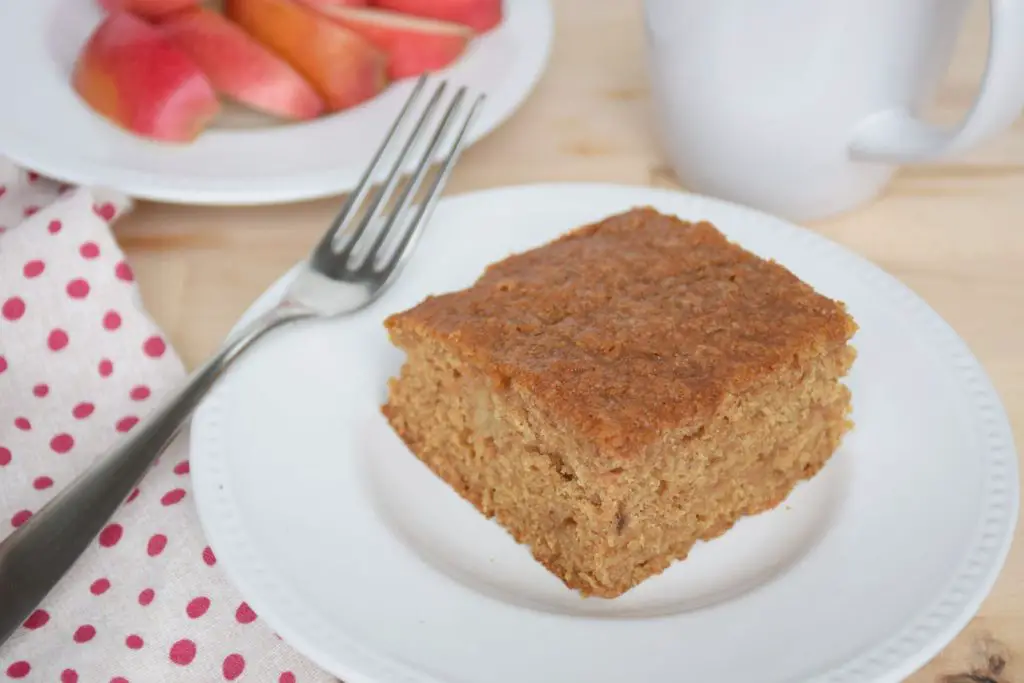 The healthy-ish snack cake of FALL
The aroma of this Cinnamon Applesauce Snack Cake while baking is everything that the 'fall fragrance' candle wants to be, but just can never compare. The flavor is a delightful warmth from the cinnamon, but thanks to the fruity applesauce and caramelly brown sugar, anything but one note. The applesauce gives this cake a moistness that is to die for! I actually prefer the cake on day two or three because the flavors continue to meld and the cake's texture, somehow due to applesauce magic, just gets better and better.
For those of you needing dairy free recipes, this recipe also happens to be dairy free as well. So bake and enjoy!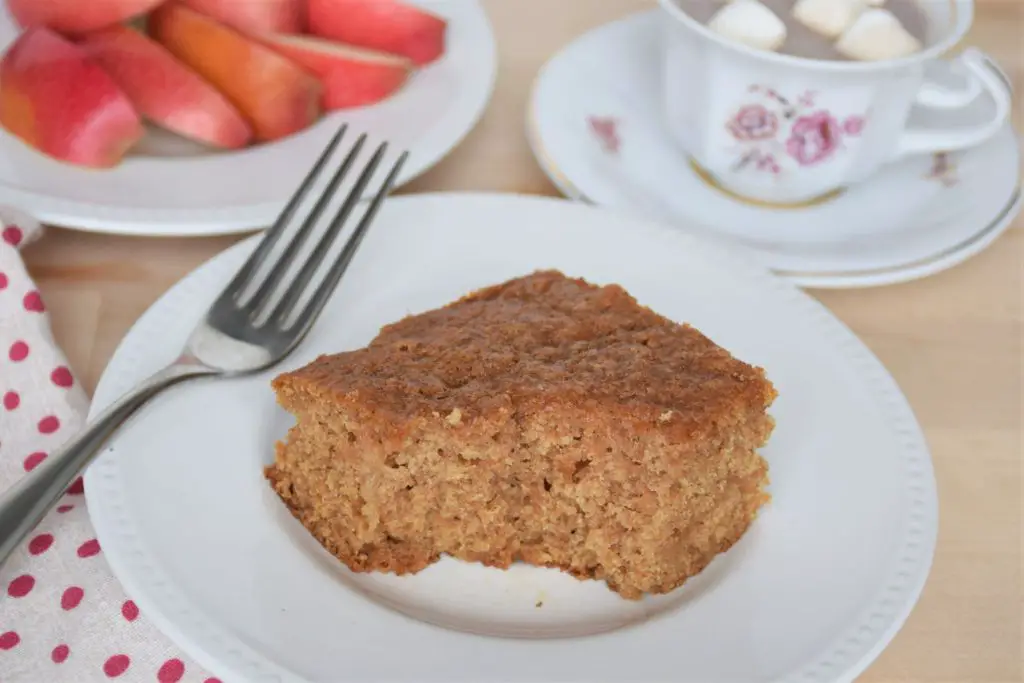 Snack to dessert – this snack cake is a winner!
This cake is delicious as a snack or lighter dessert with a little cinnamon and sugar sprinkled on before baking. Add a dollop of whipped cream or a scoop of vanilla ice cream on top if you really want to feel indulgent (dairy free people make sure you grab the coconut whipped cream or non-dairy ice cream!). How ever you eat this, a moment of Fall comfort will be in your grasp. So, sit back, curl up under a cozy blanket, and enjoy!
More Delicious Treats to Enjoy
'Four cups of Zucchini' Bread – Dairy Free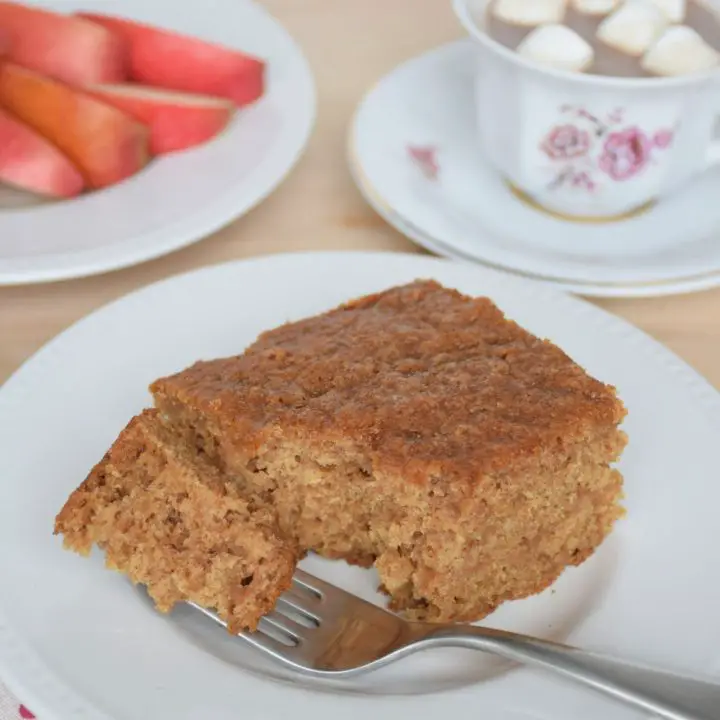 Cinnamon Applesauce Snack Cake
This cake is delicious as a snack or lighter dessert. The flavor is a delightful warmth from the cinnamon, but thanks to the fruity applesauce and caramelly brown sugar, anything but one note. The applesauce gives this cake a moistness that is to die for! Cake for snack, yes please!!
Ingredients
1 1/2 cups all-purpose flour
1 cup wheat flour
1 1/2 tsp baking soda
3/4 tsp baking powder
3/4 tsp salt
2 1/2 tsp ground cinnamon
2 eggs
1/2 cup vegetable oil*
1/3 cup water
1 1/2 cups applesauce (unsweetened)**
1/2 cup granulated sugar
1/2 cup brown sugar
Cinnamon sugar (optional - to sprinkle on top)
Instructions
Preheat oven to 350 degrees Fahrenheit.
In a medium bowl whisk together the dry ingredients; flours, baking soda, baking powder, salt, and cinnamon.
In a large bowl crack the eggs and beat slightly. To the eggs add the sugars, applesauce, water, and oil and stir until all combined.
Stir in the dry ingredients and mix until combined. Don't over-mix.
Pour batter in a greased 9x13 baking dish. Sprinkle cinnamon-sugar over the top of the batter if desired and bake for 35-45 minutes until done. Check cake around 35 minutes, but continue to bake until a toothpick inserted in the middle comes out clean. Make sure to not underbake this cake as the middle takes a bit longer to bake due to the high moisture content. It's worth it!
When cake is done remove from oven and place pan on a wire rack to cool.
Enjoy, warm or room temperature for an incredibly tasty snack. Top with ice cream or whipped cream for a more indulgent dessert. You can't go wrong with this flavorful and moist cake.
This cake can be kept covered at room temperature for 2-3 days, but then keep it covered in the fridge after that if you happen to have any remaining. It's quite delicious straight from the fridge as well. 🙂 I think this cake improves in flavor and texture on day 2 and 3, but that doesn't stop me from really enjoying this cake every day it's in our house!
Notes
*This recipe calls for vegetable oil, but any neutral oil would work: canola oil, melted coconut oil, or safflower oil.
**I used homemade applesauce but storebought also works well, just make sure it is unsweetened. If all you have is the sweetened applesauce, you could reduce the white sugar amount in the recipe but you would have to do it to taste depending on your applesauce sweetness.
Nutrition Information:
Yield:

20
Serving Size:

1
Amount Per Serving:
Calories:

195
Total Fat:

6g
Saturated Fat:

1g
Trans Fat:

0g
Unsaturated Fat:

5g
Cholesterol:

19mg
Sodium:

209mg
Carbohydrates:

34g
Fiber:

2g
Sugar:

20g
Protein:

2g
This information was obtained using an ingredient calculator to provide an idea of nutritional value. To obtain the most accurate numbers for nutrition information of any recipe, you should figure the nutritional information with the ingredients you used in the recipe. Each individual user is responsible for making sure that any nutritional information used is correct.
---
---