Chocolate Zucchini Bundt Cake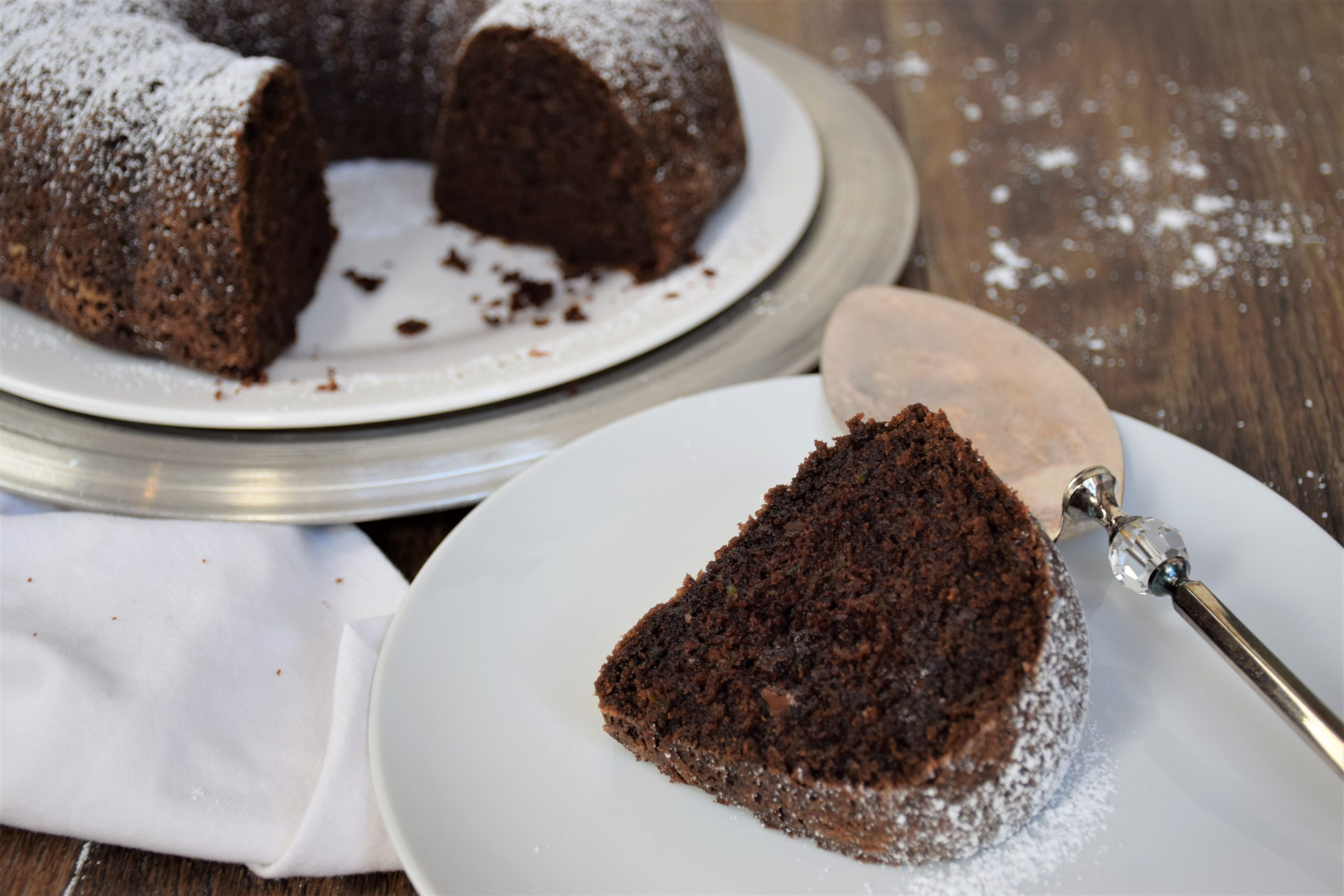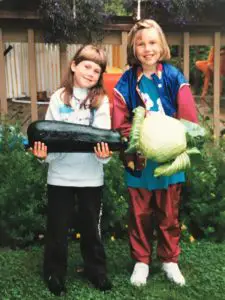 When you grow zucchini to win blue ribbons for size at the Alaska State Fair, the result is delicious zucchini recipes from all the huge – but not quite prize-winning – zucchinis left in the garden.  Okay, so it was only the children's division, there was NO WAY I could outgrow those amazing farmers and their GIANT vegetables, but man, did we grow some zucchini.
The here and now of zucchini
Fast-forward a couple of decades, and here I am harvesting a bumper crop of zucchini from my own garden in Washington state with the help of my older daughter.  Not growing them for size, I harvest them much before they would win any ribbons for size these days, but those tender zucchinis certainly lend themselves to delicious recipes. One of my favorite recipes to pull out from the family recipe folder this time of year is 'Chocolate Zucchini Bundt Cake'.
The tradition of cake – the best tradition
My sister, having a summer birthday, would often request this as her birthday cake because, and I'll quote her, she is "a genius with impeccable taste and an unparalleled palate." Also, she is very humble…obviously.  From the tender texture of the cake to its perfectly balanced flavor of zucchini and chocolate; this cake is perfectly suited to be a summer dessert. It has won over many a dessert AND zucchini nay-sayer as it isn't cloyingly sweet. Also, it tastes decadent enough to be enjoyed as a special treat but light enough to snack on all day. Yes, all day, if baked goods at any hour isn't for you, it was nice meeting you but I don't see a future for us. It has a vegetable in it.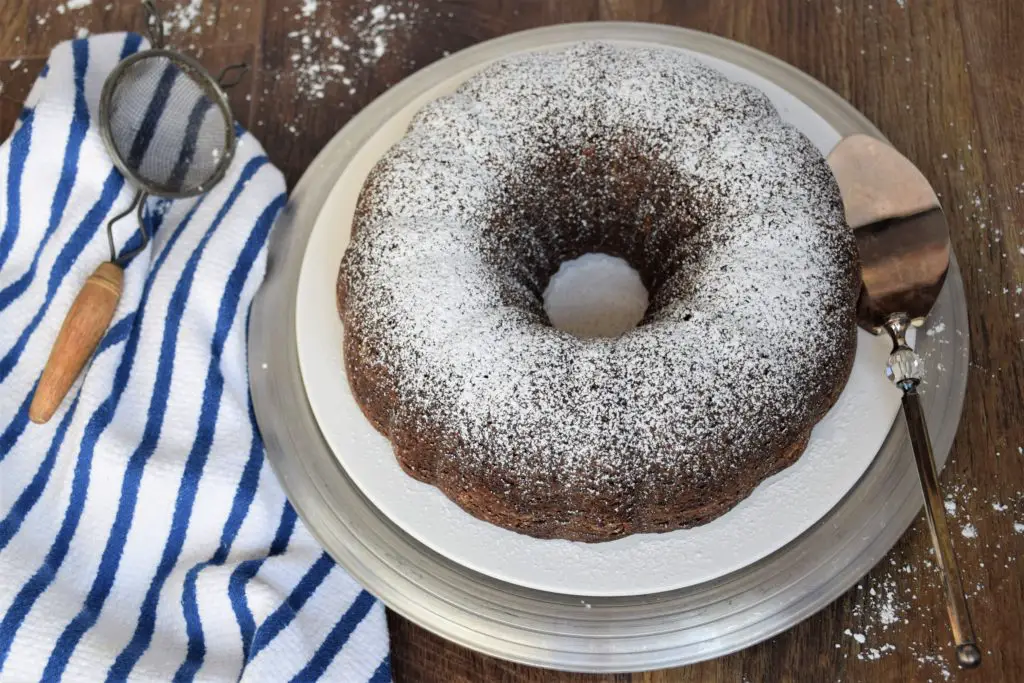 No more locking your doors during church just to keep people from GIVING you zucchini! Enjoy that overabundance of zucchini from your garden, or your local farmers market or grocery store for that matter. You won't regret it!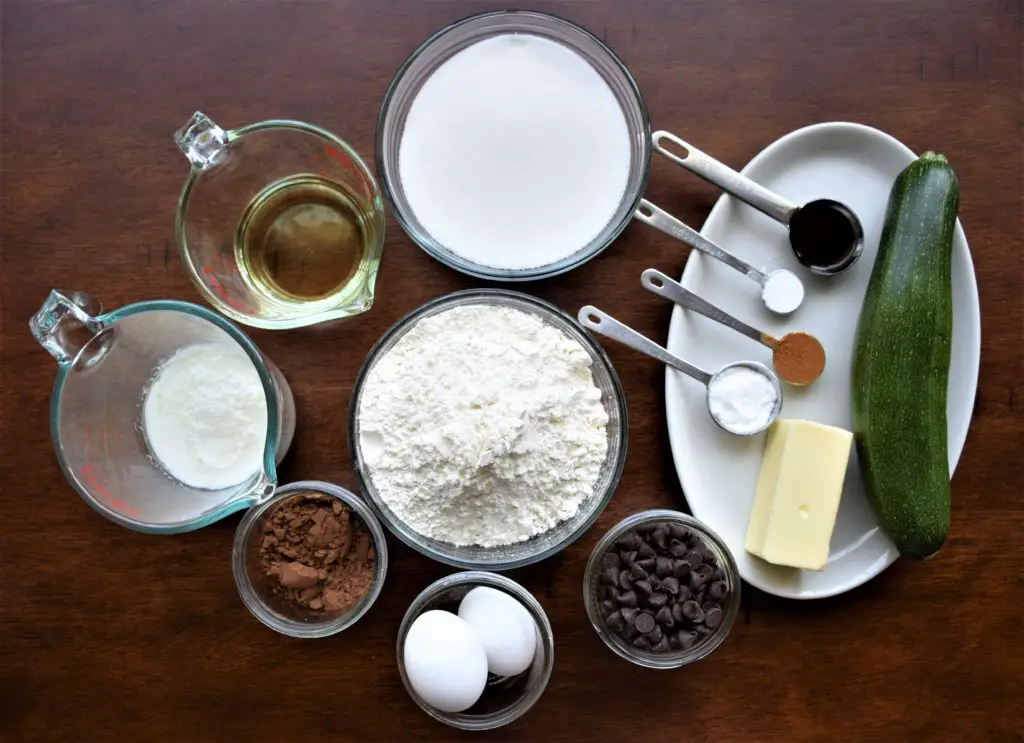 More zucchini recipes
If you are dying to try this Chocolate Zucchini Bundt Cake but you, or the person you are baking for, are gluten free, dairy free, or reduced sugar, then try this amazing recipe adapted just for you!
OR if you love zucchini but want to stay away from the chocolate to let the zucchini flavor really shine try this 'Four Cups of Zucchini' Bread, bonus – it happens to be dairy free!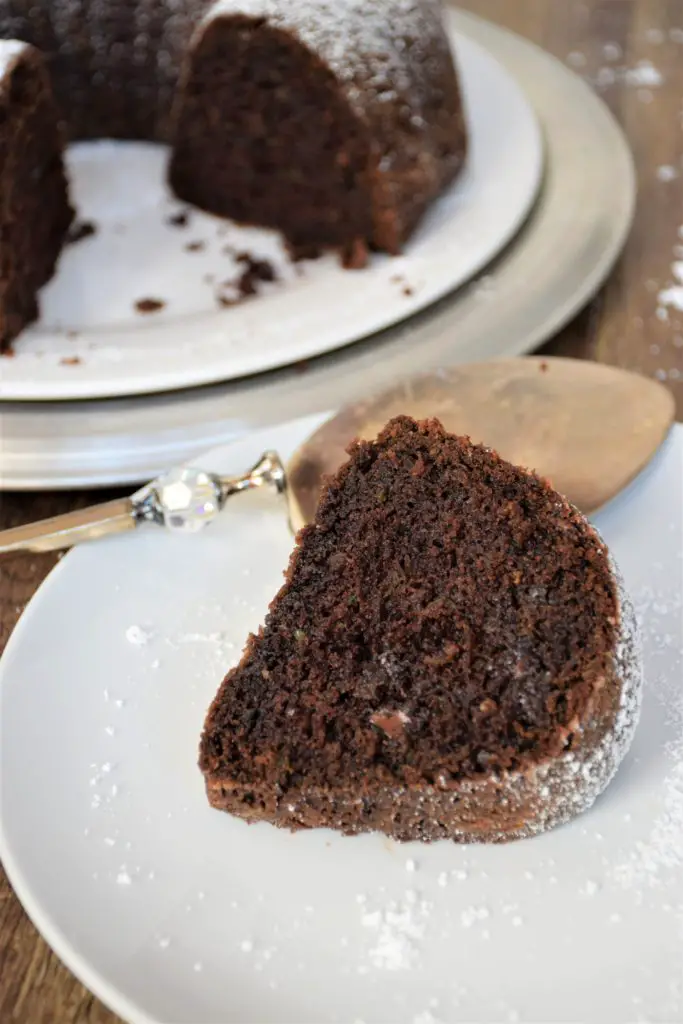 If the only reason you are hesitating to make this cake is because you tend to grate more of your knuckles than zucchini on the grater – that would be me – then I suggest using my absolute favorite food processor for all your zucchini grating needs. Your knuckles will thank you!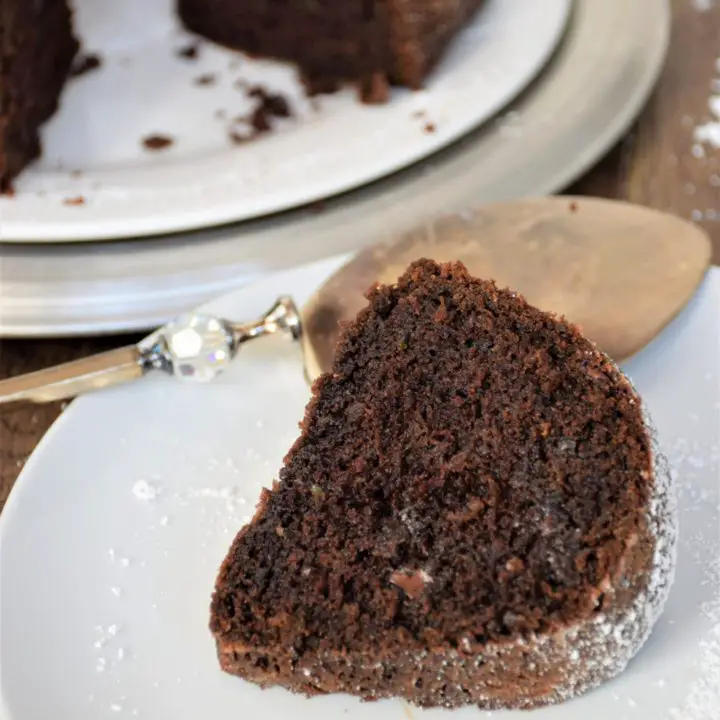 Chocolate Zucchini Bundt Cake
One bite of this delicious cake and you will be begging your friends and neighbors for all of their extra zucchini!
Ingredients
½ cup butter, softened
½ cup vegetable oil
1 ¾ cup granulated sugar
2 eggs, beaten
2 t vanilla
½ cup sour milk (milk with 1 Tbs of lemon juice to make ½ cup total)
2 ½ cup flour
¼ cup cocoa powder
½ tsp baking powder
2 tsp baking soda
½ - 1 tsp cinnamon
2 cups zucchini, shredded*
3/4 chocolate chips
Instructions
1. Preheat oven to 350 degrees Fahrenheit and butter and flour a Bundt pan. (This is the key to get your cake to coming out of your Bundt pan beautifully -make sure to get the butter and flour in every part of the pan, you wont regret the extra minute it takes to do it!)

2. In a large mixing bowl cream together butter, oil, and sugar.

3. Add beaten eggs, vanilla and sour milk – mix until smooth

4. Sift or whisk together dry ingredients in a separate bowl.

5. Add dry ingredients to creamed mixture and stir until just combined.

6. Stir in the zucchini and chocolate chips

7. Pour batter into your prepared Bundt pan and bake for 45-50 minutes until a toothpick stuck in the middle comes out clean. Take a deep breathe and enjoy aroma therapy the way God intended.

8. Let cool in the Bundt pan a couple minutes and then gently shake the cake around in the pan to make sure it is loose before flipping it upside down on a cooling rack and then remove the pan for it to cool all the way.

9. Once the cake is cooled either dust with powder sugar or to be really decadent drizzle with some melted chocolate**.

10. Enjoy a slice and think twice before leaving the all the excess zucchini from your garden on your neighbors' front step, maybe just keep a few more to make another cake or two.
Notes
*About one medium zucchini.  Grate zucchini before starting the rest of the cake and put it in a strainer to allow it to drain a little naturally, but don't squeeze out all of the moisture.
**Mix one cup of chocolate chips and 1 Tbs coconut oil or shortening in a microwave safe bowl and heat on 30 second intervals, stirring each time until the chocolate has reached perfect drizzling consistency.
Nutrition Information:
Yield:

12
Serving Size:

1
Amount Per Serving:
Calories:

400
Total Fat:

19g
Saturated Fat:

6g
Trans Fat:

1g
Unsaturated Fat:

11g
Cholesterol:

52mg
Sodium:

310mg
Carbohydrates:

53g
Fiber:

2g
Sugar:

32g
Protein:

5g
This information was obtained using an ingredient calculator to provide an idea of nutritional value. To obtain the most accurate numbers for nutrition information of any recipe, you should figure the nutritional information with the ingredients you used in the recipe. Each individual user is responsible for making sure that any nutritional information used is correct.
---
---