Plum Honey Almond Crisp Recipe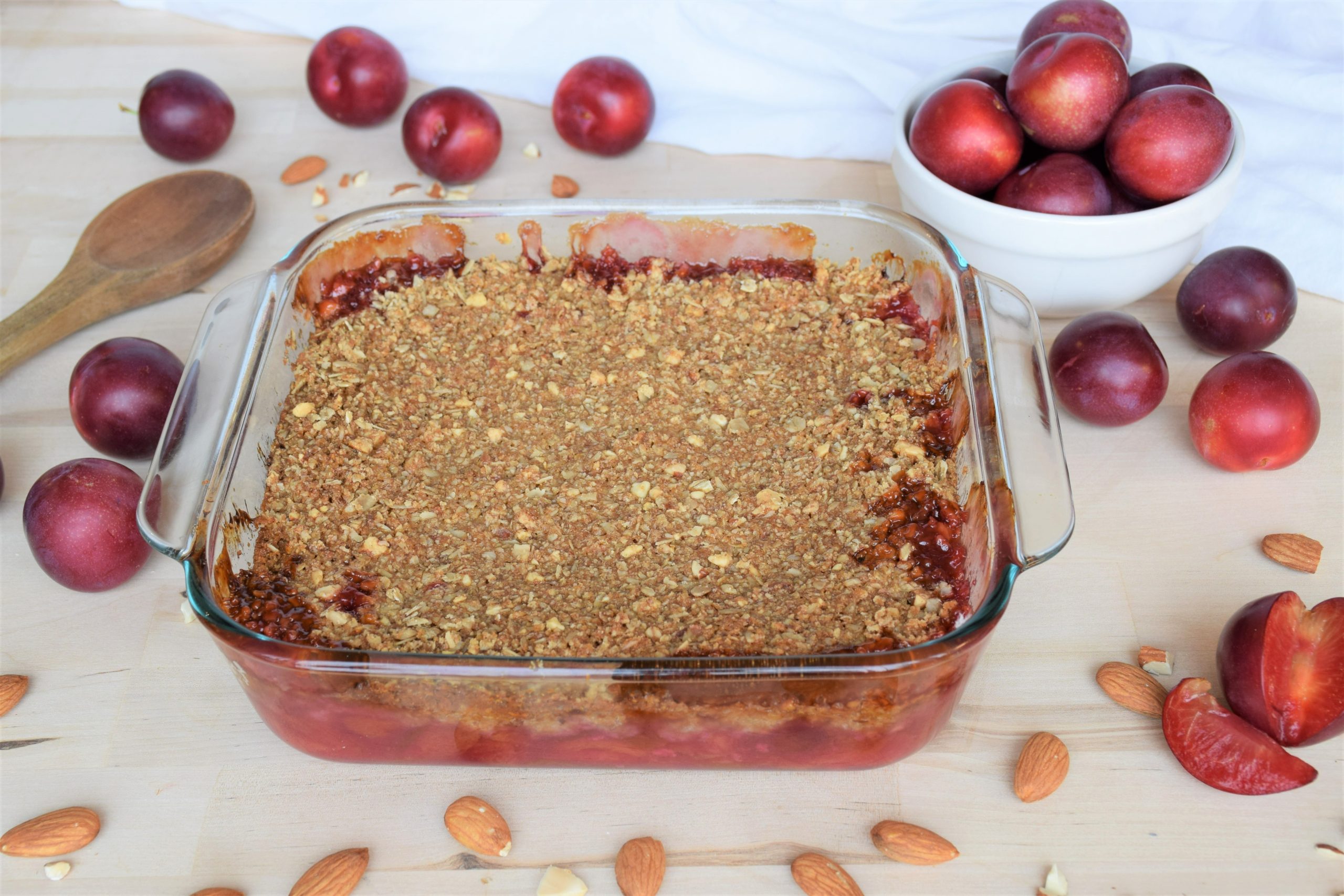 Have you had the opportunity to eat a plum right off the tree? The sweet juice bursts into your mouth and then runs down your chin and arm. This is not an 'escape without a mess' experience, but man is it worth it! Then baking these beauties into a Plum Honey Almond Crisp – heavenly!
I had not experienced the joy of picking fresh fruit off of a tree (other than crab apples) until I moved to Washington. Are you so shocked that Alaska doesn't abound with stone fruit orchards or citrus groves?! So of course, now that I live somewhere fruit not only grows, but is celebrated – I HAD to grow some fruit trees of my own!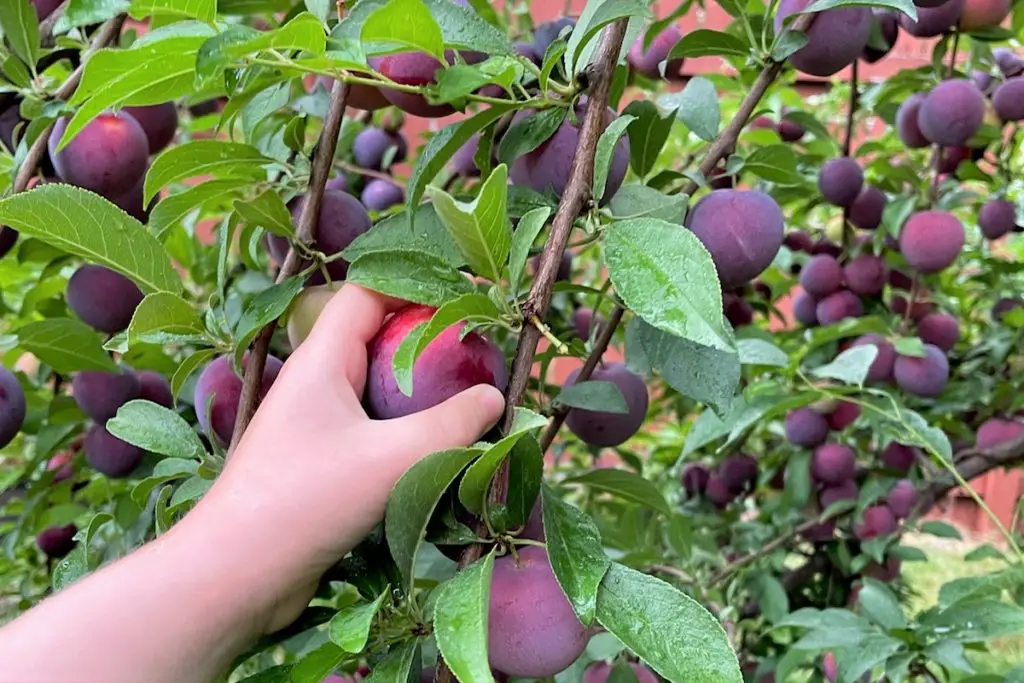 Picking Plums
I have been to the orchards around our town on many occasions to pick and enjoy the seasonal fresh fruit. My favorite quote that sums up the joy of walking through an orchard at it's peak came from one of our local growers of particularly delicious cherries, plums, peaches, and apricots. "If you leave here hungry, that's not our fault." Well yes please, don't mind if I do! One for the basket, one for my mouth, one for the basket, one for my mouth –  well you get the picture.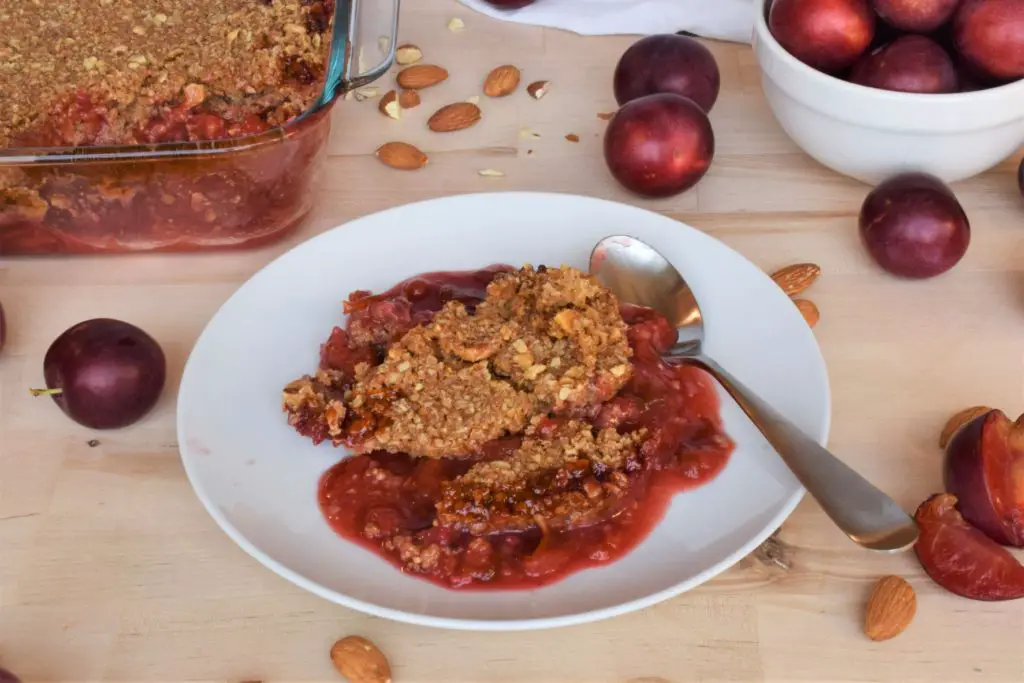 Growing Plums
So how hard could it be to grow these beautiful fruit trees in an area that is known for its orchards?! (For all of you that are laughing now, you must have your own fruit trees – or just know how ridiculous that thought was.) Well, I am now 4 years into having my fruit trees and this is the first year I have an abundance of plums from one tree! Yippee!!
Thankfully I have a sister who is willing to share her wealth of knowledge about fruit trees. (Apparently some of us in the family actually take classes about pruning and the health of fruit trees – WHAT?! Obviously, that was NOT me.) I am grateful that she was willing to help me with (read: do for me) the pruning of my fruit trees for the first couple years. She also fielded many phone calls and texts from me full of questions about and concerns for my trees. Yeah, these fruit trees were SO easy to grow and get fruit from! HA.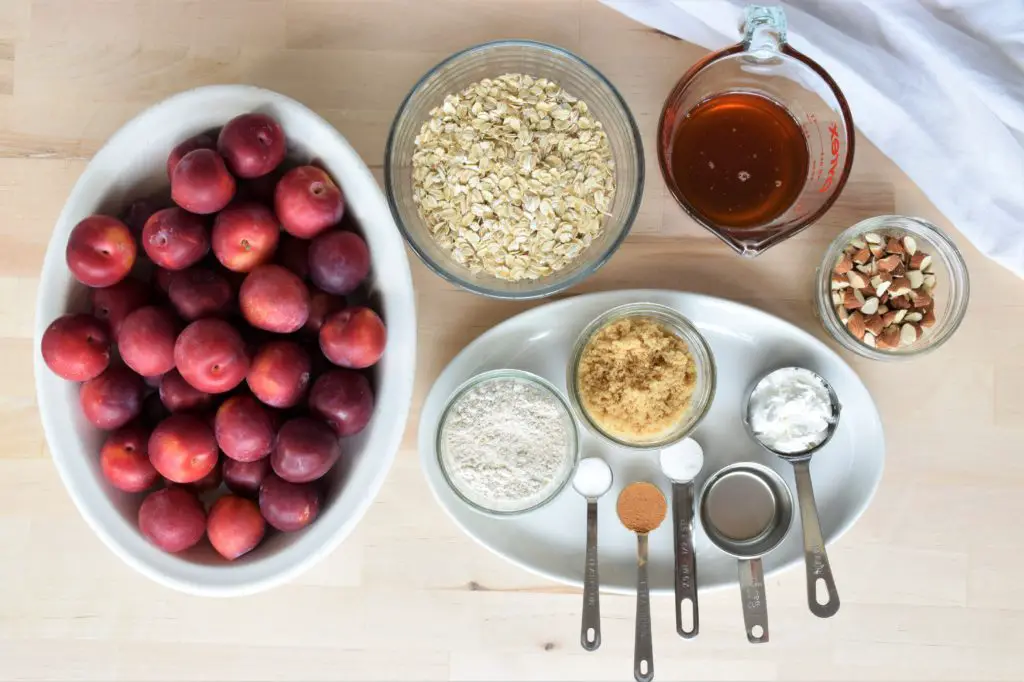 Creating the Plum Crisp
I tell you all of this to say, I owe her. Since I have my mom's southern roots, I show love through baking. My sister is gluten free, dairy free, reduced sugar, and loves trying recipes that are more adventurous in flavor. Well, it seemed fitting that the recipe I make for her should include the plums that are in large part, thanks to her! I am not the most adventurous person in the world so I'm not going to do anything TOO crazy, but I did take some delicious flavors and combine them to create a DF, GF Plum Almond Honey Crisp.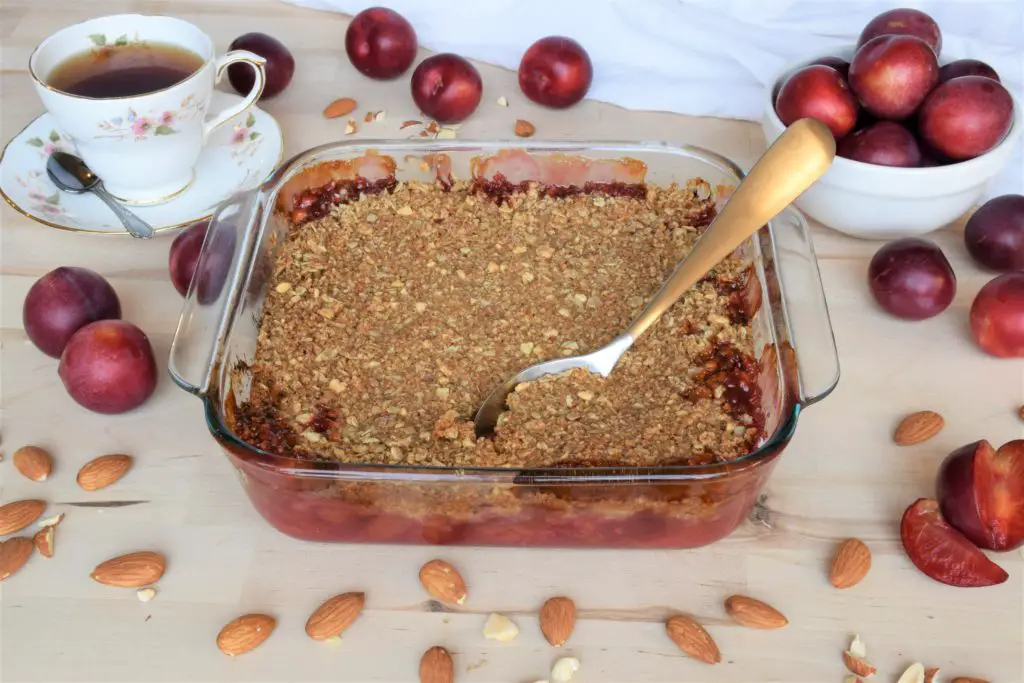 This plum crisp is so delicious! If you are dairy free and gluten free, guess what! You can eat this delicious crisp and not be missing out on anything! Also, if you eat all the wheat and dairy you can get your hands on (that would be me…) this is still the crisp for you! The almond and oat topping is the perfect sweetness level with a slight nuttiness from the toasted almonds. The tartness of the plums is allowed to shine, while at the same time, the sweet and fruity notes are enhanced by the hint of floral in the honey.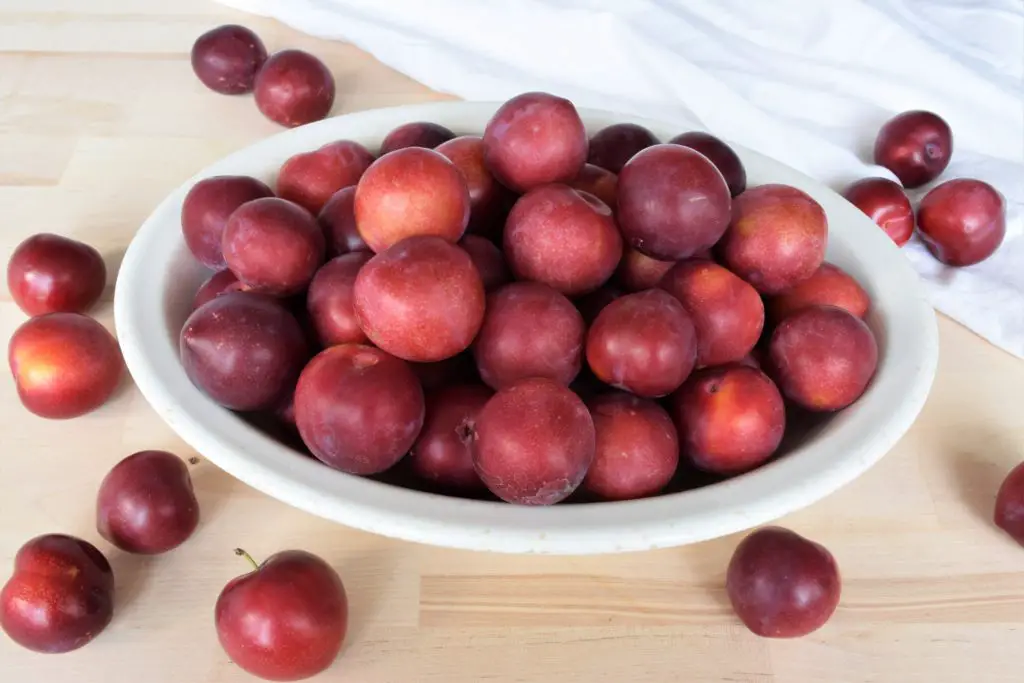 Plum Crisp for All
If you enjoy a not overly cloyingly sweet dessert, this plum crisp is for you! But if you are on the side that enjoys the extra caramel drizzle with chocolate shavings and whipped cream on top of every dessert, then top this crisp with some ice cream or whipped cream! (There are some delicious non-dairy ice creams available – oat milk or almond milk ice cream on this? YES!) Or if you are insistent that a dessert is not a dessert if it isn't chocolate, make this delicious chocolate zucchini cake  or the allergy friendly version instead and know I still love you.
I feel like I have to admit here that my favorite part of a crisp is the topping. It's like a delicious cookie with a side of caramelized fruit. This plum crisp has taken my love of topping to a whole new level, so I didn't skimp on the amount, because no bite of plums should have to go without. However, if you are someone who prefers your fruit to shine more than the topping, make only 2/3 to 1/2 of the topping.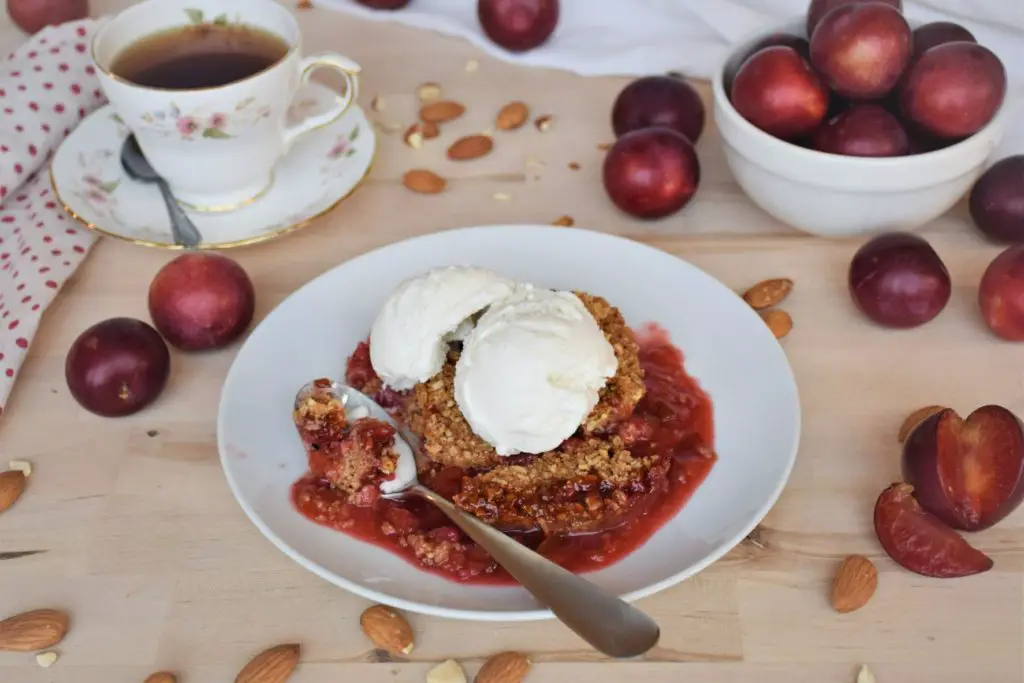 Pounds upon pounds of plums
As I eat my way through my second of these plum crisps I can tell you, this plum tree was WORTH IT! Speaking of the plum tree, I still have plums galore!  I am afraid my neighbors are going to start turning me away when they see me walking up yet again with a bag of plums. So, stay tuned for some more plum creations coming to the blog! Tis the season.
More Delicious Recipes
Cinnamon Applesauce Snack Cake
Chewy Ginger Molasses Cookies – G/F, D/F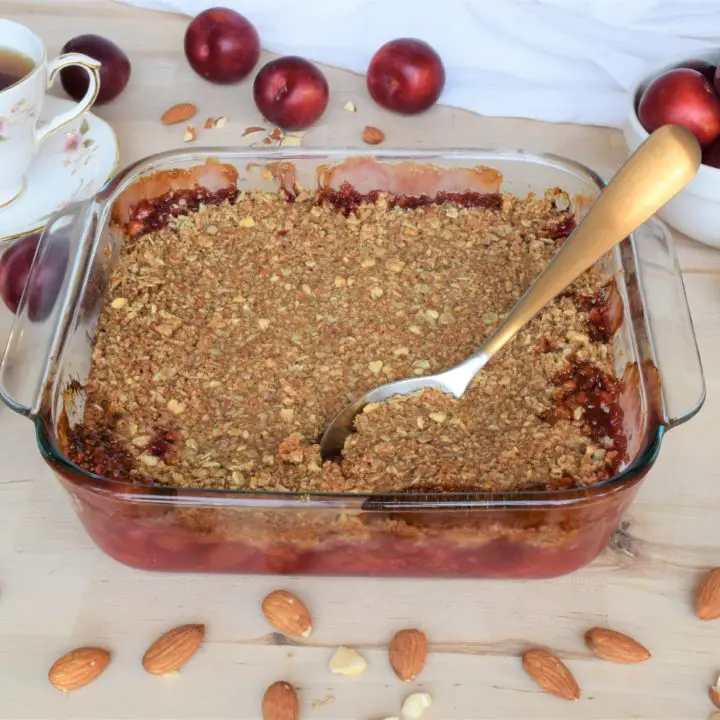 Plum Honey Almond Crisp Recipe
Total Time:
1 hour
15 minutes
A delicious plum crisp that stands out from the others with it's nutty topping and honeyed fruit. Dairy free and gluten free, but loved by all!
Ingredients
1/2 cup almonds chopped and toasted*
1 1/3 cup rolled oats**
1/2 cup oat flour
1/2 tsp salt
1/2 tsp cinnamon
1/4 cup + 2 T brown sugar
1/2 tsp baking soda
1/4 cup coconut oil (melted)***
4 cups (~2 lbs) cut plums - pits removed
1 T coconut oil
1/2 cup + 2 T cup honey****
1/2 tsp cinnamon
3 T corn starch
Instructions
Preheat oven to 350 degrees Fahrenheit, and spray a 9 x 9 baking dish.
Pulse the toasted almonds in a food processor for a few seconds. Add oats, oat flour, salt, cinnamon, baking soda, and brown sugar to the almonds in thefood processer Pulse a few times until combined. Add melted coconut oil and pulse a few more times until mixture is combined. Alternatively, you could also chop your almonds a little smaller and just mix it all in a bowl, if you would rather not use a food process. The texture will be the slightest bit different since the rolled oats will be whole, but it will still work and taste just as delicious as ever.
Chop plums into bite sized pieces and place in a large mixing bowl. Sprinkle the cinnamon and corn starch over the plums and gently stir to combine. Pour the honey and melted coconut oil over the plum mixture and gently stir, until you can no longer see corn starch and honey is coating all the plums.
Pour plum mixture into the prepared baking pan. Sprinkle oat topping over the plums evenly, don't press the topping down. Plums are delicate enough that if you press the topping down, the plums squish to the sides while baking and you will have mostly crumb topping in the middle. (This is not a problem in my book as I LOVE this topping, but some people may be a bit disappointed to not have as much honeyed plum goodness.)
Bake in the oven for 50 minutes to 1 hour (depending on if you reduced the topping amount or not, you may need to check the crisp around 40 minutes). When topping is golden brown and looks baked in the center and the plum juice is bubbling, its done. YAY!
Enjoy as is to fully enjoy all these amazing flavors, or top with whipped cream or ice cream (dairy or non dairy, your choice, both are delicious!!). SO GOOD!
Notes
*Measure a 1/2 cup of roughly chopped almonds and toast in the oven at 350 for 10-15 mins, shaking them around a couple times. Or you can use not toasted almonds if you don't have the time. Still delicious, the crisp topping just wont have the toasted flavor, but the almond will still shine.
**If you are making this recipe gluten free, make sure to check that your oats state 'gluten free'.
***Coconut oil - melted, or any neutral oil (ie canola, safflower, vegetable oil) will work. You could even go crazy and use butter, just know it is no longer dairy free if you do.
****Depending on the sweetness of your plums you may need a little more or a little less honey. Add most of the honey and taste the plums and judge accordingly from there.
Nutrition Information:
Yield:

9
Serving Size:

1
Amount Per Serving:
Calories:

224
Total Fat:

12g
Saturated Fat:

7g
Trans Fat:

0g
Unsaturated Fat:

5g
Cholesterol:

0mg
Sodium:

235mg
Carbohydrates:

26g
Fiber:

3g
Sugar:

10g
Protein:

4g
This information was obtained using an ingredient calculator to provide an idea of nutritional value. To obtain the most accurate numbers for nutrition information of any recipe, you should figure the nutritional information with the ingredients you used in the recipe. Each individual user is responsible for making sure that any nutritional information used is correct.
---
---