Bright Refrigerator Plum Jam Recipe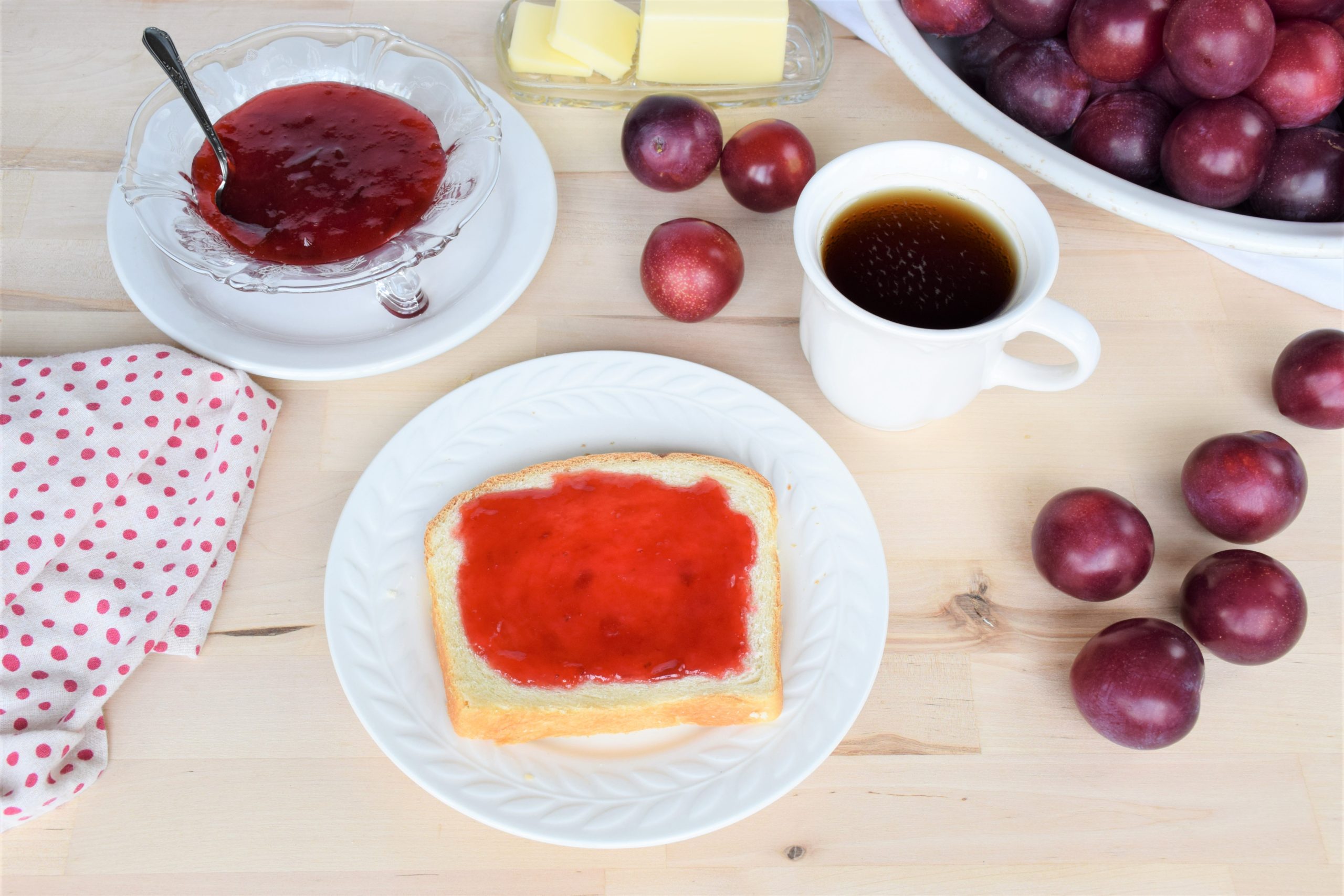 I like problems that have answers. Who doesn't? I always enjoyed math growing up for the sole reason that 2+2=4. Four is the answer. It is the end of the problem. You are done. Your work is finished. You may now move on knowing you have correctly answered the problem in its entirety. Yes!
English on the other hand was a subject that never had a set 'right' answer, especially when you get into interpretations and meanings. How do you know when you have correctly answered a question or problem related to a book if there are multiple interpretations? Yes, I know, some are 'righter' (is that even a word?) than others, but still. "What do the characters' interactions with one another symbolize about the author's point of view, and how does the author's tone of the story enhance and develop the theme?" Uhhhh four?
Perfectionism was so much easier to achieve in preschool.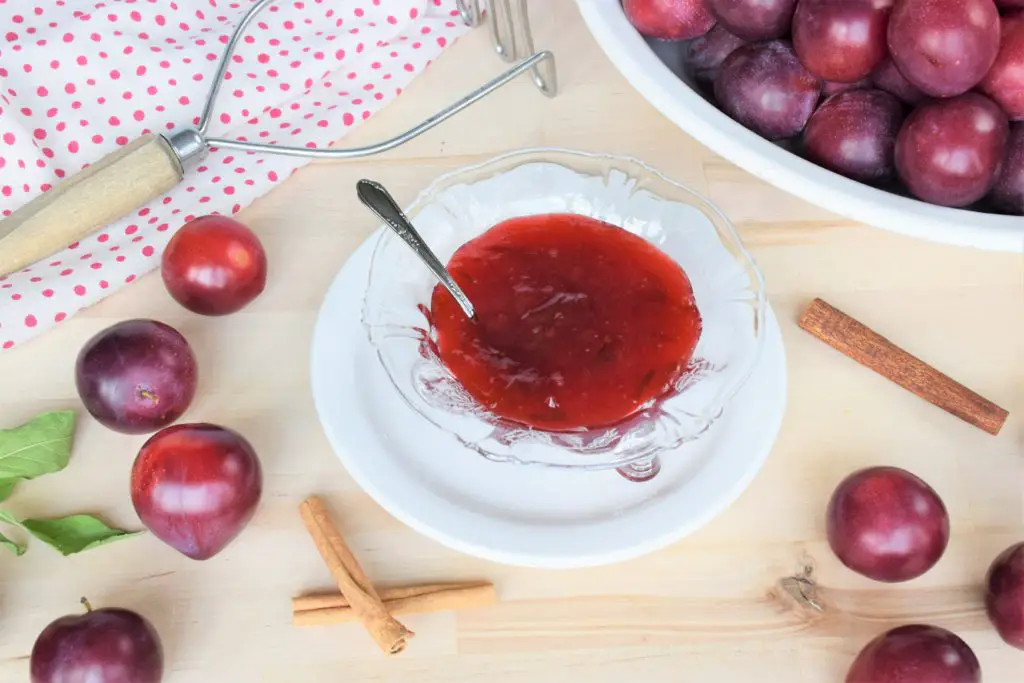 Following the rules because – ANSWERS
I think that is why baking always appealed to me versus cooking. Baking has rules. You follow the rules – i.e., recipe – and you are rewarded with a delicious treat for your efforts.  How great is that?! There is no guesswork, or wondering, or making of decisions (my weakness!).
Whereas the dreaded words in cooking of: 'season to taste' or 'herbs of your choice', require me to make decisions. Yes, but what is the right herb to use and what should the taste be?! Okay, I will admit that cooking 'to taste' has gotten a bit less panic-inducing for me over the years, but I still cling to my recipes and rules. I like having the answers without the decision-making on my part.
Break the rules, and see what happens
Well, I broke my own rules so to speak, and created a recipe that doesn't have exact amounts *cringe*. I still have an over-abundance of plums coming through my kitchen. To fully take advantage of the fresh fruit season I decided to try a new spin on an old favorite, plum jam.
I really enjoy the art of jam and jelly making – when I have the time to be moving quickly with boiling hot objects around a kitchen. However, I don't always have that time with a one- and four-year-old. So, although I put up 3 batches of more traditional plum jam this year (oh so good!), I have been testing out methods of making a more forgiving small batch of refrigerator jam.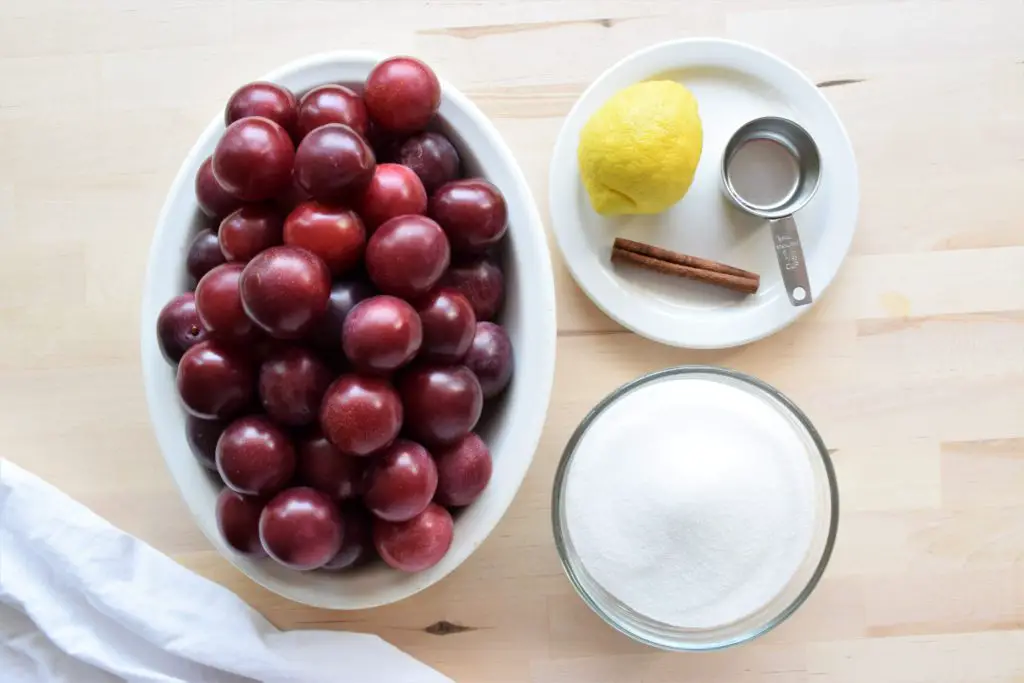 Jam upon jam, life is sweet!
Since this refrigerator jam doesn't use pectin the amount of sugar you use is up to you and your preference. I think you will like the ability to have a slightly more plum forward jam (versus so much sugar in your traditional full-sugar pectin jam). Less sugar makes it more versatile in its flavor profile and allows you to enjoy fully the PLUM flavor, not just sugar. (Although, sugar IS delicious, don't get me wrong.) This also means you don't have to have the PERFECT plums to make perfectly delicious jam, hooray!
If you have super sweet plums, use less sugar and a bit more cornstarch to maintain the consistency you prefer. If you picked plums at the start of the season and they still have quite a bite to them, or your plums just aren't as sweet, use more sugar and decrease the corn starch or possibly omit it altogether. (This is what I am talking about there not being set rules – EEK! But don't worry, it's forgiving and WILL work out)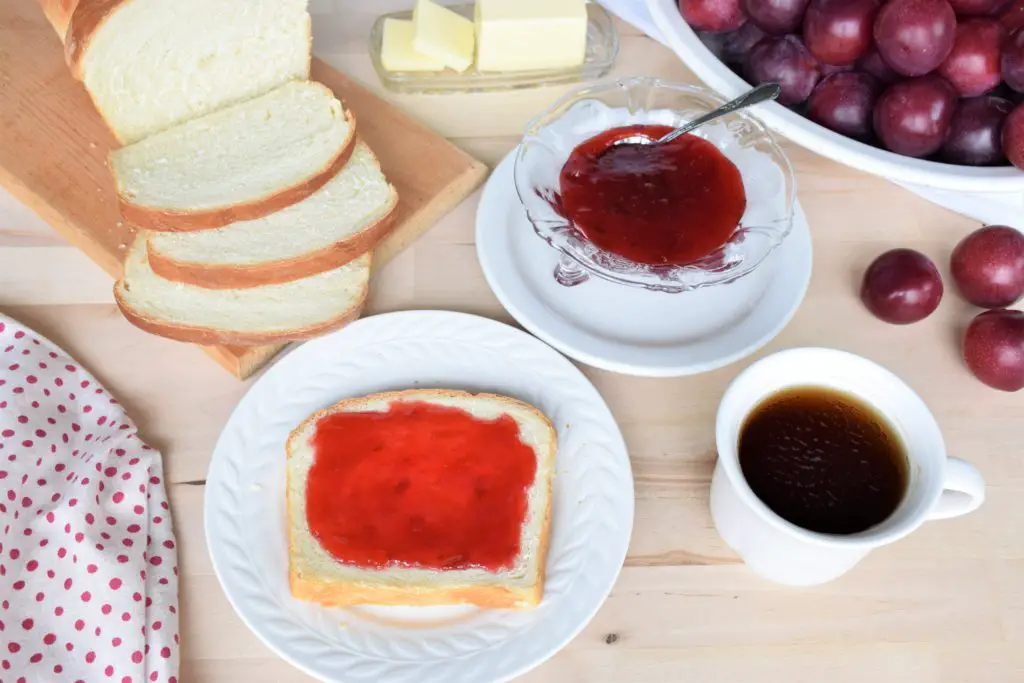 Let me count the ways to use this jam
This small-batch jam makes for a great topping on bread, biscuits, straight off a spoon, over ice cream, PB&Js, you name it! My favorite way to use this jam so far has been with Thumbprint cookies (recipe coming soon!) melt in your mouth heaven with a kick!
I have made this small-batch plum jam several times over the last month, during the different stages of our grafted plum tree's production. We have 4 varieties that survived and are now thriving. (Don't even ask me about the sad demise of the 5th variety – my whole purpose in getting this tree –  RIP Italian Prune Plums.)
The first batch was at the start of the season and the plums still had quite a bit of tartness to them. (I wanted to make sure I got SOME plums before the dreaded raccoons thieved them all, so I did pick some a bit early.) I would compare them to some of the plums you get at the store that just haven't hit their peak ripeness.
These plums made incredible jam. I used a bit more sugar, and I left the skin on the plums to add to the natural pectin in the jam. I didn't have to use any cornstarch for this batch, but all of my others I used at least some for thickening to a soft spread consistency vs a pouring consistency, like syrup. Plum syrup would also be delicious though… Hmm, I may surprise my family with an amazing breakfast treat of oatmeal pancakes with plum syrup. Mmmm.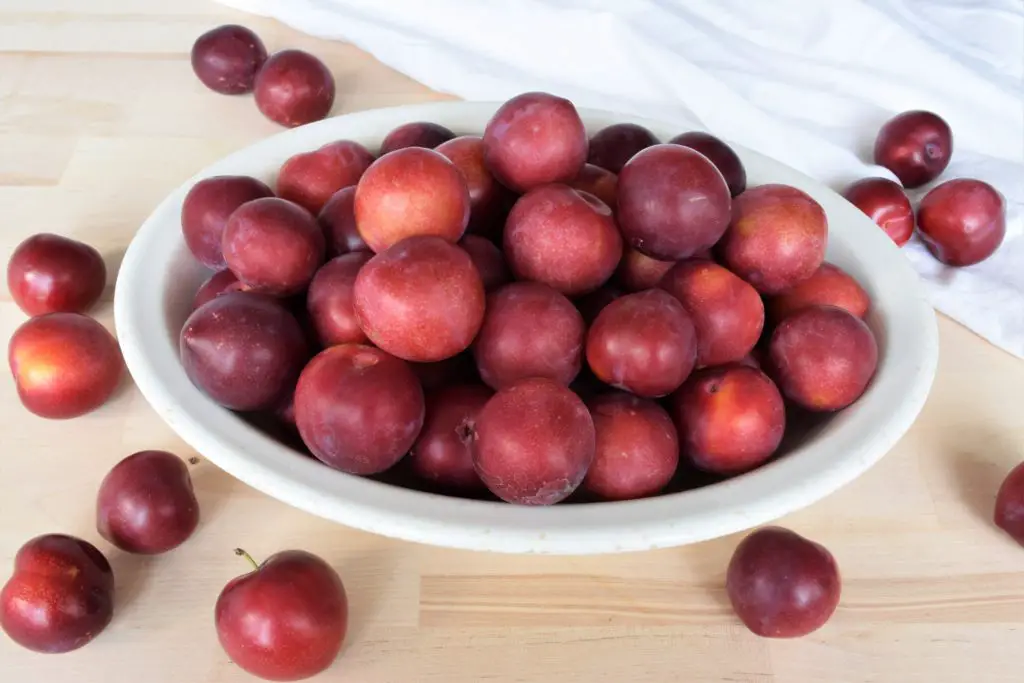 Variations- Decisions, decisions
I digress, back to jam. When leaving the skin on it adds to, not only the pectin level, but the color of the jam and the flavor. You have a couple of options when making this jam. First, you can chop the plums into bite-sized pieces and the fruit will cook down smooth (with a little light mashing and stirring) but the small pieces of plum skin will be like tiny, delicious bits of chewy candy (I did NOT hate them) in your jam. Or, second, if you are a purist, and want a completely smooth consistency, you can use an immersion blender (or very carefully transfer the jam to blender – it's hot!) and blend until you reach your smooth consistency.
Both versions worked great, but I have to say I am a little bit attached to the candied skin pieces in the batches I didn't blend. On the other hand, the batches that were blended smooth were so satisfying to make cookies with, as they looked like unblemished jewels. So, we have decided then, do both.
Sweet Plums + less sugar = delicious
The other batches of this jam I made were during the peak and even towards the end of the plum season, so these plums had more natural sugars in them and the 'bite' from the skin was much diminished. These plums I also left the skin on but added less sugar, as it didn't need it to balance out flavors. Because of the decrease in sugar, I did have to add some cornstarch to get it to the soft spreading consistency I was looking for.
I added a bit of fresh lemon juice in every batch I made and man, did this turn into some bright, cheerful, knock your socks off in a good way, sort of jam.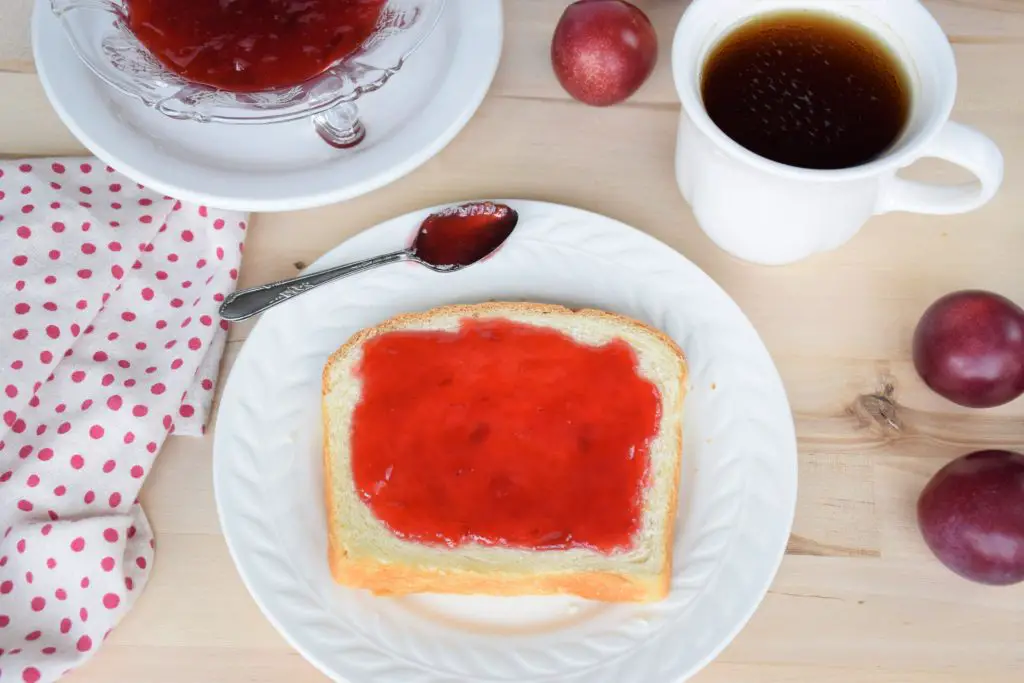 Storage of Jam
This small batch fridge jam is easy to store. No worrying about if it is going to seal or not (or my issue lately: if I can find canning flats or not) because it is just going in the fridge (or freezer). Throw it in some clean canning jars, washed and reused glass jars, or any glass storage container, and you are good to go. This jam will easily keep in your fridge in a closed container for several weeks.
This recipe makes about 3 cups of jam but is easily changed based on how many plums you want to use. There are no rules! *yikes*
Happy neighbors, happy life
I have shared some jam with neighbors, and they are now letting me back on their porches to drop things off again. I was almost banned from their properties, after all the plums, cukes, and zukes I have been bestowing on them lately. No, I am kidding, I have great neighbors, they would never ban me. They do however look a little happier with my offerings these days though, as they consist of many sweet plum jam treats and not just veggies. Who can blame them?!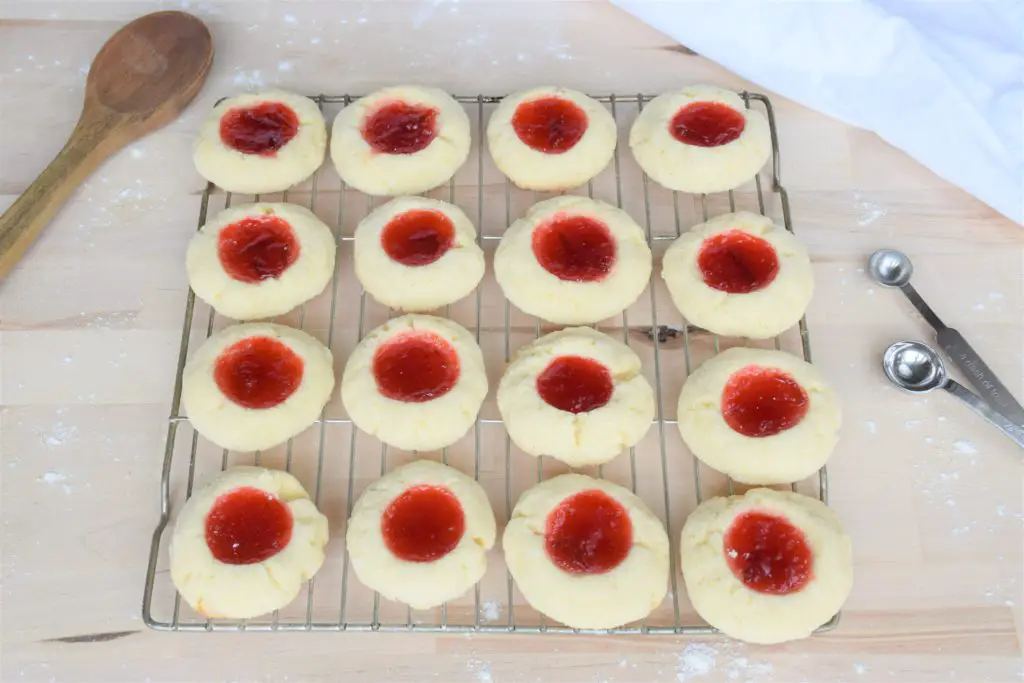 Happy Jammin'
If you too are looking for a use for the beautiful, yet often overlooked fruit, the plum, this is it. Make this jam (or this plum crisp)! Or if you are wanting to wake up your taste buds with a delightful mouthful of bright jam, this is it. Make this Jam! Or if you are wanting the taste of a bright and flavorful homemade jam that allows you to adjust sugar as you see fit. Or you want a more forgiving jam that doesn't require all the hot water baths with littles under foot, this is it. Make this Jam! Or you want to just make a small batch of delicious jam to go with breakfast or to make amazing thumbprint cookies, you guessed it. This is it, make this jam!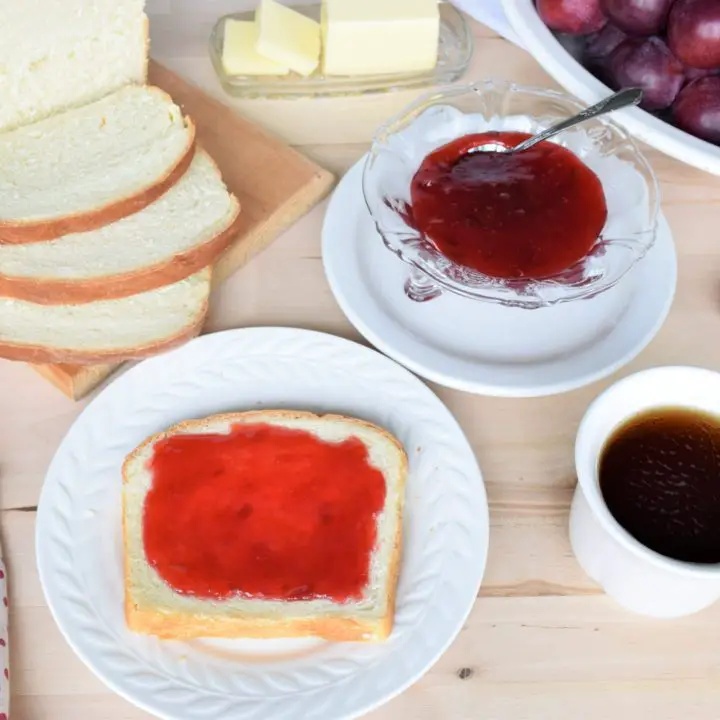 Bright Refrigerator Plum Jam Recipe
This plum jam is so versatile and delicious. You have the ability to make every batch to your particular taste by just following a few of these guidelines. No more wasted plums, just sweetened deep purple flavor of late summer!
Ingredients
1 pound of plums, chopped, with pits removed (about 1.5 lbs with pits)
1 cinnamon stick
2 Tbs fresh squeezed lemon juice
3/4 - 2 cups granulated sugar (depending on sweetness of the plums)
2 Tbs corn starch (optional, if needed for thickness)
2 Tbs water (use to mix with corn starch, if using)
Instructions
Remove pits from plums. Dice plums into bite sized pieces and place into a medium saucepan on the stove. Add a cinnamon stick and lemon juice. Heat on medium heat, stirring occasionally.
When plums have simmered for a few minutes and started to break down, mash plums with a potato masher. You can also mash the plums with your stirring spoon if you don't have a potato masher. If you are going to blend your jam, do that now with either an immersion blender or in small batches in a blender (careful with it being hot!).* Be sure you remove the cinnamon stick before blending, then replace the cinnamon stick for the rest of the cooking time.
Stir in 3/4 cup of sugar and taste, if jam is not sweet enough for your taste, add 1/4 cup of sugar and taste again. Repeat if needed.
Heat jam to a boil and cook, stirring frequently, for 15 mins. Check jam for sweetness level at this point. If it needs a bit more sugar, add 1/4 cup of sugar at a time. If jam is a bit on the sweet side and needs a bit more of a brightness to it, add a bit more lemon juice. When the taste is to your liking, cook a couple more minutes.
Once the plum jam tastes amazing, check it for thickness by running a finger through the jam on the back of the spoon. If line stays, it is thick enough as is. If jam isn't thick enough, mix cornstarch and water. Slowly add cornstarch slurry into jam whisking at the same time. Start with just half of the cornstarch slurry and check jam thickness. Keep in mind, jam does thicken up a little as it cools, but you may need to add the rest of the cornstarch mix now if jam is still too thin.
Poor jam into clean glass containers or jars and cover. Allow jam to cool some before storing in the fridge (or freezer). This jam isn't made with pectin and it isn't sealed, so it shouldn't be stored at room temperature.
Enjoy on bread, over ice cream, with a spoon out of the jar, on a PB&J, bake with it, or even cook with it. This jam has so much flavor!!
Notes
*Review post for more detail on blending jam vs just mashing.
Nutrition Information:
Yield:

24
Serving Size:

1
Amount Per Serving:
Calories:

60
Total Fat:

0g
Saturated Fat:

0g
Trans Fat:

0g
Unsaturated Fat:

0g
Cholesterol:

0mg
Sodium:

0mg
Carbohydrates:

15g
Fiber:

0g
Sugar:

14g
Protein:

0g
This information was obtained using an ingredient calculator to provide an idea of nutritional value. To obtain the most accurate numbers for nutrition information of any recipe, you should figure the nutritional information with the ingredients you used in the recipe. Each individual user is responsible for making sure that any nutritional information used is correct.
---
---