Pumpkin Cream Cheese – All Year Long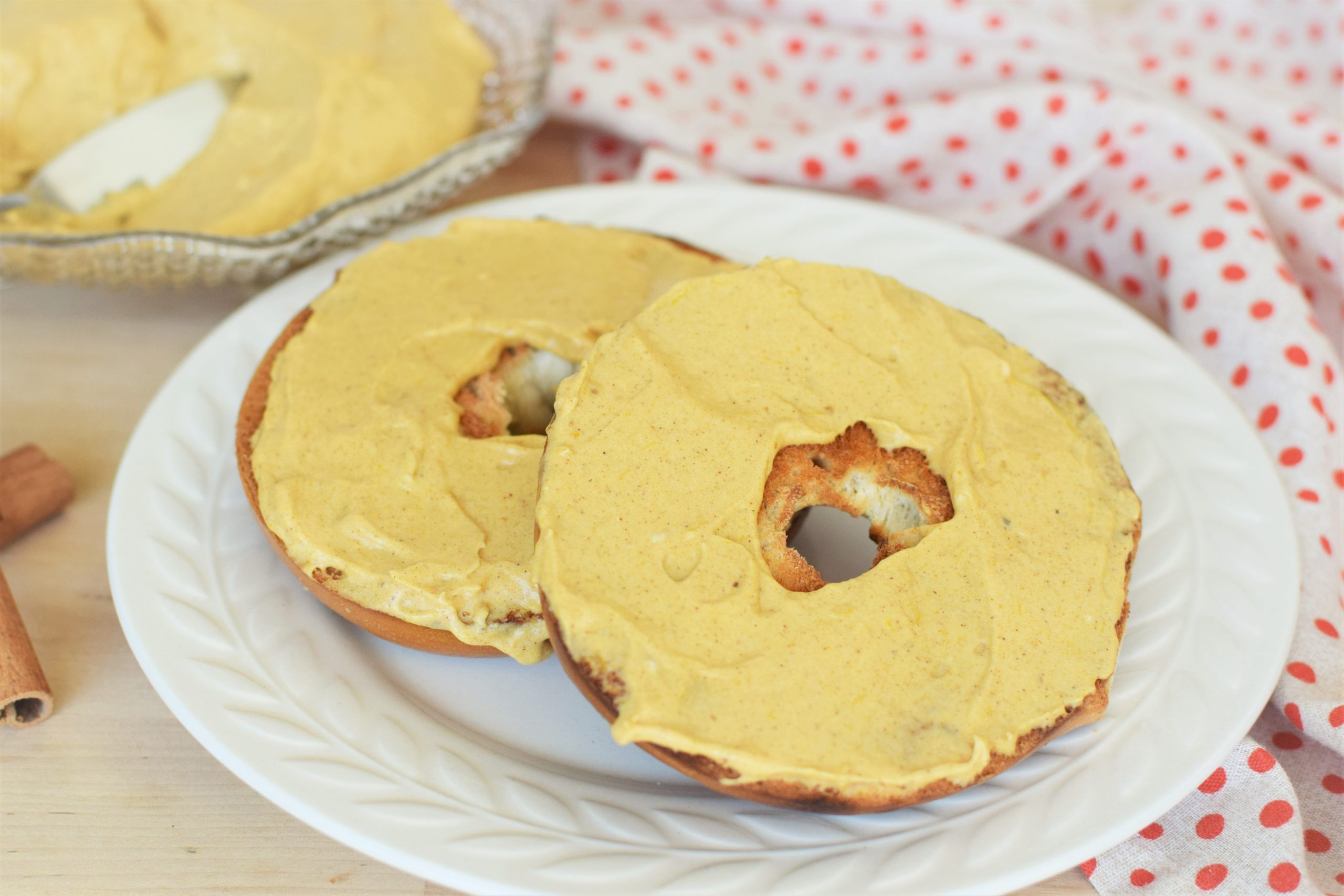 It's that time of year: when pumpkin everything appears. I know there are those *ahem, my husband* (opposites attract) that dread September 1st and the appearance of everything pumpkin. Apparently, they are just trying to enjoy the last bit of summer – or so I'm told. I, on the other hand, relish this time of year! And I want to be able to celebrate in full fall style with anything and everything. If that mean creating a pumpkin cream cheese recipe – I'm all in!
The rabbit hole to our pumpkin cream cheese fandom began when my daughter discovered Trader Joe's Pumpkin Cream Cheese last year. That was it. She was hooked. It was a sad day, in the beginning of October when I went to pick some up for her and they no longer carried it because it was "out of season". Excuse me, I thought we were just starting the season! So, creating a delicious pumpkin cream cheese at home was of course the ONLY solution!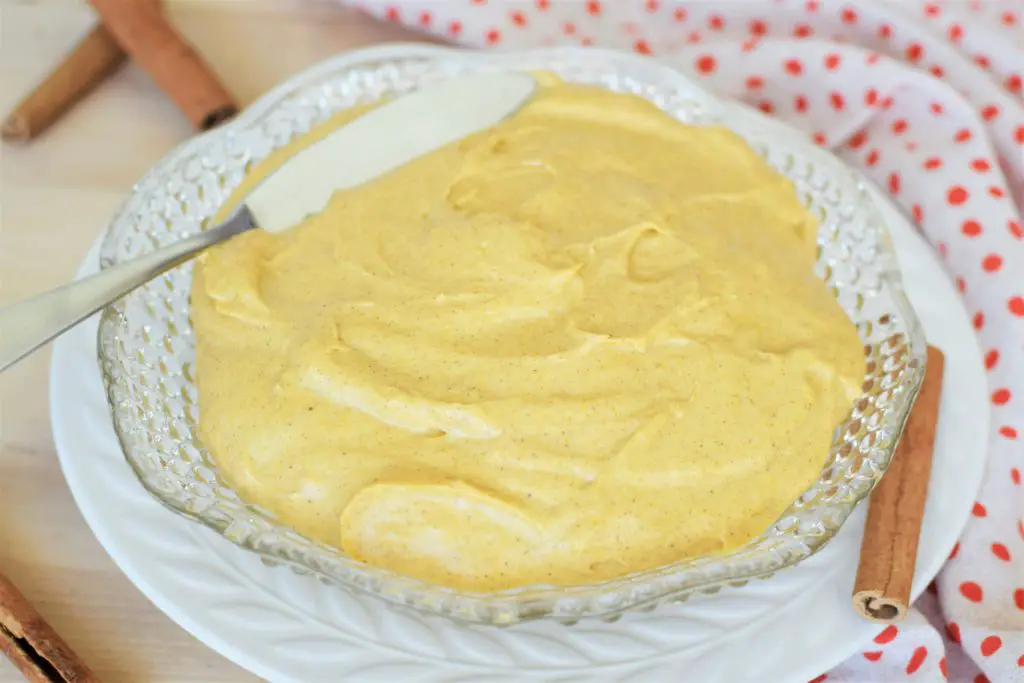 Pumpkin Cream Cheese Creation
Since this was my daughter's new-found favorite topping for everything, she was, of course, my assistant in developing this seasonal pumpkin cream cheese.
We started with full fat cream cheese (you could use the 1/3 less fat variety, but I wouldn't recommend the fat free – is that even cream cheese?) From there we added enough pumpkin to get the pumpkin flavor but not too much. We wanted to taste the spices and sugar, of course!
A mix of both brown and granulated sugar gave us the sweetness we were searching for while remaining flavored cream cheese and not becoming spreadable dessert. Okay, so it's a little like spreadable dessert, but since it has a veggie, that evens things out.
Using both cinnamon and pumpkin pie spice (Trader Joe's is my favorite) gave this cream cheese the spice it needed without it being too "spicy."
Finally, a splash of vanilla and a pinch of salt to bring out flavor and we had something delicious that was worth licking every last bit of the beaters.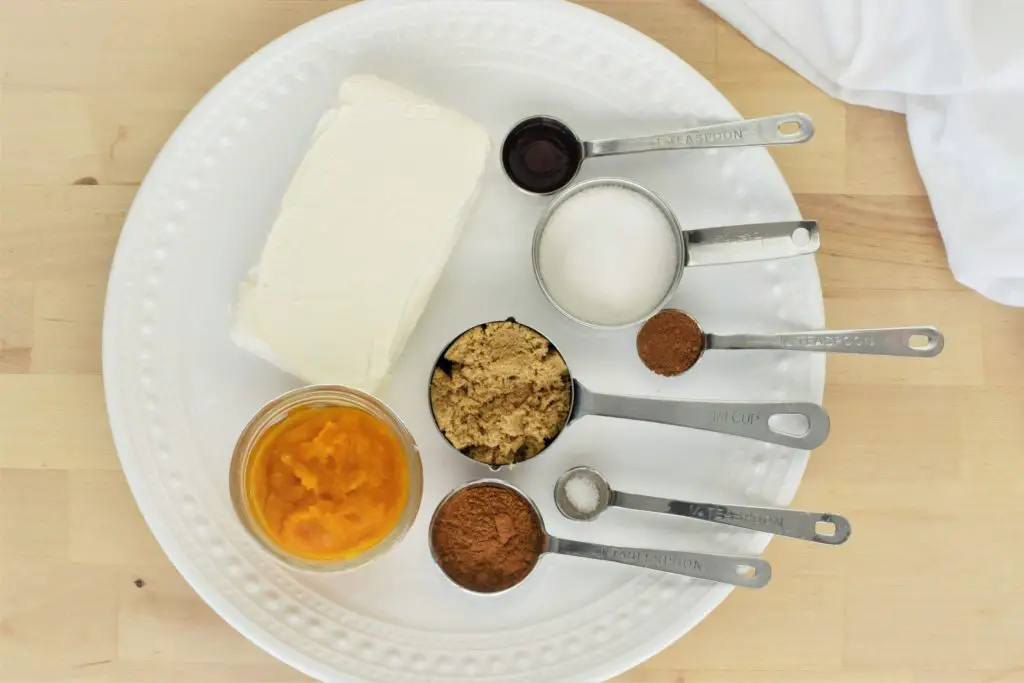 What pumpkin to use?
I have used both homemade pumpkin puree and store-bought canned puree. Both work well, as long as it isn't the canned pumpkin pie filling – don't use that. Or do, but don't expect the same results since I have no idea what that tastes like or what the texture is. Really what IS pumpkin pie filling? And don't say "it's filling for pumpkin pie." I know you were thinking it. 😉 Oh, okay, thanks Southern Living, now I know, but I'm still using plain ol' pumpkin here.
If you are using a can of pumpkin, I know that it is frustrating to use a part of a can of something without having a plan for the rest. If you only want to make the cream cheese and nothing else, just freeze the rest of the pumpkin divided into the correct amounts for this recipe in small ziptop baggies or small freezer containers. Next time you want to make it, just thaw a little container of pumpkin and you are all set.
If you want another recipe to use that pumpkin, try these pancakes and use pumpkin instead of the roasted squash puree – delicious!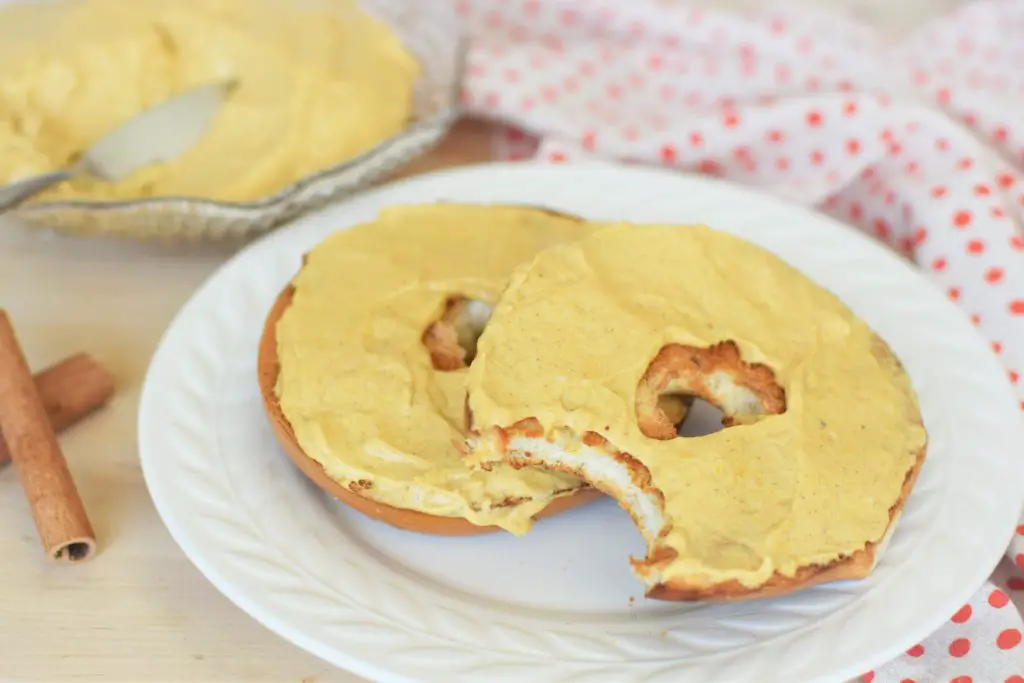 How to make pumpkin cream cheese
I found it easiest to mix this with a hand mixer. Quick and easy to mix, easy to clean up, and it allowed me to get a fully smooth texture. You could also use a stand mixer if you feel compelled, but it is almost a small enough volume that it isn't worth it.
To get the smoothest texture, use softened cream cheese and mix the cream cheese on its own until it is smooth and no chunks remain. Then add the pumpkin puree and mix that with the cream cheese until smooth and fully incorporated.
Lastly, add the sugars, spices, salt, and vanilla. Mix well, until it is fully combined. You will probably need to scrape the sides and bottom of the bowl to make sure you are mixing all the good bits in.
Taste the cream cheese and see if it meets your pumpkin cream cheese needs and expectations. It most likely will, but if you would like to add a little more of any ingredient, feel free. The pumpkin cream cheese flavors meld together and are even more delicious the second day, so wait in eager anticipation. That doesn't mean you still won't want to lick every bit of this delicious spread off the beaters and spatula. If you put your face in the mixing bowl to clean that as well – I won't tell.
Storing your Flavored Cream Cheese
This cream cheese can be stored in an airtight container in the fridge for a couple weeks. I like to store it in mason jars with a reusable lid like this.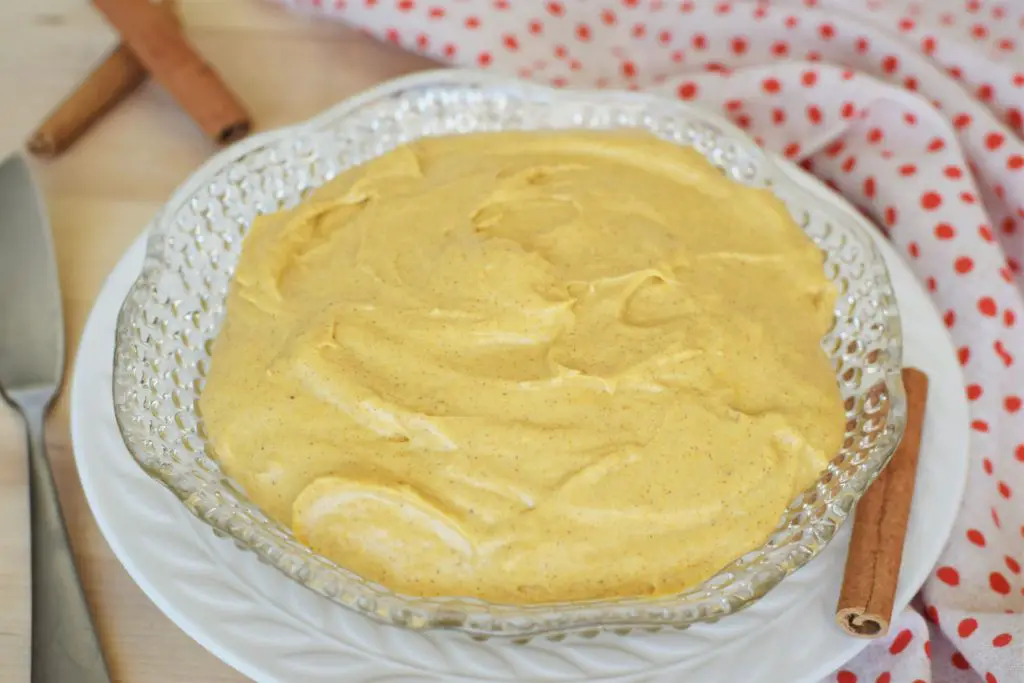 What to put pumpkin cream cheese on
The sky is the limit here! I would eat this pumpkin cream cheese even if you spread it on a stale end piece of store-bought bread (which is hardly even good for keeping cookies soft). However, since there are MUCH more enjoyable ways to enjoy this cream cheese, here are some of our favorite ideas:
Pumpkin Bread or pumpkin muffin
Fresh slice of bread or toast
Cinnamon roll or cinnamon swirl bread– oh yes!
Bagel
Waffles
Pancakes (especially roasted butternut squash or pumpkin pancakes)
Biscuits
Graham crackers
Ritz or Club crackers (it's the sweet and salty)
It makes a delicious dip for pretzels
Apple slices are also recommended by my daughter.
So really, what carb can't you spread this on?!
Now that we can make our own pumpkin cream cheese, we make it year-round, as well as the much beloved "Almost-Pumpkin Cream Cheese" (recipe coming soon). No more hoping and praying that we get our fill during the two weeks of the year it's in season. That never happened. When a hankering for pumpkin cream cheese strikes now, we are fully prepared and able to fulfill that craving with this delicious recipe.
More Delicious Fall Flavored Treats
Roasted Butternut Squash Pancakes
Honeyed Plum Cobbler with Spiced Biscuits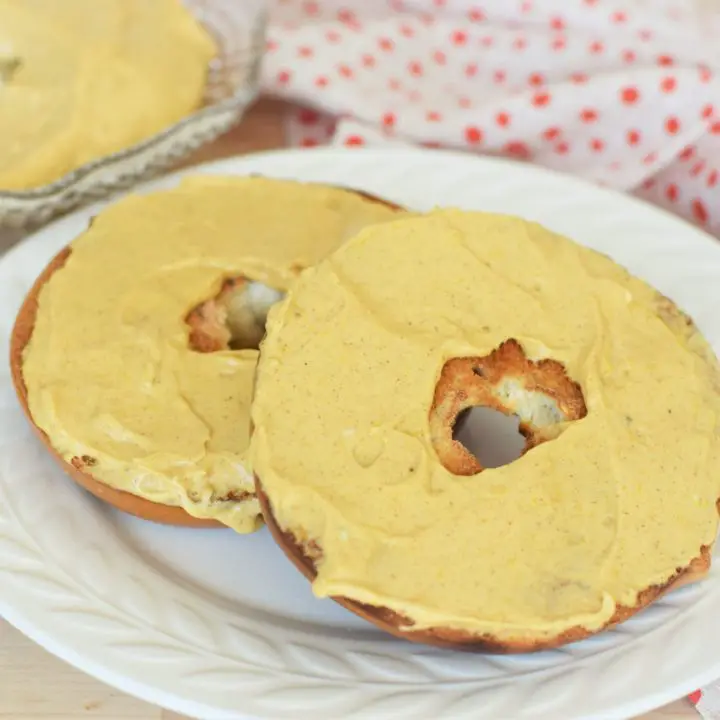 Pumpkin Cream Cheese
You can have the delicious fall flavors whenever you want with this delicious homemade pumpkin cream cheese. With some sugar and spice - it's everything that's nice!
Ingredients
8 oz (full brick) full fat cream cheese, softened*
1/4 cup + 2 Tbs pumpkin puree
2 Tbs brown sugar
2 Tbs granulated sugar
1 tsp vanilla
1 tsp cinnamon**
1/2 tsp pumpkin pie spice***
Pinch of salt
Instructions
In a medium bowl cream softened cream cheese with a hand mixer until creamy and smooth.
Add pumpkin puree and cream until well combined.
Add the rest of the ingredients and mix until well blended. At this point you can taste the pumpkin cream cheese and add a bit of spice, sugar, and pumpkin if need be - although try it first, it's delicious!****
Store pumpkin cream cheese in the fridge in an airtight container like this or a mason jar with a reusable lid.
Notes
*You can also use the reduced fat cream cheese, but I wouldn't use fat free, as I'm not sure how well it would hold up.
**If you really like cinnamon, you may want to add a little more, but make it first and taste it. If it needs a little more - add a little at a time until cinnamon perfection is achieved!
***If you don't like the taste of pumpkin pie spice (honestly I didn't until I tried Trader Joe's) then you can increase your cinnamon to 1.5 - 2 tsp if needed.
****For a lighter cream cheese, whip mixed cream cheese for another minute or two until light and fluffy. I could eat this with a spoon - and have!
Nutrition Information:
Yield:

16
Serving Size:

1
Amount Per Serving:
Calories:

64
Total Fat:

5g
Saturated Fat:

3g
Trans Fat:

0g
Unsaturated Fat:

2g
Cholesterol:

15mg
Sodium:

54mg
Carbohydrates:

4g
Fiber:

0g
Sugar:

4g
Protein:

1g
This information was obtained using an ingredient calculator to provide an idea of nutritional value. To obtain the most accurate numbers for nutrition information of any recipe, you should figure the nutritional information with the ingredients you used in the recipe. Each individual user is responsible for making sure that any nutritional information used is correct.
---
---