Great-Grandma's Oatmeal Cake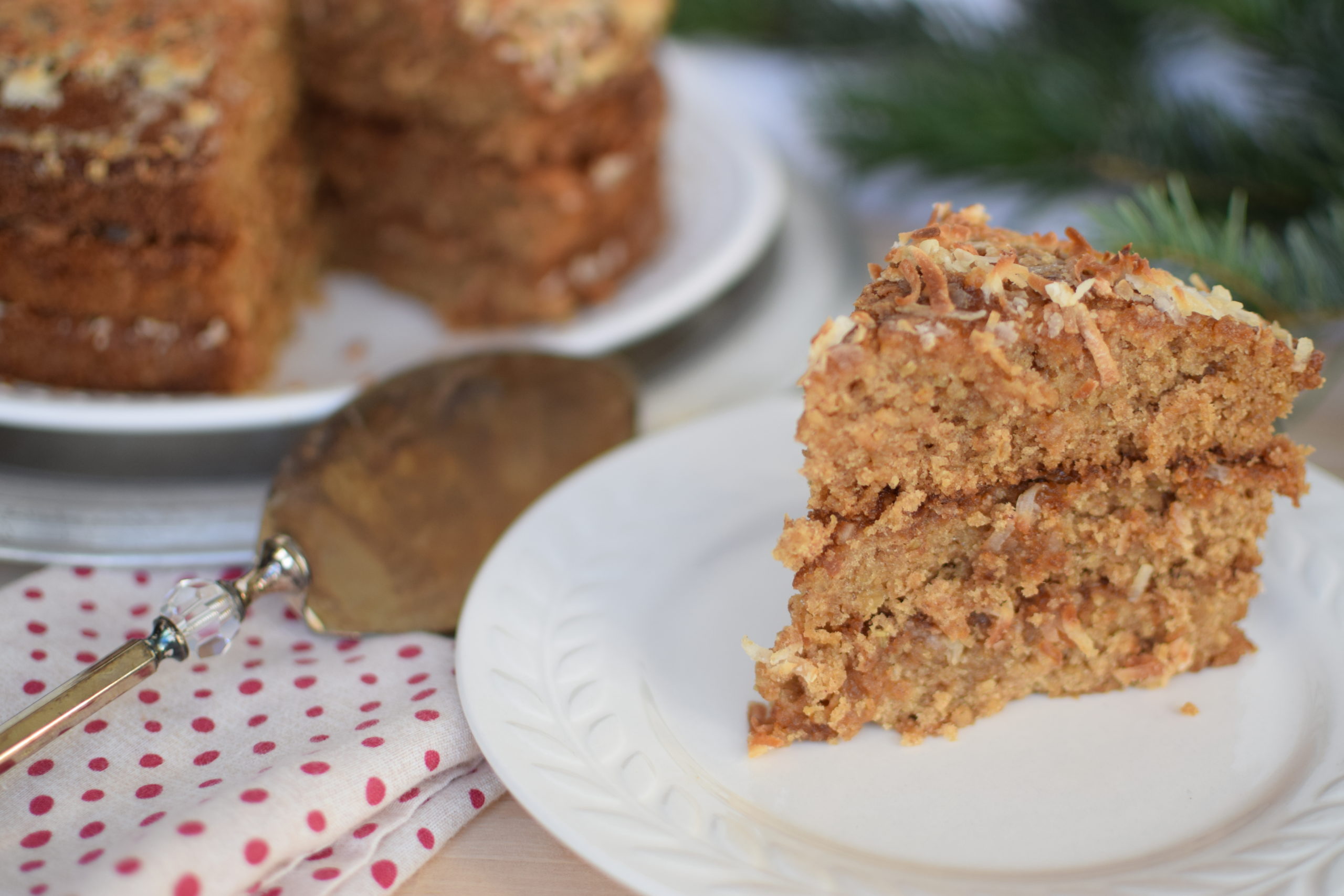 Traditions! I am sure that just that one word brought some thought to your mind. (Even if it is the song from 'Fiddler On the Roof'. Am I the only one?! Traditiooons!) At times traditions are created and carried through generations. Other times traditions are more recent, but no less important. No matter how or when traditions are created, they are cherished for the memories that accompany them. My Great-Grandma's Oatmeal Cake is no exception. Every year on Christmas we look forward to this cake making an appearance as Jesus's birthday cake.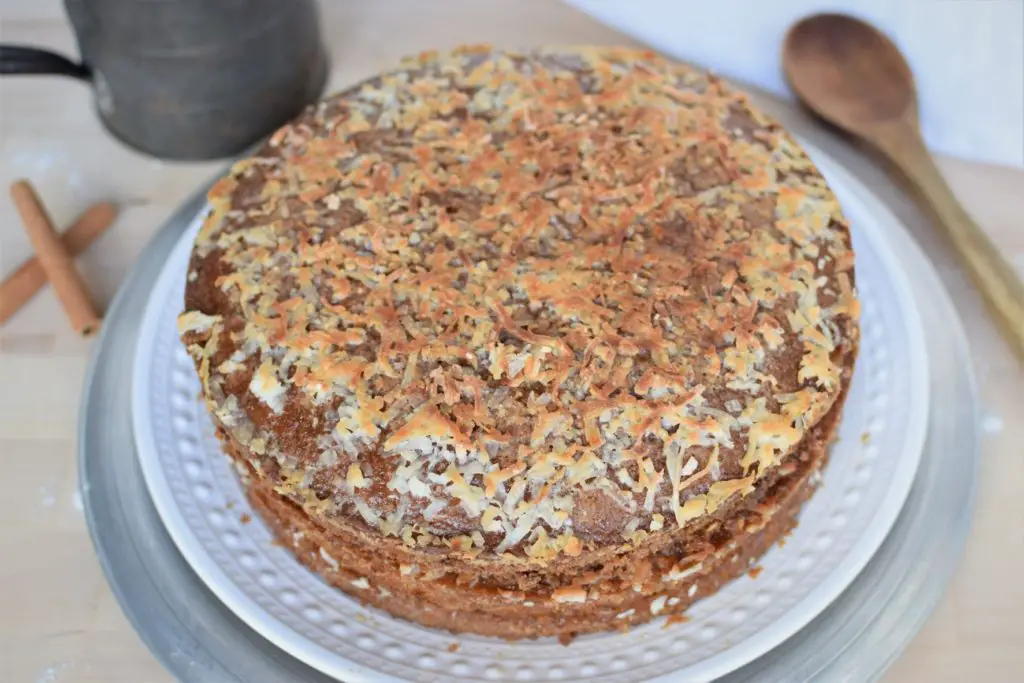 Oatmeal Cake Tradition
My mom learned this cake from her grandma who made it at Christmas, and then my mom continued the tradition when she moved her southern self to Alaska. I remember this cake every Christmas without fail. This cake was special. From the history of this cake being in my mom's family for years, to what it represented at Christmas, and of course, because it is fantastic! Some classics are classic for a reason, a very easy and delicious cake.
Dare I say it? In my opinion this oatmeal cake is the perfect cake! Yes, I will admit, this is my absolute favorite cake!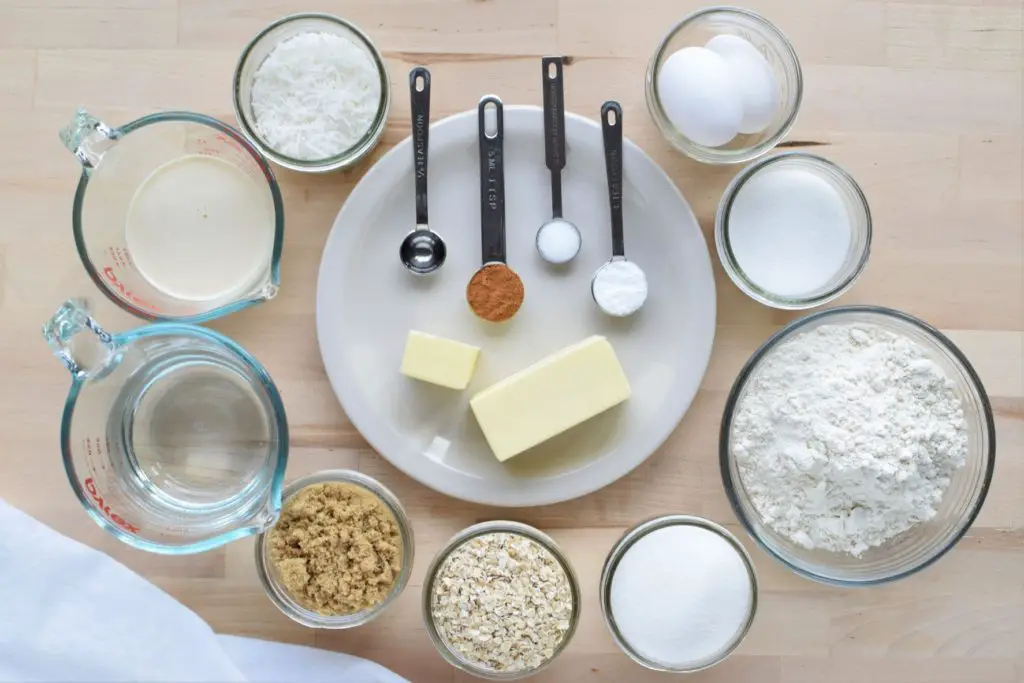 Hearty cake perfection
From the incredibly moist yet sturdy texture of the cake, with the slight chew from the coconut in the broiled icing, to the absolutely amazing flavor, this cake is incomparable to any other. The hearty oatmeal flavor is so wonderfully balanced with the slight almond flavoring, toasted coconut, and caramelized sugar in the broiled icing.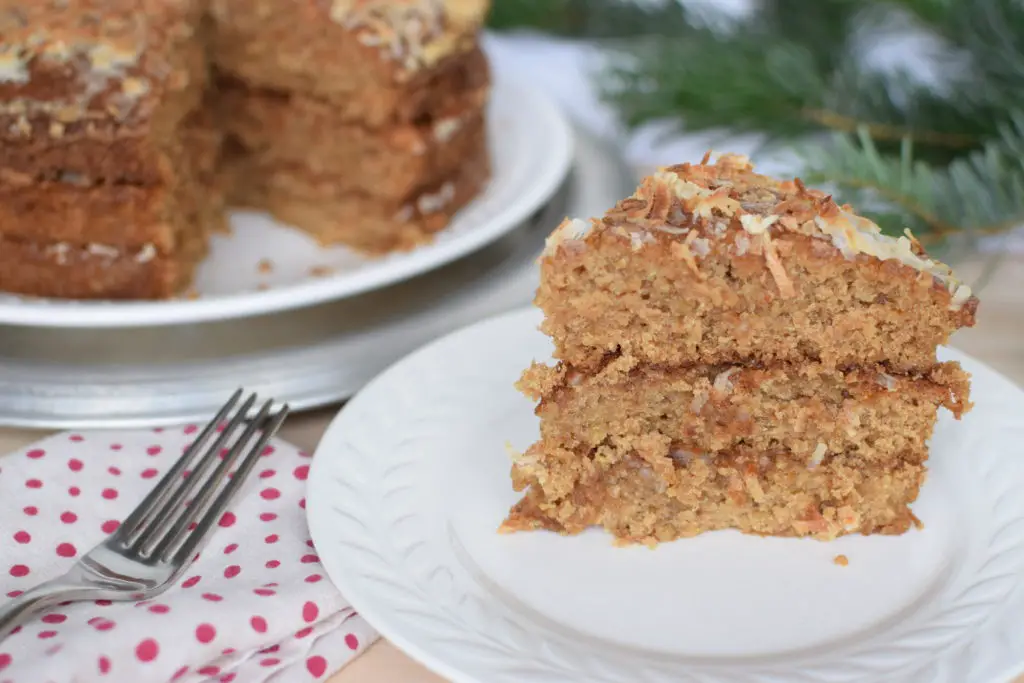 Cake anyway I can get it
You can make this in a 9×13 and it would be just fine. If you are like my sister and refuse to make any cakes that require more prep than spraying the cake pan, you can go the 9×13 route and know you are still getting a really tasty cake. Better to do that than miss out on this cake altogether.
 You do, however, loose the layer of broiled icing in the middle from the stacking of the two cakes. Since I LOVE that gooey sweetness in the middle layer, I will continue to make this oatmeal cake a layered cake.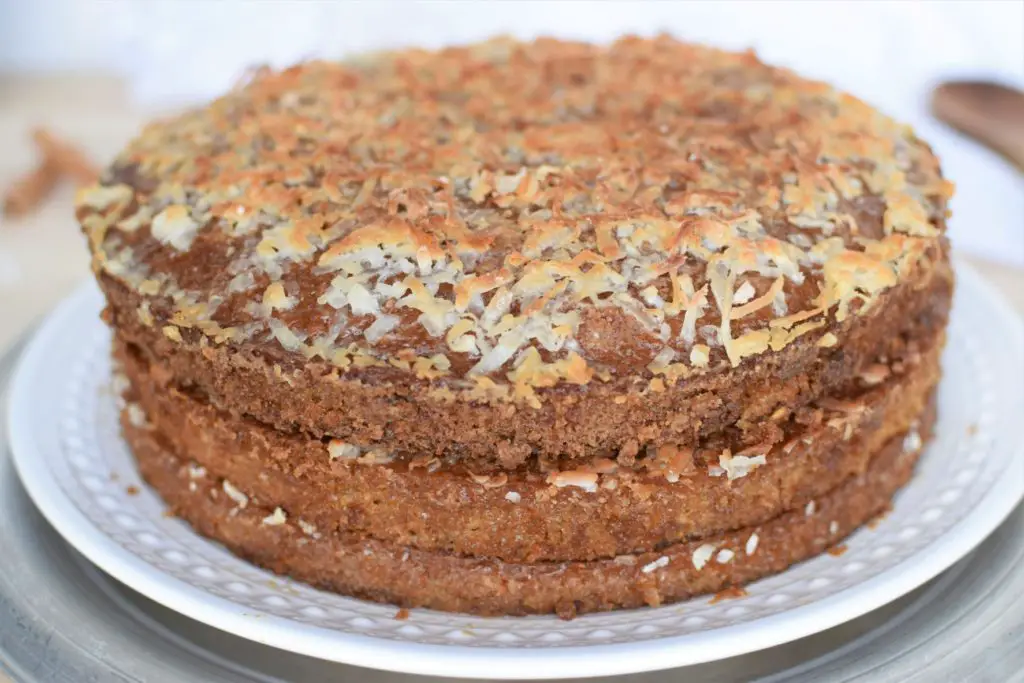 Cake layered options
This recipe makes a two-layer cake, but my mom always made a three-layer cake at Christmas so it really stood out on the Christmas table. She one and halved the recipe so there was always plenty of cake to go around. If we were lucky, there was some oatmeal cake left for a bedtime snack!
In honor of that, I did a three-layer cake for the pictures, but included the original recipe, which makes the two layers. Really, a two-layer cake is PLENTY and you still get the benefit from the broiled icing toping becoming a layer in the middle and adding so much deliciousness.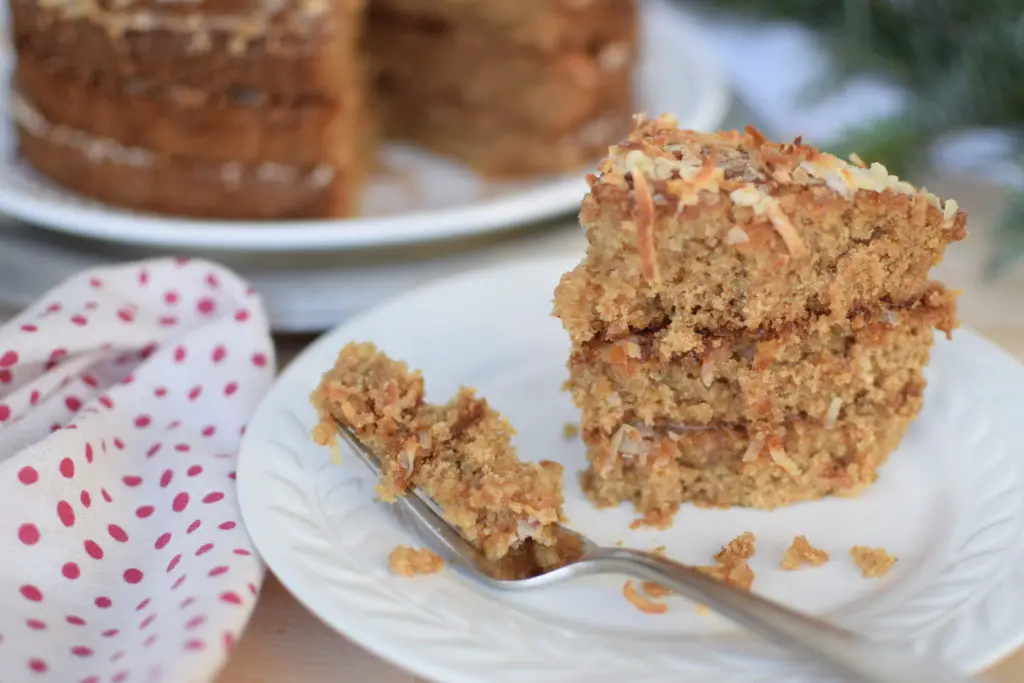 Continuing traditions
I loved traditions growing up (especially this oatmeal cake), but I think I appreciate them even more now that I have girls of my own. I love sharing with Rosie and Ellie not only the tradition itself, but the story behind where each tradition came from. It seems like so many of the traditions I treasured were centered in the kitchen, so we eat our way through the Holidays as I share with them stories of baking with my mom and sister over the years. Rosie loves helping me in the kitchen, and one of her current favorite Christmas cookies is my Grandma's Lebchuchen – who would have thought?! Her absolute favorite cake – this oatmeal cake!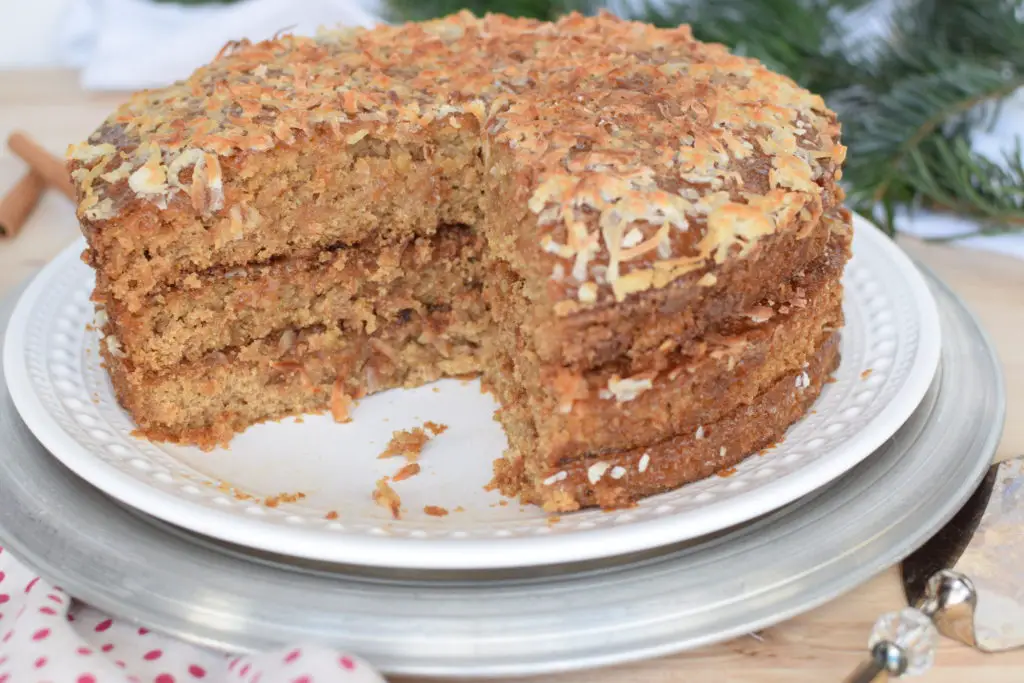 Change in Traditions
There have been some traditions that we haven't continued from my childhood over the years, like trekking through the Alaskan woods in 2-3 feet of snow to find the perfect Black Spruce. We sadly don't live in Alaska to do this now, but the next Christmas we are in Alaska, you better believe we will be doing this.
Creating New Traditions
There are other traditions that we are starting ourselves and I hope the girls will remember them with fondness as they get older.  Since Ellie can't participate in the eating of Christmas treats, I wanted to focus some traditions on some things that she can enjoy as well. Like taking nightly strolls as a family through the neighborhood to admire all the Christmas lights! Ellie is a HUGE fan of Christmas lights.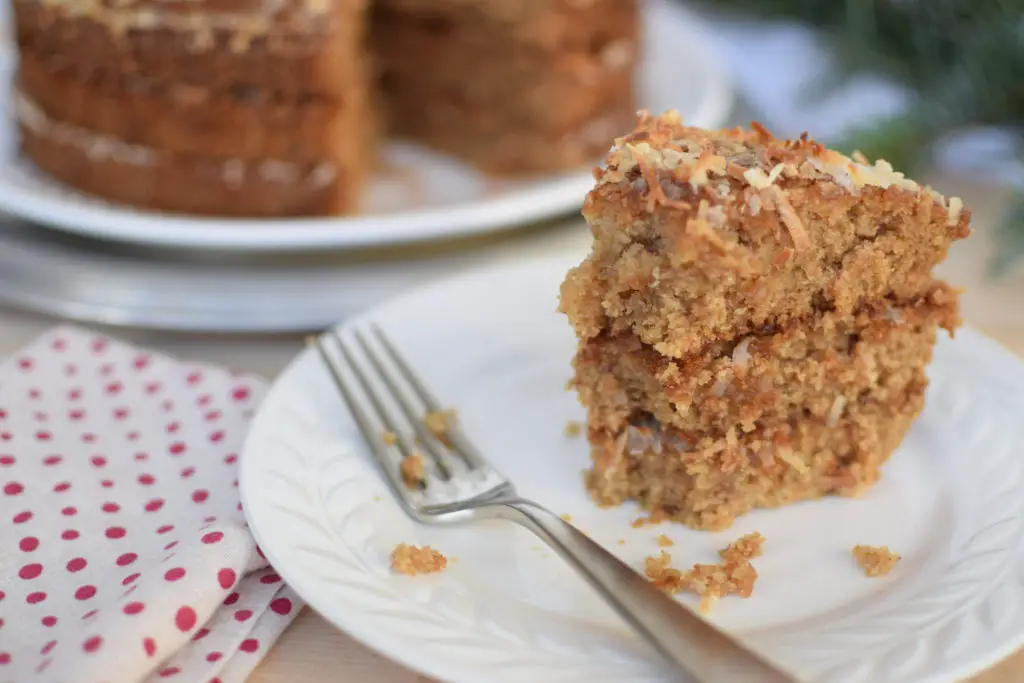 Tradition of CAKE
As you are enjoying the holiday season, I hope you have some traditions you treasure and that give you all the warm and fuzzy feelings. If you are looking for a new tradition, this oatmeal cake is the perfect tradition to start this year. Once you try it you might even decide to make it a monthly tradition! 😉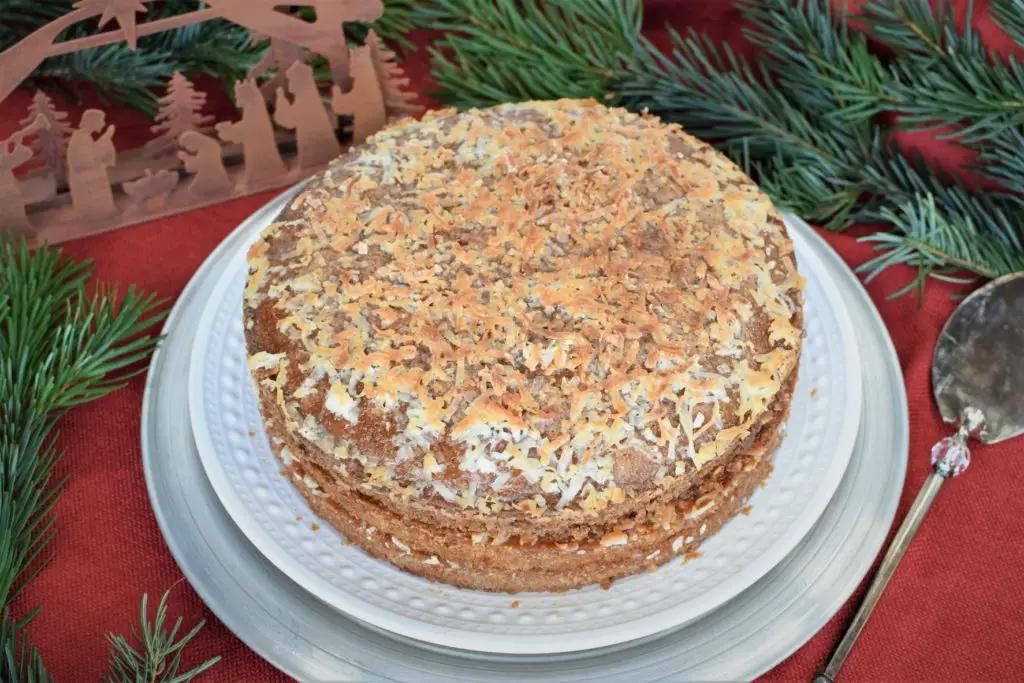 More delicious recipes to try
Raspberry Orange Shortbread Bars
Cinnamon Applesauce Snack Cake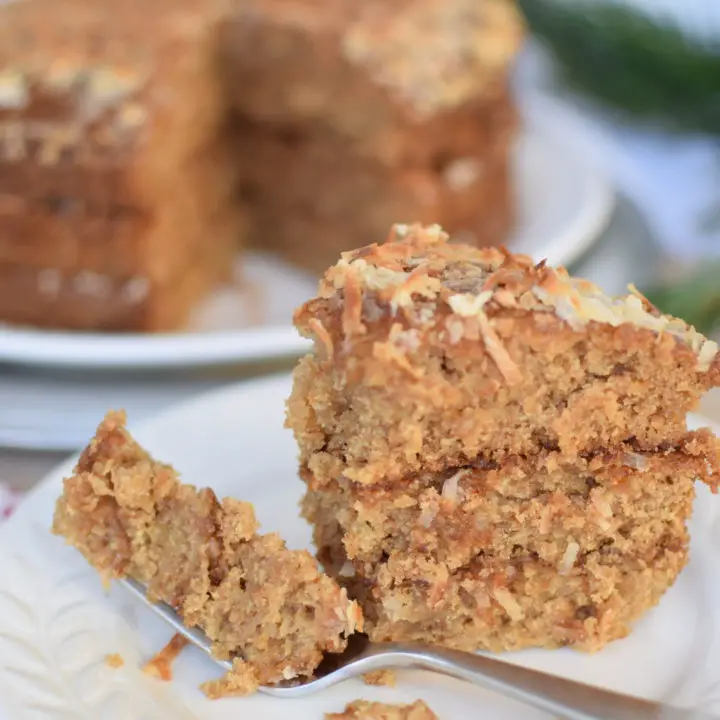 Great-Grandma's Oatmeal Cake
Additional Time:
20 minutes
This incredibly delicious Oatmeal Cake recipe has been in our family for generations. One bite and you'll fall in love with this soft, hearty, and oh so flavorful cake!
Ingredients
1 1/4 cup boiling water
1 cup quick oats
1 stick butter
1 cup sugar
1 cup brown sugar
2 eggs (slightly beaten)
1 1/2 cup flour
1 tsp baking soda
1 tsp cinnamon
1/2 tsp salt
Icing Ingredients
2 Tbsp melted butter
1/2 cup evaporated milk
1/2 cup sugar
1/2 tsp almond extract
1/2 cup coconut (optional)
Instructions
Combine quick oats, boiling water, and butter in a large mixing bowl. Cover and let stand for 20 minutes.
While you are waiting, butter and flour two cake pans* and preheat your oven to 350 degrees Fahrenheit.
After 20 minutes, mix together oat mixture. Add 1 cup of granulated sugar, brown sugar, and eggs, mix until well combined.
In a medium bowl whisk together flour, soda, cinnamon, and salt. Add to oat and sugar mixture and mix until well combined.
Pour cake batter evenly into prepared cake pans. Bake for 30-35 minutes until tooth pick inserted into the middle comes out clean.
While cake is baking, mix icing together in a microwave safe bowl (preferably something with a spout). Combine melted butter, evaporated milk, sugar, almond extract, and coconut - stir until well combined. Microwave for 30 seconds and stir.**
When cakes come out of the oven, slowly and evenly pour icing over the hot cakes while still in the pan. Place cake pans back in the oven under the broiler to toast the coconut and broil the icing. Watch carefully so they don't burn.
When coconut is a perfect golden brown, removed cakes from oven again. Let cakes cool 5-10 minutes. Run a butter knife around the edge of the cake pans and turn cakes out onto a cooling rack. Use the cooling rack to flip cake layers onto your cake serving plate - stacked.***
Notes
*I like to trace my cake pans and put a circle of parchment paper in the bottom. If you use parchment paper, just spraying with a non-stick spray on top is fine. You can also bake this cake in a 9 x 13 as mentioned in the post, you just wont have the amazing layers.
**Microwaving isn't absolutely necessary if you don't have a microwave. You can heat it on the stove top a bit to melt the ingredients together. Or you can just be crazy and pour on the ingredients as is, and it will STILL WORK!
***If your family is split, like our family, in terms of coconut lovers vs not (*ahem* my husband!). You can sprinkle the coconut over half of each cake layer and then pour the icing (minus the coconut) over the whole layer. Broil as directed. When stacking make sure to line up your coconut sides. Just like that, everyone is happy!
Nutrition Information:
Yield:

16
Serving Size:

1
Amount Per Serving:
Calories:

280
Total Fat:

10g
Saturated Fat:

6g
Trans Fat:

0g
Unsaturated Fat:

3g
Cholesterol:

45mg
Sodium:

253mg
Carbohydrates:

46g
Fiber:

1g
Sugar:

33g
Protein:

3g
This information was obtained using an ingredient calculator to provide an idea of nutritional value. To obtain the most accurate numbers for nutrition information of any recipe, you should figure the nutritional information with the ingredients you used in the recipe. Each individual user is responsible for making sure that any nutritional information used is correct.
---
---