Phenomenally Moist Carrot Cake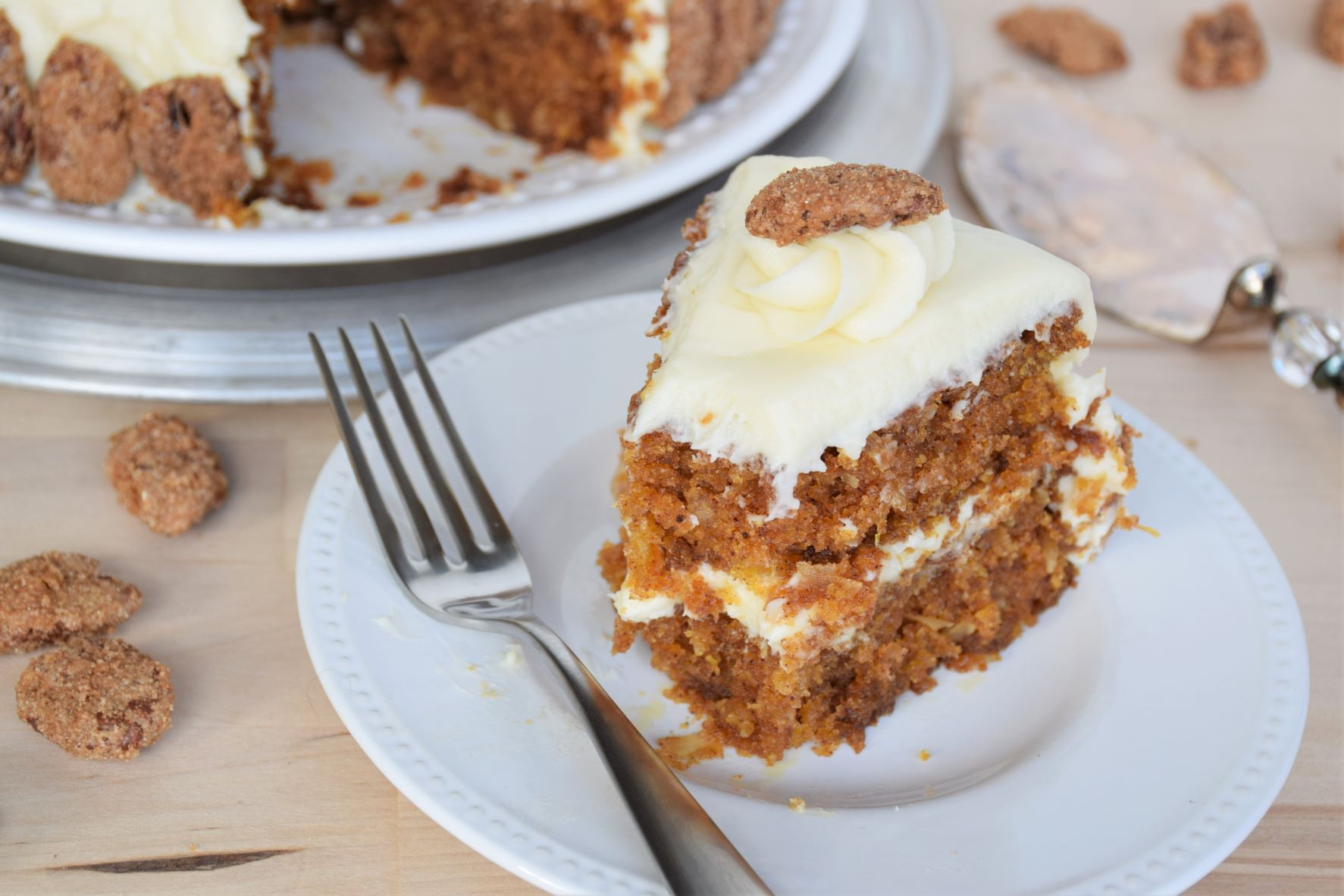 Phenomenally Moist Carrot Cake
I LOVE cake! If you give me a choice between a moist and flavorful cake and a cookie, I'm going to choose the cake. Then maybe follow it up with the cookie… Throw in some muffins and oh boy I'd have a tough decision on my hands. But offer me this phenomenally moist carrot cake and my decision is made for me!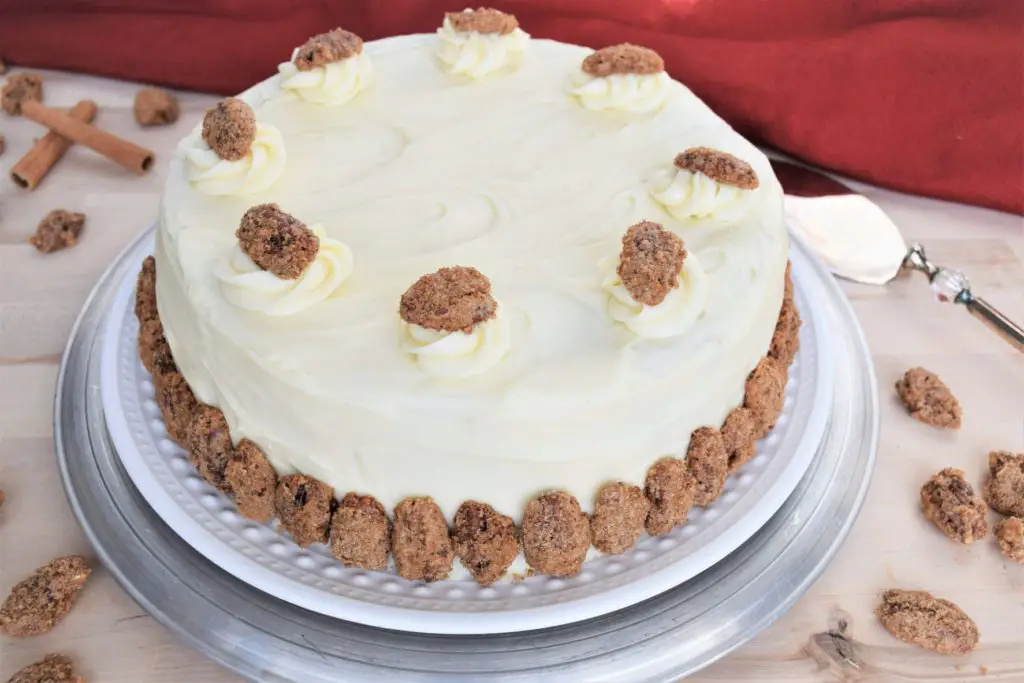 Birthdays and Christmas
For all those who have birthdays around Christmas, I hope you get your own special celebration. No one should have to give up their birthday cake for Christmas cookies that happen to be around. Not that there is anything wrong with Christmas cookies! (Says the containers of sugar cookies, lebkuchen, chewy molasses ginger cookies, Andes mint cookies, and more sitting in Christmas tins on my table right now.)
We happen to have a few birthdays around Christmas in our family. Since I have been old enough to bake on my own, I have made it my personal mission to make sure everyone gets cake (or their dessert of choice – but mostly cake) on their birthday. Yes, even if their birthday is a few days after Christmas. It's still a birthday!
For those of you wondering, yes of course Jesus gets a birthday cake on Christmas in our house. Recipe for that amazing oatmeal cake here!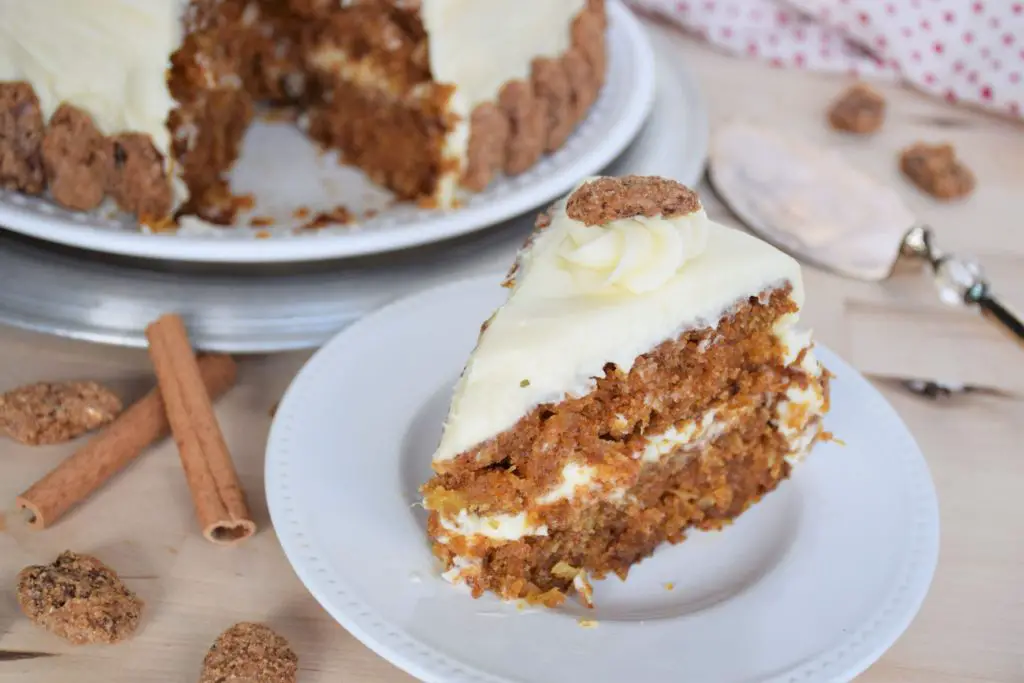 Carrot Cake upgrade
Before this phenomenally moist carrot cake recipe came into our lives, I was Ho-Hum about carrot cake. That is not because it has carrot in it. I love the moisture that mild and sweet veggies can add to baked goods. (See this Chocolate Zucchini Bundt Cake Recipe or these Butternut Squash Pancakes coming soon for proof.) It was honestly the opposite. Carrot cakes I had eaten lacked the level of complex flavor the list of ingredients promised, and for whatever reason, leaned towards the crumbly and less tender crumb of cake. My guess is due to the shredded carrot, that couldn't quite give the cake the full moisture as a puree or a softer shredded vegetable.
Then this carrot cake recipe appeared thanks to one of my mom's previous co-workers, and I have never looked back. Thank you Sallee! Who knew that what every carrot cake had been missing was baby food!!!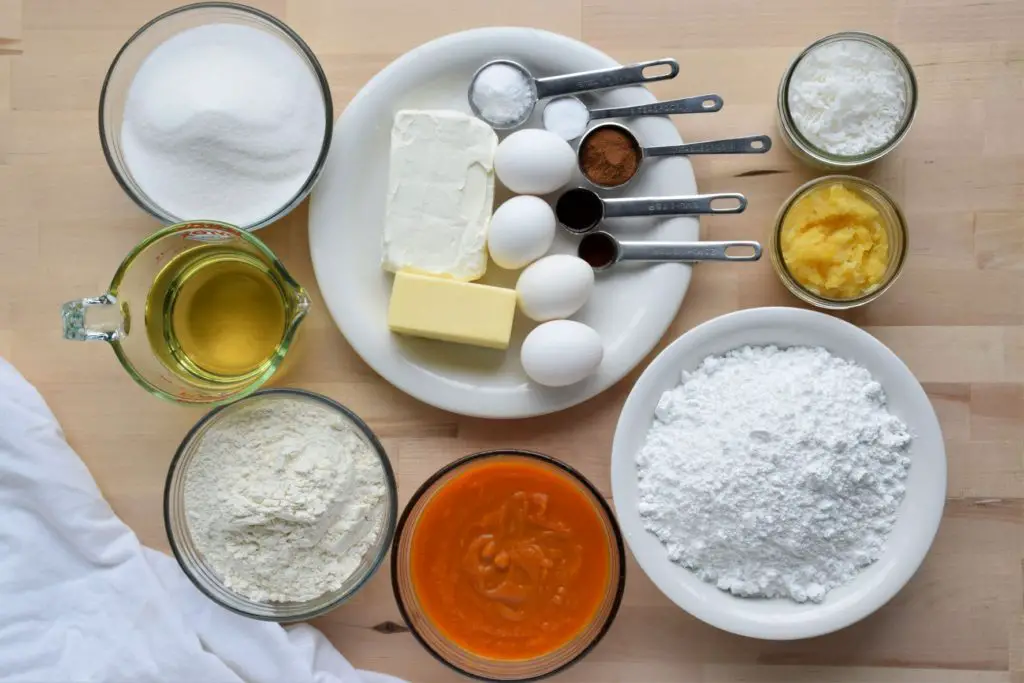 Baby Food
How many of you realized the secret to an amazingly moist carrot cake was down the baby aisle at the store? Okay yes, I realize that baby food is just really smooth puree, but with the amount of puree I make for Ellie at our house, it's nice to go down one extra aisle at the store and throw in a couple baby food containers and be ready to go home and bake a cake. Easy Peasy, I like it.
The carrot baby food adds the moisture that the grated carrot just couldn't provide. The oil in the cake doesn't hurt either. The texture of the cake is tender and oh so moist, however, you don't lose the different textures in the cake that you expect when eating carrot cake. (How many more times can I say that this cake is moist you wonder? Try it and you will see why!) The pineapple and coconut both add variety in texture to the soft crumb of the cake, which makes for an excellent bite. Combine that with the smooth cream cheese frosting and oh man!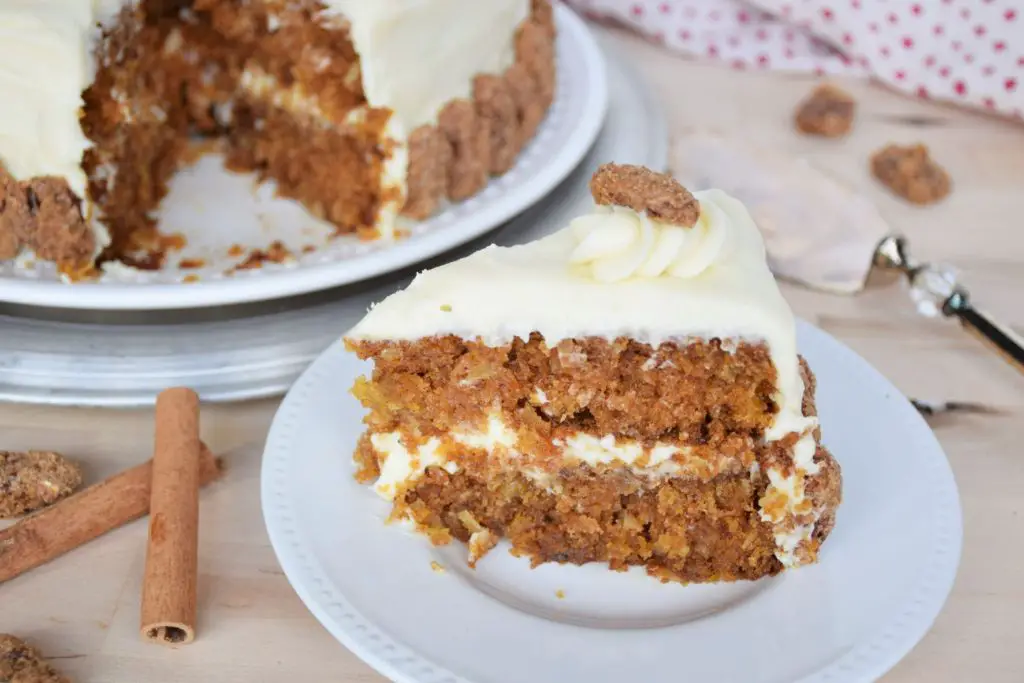 All the flavors of Carrot Cake
This cake has all the flavors that carrot cake promises. The spice of cinnamon, sweetness and slight tropical hints from coconut and pineapple, and of course the fantastic and expected carrot still shines! Since this is carrot cake, we of course pair it with a cream cheese frosting, how could we not?! The slight tang and sweetness from the frosting compliments the cake perfectly and pulls everything together in one perfect bite.
Low maintenance – great results!
 This cake is very low hassle on the cake carrot cake scale. No grating required, just dump in the baby food. This is easily a cake you can stir yourself in a bowl or use a mixer, no fancy tools required. Dump, mix, bake, EAT!
You can bake this cake in two round pans or in a 9×13, either work great. For the easy route I choose the one pan and done option. For birthdays I tend towards the two-layer cake option, there is just something special about a layer cake on a birthday, if you have the time. If you don't have the time though, I don't think anyone would turn down this amazing cake in any way it was presented.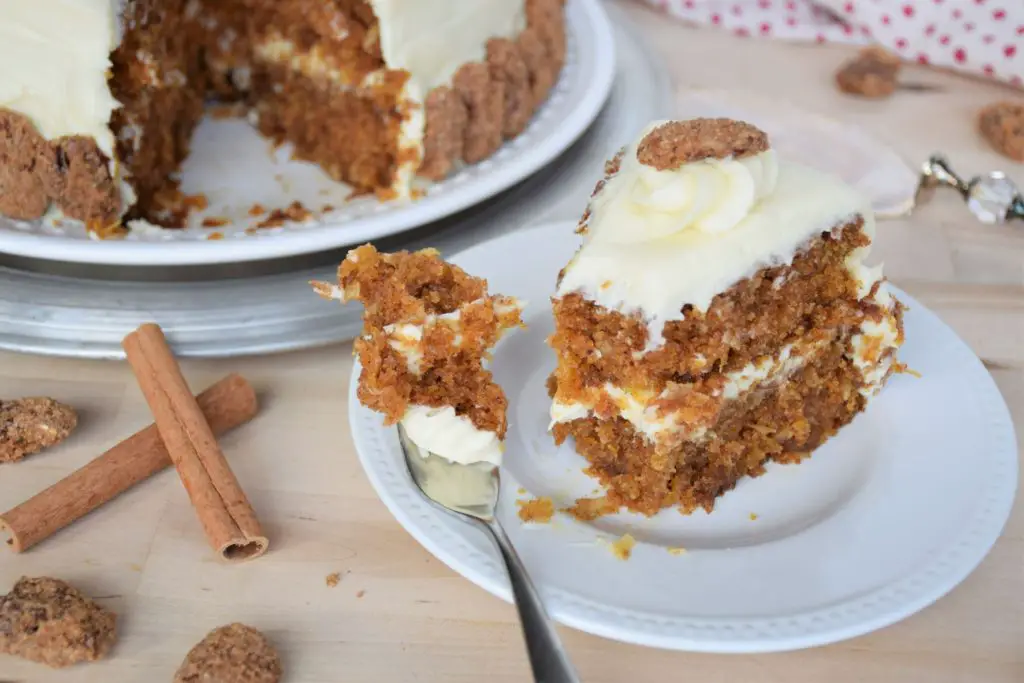 Celebrate with Cake
So, go celebrate a birthday and bake this cake for someone, they will love you for it! Or do what Rosie does and bake the cake for someone's birthday who isn't even around, but you can still eat cake to celebrate with them. (Tip from Rosie, you can also say that it is your imaginary friend's birthday or half-birthday if no one has a birthday soon that you know of.) Or hey – we are adults! Just bake the cake because it's a Monday, and you want to enjoy this melt in your mouth delicious phenomenally moist carrot cake! 
Side note readers: I do know that the word moist is not a favorite of some people. Aaaaaaand, I used it anyway 😉. MOIST.
More Desserts to Enjoy
Cinnamon Applesauce Snack Cake
Raspberry Orange Shortbread Bars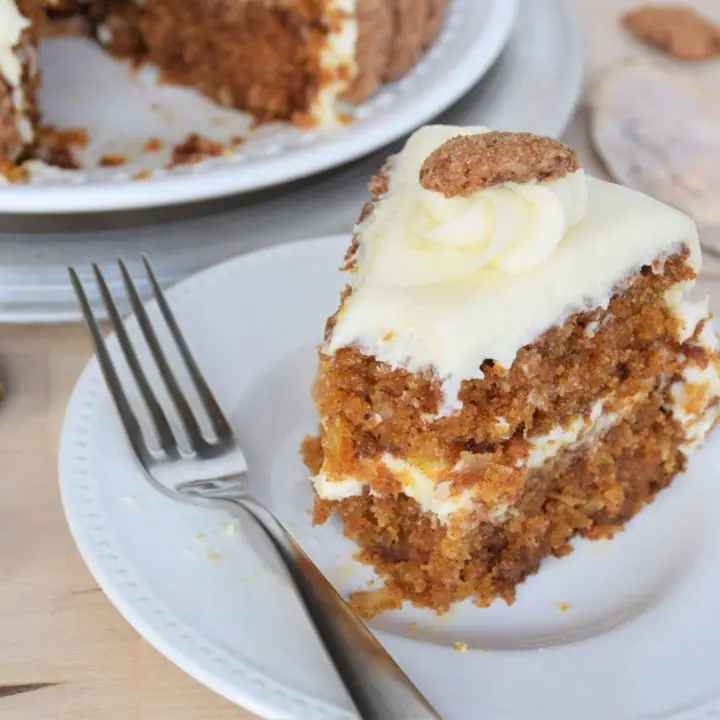 Phenomenally Moist Carrot Cake
Carrot Cake is a classic for a reason. It is a true symphony of flavors. Warmth, depth, brightness, and sweetness all come together in this cake to strike the perfect notes on your tongue. The moistness of this carrot cake is what sets it apart from all the rest, it can't be beat!
Ingredients
2 cups all-purpose flour
2 cups white sugar
1 tsp salt
2 tsps baking soda
2 tsps cinnamon
1 1/3 cup vegetable oil (or canola oil)
4 eggs (slightly beaten)
12 oz carrot baby food
1 (8 oz) can crushed pineapple, drained well
1 cup flaked coconut (optional)
Very optional and never chosen in our household: 1 cup chopped walnuts, add to your own cake's detriment
Cream Cheese Frosting Ingredients
1 (8 oz) package cream cheese, softened
1/2 cup butter, softened
2 tsps vanilla
3-4 cups powdered sugar (add until desired sweetness level is achieved)
Instructions
Preheat oven to 350 degrees fahrenheit. Either spray a 9x13 pan with nonstick spray, or line the bottom of two 8" or 9" cake pans with parchment paper and then spray the paper and the sides with nonstick cooking spray.
Blend dry ingredients together in a large mixing bowl.
Add oil, eggs, and baby food. Mix until well combined.
Stir in pineapple and coconut (if desired). This is also the point where you can make the decision to ruin your cake by adding the nuts - it's up to you!*
Pour cake batter either in your prepared 9x13 or evenly between your two cake pans.
Bake for 30-45 mins depending on your pan selection. Cake pans bake a bit quicker than a 9x13. Check cake for doneness by inserting a toothpick in the center of the cake, if it comes out clean, its done! This cake rises quite a bit, so make sure it is indeed done, before removing it from the oven.
Once removed from oven, let cake cool. If using cake pans, cool for 5-10 minutes and then run a knife gently around the edge of the pan and turn out cakes on a cooling rack. (I feel like there is someone out there that needs this gentle reminder, if you used parchment paper, don't forget to remove it from the bottom of the cake!)
When cake is completely cool, you may frost it with some delicious cream cheese frosting.**
Cream Cheese Frosting
Cream together butter and cream cheese frosting with mixer. Add vanilla extract. Gradually add 3 cups of powdered sugar 1/2 cup at a time, mixing between each addition. Taste frosting at this point. Some people like their frosting a little on the tangy side, if that's you, you may want to stop here. If you like sweet frosting add more powdered sugar, up to a cup, and mix well. When your tongue is happy, your frosting is delicious and you are ready to frost your cake!***
Enjoy your cake with a cup of coffee or milk, knowing you have won the carrot cake bake-off! Who knew taking a short cut with the carrots would make ALL the difference?!
Notes
*Don't get me wrong, I LOVE baking with nuts, as well as eating them. I just have never liked them in carrot cake. HOWEVER, to appease any nut lovers, I like to throw some candied pecans or walnuts on as decoration, giving the lucky consumers of this cake a nut option. This offers the best of both worlds! Enjoy the nuts with a bit of cake or as a tasty additional treat SEPERATE from the cake. Who says you have to make decisions - not me!
**If you want a 'lighter' or some may say 'quicker' option and want to skip the frosting, just dust your 9x13 cake with powdered sugar before serving.
***I find that this recipe makes a perfect amount to frost a 9x13 cake. However, If you choose to make a two layer cake with 8" or 9" cake pans, you may want to 1.5 x the frosting recipe to make sure you have plenty of frosting to easily frost the whole cake. No one want's a half naked cake - that's just scandelous!
---
---