Spiced Plum Cake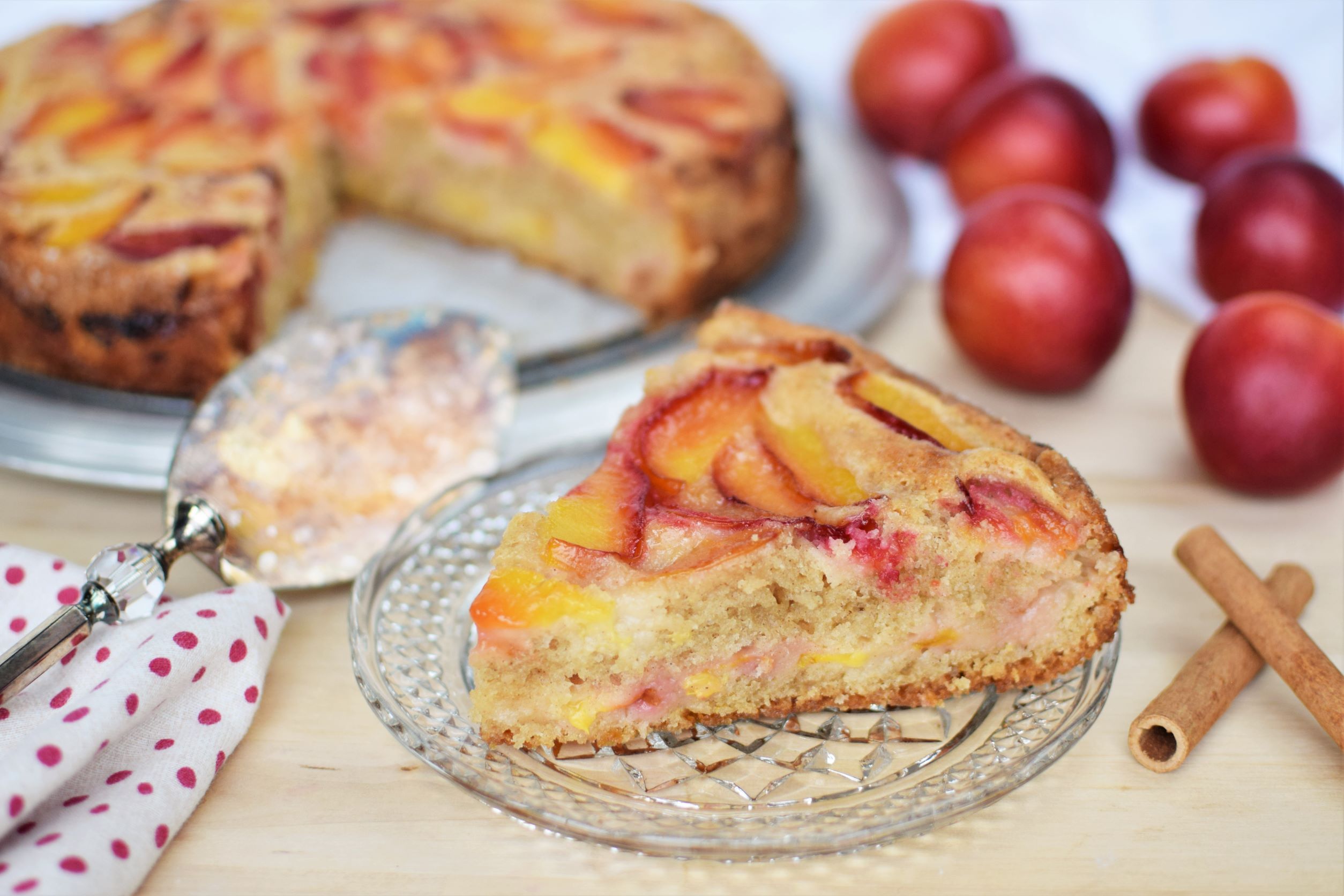 With as many delicious desserts as I have tried in my life, you would think that I wouldn't stumble upon new desserts that somehow I haven't heard of. But it happens. Sometimes it's a new concept of a classic or a slight change to a favorite that sets the new dessert apart. Sometimes though, it is a delightfully tasty new creation, thanks in part to an overabundance of plums. Spiced Plum Cake is fantastically delicious. How have I never had this before?!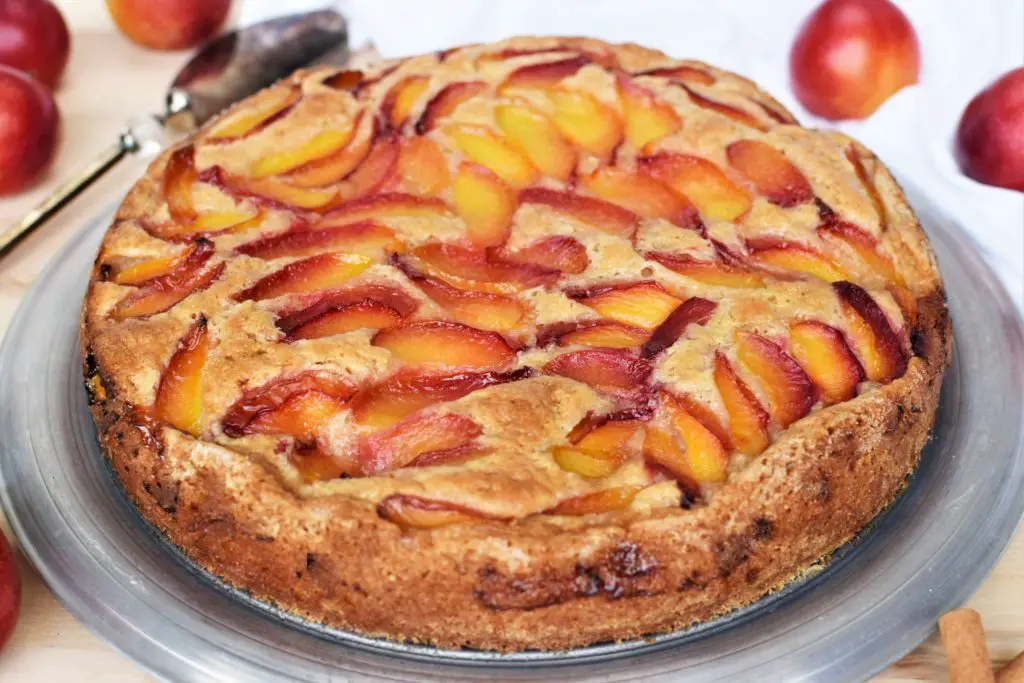 What is plum cake?
It depends on who or which part of the internet you ask. Just like many things in baking, one name can encompass a whole assortment of incredibly varied baked goods.
Plum Cake can be anything from an early name for a fruitcake or other cake using dried fruits, to a cake made with plum jam or jelly, to a cake similar to a pound cake and with no plums, to a cake made with fresh plums. Not plum pudding, though (that's a whole different beast). So, what's in a name? A cake by any other name would still taste as sweet. Sorry, Shakespeare.
Let me just specify what type of plum cake I am referring to: it's the cake with fresh fruit option. Although, the others sound intriguing in their own right, but I think I'll pass on my slice of fruitcake.
This delicious Spiced Plum Cake is a tender cake batter with layers of fresh sliced plum and sugar baked in. The layer of plums in the middle add an incredible moistness and an almost jam-like consistency. The plums topping this cake not only add to the beauty and distinctness of the cake, but also give the cake a delicious and finished quality. This plum cake will definitely make a name for itself, even if that name isn't as specific as it could be.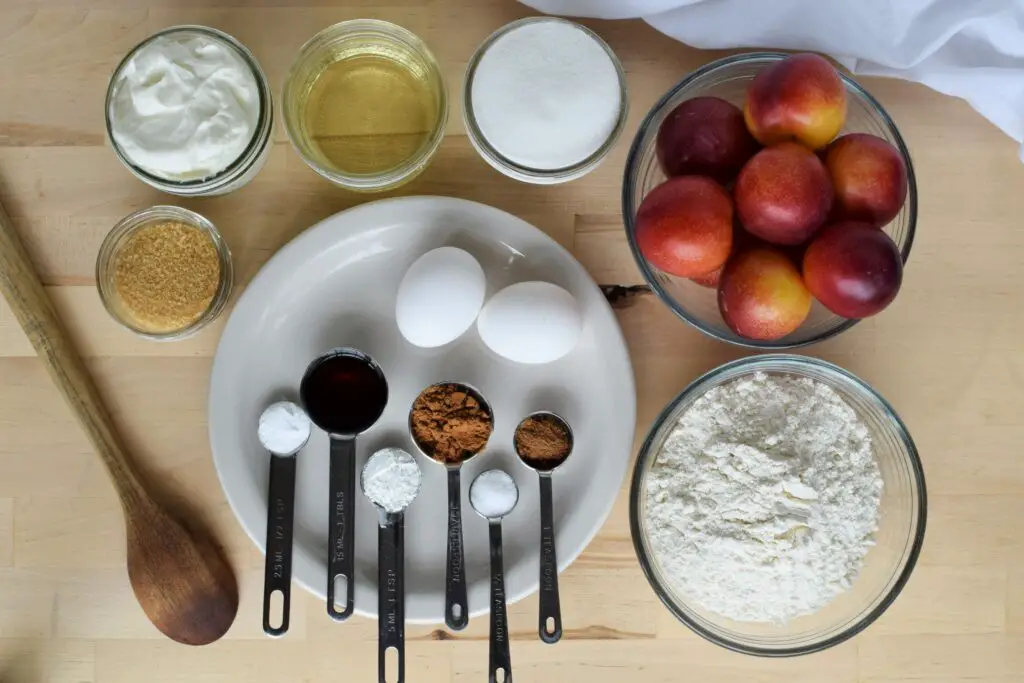 How do you make plum cake?
This Spiced Plum Cake is created from a base of a delicious spiced sour cream cake batter. Fresh plums are then sliced in 1/8" to ¼" slices, layered, and baked in the cake in the middle and on top. Turbinado sugar sprinkled on both layers of the sliced plums adds a delicious sweetness throughout and texture on the top layer. If you don't have turbinado sugar, granulated sugar can be substituted, but you will miss the slight crunch that you get from turbinado sugar.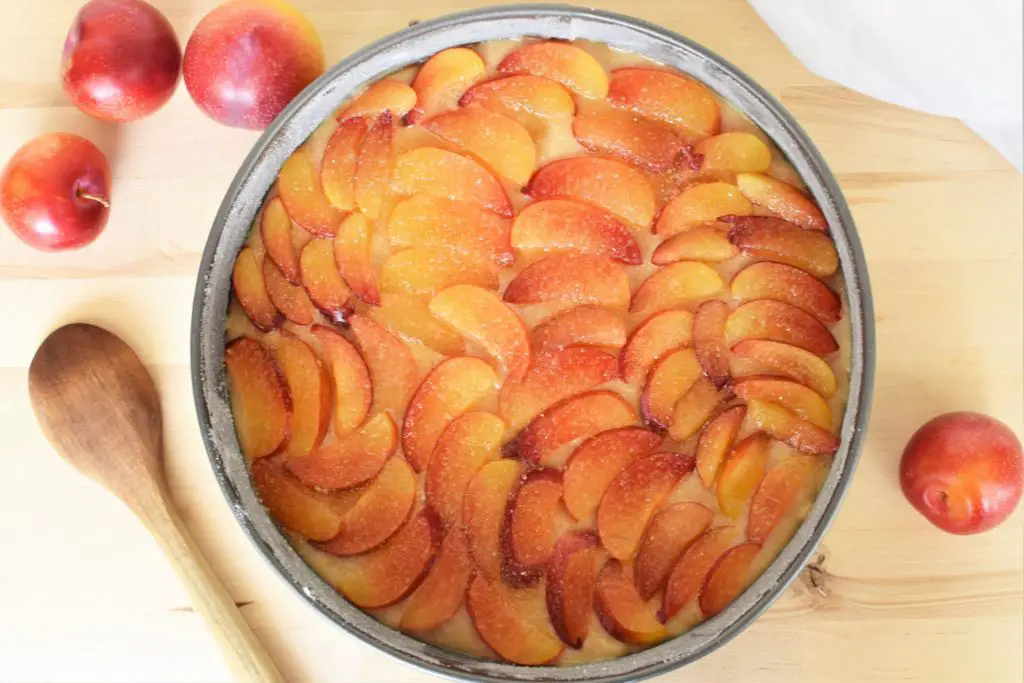 Spice and Plum Marriage
Spice and plums have always belonged together in my head. This is thanks in part to my thinking that it was the "Sugar and Spice Plum Fairy" in the Nutcracker – only makes sense, right? But also, because the flavor of plums lends so well to autumnal desserts, and that requires spice to make everything nice!
The spices used in this plum cake are cinnamon and pumpkin pie spice (Trader Joe's is my favorite blend). These warm spices compliment the bright notes of plum and sweetness of sugar. This cake is a fantastic balance of delicious plum flavor, added warmth from the spices, richness from the sour cream, and sweetness. I'm not sure where you could go wrong there. This is why I had NO problem enjoying this cake, every bite was just so delicious!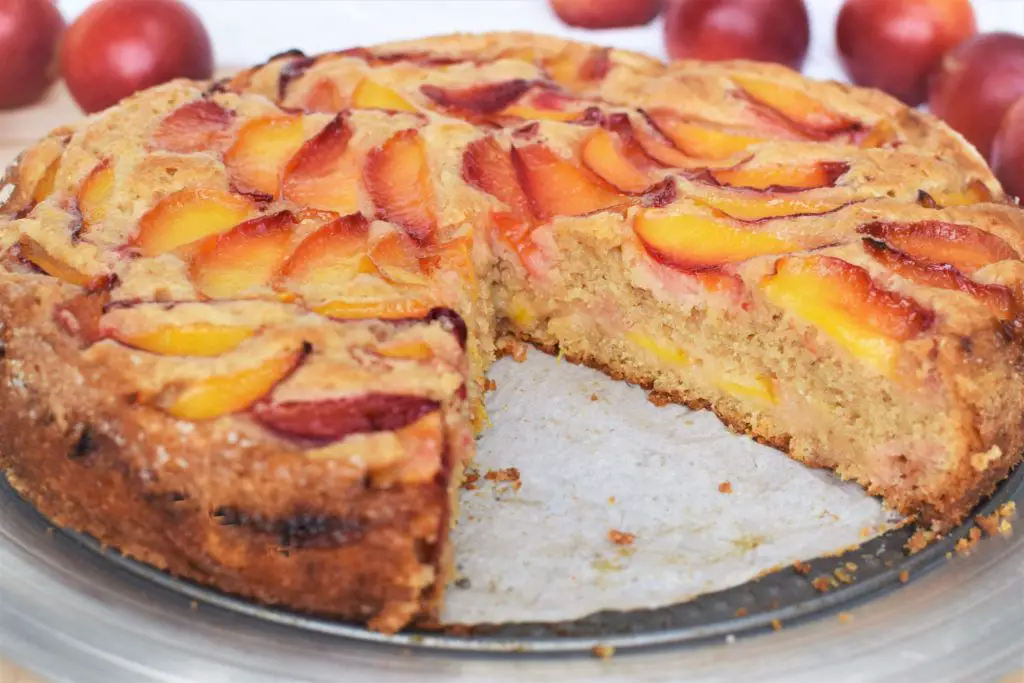 How to bake a Spiced Plum Cake
Beats me, next…..
Just kidding, although I will admit I did struggle with balance here. A balance of pretty vs tasty and easy. Think patisserie vs home baking. I am solidly in that second camp – and joyously living life! However, for all of my pretty people, and because I like to try new things, I did bake this cake two ways: with a springform pan and my good ol' standby 9×9. Yes, I do realize that using a spring form pan does NOT classify as a patisserie, but allow me some creative license.
Because I wanted a delicious extra sweetness to the edges of this cake I buttered and SUGARED the cake pans. Yes, that's right, this cake just got even better. Normally I am an 'avoid the corner piece at all costs' kind of gal, but with this cake, I happily eat every last crumb. Who knew butter and sugar could be so delicious? Well, everyone who bakes I guess. 😉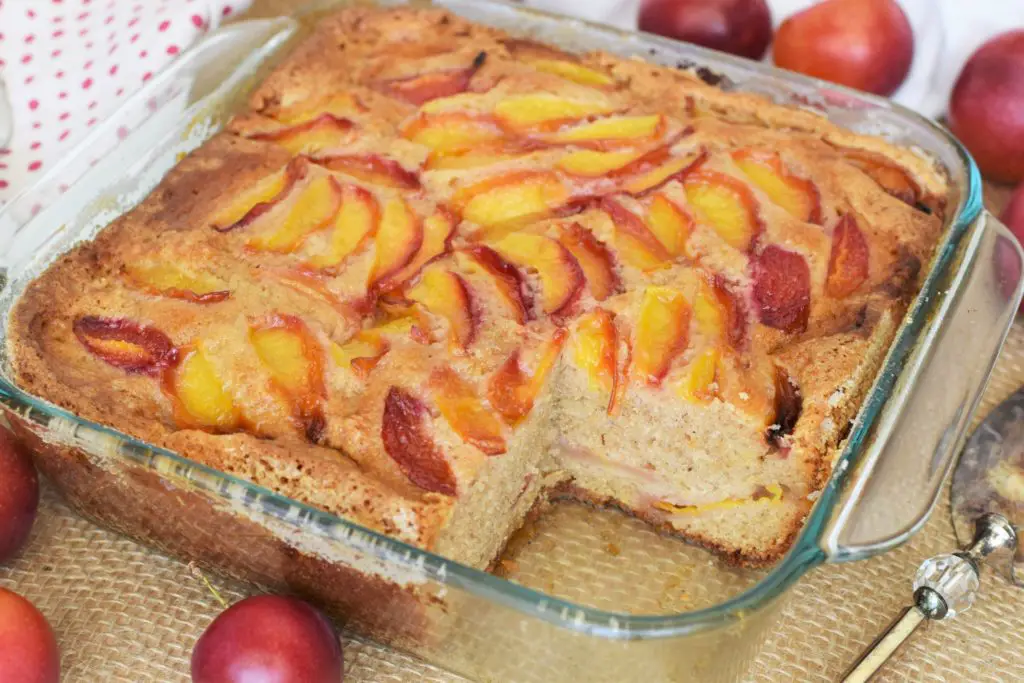 Pinterest picture perfect vs perfectly delicious
The butter and sugaring worked brilliantly with my home baking glass pan. I baked the cake at 350 degrees Fahrenheit for 40-55 minutes depending on the thickness of your plum slices.
The springform pan, on the other hand, provided some challenges. Because it is a nonstick metal pan I wanted to add a little barrier between the metal and butter and sugar on the bottom. No one likes a burned bottom. (Oh I so want to add a joke about forgetting sunscreen at the beach). I used parchment paper on the bottom of the springform pan, and then buttered and sugared the parchment, even though I am sure that defeats the purpose of the pan. Oh well, I break all the rules (insert laughter from everyone who knows me). This let the bottom of the cake brown perfectly. Yay!
Here lies my struggle: the edges of this cake in this pan. As you can see in the pictures, where the juice from the plums, or the plum itself baked against the edge of the pan, it did get a bit dark. If you are fully opposed to that happening in a couple places, try to keep your plums a little away from the edges. Or just embrace home baking and use a glass pan. You can use a square or round pan, so long as it has the approximate area of a 9X9.
Either way you bake this cake, it's going to be delicious and a stand-out dessert.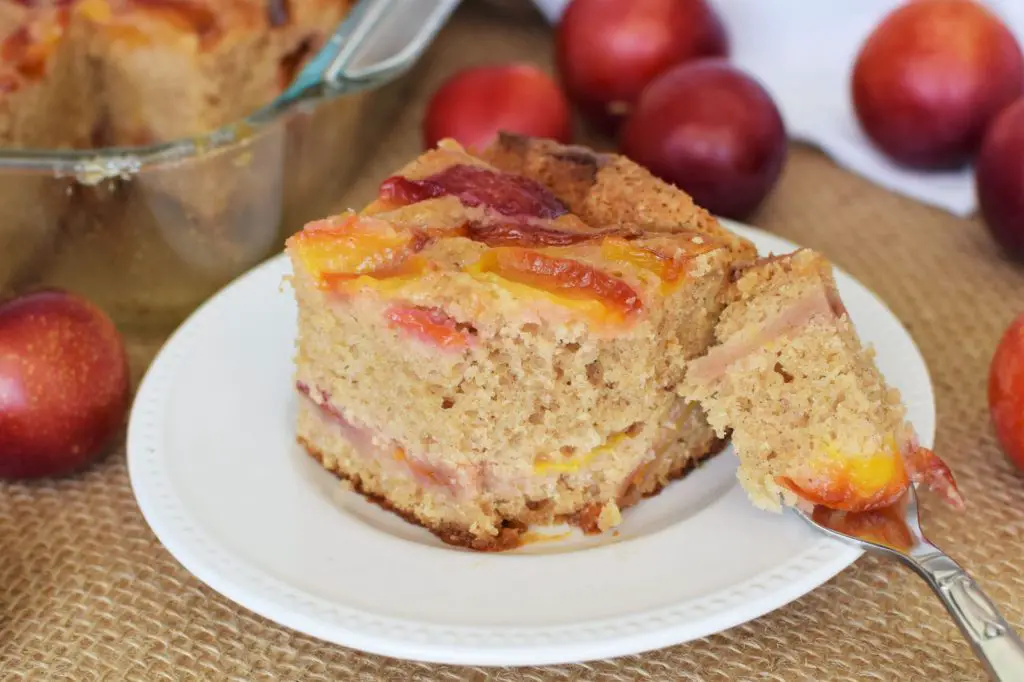 How to eat plum cake
You can eat plum cake warm, but I think it is even better after it has cooled for a few hours and the plum juices have had time to cool and meld into the cake. Enjoy this cake on its own or with a side of ice cream or whipped cream – utterly delicious! So to summarize, you can eat this cake heated up, room temp, or even cold.
Store this Spiced Plum Cake covered at room temperature for a couple of days or place covered in the fridge if there is any left after a couple of days.
This Spiced Plum Cake is a delicious and layered treat that you will enjoy to the last crumb.
More delicious recipes to enjoy
Honeyed Plum Cobbler with Spiced Biscuits
Phenomenally Moist Carrot Cake
Raspberry Orange Shortbread Bars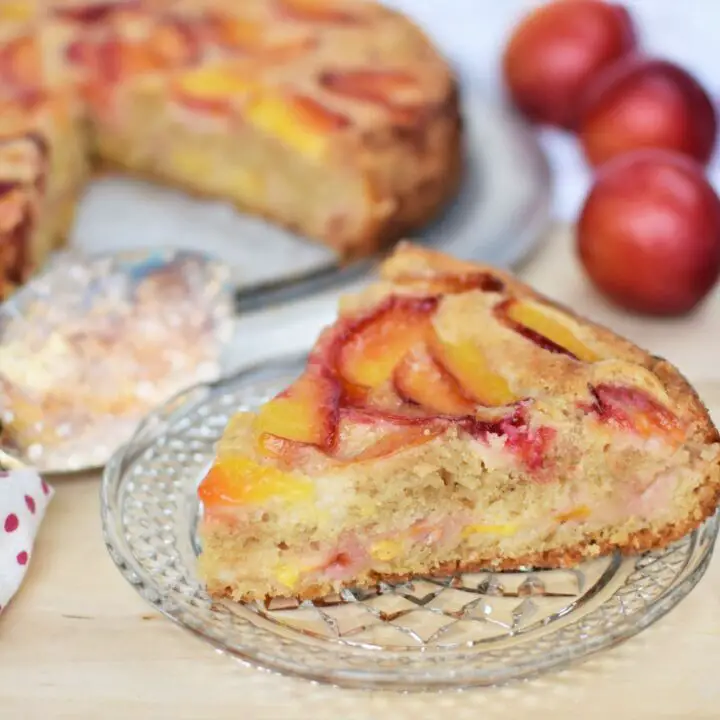 Spiced Plum Cake
Total Time:
1 hour
5 minutes
This delicious Spiced Plum Cake is a tender cake batter with layers of
fresh sliced plum and sugar baked in. The layer of plums in the middle add an
incredible moistness and almost jam-like consistency.
Ingredients
2 eggs
1 cup granulated sugar
1/2 cup vegetable or canola oil
2 tsp vanilla
2 cups all-purpose flour
1 1/2 tsp cinnamon
1/2 - 1 tsp pumpkin pie spice*
1/2 tsp salt
1/2 tsp baking soda
1 tsp baking powder
1 cup sour cream
6-8 plums**
1/4 cup turbinado sugar***
Instructions
Preheat oven to 350 degrees Fahrenheit for a glass pan, or 325 degrees for a metal pan. Prepare your 10" springform pan or 9x9 pan by buttering and then sugaring the bottom and sides of the pan.****
In a large mixing bowl, beat on medium speed, the two eggs until lighter in color. Slowly add granulated sugar while continuing to beat the eggs. Beat sugar and eggs for at least a minute, until light in color. Slowly add oil and vanilla and mix until combined.
In a medium bowl, whisk together the dry ingredients.
Alternately add the dry ingredients and the sour cream to the egg mixture. Stir until well combined.
Slice plums in 1/8" to 1/4" slices. Pour half of the cake batter in your prepared pan. Then lay half of the sliced plums in a single layer covering your cake batter. Sprinkle 2 Tbs of turbinado sugar over the plums.
Dollop the remaining cake batter over the sliced plums and sugar. Gently spread the cake batter out to cover the plums. Lay your remaining half of sliced plums over the cake batter in any pattern you desire, or just however they fit if you are like me and lack the artistic gene - it'll be delicious no matter what. Sprinkle the remaining 2 Tbs of turbinado sugar over the plums on top.
Bake cake for 40 - 50 minutes until toothpick tester comes out with only a few moist crumbs.
Enjoy this cake on it's own or with a side of ice cream or whipped cream – utterly delicious! You can eat this cake heated up, room temp, or even cold. Store this cake at room temperature for a couple days covered. If there is cake left after that, store covered cake in the fridge.
Notes
*Depending on your love of pumpkin pie spice add 1/2 to 1 tsp. If pumpkin pie spice is your life, you can feel free to really celebrate and add 1 1/2 tsp.
**The number of plums depends on the size of them. If the plums are small you may need around 10, if they are huge, you might need only 6. Sorry for the lack of a set number, but slice plums until you have enough and call it good. 🙂
***If you don't have turbinado sugar you can use granulated sugar but you will loose the slight crunch on top you will get with the turbinado sugar.
****See full post for more information on pan selection and baking directions.
Nutrition Information:
Yield:

16
Serving Size:

1
Amount Per Serving:
Calories:

184
Total Fat:

5g
Saturated Fat:

2g
Trans Fat:

0g
Unsaturated Fat:

2g
Cholesterol:

32mg
Sodium:

158mg
Carbohydrates:

33g
Fiber:

1g
Sugar:

20g
Protein:

3g
This information was obtained using an ingredient calculator to provide an idea of nutritional value. To obtain the most accurate numbers for nutrition information of any recipe, you should figure the nutritional information with the ingredients you used in the recipe. Each individual user is responsible for making sure that any nutritional information used is correct.
---
---