Raspberry Muffins with Crumb Topping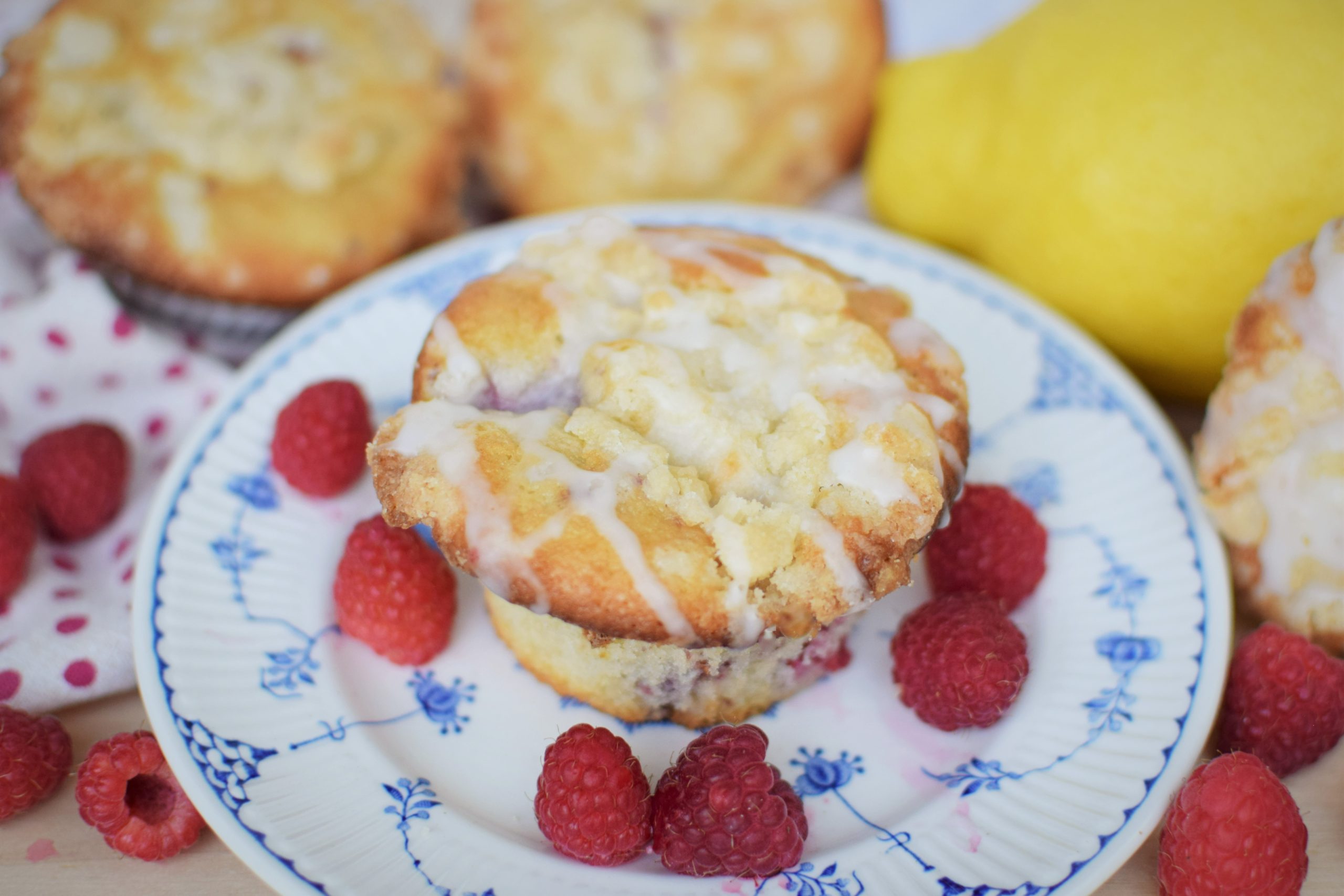 My love of baking began at a very young age, but unlike what you are probably imagining – me in my mom's kitchen stirring a big bowl with flour all over my face (yes that happened too) – I am thinking more of the 'creations' that my sister and I concocted from the raspberry patch.  Let me just reassure you that we actually made a lot of delicious treats alongside my mom in the real kitchen, like these raspberry muffins. However, my mom being the wonderful mom that she is, let us 'bake' and 'cook' to our hearts content outside as well.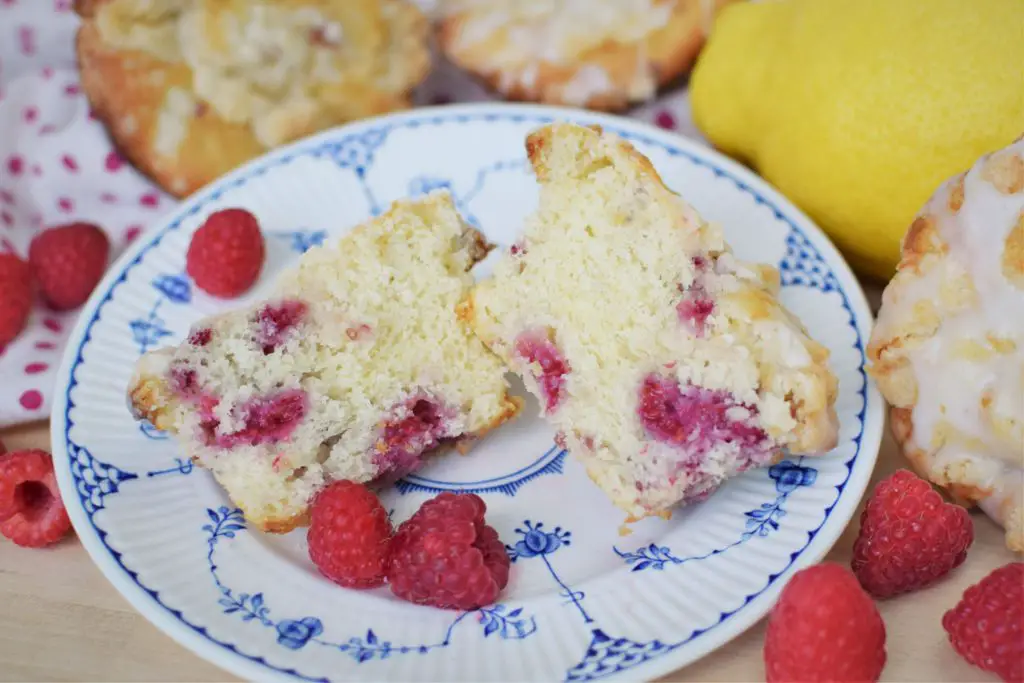 Raspberry creations
Our favorite delicacy we produced – all on our own – was fresh raspberry juice and a 'baked' raspberry cake. Sounds delicious, right?! The raspberry juice really was! But actually eating the raspberry cake wasn't for the faint of heart. I mean, we are talking a wad of raspberry pulp and seeds leftover from the juicing process that were formed into a 'cake' using an empty bottle cap, and then lovingly 'baked' over the dryer vent. *Yuck! * I always believed my sister (who is 19 months older than me) had the best ideas and no one could have convinced me otherwise, but looking back now… I may change my mind about that.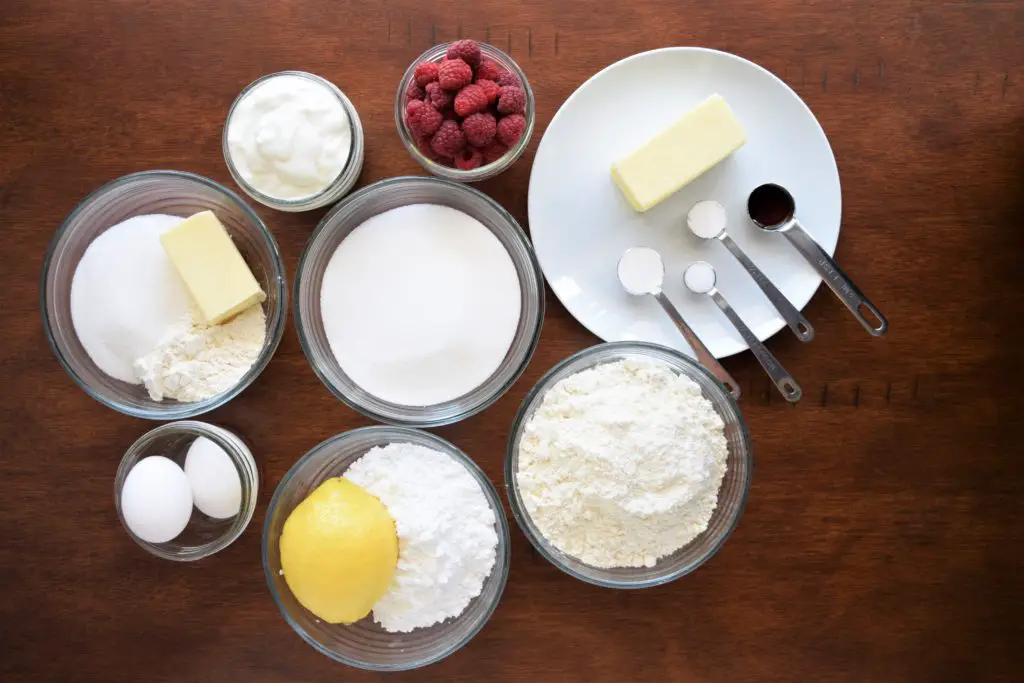 Raspberry patch joys
We did love our raspberry patch growing up and especially the tasty treats that my mom was able to make using a real recipe and a real oven – oh the wonders! Now both my sister and I have our own raspberry patches and Rosie loves to pick the biggest raspberries from ours! She will put a raspberry on each fingertip (like any self-respecting four-year-old) and eat them off one at a time. Rosie, I am happy to say, takes after her Mama and LOVES muffins. I mean who wouldn't love muffins? Bake me some muffins and you've got a friend for life!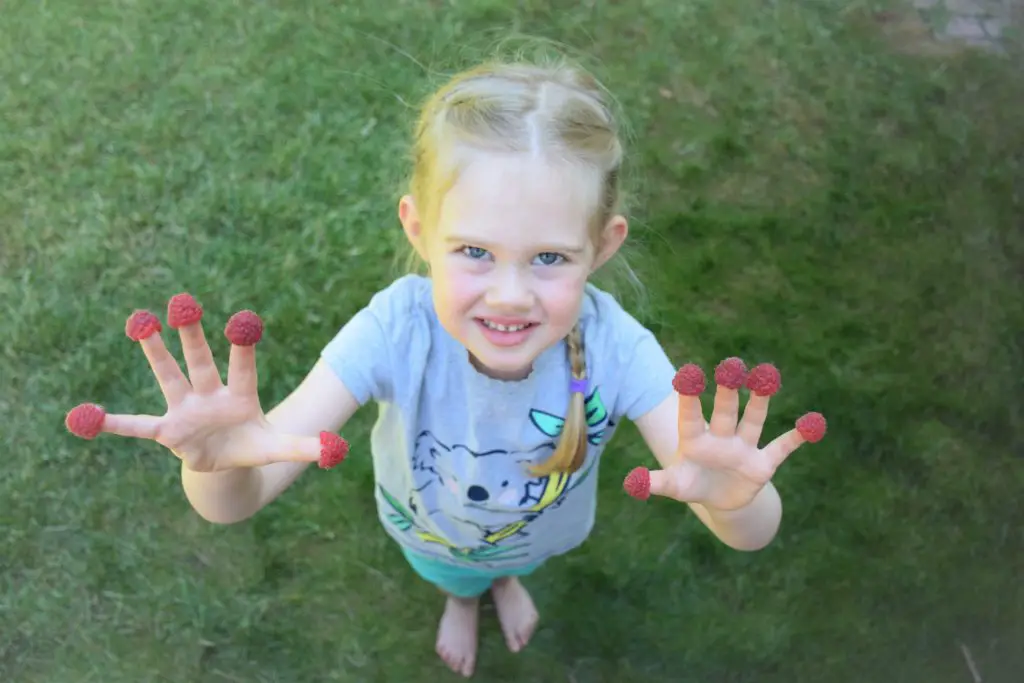 Muffins + raspberries – yes please!
One of the recipes that I have pulled out of the family recipe book is for 'Wild Raspberry Muffins'. Growing up my mom would frequently bake us something delicious to have with breakfast in the morning. More often than not, it was muffins! These 'Wild Raspberry Muffins' were a favorite during raspberry season! They are tender, and their flavor is perfectly balanced. It always helped inspire our raspberry picking, knowing that we would be able to look forward to these muffins (as well as jelly, cobbler, and crisps!)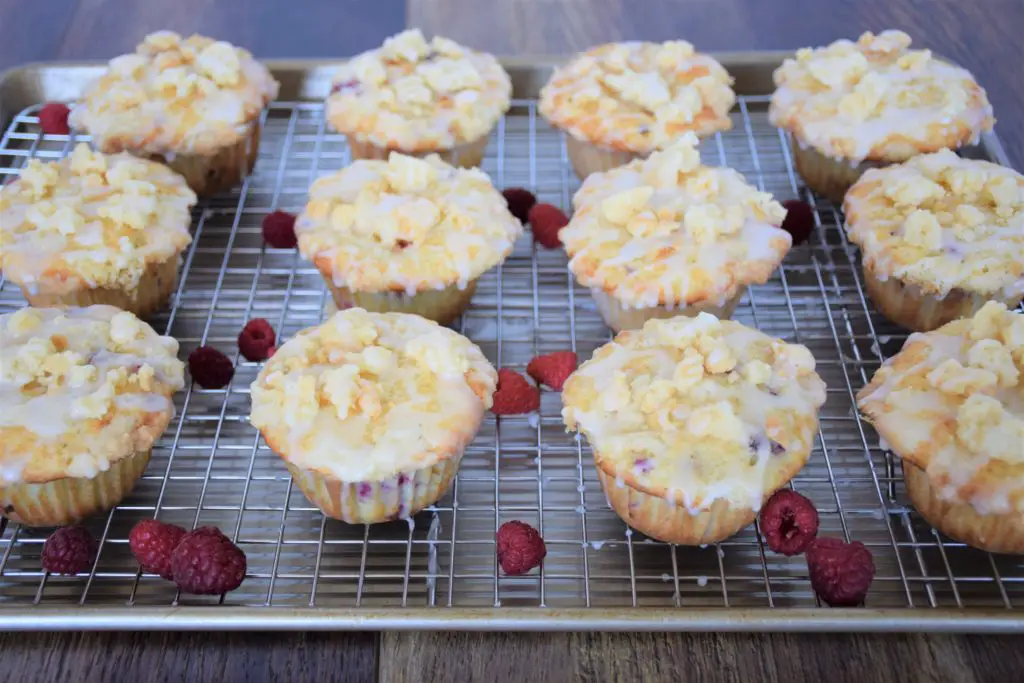 Flavor Variations for raspberry muffins
I use lemon juice in the drizzle over these muffins (drizzle is optional, but tasty). You could also use orange juice to mix with the powdered sugar for the drizzle if you prefer, both are delicious!
If you wanted a more intense lemon or orange flavor you can whisk about a teaspoon of lemon or orange zest with the granulated sugar until fragrant before adding the sugar to the butter. YUM!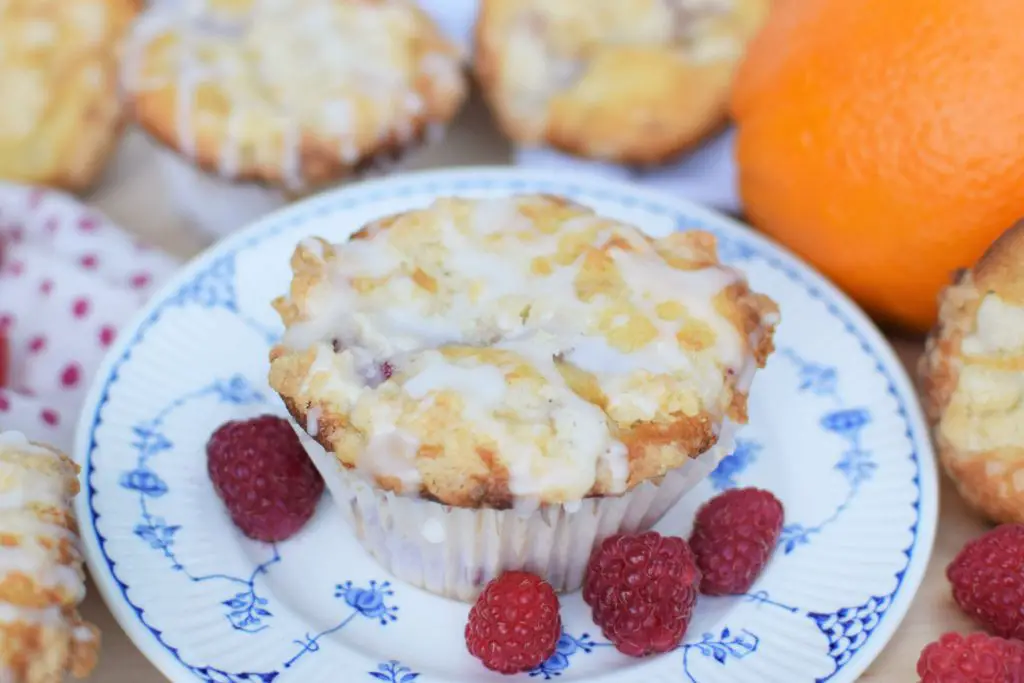 Toppings galore
I love changing around the topping of my muffins, I added a crumb topping to these as well as a lemon drizzle. I will admit that the lemon drizzle makes these pretty sweet and pushes them over the edge almost into the dessert category. If you are wanting to remain solidly in muffin territory stick with the crumble and leave off the drizzle. The crumble on top seems to almost caramelize and adds a delicious layer of texture and flavor to these moist and flavorful Raspberry Muffins.
Or be a raspberry muffin purist and just sprinkle on a little cinnamon-sugar instead of the crumble, easy peasy. (If you still have some raspberries left, go ahead and make these Raspberry Orange Shortbread Bars. So Good!) All delicious choices and you can't go wrong. So, let us be friends and bake some muffins!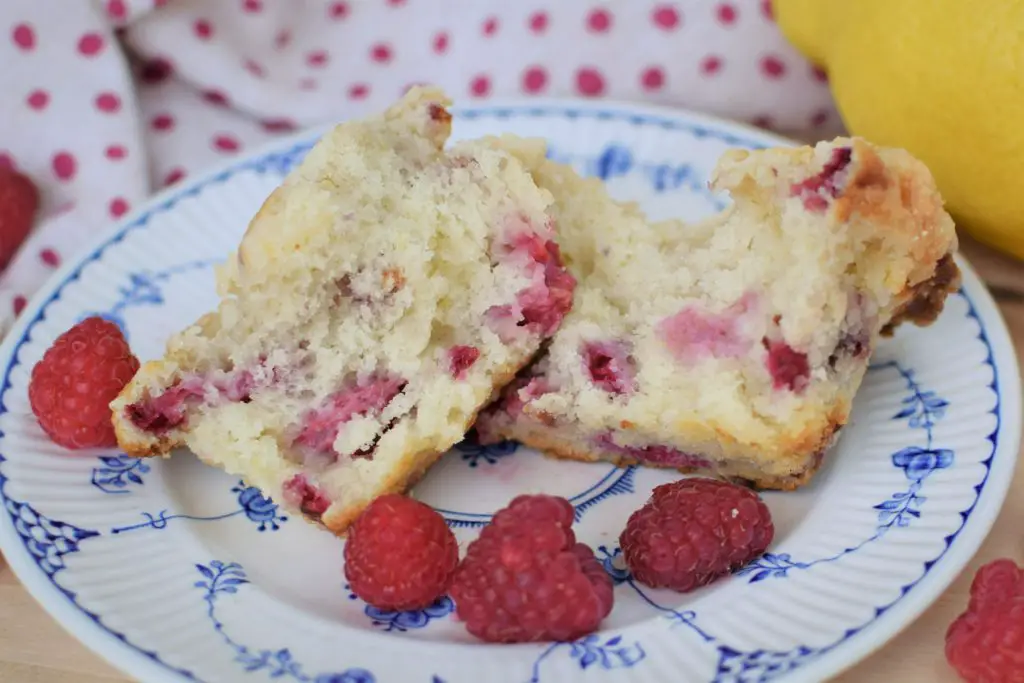 More Yummy Treats to Enjoy
Cinnamon Applesauce Snack Cake
'Four Cups of Zucchini' Bread – D/F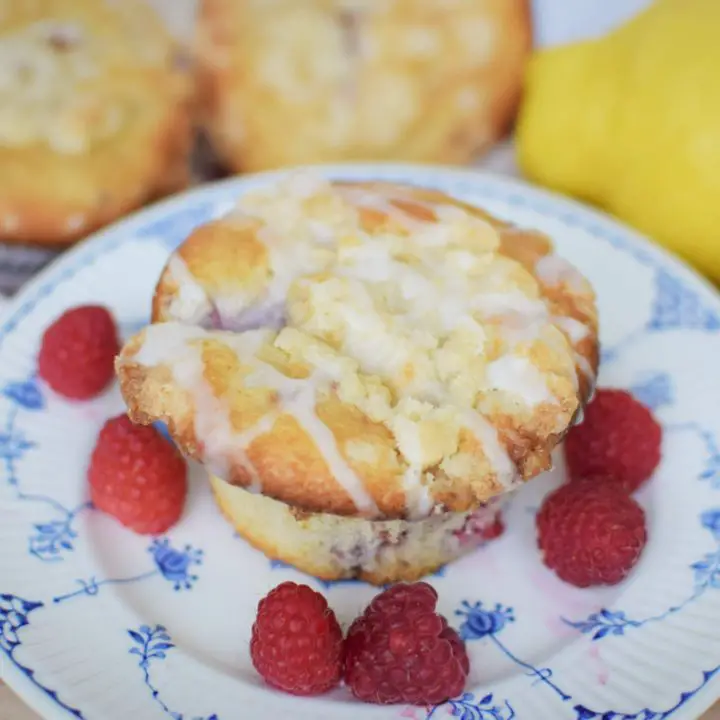 Wild Raspberry Muffins with Crumb Topping
A bright baked treat for breakfast. A muffins with a tender crumb, the zing of raspberries and a sweet crumb topping. No better way to say "good morning" or "will you be my friend".
Ingredients
1 ¼ cup granulated sugar
½ cup butter
2 eggs
1 cup sour cream
1 tsp vanilla
2 cups all-purpose flour
½ tsp baking soda
1 tsp baking powder
¼ tsp salt
1 generous cup fresh (or frozen) wild raspberries
Crumble Ingredients
½ cup all-purpose flour
½ cup granulated sugar
5 Tbs softened butter
Pinch of salt
Lemon Drizzle Ingredients
1 cup powdered sugar
1 Tbs lemon juice
1 Tbs milk (or just enough to make a perfect drizzle consistency)
Instructions
Preheat oven to 375 degrees Farhenhieght and prepare a muffin tin with either muffin papers or non-stick spray.
In a large mixing bowl, cream room temperature butter and sugar together.
Add eggs and vanilla and mix until blended.
Sift dry ingredients together (or mix with a whisk) in a medium bowl. Add the dry ingredients alternatively with the sour cream into the butter mixture and stir until just mixed.
Carefully fold in the fresh juicy raspberries. (Pop just a couple into your mouth, because fresh raspberries are delicious.)
Fill muffin tins about 2/3 full with muffin batter and then top with either cinnamon sugar mixture* or crumb topping.
For the crumb topping - Mix together all-purpose flour, sugar, and salt in a medium bowl. Use clean fingers to squish (yes that is the technical term) the softened butter into the flour and sugar until it becomes a crumbly mixture. Sprinkle the crumb topping on muffins before baking.
Bake for 25 to 30 minutes until done. When muffins are done remove from the muffin tin and place on a cooling rack.
While muffins are cooling mix up the drizzle. To a cup of powdered sugar add the lemon juice and just enough milk to make a drizzle consistency. After muffins are cool enough to not melt off all of the icing, lightly drizzle the icing (drizzle) over the muffins – a little goes a long way.









Notes
*To top with cinnamon sugar - mix 2 Tbs granulated sugar with ½ tsp cinnamon and sprinkle on top of muffins before baking.
-As noted in the post, adding the lemon drizzle makes these pretty sweet and pushes them over the edge almost into the dessert category. If you are wanting to remain solidly in muffin territory stick with the crumble and leave off the drizzle. Or be a raspberry muffin purist and just sprinkle on a little cinnamon-sugar instead of the crumble (see above note).
-For lemon lovers: if you want to up the lemon flavor in these delicious muffins, take the zest of one lemon and mix with the granulated sugar until fragrant, before creaming the sugar and butter together. Oh, bright, heavenly flavors!
Nutrition Information:
Yield:

20
Serving Size:

1
Amount Per Serving:
Calories:

248
Total Fat:

10g
Saturated Fat:

6g
Trans Fat:

0g
Unsaturated Fat:

3g
Cholesterol:

45mg
Sodium:

163mg
Carbohydrates:

37g
Fiber:

1g
Sugar:

24g
Protein:

3g
This information was obtained using an ingredient calculator to provide an idea of nutritional value. To obtain the most accurate numbers for nutrition information of any recipe, you should figure the nutritional information with the ingredients you used in the recipe. Each individual user is responsible for making sure that any nutritional information used is correct.
---
---