Lemon Lime Bars Are The ZEST!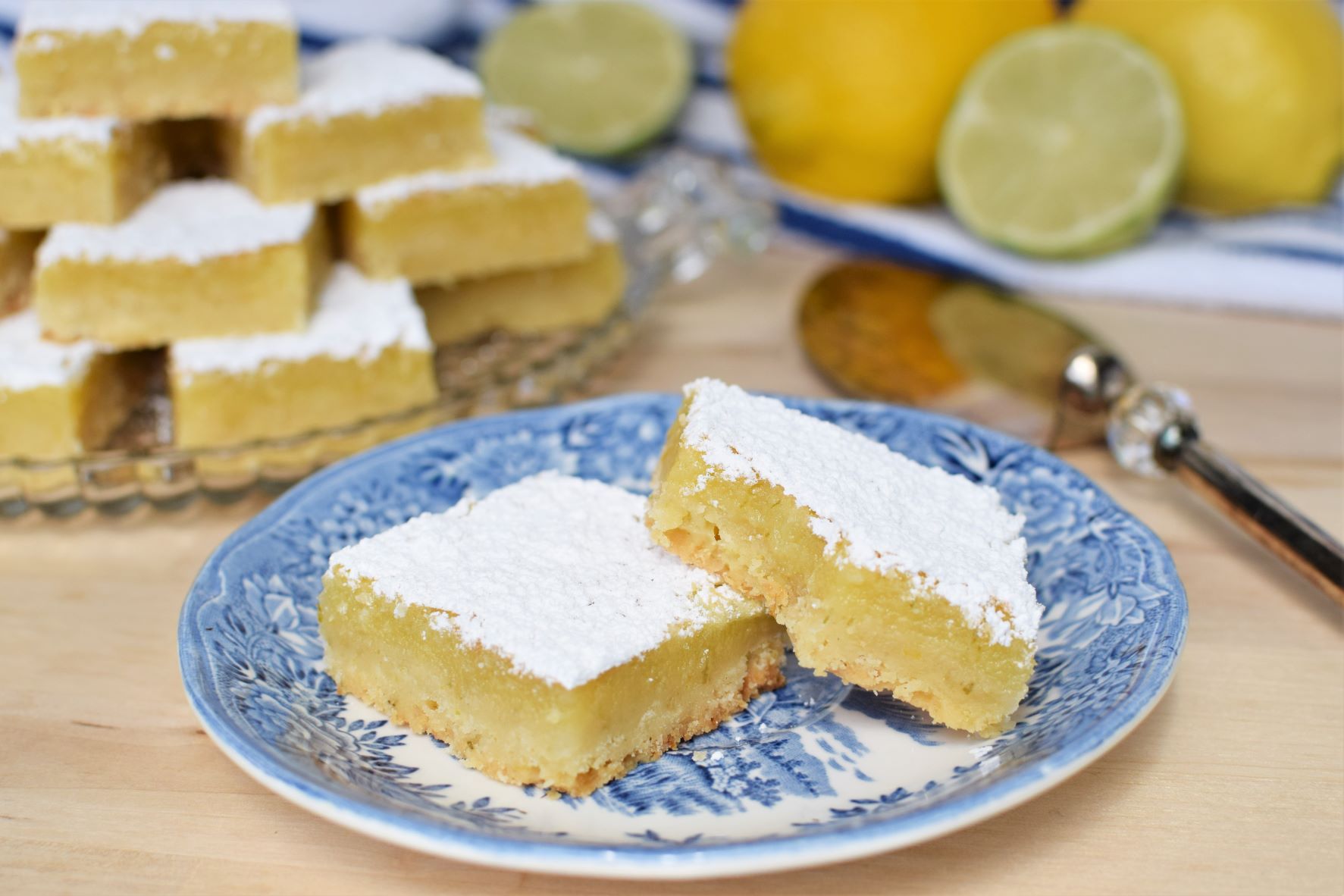 There are desserts that are enjoyed during summer and then there are desserts that are created for summer. The first summer dessert that probably comes to most people's mind is cold and delicious ice cream on a hot day. But the reality is that ice cream can melt and there are some summertime activities and locations that need more flexibility than melt-able ice cream. Cue the all-time picnic classic but with jazz hands: Lemon Lime Bars. Bright, sweet, decadent, AND portable.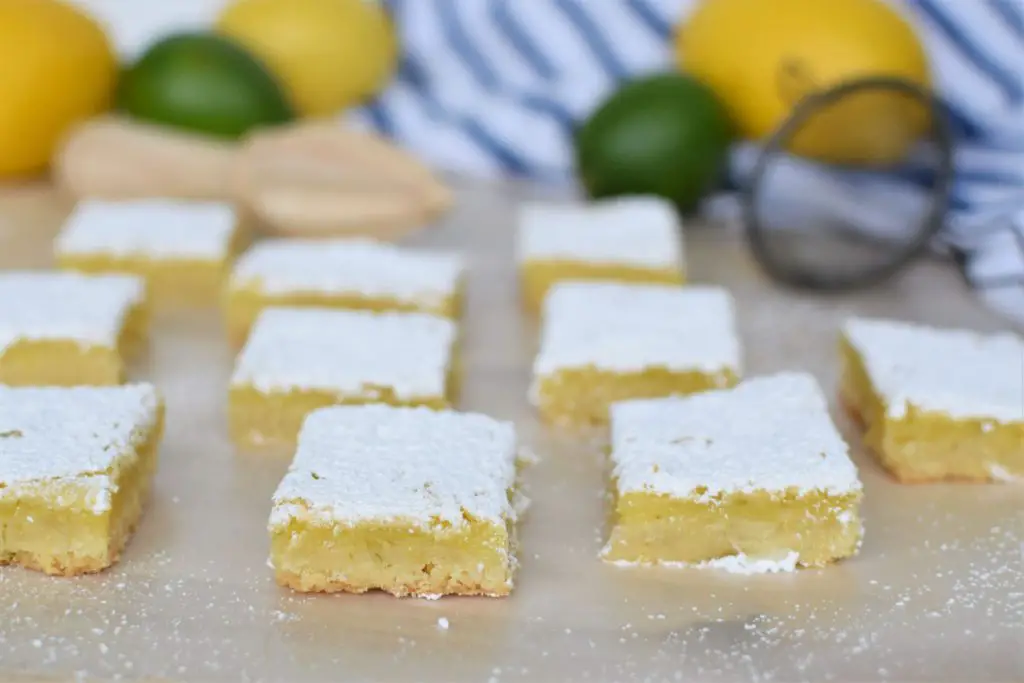 A lemon bar done right
When done correctly, lemon treats are bright with lemon flavor while carefully balanced with enough sugar to take that signature lemon pucker away but not dull it completely. There is a fine line, and these bars are walking it beautifully, with bright lemon flavor and floral notes of lime. These lemon-lime bars are singing a harmony of notes: citrus, sweetness, and buttery crust – what more could you hope for?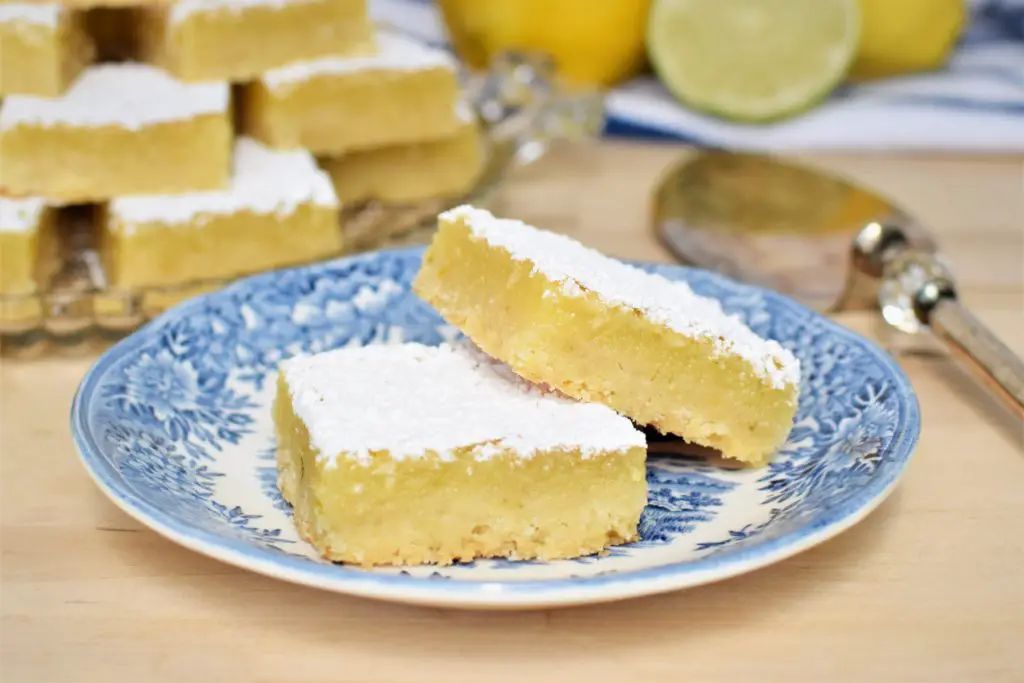 What to do with extra lemons?
Oh man if only this was my problem – I am a lemon LOVER! I am so envious of those of you who have lemon trees and are overrun with lemons. IF an excess of lemons is your problem, these bars are a perfect solution. Use the zest and juice of the lemon and limes to make this delicious treat! Also, if that IS a 'problem' you have, I will happily trade you some zucchini and plums for your extra lemons! No to the zucchini? Well, what about this chocolate zucchini cake or zucchini bread in exchange for lemons? Shipping not worth it? Yeah, I get it.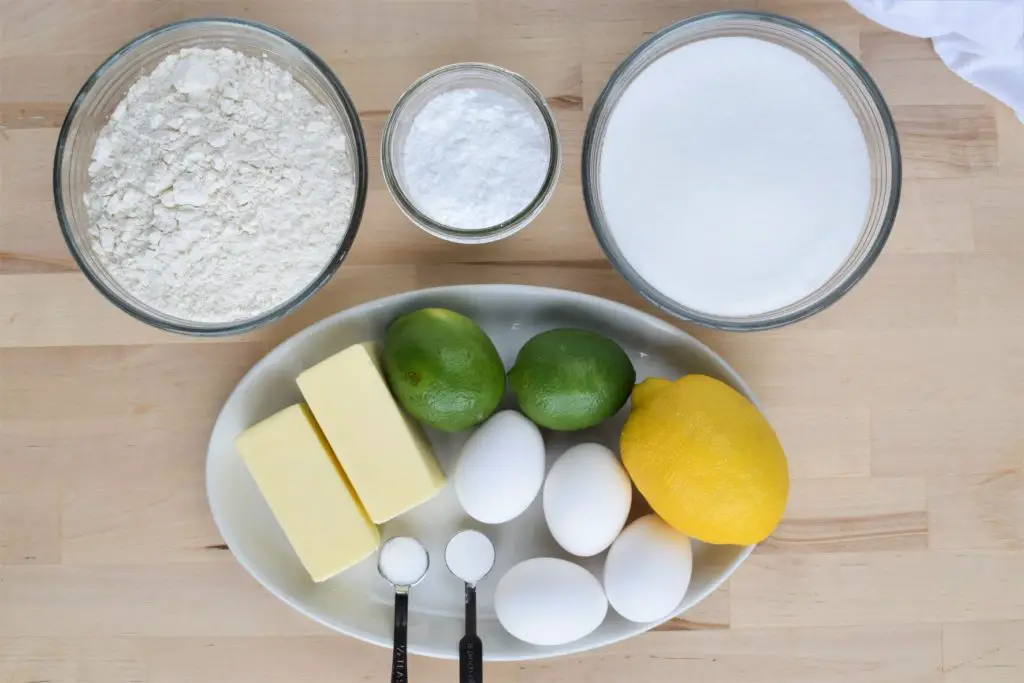 Why add lime?
It's no accident that almost all clear citrus sodas are a combo of lemon and lime. They work together like chocolate and peanut butter, bread and butter, Simon and Garfunkel. The lime mellows the bars lemon punch a bit but brings out more flavor without needing to be cloyingly sweet. This dessert still tastes lemon forward, as a lemon lover, I didn't want to cover the lemon taste completely.
However, there is a bright unexpected flavor of lime that is unmistakable and very welcomed in this delicious treat. There is lime juice in the filling, but also lime zest in the crust and filling as well. The zest is what really brings the lime forward to pair with the lemon. Zest is the key to capturing citrus flavor in all baked goods. If you haven't tried the addition of fresh zest before you are in for a real treat and a surprising amount of flavor!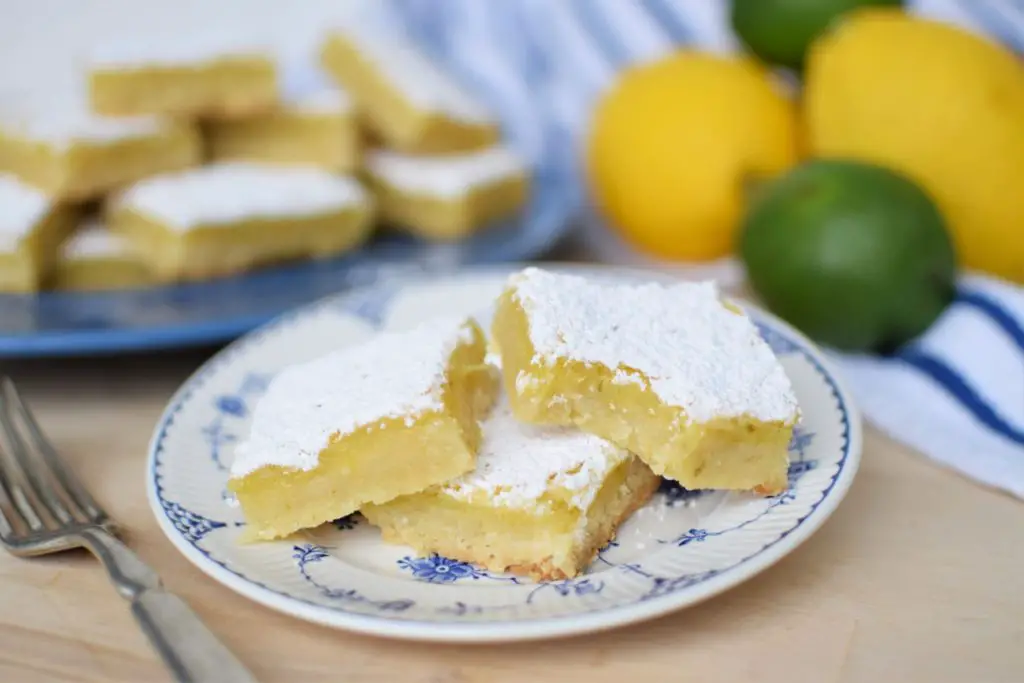 Tips for lemon zest and lime zest
Zest makes all the difference! The benefit of using zest is you get to add so much flavor without having to worry about the chemistry of the baked good. No concerns about too much acid or liquid by adding another tsp of zest to boost the flavor. When using lemon or lime juice chemistry comes into play so there is a limit to how much flavor you achieve without completely changing the outcome of your baked good. So, embrace the zest and have some phenomenal tasting bars!
Using a zester or microplane is the easiest way to zest lemons and limes. I personally like this zester from OXO because of its ease of use. If you don't have a zester or microplane, then you can always use the small hole side or zester (if it has it) of a box grater.
As a PSA I am going to tell you that to get the flavor benefit of zest you should use fresh zest. The dried lemon zest in the spice aisle is NOT for this purpose. I'm actually not sure what the purpose of that is. If anyone knows the point of dried lemon zest, let me know. Anyway, back on point, let's say it all together now, "Fresh zest is the best zest!" Well done class.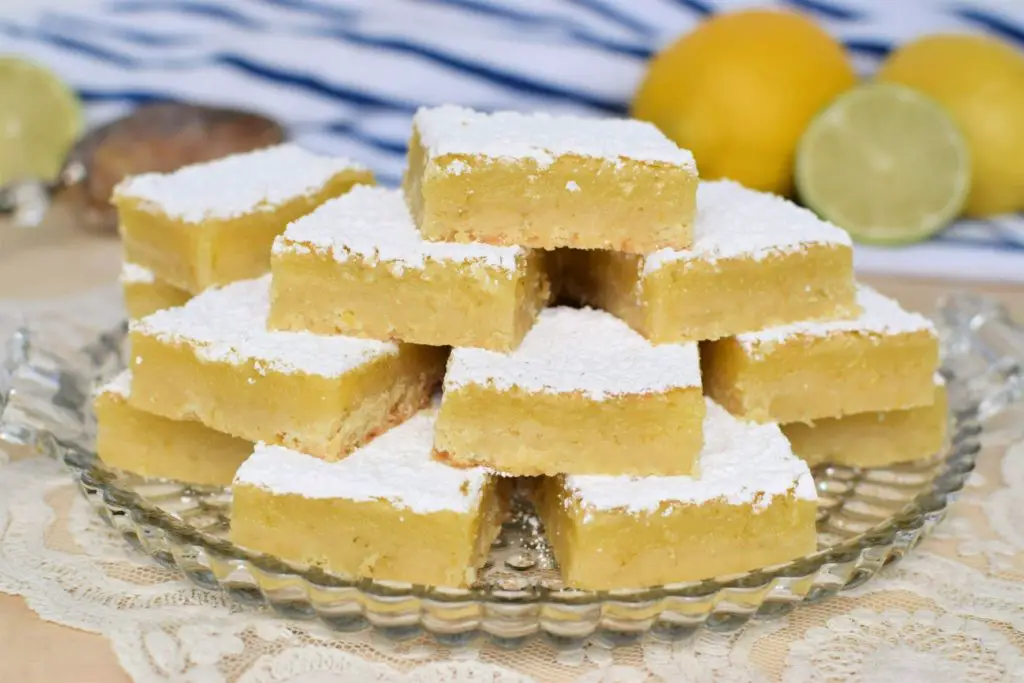 Lemon Lime Bar Crust Perfection
A lemon-lime bar can be a thing of beauty. It can also be a complete letdown if you don't have a good buttery and crumbly crust – no one wants a tough crust on their lemon-lime bars. These bars are delicate little delights of refreshing lemon and lime flavor, to achieve that you NEED to use this flavorful and melt in your mouth crust.
Lemon and lime zest are both used in this crust to achieve full flavor, and oh my is it delicious. I could eat the crust just on its own. As a matter of fact, I might be baking some lemon-lime shortbread cookies in the near future – it's that good.
As I have mentioned before with zest, and I will mention again, mix your zest with your ingredients until fragrant – this gives us FLAVOR! With the crust, since we are using powdered sugar, whisk the zest with the powdered sugar until you smell those lemons and limes. Yes, the powdered sugar will look slightly clumpy afterward but once you whisk it into the flour, everything will be hunky-dory.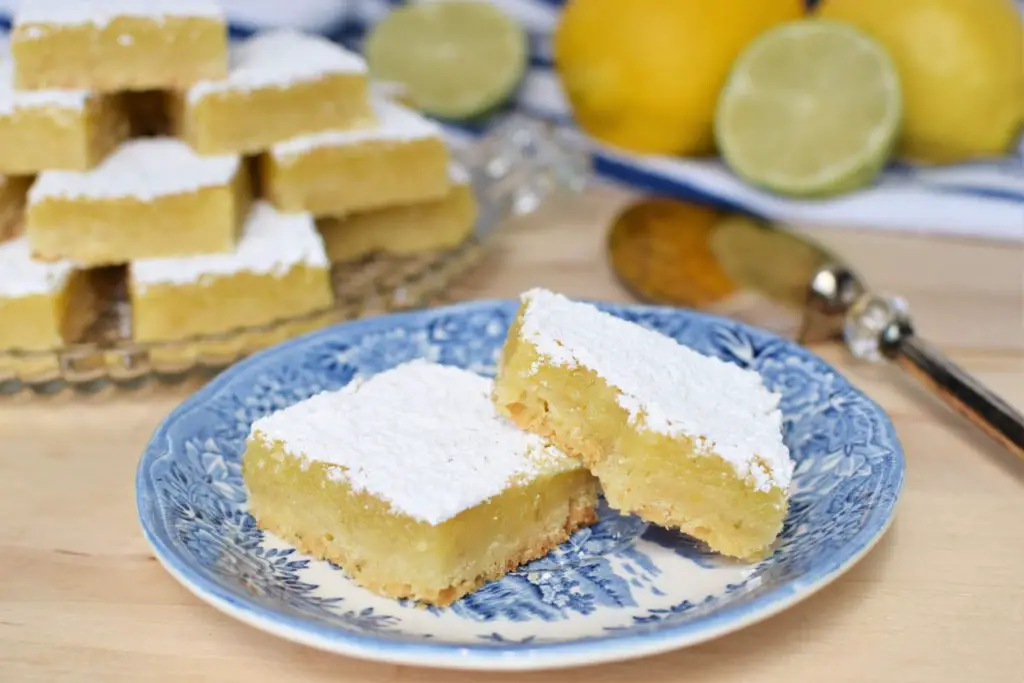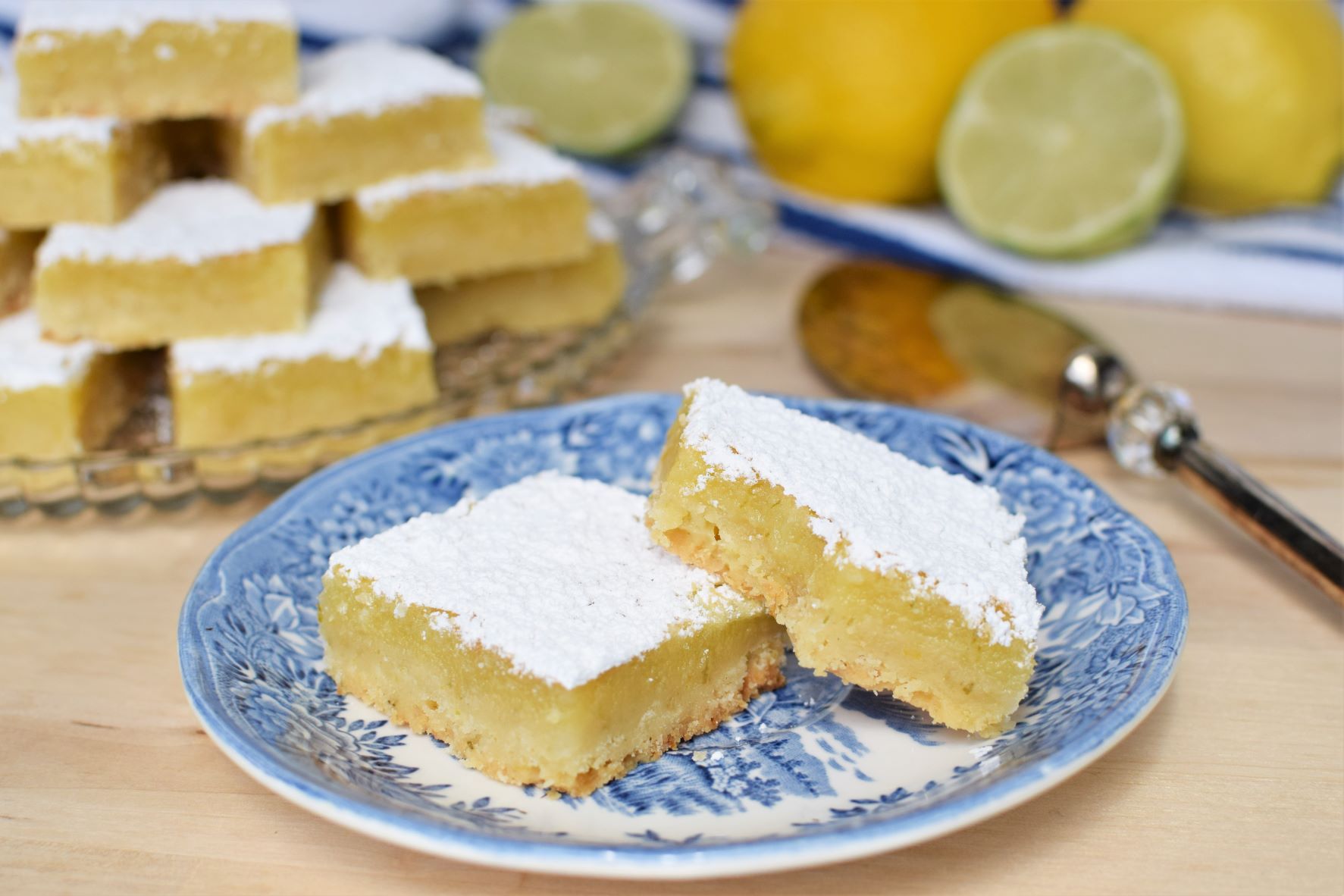 Key for a tender crust
To achieve the perfect texture on this crust, the key is to not over mix (except the zest into the sugar, whisk that excessively). Whisk the ingredients together until combined and then you mix in your room temp butter with a pastry blender. (A fork will also work if you don't have a pastry blender.) You could also pulse this mixture in the food processor until pea-sized crumbles; however, I am too opposed to washing all the parts of my food processor to do that. Pat the crust into your prepared baking dish gently but firm enough that it looks cohesive. You'll bake the crust for 20 to 25 minutes or until it is just starting to lightly brown.
This crust is worth it!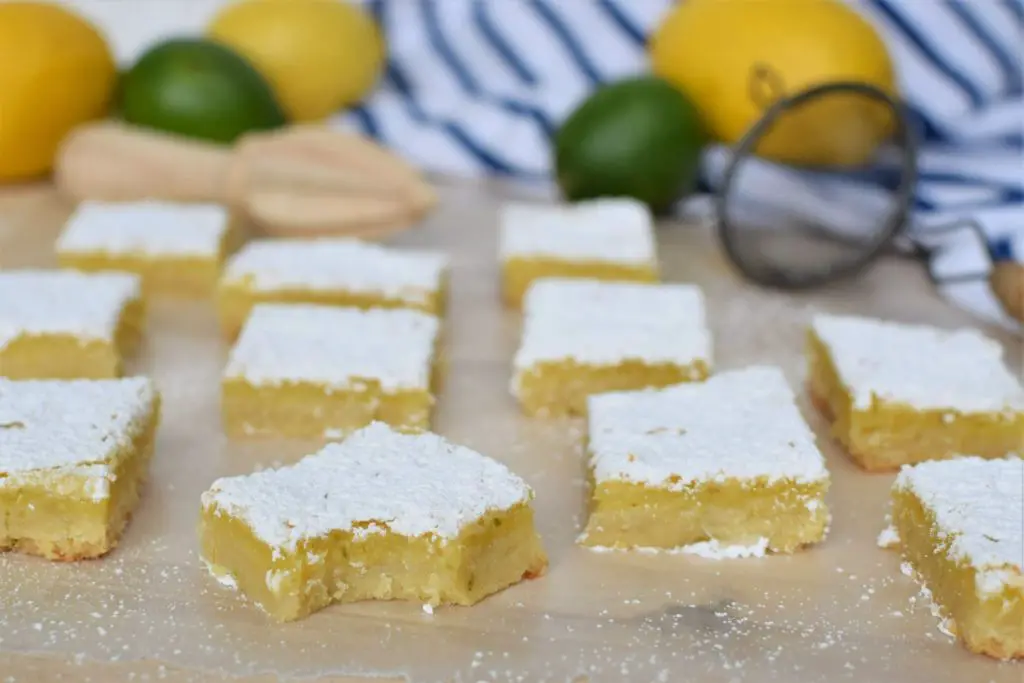 Lemon and Lime bliss
The classic lemon bar is like that beloved aunt that always has purse lemon drops (the candy, not the cocktail, come on folks) for during Sunday sermons. The addition of lime to this classic treat is akin to finding out that said aunt can also belt out a mean karaoke. She is still a classic, but she is also surprising. These bars still have that classic lemon drop flavor, but they also hit all the surprising notes of floral lime harmony. 
Get to work folks, and go bake up some portable not-melty joy for your summer adventures. 
More delicious Cookies and Bars
Raspberry Orange Shortbread Bars
'Good' Coffee Cookies with Chocolate Drizzle
Cinnamon Chocolate Chip Cookies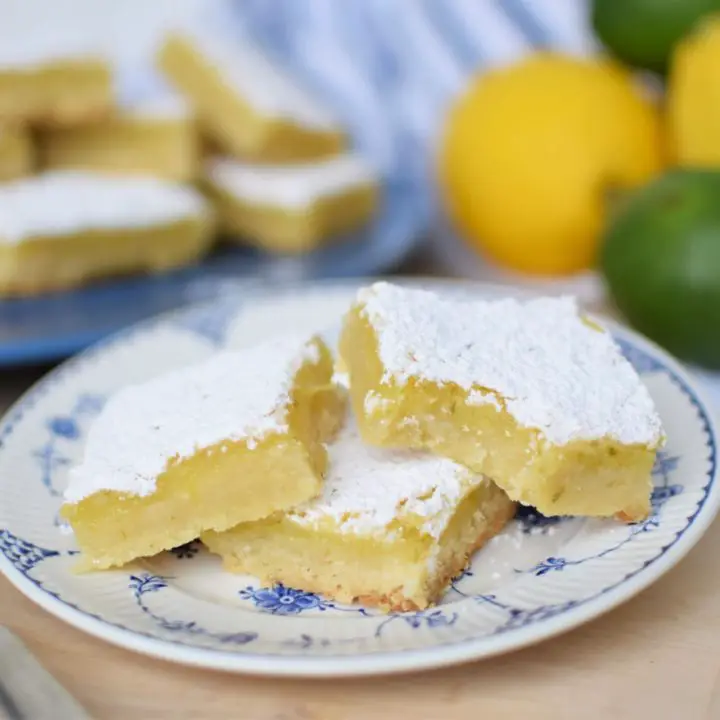 Lemon Lime Bars
These lemon-lime bars are a welcome update on the classic lemon bar using both zest and juice from the lemons and limes to fully bring those flavors forward. The buttery lemon lime flavored crust takes these bars to new heights of deliciousness!
Ingredients
Crust Ingredients
2 cups flour
½ cup powdered sugar
Zest of 1 medium lime (about 1 heaping tsp)
Zest of 1 lemon (about 1 Tbs)
1 cup butter, room temperature
¼ tsp salt
Filling ingredients
4 eggs
1 ¾ cups sugar
Zest of 2 medium limes (about 2 heaping tsps)
Zest of ½ lemon (about 1.5 tsps)
4 Tbs all-purpose flour
¼ tsp salt
½ tsp baking powder
4 Tbs lemon juice
3 Tbs lime juice
Powdered sugar for dusting on top
Instructions
Preheat oven to 350 degrees Fahrenheit. Prepare a 9x13 baking dish by lining it with parchment paper. If you don't want to take the extra step, you can spray the inside of your baking dish with nonstick spray, but just know it won't be quite as easy to remove the beautiful bars. Parchment paper is a baker's secret weapon, and makes this perfectionist really happy.
In a small bowl whisk until fragrant - zest of 1 lime and 1 lemon with the ½ cup of powdered sugar for the crust. The powdered sugar may look slightly clumpy afterward but once you whisk it into the flour, everything will be hunky-dory.
In a large bowl combine lemon-lime powdered sugar into your flour and salt for the crust. Whisk the ingredients together until combined.
Add your room temp butter to the flour mixture and mix, as you would a pie crust, with a pastry blender. (A fork will also work if you don't have a pastry blender.) You could also pulse this mixture in the food processor until pea-sized crumbles; however, I am too opposed to washing all the parts of my food processor to do that.
Pat the crust into your prepared baking dish like goldilocks - gently, but firm
enough that it looks cohesive – just right. You'll bake the crust for 20 to 25 minutes or until it is just starting to lightly brown.
While your crust is baking, start on the delicious lemon filling to the lemon bars. Whisk together 1 ¾ cup granulated sugar with the zest of 2 limes and the zest of ½ a lemon until you can smell those fragrant citrus notes.
In a large bowl beat 4 eggs slightly and gradually add that lovely citrus sugar you just made.
In a small bowl whisk together 4 Tbs flour, baking powder, and ¼ tsp salt. Stir into your egg mixture and mix well.
Add your lemon and lime juice and mix until well combined.
When your crust comes out of the oven, give your lemon filling another mix just to make sure it is still well combined. Pour the filling over the hot crust and return the bars to the oven to bake another 25 – 30 minutes more. Check bars around 20 minutes, and if they are starting to brown too much, tent the pan with foil. When bars are lightly brown and set, remove from oven, and allow to cool completely.
When ready to serve bars, dust the top of the bars with powdered sugar. I like to use a small fine mesh stainless steel sieve to dust the powdered sugar so I can control the powdered sugar better – hello perfectionism, old friend!
You can either remove the bars from the pan by lifting them up with the parchment paper, or you can cut them in the pan.*
Store lemon bars at room temp in an air-tight container for up to a week.
Notes
*Tip for cutting the bars with clean edges: I have a bowl with hot water and place a knife in the water to heat up. Once blade is heated, dry the blade with a towel or paper towel. Cut through the bars once and rinse and re dry the knife blade between each cut. You will have beautifully cut bars that will look professionally baked.
Nutrition Information:
Yield:

24
Serving Size:

1
Amount Per Serving:
Calories:

212
Total Fat:

9g
Saturated Fat:

5g
Trans Fat:

0g
Unsaturated Fat:

3g
Cholesterol:

51mg
Sodium:

133mg
Carbohydrates:

33g
Fiber:

1g
Sugar:

22g
Protein:

2g
This information was obtained using an ingredient calculator to provide an idea of nutritional value. To obtain the most accurate numbers for nutrition information of any recipe, you should figure the nutritional information with the ingredients you used in the recipe. Each individual user is responsible for making sure that any nutritional information used is correct.
---
---