Comforting Oatmeal Chocolate Chip Bars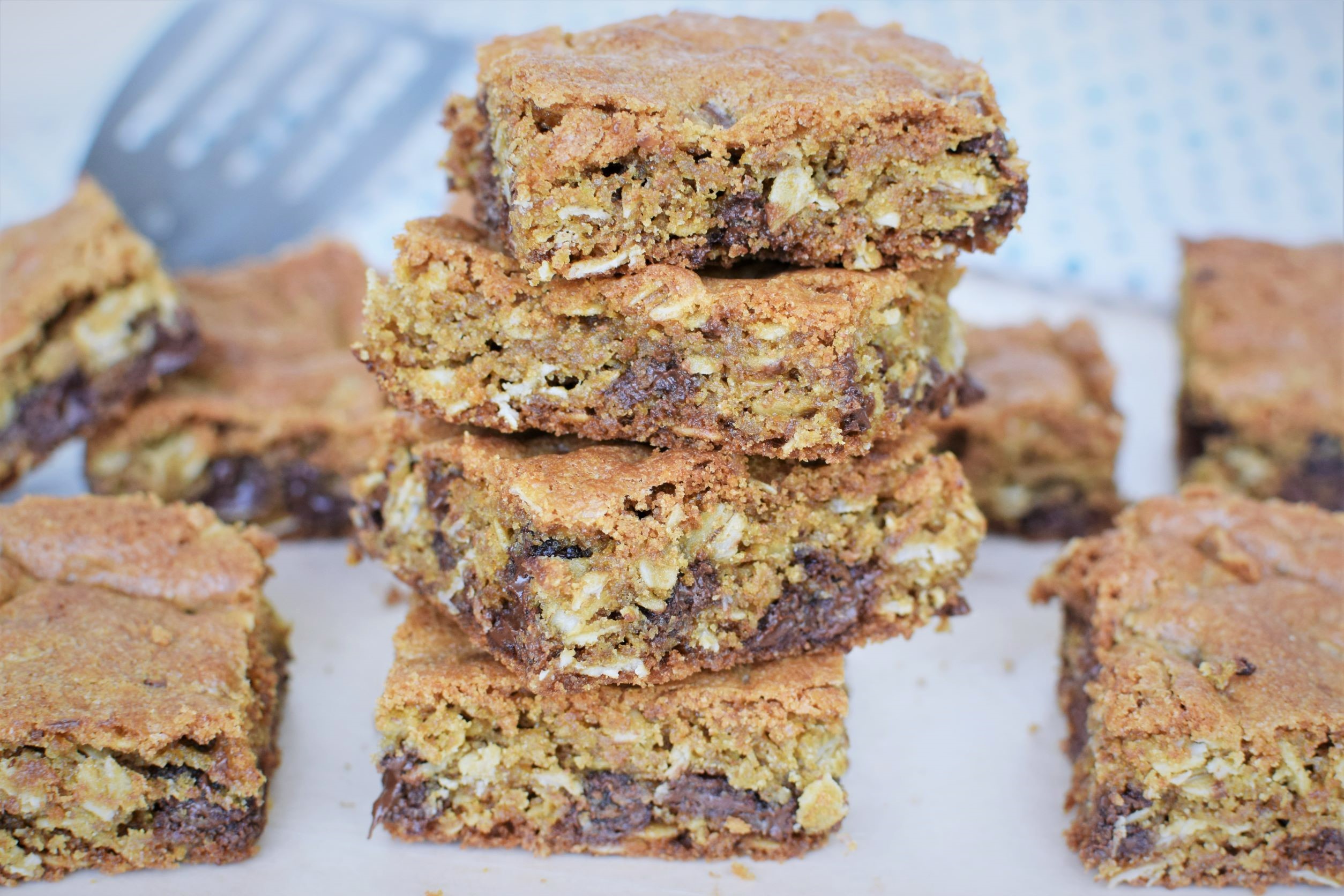 Nothing can compare to walking into a home where cookies have just come out of the oven. Cookies conjure up all the good memories, feelings, and especially tastes. There is a reason cookies are the international gesture of welcome home, welcome to Sunday school and welcome to the neighborhood. They are just so inviting. They invite you to take a moment, relax your shoulders, feel at home. As I don't always have the time to roll individual cookie balls and rotate cookie sheets, I rely heavily on these delicious oatmeal chocolate chip bars to bring all the welcoming comfort to my home!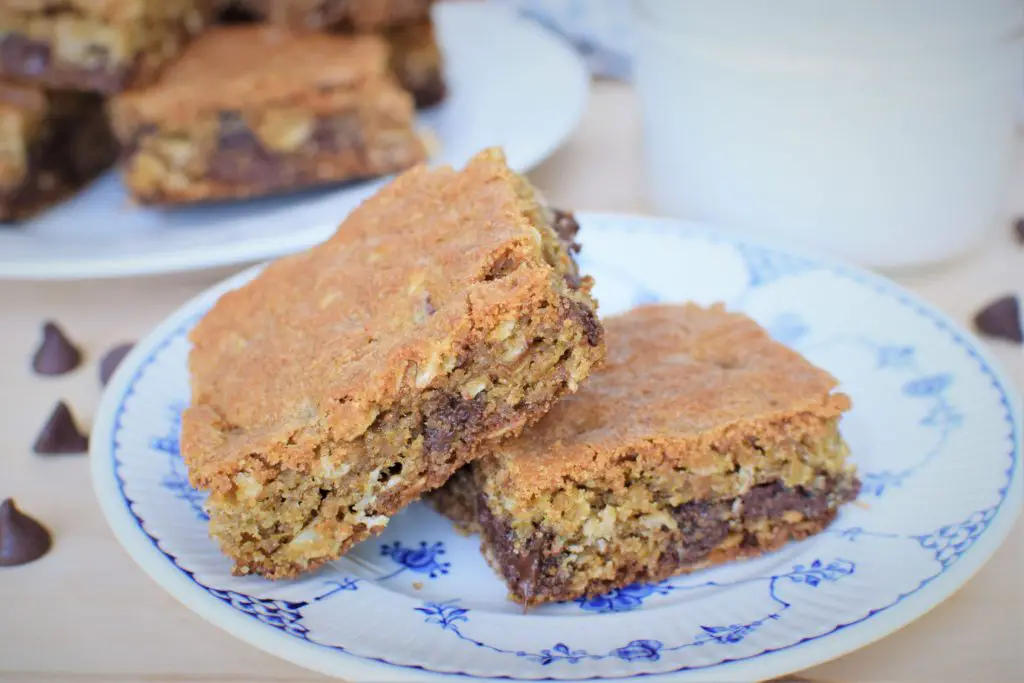 Why these Oatmeal Chocolate Chip bars?
Honestly, because they are my comfort cookie bar. These oatmeal chocolate chip bars are the bar cookies that my mom always made and they are my baked-good home. They are a tried-and-true recipe over many years and are constantly requested by family and friends alike. They are comforting in their familiarity of chocolate chip cookie bars, but they are also different enough to stand out with their hearty texture and depth of flavor. The addition of some whole wheat flour, wheat germ, and oats alongside the brown sugar, vanilla, butter, and chocolate chips is what puts these bars over the top. Also, with that addition of whole wheat flour and wheat germ, one might even call them *ahem* healthy. Don't let the healthy ingredients fool you, the flavor of these bars are on point!
These bars also have a perfectly delicious chewy texture that keeps you coming back for more. This can be a dangerous situation when you just keep carving off bites of the bars and then needing "just one more bite". But since you never eat a "whole bar" the calories don't count though, right? PLUS, remember those healthy ingredients? That makes them a nutritious snack. That's my story, anyway – just don't ask me about it in court.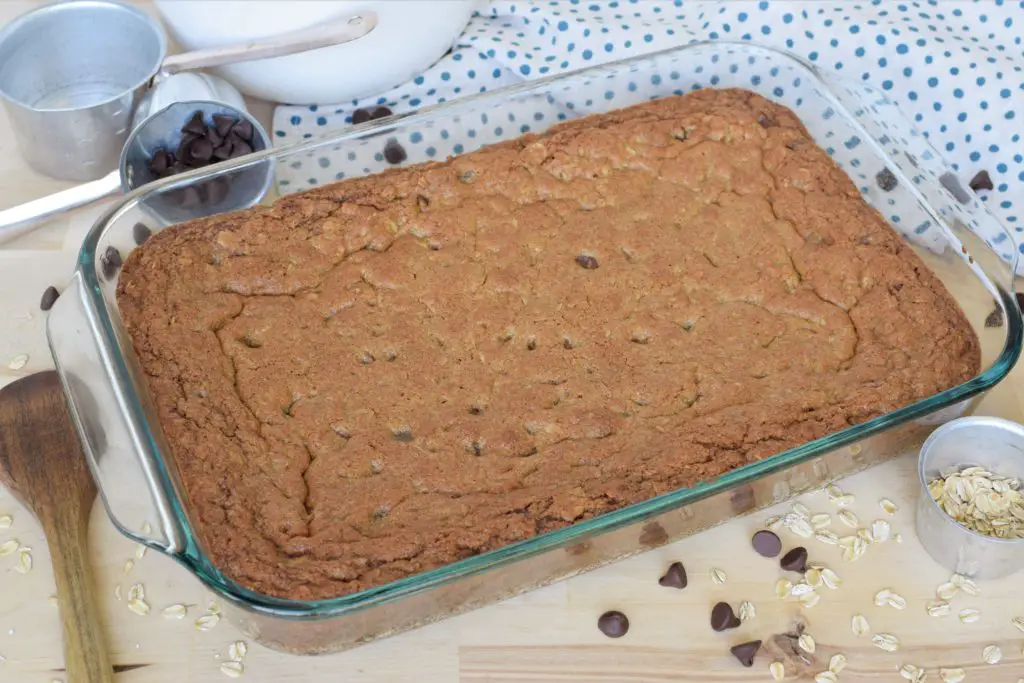 Can these oatmeal chocolate chip bars be made into cookies?
Why yes, they can. But why make more work for yourself? I don't always have the patience to deal with fickle cookies and rotating cookie sheets. Bar Cookies for the win!
However, if you do want to make these bars into cookies, it can be done. Just decrease the bake time. I also suggest baking these cookies on parchment paper instead of a greased pan as the parchment paper decreases the spread of cookies.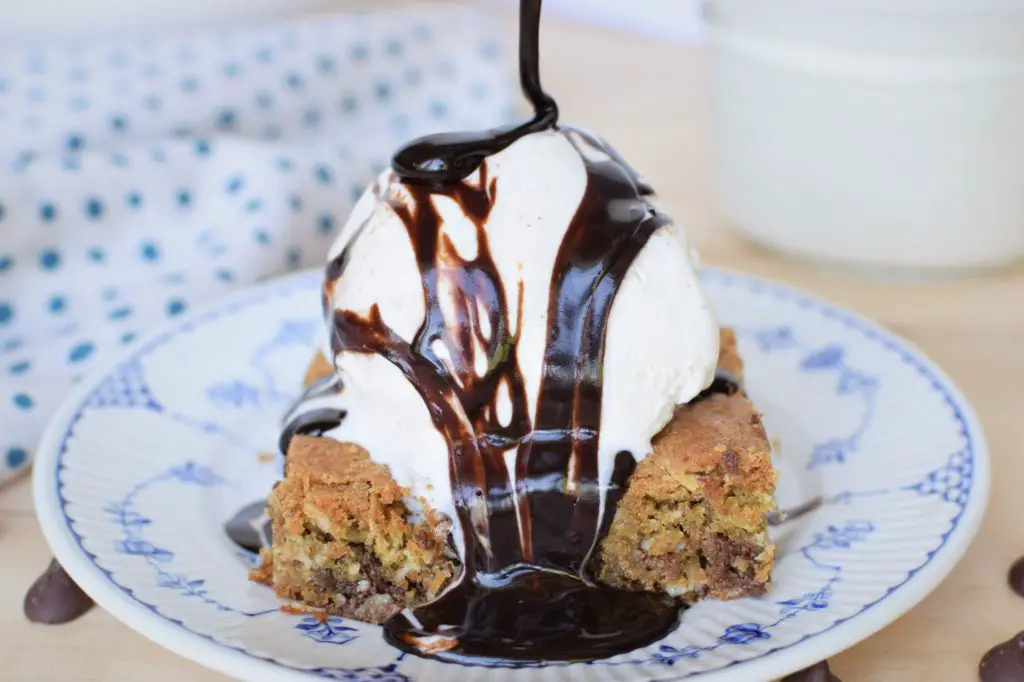 How to make oatmeal chocolate chip bars?
Oh, I love questions with easy answers. You take your oatmeal chocolate chip cookie dough and press it into a 9"x13" pan and bake. Voila, cookie bars!
Really you can be a bit more fancy pants than that if you would like. You can line your baking pan with parchment paper if you are the type of person who likes to remove the whole pan of bars in one go to make it easier to cut uniform bars. My recommendation would be to only cut them all at one time if you are taking the bars to an event and are going to be serving them all at once.
I must admit, I love using parchment paper for some things, but for these bars I frequently just spray the bottom of my baking dish and call it a day. I prefer cutting a line of bars. Or even just one bar at a time since the edges remain the softest with that method, and I love me some soft middle bar pieces. And yes, I will cut pieces out of the middle of things, I am THAT person. Unless it's carrot soufflé… I should tell you all about carrot soufflé. Remind me when my carrots in the garden are ready.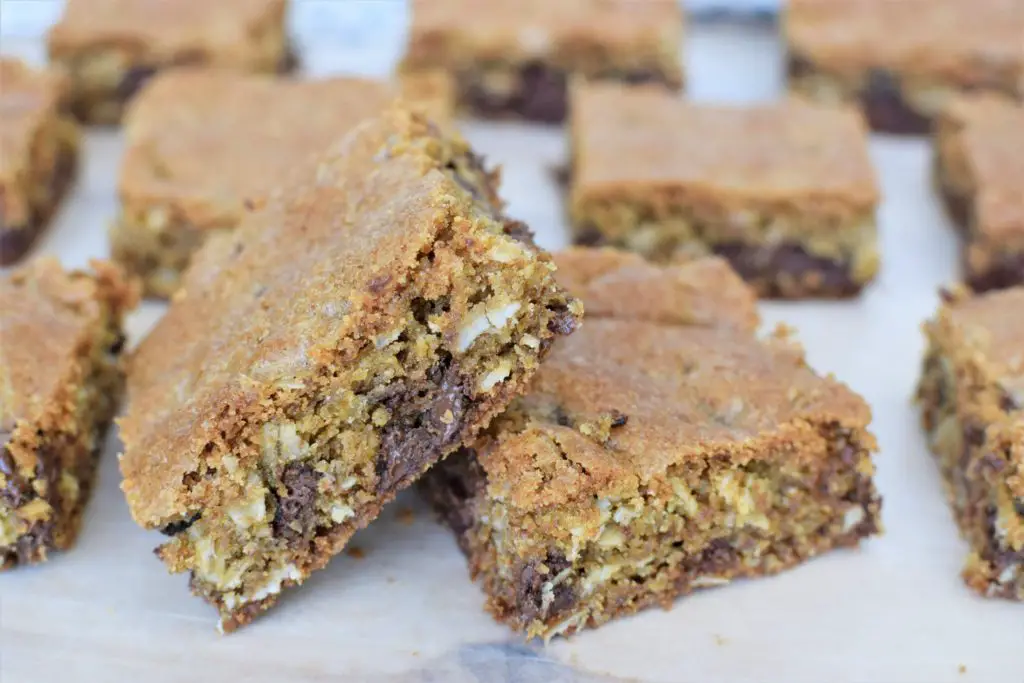 How long to bake chocolate chip bars?
These Oatmeal Chocolate Chip Bars take around 30 minutes to bake. Depending on your oven and if you are using a metal or glass dish, it should take somewhere between 25 and 35 minutes. I would start checking around 25 minutes to make sure.
If your bars are starting to get a bit too dark on top, cover with tented aluminum foil until bars are done to prevent further browning.
"Goo" vs "Chew"
If you want softer almost underdone bars (this is the "goo") take your bars out when top is set, but bars are still a bit soft, closer to 25 minutes in my oven. If you want your bars to be fully done and have a nice "chew" from the hearty oats, bake until a toothpick inserted in bars comes out with only a couple crumbs but is not wet, closer to 30-32 minutes in my oven.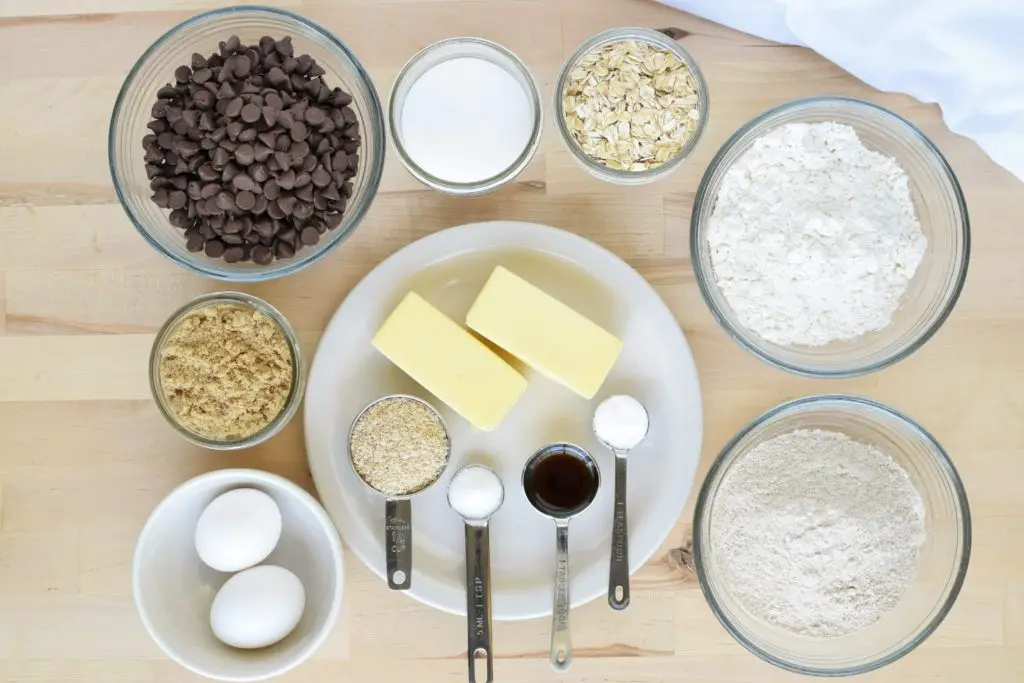 Can I make these bars without wheat germ?
I know that wheat germ is not necessarily something that everyone regularly stocks in their kitchen. You may not have even heard of wheat germ before, if that is the case, Bob's Red Mill explains it here for you.
Yes, you can make these without wheat germ if you don't have any available, and you want to make these oatmeal chocolate chip bars without having to run to the store. If you have oat bran you can replace the wheat germ in the recipe with the oat bran. Yeah I know, not always in the pantry or freezer either, but you can also use oat bran in this awesome granola. If not, you can replace the wheat germ with an additional ¼ cup of wheat flour. The bars wont be exactly the same, but they will still be delicious.
I do recommend trying the bars with wheat germ at some point – it really adds a unique nutty flavor that makes these bars extra special. I keep my wheat germ in a lidded mason jar in my freezer (or if you don't have room for that, a zip top bag would work as well) that way I always have it available for baking and I don't have to worry about using it right away. These are some of the lids that I use for my mason jars (here and here).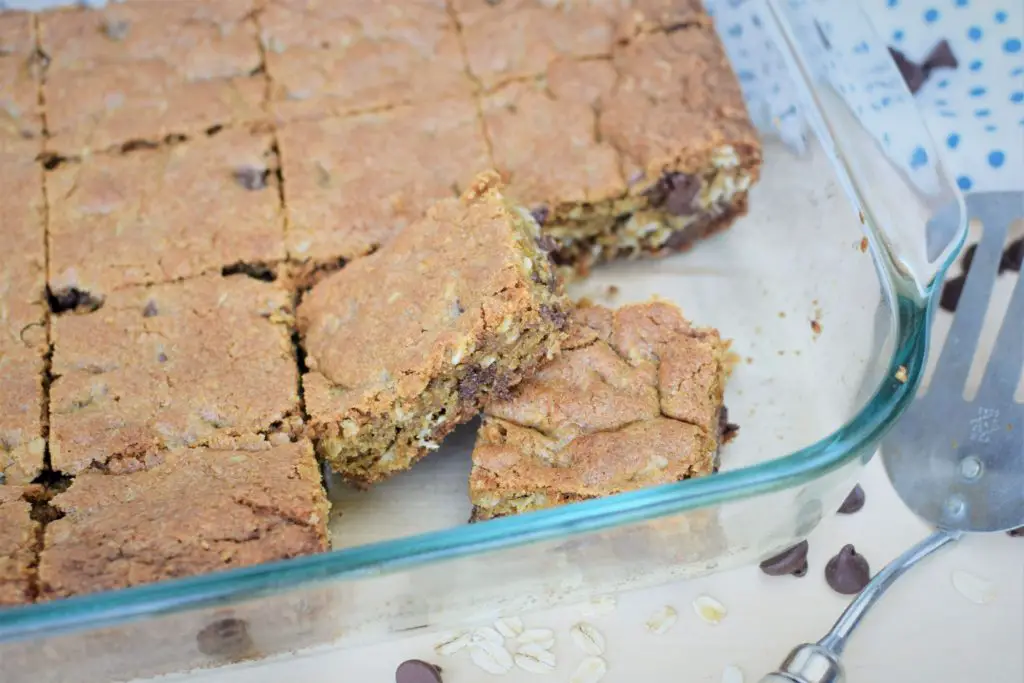 Flavor variations
As with any cookie dough, you can personalize these cookie. Are these bars delicious just as is – why yes. Do you sometimes want to switch things up in life – absolutely! I personally love using dark chocolate chips when I want these bars to be a little extra special. 
Chocolate peanut butter
Use a mix of PB chips and chocolate chips. You can also swirl a little peanut butter into the bars if you are feeling super fancy. Or in our peanut-free house, we swirl a little cashew butter and sometimes even add chopped toasted almonds.
Monster cookie bars
Use a combination of chocolate chips, PB chips, butterscotch chips, and M&Ms to mix into the bars.
Clean out the baking chip drawer bars
Oh, if I could tell you the number of times I have had these bars with emptying out all the leftover baking chips. They are delicious and always different…. And speaking of chips: crumbled potato chips, pretzels, Oreos or the last few honey grahams can be quite the additions as well. 
And if you want to be really fancy…
Chocolate, Orange, and Cranberry
Add a little orange zest with the sugar. Simmer dried cranberries in orange juice for a few minutes until they plump, then drain and blot dry. Stir in drained dried cranberries with dark chocolate into cookie dough.
The possibilities are endless, and I haven't yet met a variation of this oatmeal chocolate chip cookie bar that I haven't enjoyed. If you like expressing your creativity with your baking, go for it! But I would stop before you go too far into the produce drawers; there is a time and place for veggies – and this isn't it, just saying…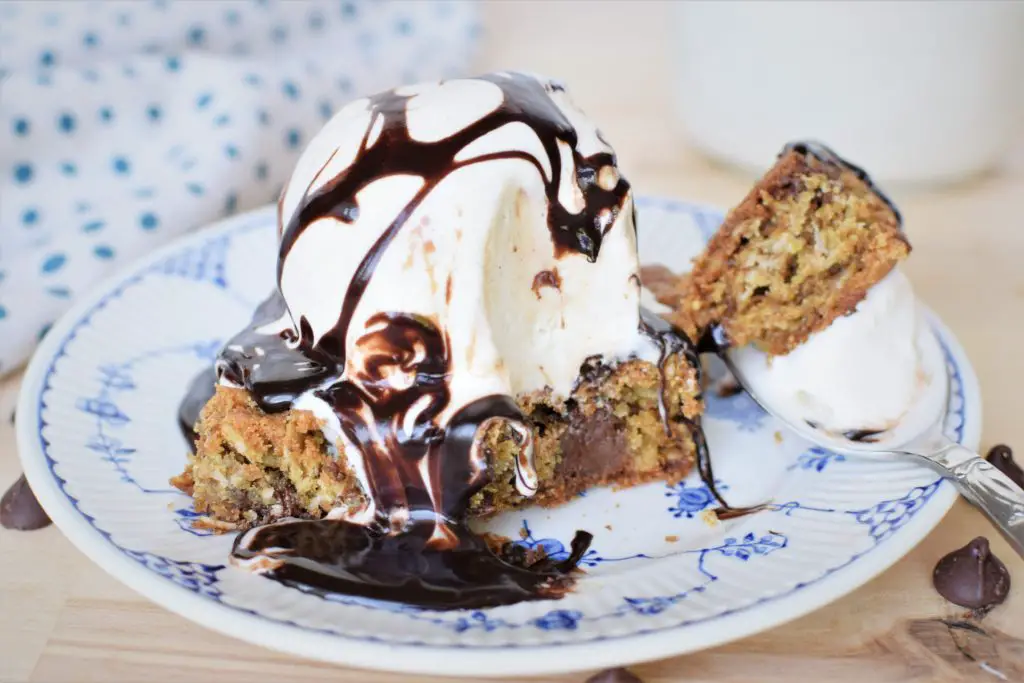 In conclusion… um hello 10th grade English class… Bake up some of these oatmeal chocolate chip cookie bars and savor that moment of the flavor of home. 
More Cookie Recipes to Enjoy
Cinnamon Chocolate Chip Cookies
'Good' Coffee Cookies with Chocolate Drizzle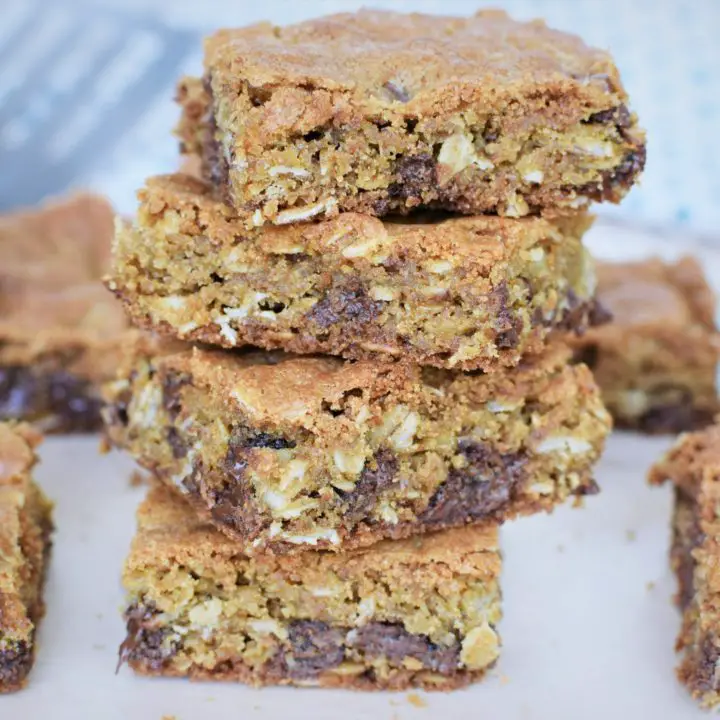 Hearty Oatmeal Chocolate Chip Bars
These bars are comforting in their familiarity of chocolate chip cookie bars, but they are also different enough to stand out with their hearty texture and depth of flavor. The addition of some wheat flour, wheat germ, and oats alongside the brown sugar, vanilla, butter, and chocolate chips is what puts these bars over the top.
Ingredients
1 cup butter, room temp
1 cup brown sugar
1/2 cup granulated sugar
2 eggs, slightly beaten
1 tsp vanilla
1 cup all-purpose flour
1 cup whole wheat flour
1 tsp baking soda
1 tsp salt
1 cup old-fashioned oats
1/4 cup wheat germ*
1 1/2 cups chocolate chips
Instructions
Preheat oven to 350 degrees Fahrenheit. Prepare a 9"x13" baking dish by either spraying the bottom of the pan with nonstick baking spray, or lining the pan with parchment paper and spraying the parchment paper.
In a large bowl, cream butter with brown sugar. Add granulated sugar and mix well. Stir in eggs and vanilla until well combined.
In a medium bowl, whisk together flours, wheat germ, baking soda, and salt until well blended. Stir flour mixture into creamed butter mixture until combined. Stir in oats and chocolate chips.
Press dough evenly into your prepared pan and bake for 28-32 minutes until bars are set and toothpick comes out mostly clean.** Check bars around 20 minutes to make sure bars aren't browning too much, if so tent bars with foil until done.
Bars can be stored for a couple weeks at room temperature in an airtight container. However, for maximum freshness enjoy within a week, or heat up in the microwave a few seconds for a fresh out of the oven experience.
Notes
*See post notes about wheat germ substitutions.
**See post notes about bar doneness options "goo" vs "chew".
Nutrition Information:
Yield:

24
Serving Size:

1
Amount Per Serving:
Calories:

225
Total Fat:

12g
Saturated Fat:

7g
Trans Fat:

0g
Unsaturated Fat:

4g
Cholesterol:

36mg
Sodium:

220mg
Carbohydrates:

29g
Fiber:

2g
Sugar:

18g
Protein:

3g
This information was obtained using an ingredient calculator to provide an idea of nutritional value. To obtain the most accurate numbers for nutrition information of any recipe, you should figure the nutritional information with the ingredients you used in the recipe. Each individual user is responsible for making sure that any nutritional information used is correct.
---
---