Delivery Drivers' Cinnamon Chocolate Chip Cookies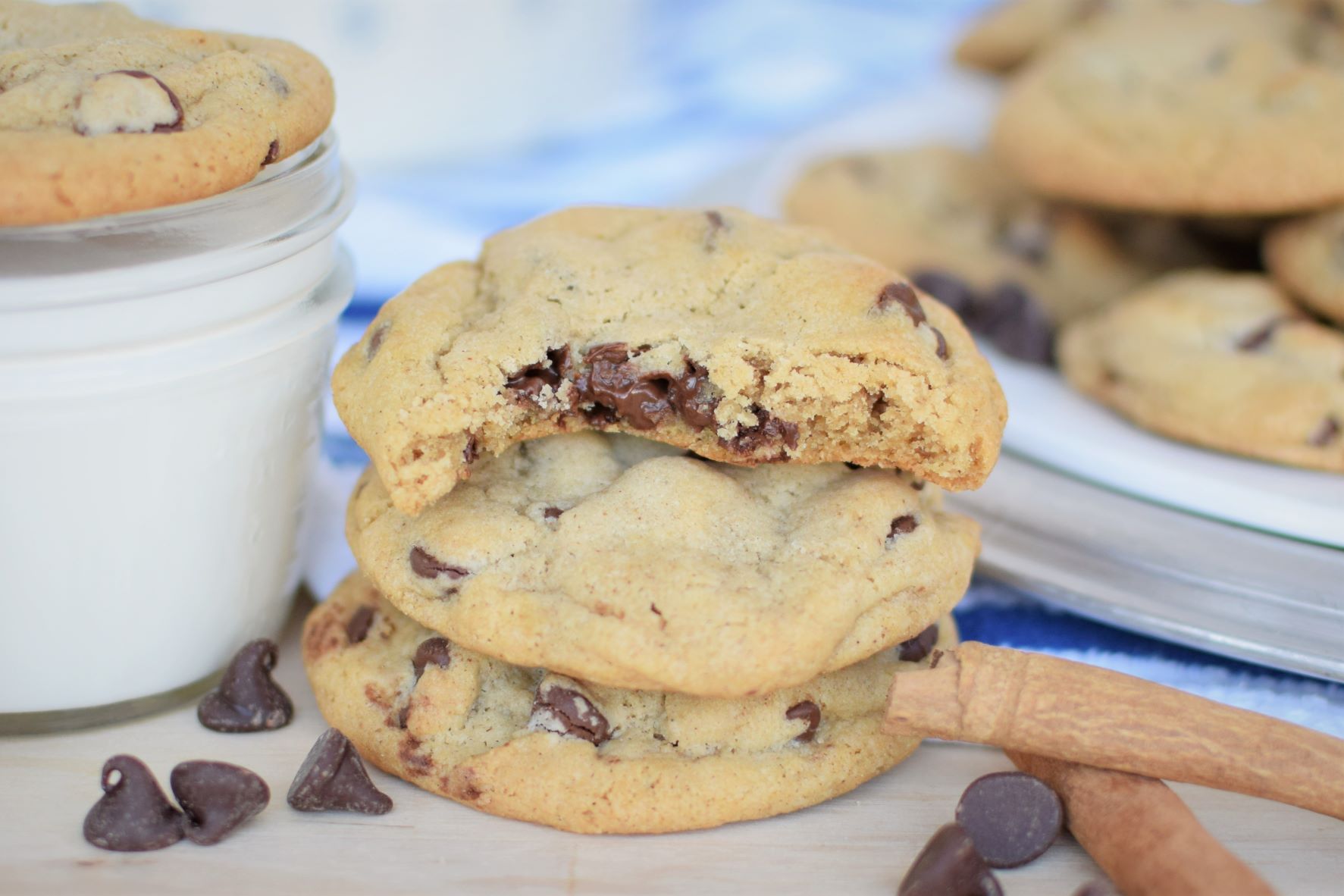 We have the best package delivery guys and mailman! A while ago, Rosie wanted to make thank you cards for everyone delivering our heavy boxes. We of course made cookies to go with them, because what is a thank you without a cookie? I had been working on a flavorful cinnamon chocolate chip cookie, so I tested the final product out on them. They were so appreciative of this small act, that I feel it only right to dedicate these cookies to all our hardworking parcel people!
I was floored by the kindness the parcel delivery people displayed to my daughter. Rosie received a thank you from our mailman, and several kind notes since which have made her day. She was given a FedEx beanie and sincere thank you from the FedEx driver who always takes the time to smile and wave at the girls as they serenade him with songs of their love of the 'box trucks' (it's like one ongoing musical at our house). Then to top it off, one of our friendly UPS drivers, took the time to hand-deliver a building block UPS set to Rosie with an attached letter written to her about being a UPS driver and how special her thank you was. By the way, his name is Martin, and he has his own blog and an incredible back story. Spoiler alert: he is also a Jeopardy winner!
I have no words to express my appreciation for these men. They have set such an amazing example of not only hard work, but kindness, and genuine care towards my daughters. Thank you to our UPS driver, FedEx driver, and USPS mailman! As I said, they are wonderful.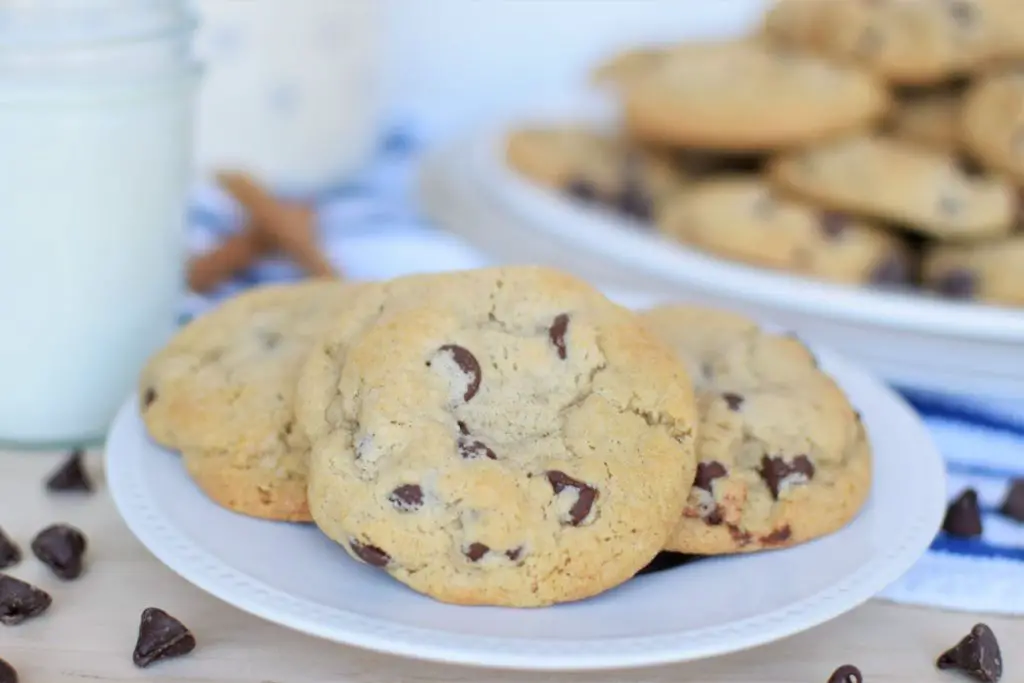 Why add to a chocolate chip cookie?
I have a chocolate chip cookie recipe I have been working on for a couple of years. In a previous post, I mentioned how I felt 'meh' about chocolate chip cookies. It's not that I don't like cookies, it is just that the flavor never wowed me. Something was missing. Every time I ate a chocolate chip cookie it had to be dipped in coffee – now that made a good cookie. I decided to add a little decaf instant coffee to the cookie dough not to have it overwhelm the cookie, but to bring more of the chocolate flavor forward. (Like in brownies or cake with added coffee.) This made a tasty cookie. However, I know not everyone likes having coffee in their baked goods, so I looked for another way to add an extra flavor boost to these cookies.
How to make cinnamon chocolate chip cookies?
I thought about Mexican hot chocolate (minus the spicy heat – I am weak), and how delicious the combination of cinnamon and chocolate can be. I didn't want the cookies to scream cinnamon as there are many cinnamon cookies out there and I wanted this cookie to remain a chocolate chip cookie. That is the cookie I am trying to highlight after all. I found that one and a half teaspoons of ground cinnamon mixed in with the other dry ingredients is all this cookie needed. We go from a decent chocolate chip cookie (I'm still not blown away by flavor) to a really flavorful and stand-out chocolate chip cookie with only 1.5 teaspoons of cinnamon. Who would have thought?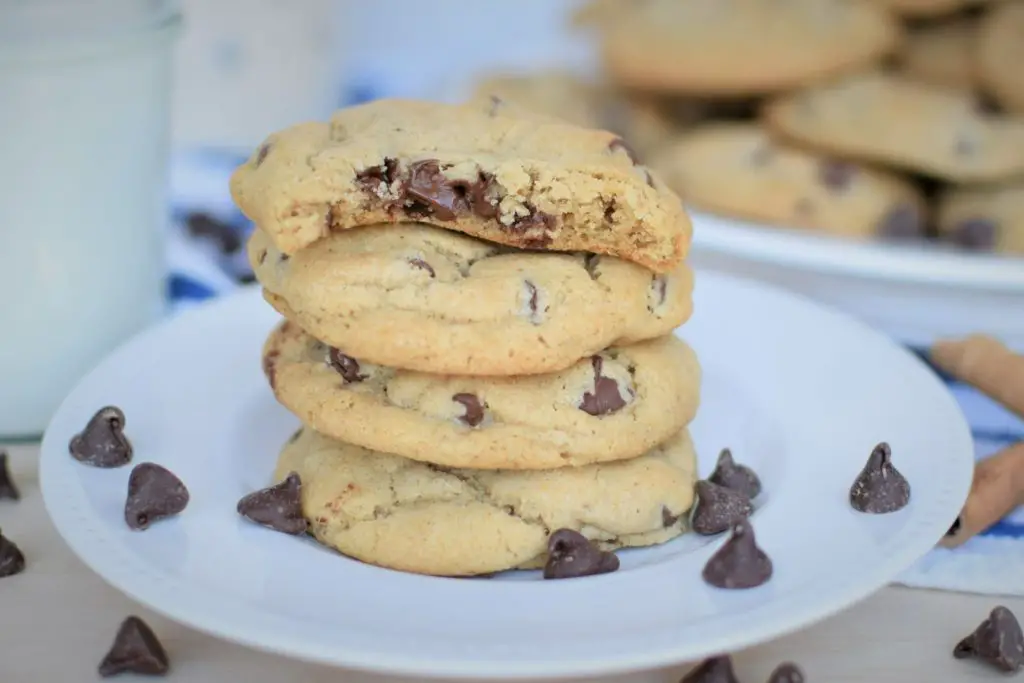 Does this still taste like a chocolate chip cookie?
This cookie tastes like the MOST flavorful chocolate chip cookie, without knowing why. If you are a frequent baker or are an amazing taste detective, you will taste the cinnamon background to this cookie. It doesn't overpower, just compliments the chocolate. If you just enjoy really good cookies but don't recognize every ingredient by name in any given dish, you will just think, "Wow, finally a really flavorful chocolate chip cookie that doesn't just taste like flour and sugar."
Whichever group you belong to, you will enjoy the standout but subtle flavor change of this cookie with the added cinnamon.
What else makes this cinnamon chocolate chip cookie stand out?
To continue with my flavor improvement on this cinnamon chocolate chip cookie I emphasized the salt. Now I know I am going to step on some toes when I say this because I feel like it is very controversial among bakers. Salt. It is 100% needed in baked goods. Salt brings out flavor, it doesn't just make things salty. You can make something sweeter and more flavorful with the addition of salt, without it tasting salty. I'm not making this up, I promise.
I also use salted butter because well, it's what I have and if I am going to add salt anyway…. Yes, I know you can have more control of the salt amount if you use unsalted, but I also am not a gourmet French pâtissier. I bake for family and friends; it just needs to taste delicious. That's all.
I used a full teaspoon of sea salt to amp up the salt flavor a bit as well as my salted butter. (If you don't have salted butter, add another 1/8 of a teaspoon or so of salt.) These cinnamon chocolate chip cookies still aren't salty, but they have some great flavor! Trust me on this, even if you don't think you should add salt to baked goods, try it. You will be amazed at the improvement in overall flavor.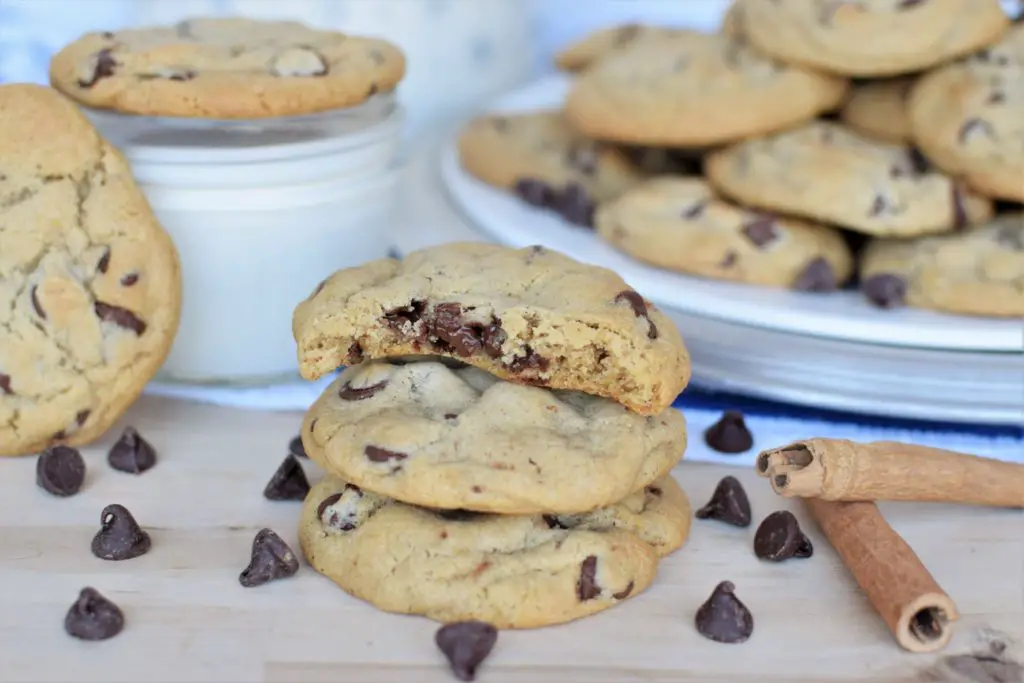 To refrigerate or not to refrigerate the dough?
Do it! Refrigerate this dough for at least 24 hours to get the best flavor and bake possible for these cinnamon chocolate chip cookies. Can you still bake the cookies right away if you are pressed for time? Yes, but you will be missing out on the beautiful brown caramelization that is possible on refrigerated dough without them being overbaked. You can't get that on chocolate chip cookies that you have just mixed up. Even if you only refrigerate your dough for a couple of hours, that will allow more flavor development for these cinnamon chocolate chip cookies. I could go on more about this, but Handle the Heat has a great article on this topic so you can absorb all of Tessa's knowledge as I did.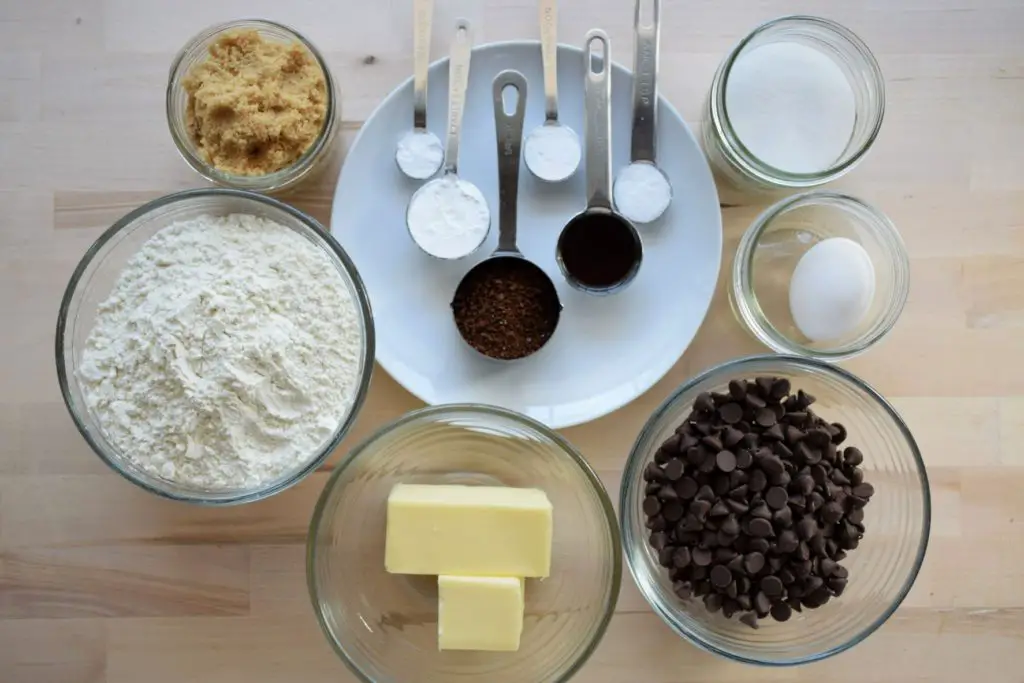 How do I make sure these cookies are soft and not crunchy?
This recipe sets you up for success to achieve a soft cookie. Not only is there brown sugar in this recipe that allows for a chewier cookie, but there is an added egg yolk as well. The extra egg yolk adds additional fat to give these cookies the 'sink your teeth in bite' that belongs with a good chocolate chip cookie. But yes, you can still dunk them in coffee or tea if you so choose – they just don't need it.
Also, don't overbake your cookies – unless you are looking for a crunchy dipping cookie, then feel free to make round biscotti. However, since I adore a soft cookie with almost crunchy edges to get the best of both worlds, I suggest you watch your cookies and take them out when they are just set. Leave your cookies on the cookie sheet for 10 minutes and they will continue to bake. Then and only then, remove the cinnamon chocolate chip cookies to racks to finish cooling. Really this is just protecting your tongue, as you will want to bite into these delicious beauties right away.  Now you can safely sample the cookies as you move them to finish cooling; the chocolate chips aren't scalding hot anymore, so no burned mouth and loss of taste for the day. Cookie eating safety first.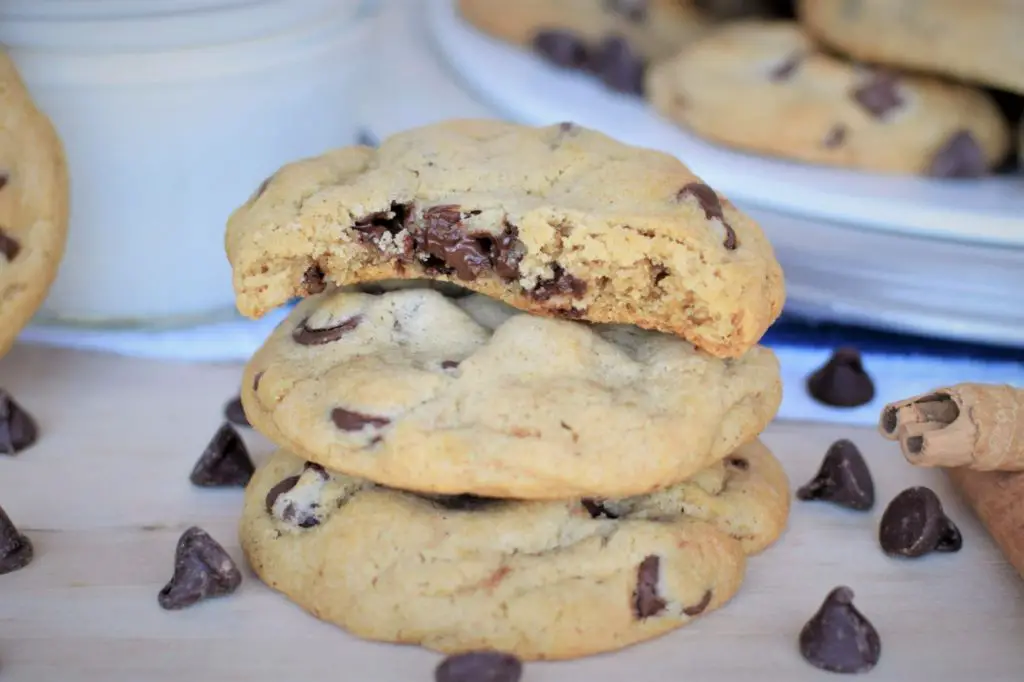 How to measure flour for this cookie
Another way to ensure the fantastic texture of this cookie is to make sure to add the correct amount of flour. As I know everyone doesn't use the same measuring technique to measure flour, I will include the weight of the flour so we can all be on the same tasty page. Scoopers, packers, sifters, and spoon and levelers unite!
For those that are curious, I was raised with the fluff, scoop, and level method which when I compare cup to cup to the spoon and level method are nearly identical in weight. Since it is now muscle memory to measure flour this way, I have continued. Although, when a recipe has a given weight of flour, my inner perfectionist giggles with glee, and I bust out my kitchen scale and KNOW I can achieve baking perfection. This is the scale I have used for years and love it. The girls can even weigh their stuffed animals on it when playing 'veterinarian'. 😉 If I am feeling extra perfectionistic (that's a word, right?) with trying a new recipe that doesn't have weights, I do use King Arthur's Ingredient weight list – this thing is comprehensive – and I love it!
How to store cinnamon chocolate chip cookies?
Once cookies are completely cooled, store them in an airtight container for up 5 days. These cookies freeze well, just stack several cookies on top of each other (2-4) and wrap them in cling film. Place the wrapped cookie rolls in a freezer bag for storage. Thaw cookies at room temperature and enjoy!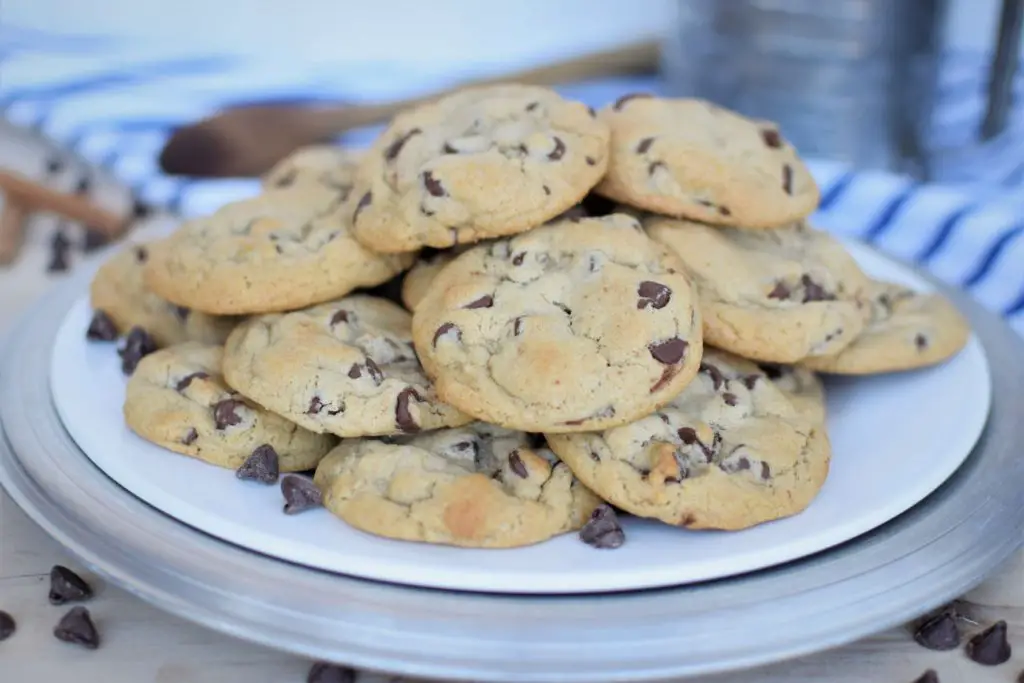 Eating Cinnamon Chocolate Chip Cookies
This is the part that needs no explanation or encouragement. These Cinnamon Chocolate Chip Cookies have a surprising amount of flavor for the 'expected' chocolate chip cookie. Then the texture is soft in the middle and almost crunchy on the edges to get some caramelized goodness. Basically, these cookies are so easy to eat. Pair a warm cookie with a glass of milk or a hot cup of tea or coffee, or eat one for breakfast. I won't judge.
If you really want to go all out for a dessert fit for a king, make ice cream sandwiches with these beauties. Sandwich this beyond delicious Almond Amazingness Ice Cream in the middle and you, my friend, are living the dream – the dessert dream.
Baking for your delivery drivers
I can attest to the fact that mail deliverers and 'box truck' drivers are thrilled to get treats occasionally, although they don't expect it. So, make their day and bake a double batch of cookies (cause you are going to HAVE to eat a couple, of course), and share a few of these Cinnamon Chocolate Chip Cookies with your parcel people. Rosie would suggest adding a thank you as well, but I'll leave that and the included crayon drawing up to you. 😉
More Delicious Cookies
Raspberry Orange Shortbread Bars
Coffee Cookies with Chocolate Drizzle
Chewy Ginger Molasses Cookies – G/F, D/F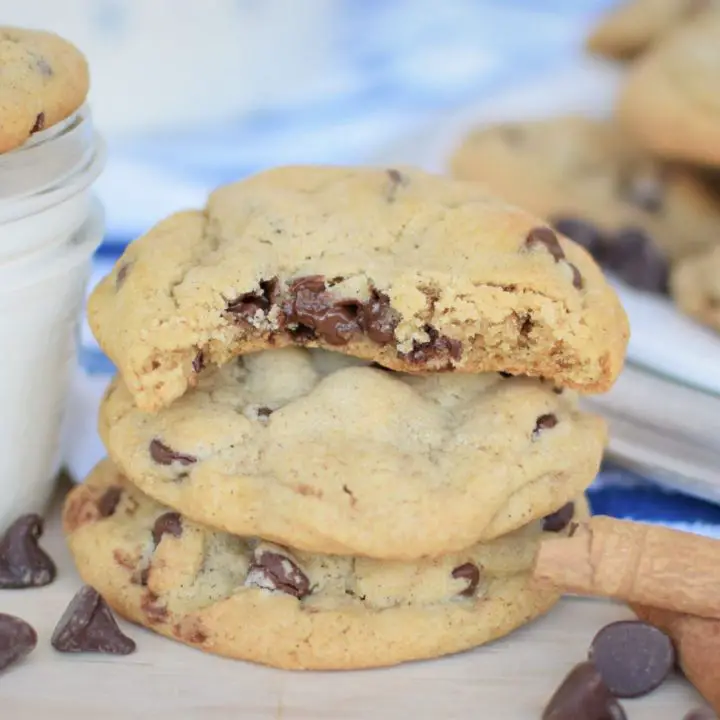 Parcel People's Cinnamon Chocolate Chip Cookies
Total Time:
2 hours
25 minutes
These Cinnamon Chocolate Chip Cookies have a surprising amount of flavor for the 'expected' chocolate chip cookie. Then the texture is soft in the middle and almost crunchy on the edges to get some caramelized goodness. These cookies are very easy to eat!
Ingredients
2 ¼ cup + 1 Tbs all-purpose flour (180g)*
1 tsp baking powder
½ tsp baking soda
2 tsp cornstarch
1 tsp sea salt
1 ½ tsp cinnamon
¾ cup salted butter (room temp)
¾ cup brown sugar (packed)
½ cup granulated sugar
1 egg + 1 egg yolk (room temp)
2 tsp vanilla
1 ¼ - 1 ½ cup chocolate chips (dark or semi-sweet)
Instructions
In a medium bowl whisk together dry ingredients.
In a large bowl, cream butter and sugars on medium speed for a good 3 minutes. Add egg plus extra yolk and vanilla and beat another minute.
Add dry ingredients to the creamed mixture and mix until just combined. Be careful to not over mix, as you will be mixing the dough a bit more when you stir in the chocolate chips.
Stir in chocolate chips
Roll dough into about 2 – 2.5 Tbs size balls. I used my heaping small cookie scoop which made 1.8 oz balls. (Have I mentioned how much my perfectionist side loves using my kitchen scale?) It really doesn't matter the size of your cookies, just make the size you want, they should bake perfectly with big or little cookies.
Let dough balls sit in fridge wrapped in cling film for a few hours or 24 hours if you can. See post for benefits of letting cookie dough rest in the fridge.
When ready to bake cookies, take dough out of the fridge and let sit on the counter while your oven is warming up. Preheat the oven to 375 degrees Fahrenheit. Line your baking sheets with parchment paper.
Place cookie balls on your prepared cookie sheet about 3 " apart. Press the cookie dough balls down slightly (as if you don't want them to roll off – well, because you don't!)
Bake cookies for 10-13 minutes, or until just set and slightly brown. Remove from oven and let cool on the cookie sheet for 10 minutes and then remove to a cooling rack to continue cooling. Makes about 16-24 cookies, depending on what size cookie you make. 1.8 oz balls makes 20 cookies.
Notes
Please note that this recipe is affected by altitude. I created this recipe around 1.900 feet. If you are above 3,000 please adjust the recipe accordingly. If you are unfamiliar with that process, please reference this article on higher altitude baking by King Arthur Baking
*I use this scale, which I love, to measure ingredients for some recipes. If you don't have a scale, either spoon flour and level, or 'fluff', scoop, and level flour without packing. If you are scooping, don't use the extra tablespoon of flour. See post for more flour measuring discussion.
Nutrition Information:
Yield:

20
Serving Size:

1
Amount Per Serving:
Calories:

195
Total Fat:

12g
Saturated Fat:

7g
Trans Fat:

0g
Unsaturated Fat:

4g
Cholesterol:

37mg
Sodium:

235mg
Carbohydrates:

23g
Fiber:

1g
Sugar:

21g
Protein:

1g
This information was obtained using an ingredient calculator to provide an idea of nutritional value. To obtain the most accurate numbers for nutrition information of any recipe, you should figure the nutritional information with the ingredients you used in the recipe. Each individual user is responsible for making sure that any nutritional information used is correct.
---
---