Coconut Almond Granola – Katlyn's Coconutty 'Nola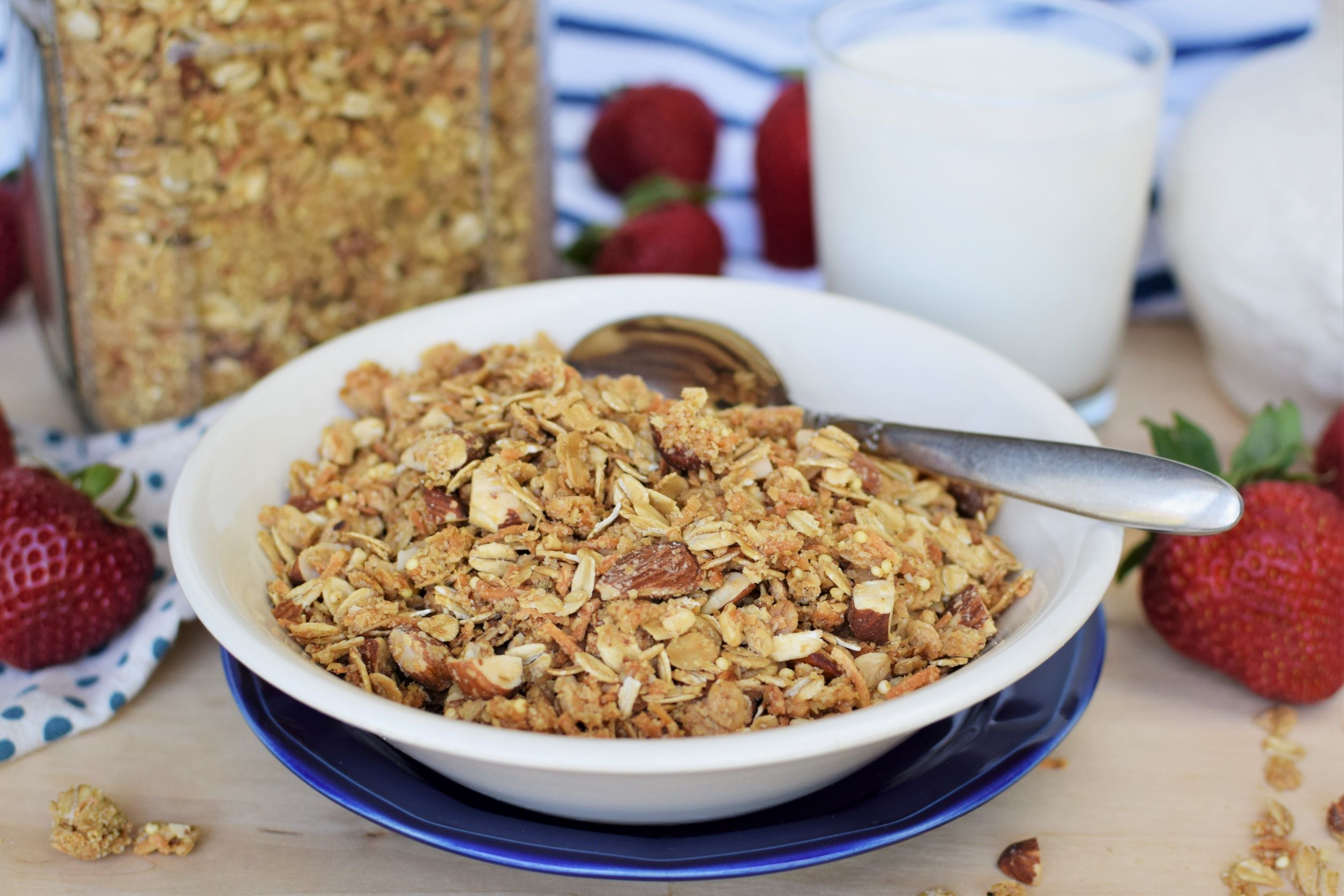 Not only is my sister a whiz with delicious creations without recipes in the kitchen, but she is also getting quite skilled at managing this while maintaining a gluten-free and dairy-free diet. Yeah, it astounds me too. The problem is she NEVER writes recipes down – what?! Who does that?! How rude. Well, after much begging and pleading from me and many sarcastic comments from her end, I present to you my sister's perfected, beyond delicious recipe for her coconut almond granola: "Coconutty 'Nola".
This simple and delicious granola for every occasion can be yours in a few simple steps. With the nutty flavor backdrop, subtle sweetness, warm spices, and just plain deliciousness, this granola is ready to be eaten by the bowlful!
Also, as an extra treat, I asked my sister to write a post for the recipe, because everyone can use a little more comedy in their life. Now sit back, relax, and enjoy a non-recipe follower trying to explain one. 😉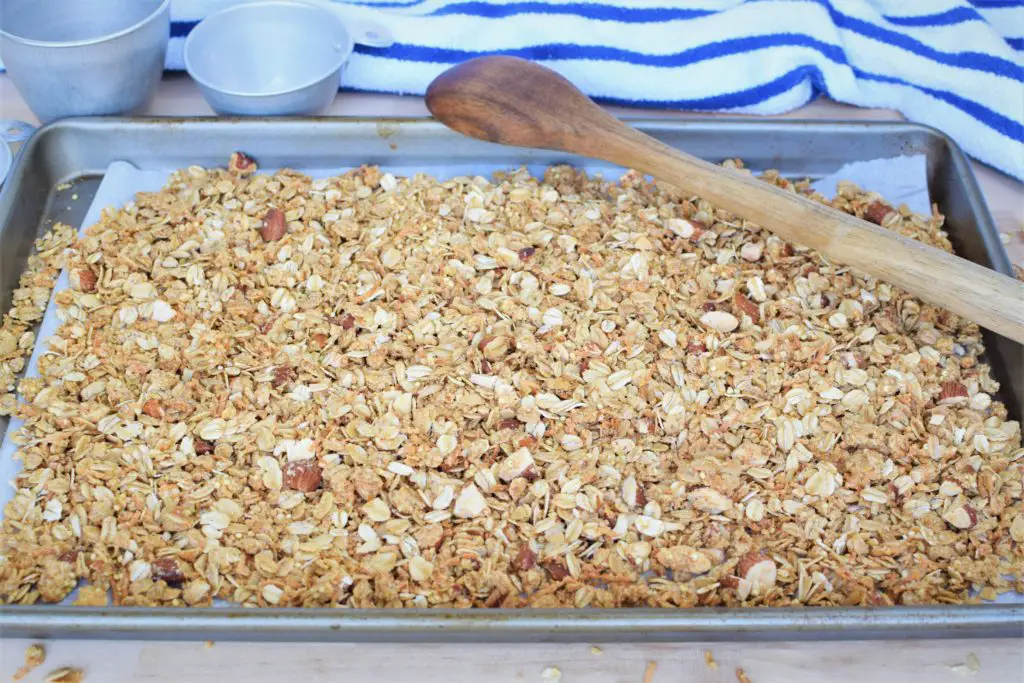 Introducing the one and only…
Katlyn here, Lauren's older sister. I'm terrible at following and writing down recipes and I relish how it drives Lauren bonkers. Also, if you want to know more about me (don't know why you would, you're here for the granola, not the hippie) you should have Lauren tell you as I tend to exaggerate. Let's get to it.
How to make coconut almond granola:
It's super easy. All you have to do is mix together a good ratio of wet and dry ingredients. My specifics for this recipe are listed below, but once you are comfortable with the consistency, bake time, and flavor then you can make granola for every whim.
Since we're close friends now, you've known me for a good 10 seconds, I will share some of my secrets to really elevating this comfort nosh.
Secret one is to toast your oats and spices while your oven heats up. I usually do it for at least 15 minutes, giving a little stir when the mood strikes. Then mix those roasty-toasty oats and spices into your other dry ingredients before combining with your wet ingredients.
Secret number two is you CAN make granola AND have shaved armpits. Just don't ask me about my legs…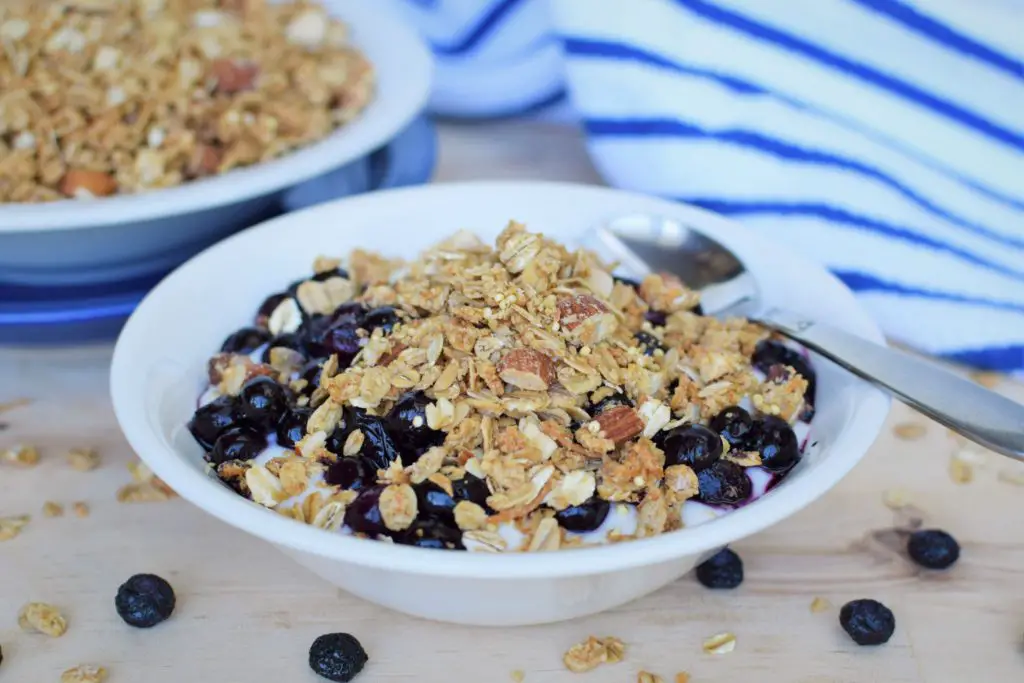 What is best with coconut almond granola?
I'm so glad you asked!!! Not really, because I'm sure you know what you want to put with your granola. HOWEVER, if you really would like a suggestion: Pickles.
I kid.
Actually, granola gets a bad wrap as breakfast food only. Yes, it is delicious with yogurt and berries (especially these roasted blueberries), or milk and dates, or applesauce and cinnamon, or on a smoothie, or over waffles with maple syrup, or mixed in with your pancake batter to really jazz up those morning flapjacks. BUT it is also good with a handful of chocolate chips when three o'clock on a Tuesday already feels like halfway through Thursday. Or for dressing up a bowl of ice cream in a real food costume. Even more sneaky, stir together berries, maple syrup, chia seeds, and a pinch of salt in an oven-safe dish, top with a couple cups of granola, pop it in the oven for 30min at 350 and call it a crisp… or breakfast. It might also need whipped cream, because, health.
For more terrible answers to life's questions, I suggest a magic 8 ball. For excellent explanations I recommend Lauren. Thanks for the mic for a hot second Lauren, but back to you! (Cue sigh of relief from everyone.)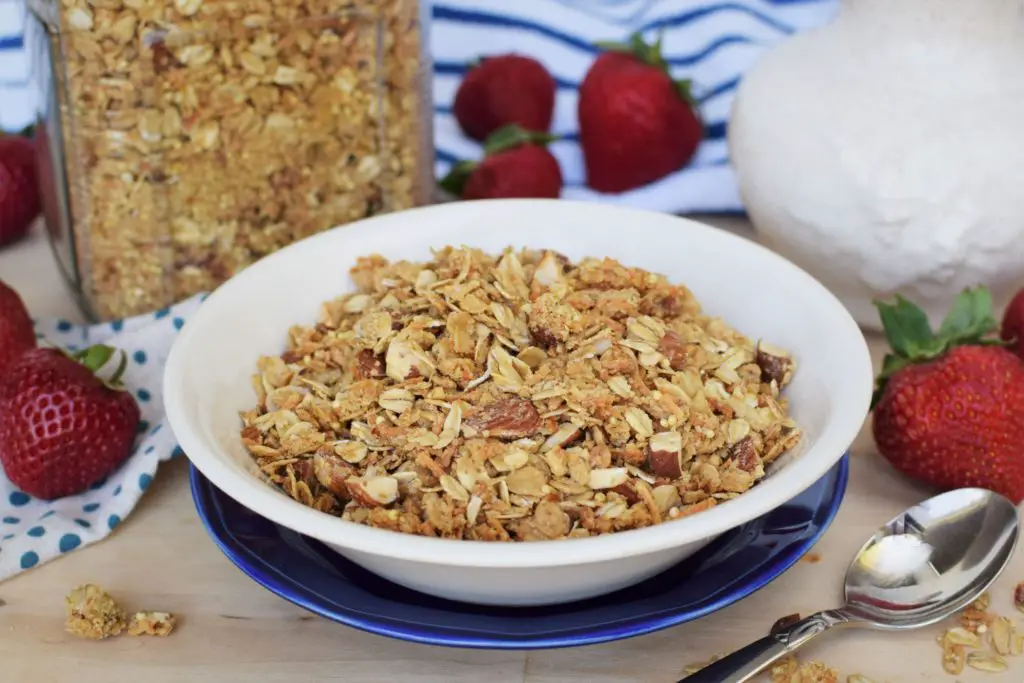 Secret Granola Tip Club
Because my sister is forever entertaining, she wanted her above 'toasting of the oats and spices' recommendation to be a "secret optional part of the regular recipe. Only those that read the extra in the blog and don't jump straight to the recipe get to know about it – secret clubsies." So, welcome to the Secret Granola Tip Club. I wish we all had hats and matching t-shirts, but sadly that is out of our non-existent budget. But if anyone wants to make some I am all in! SGTC for life!
Lauren's Helpful Hints for coconut almond granola
I am going to guess that there is someone like me out there reading this recipe who wants to know ALL the information when in the kitchen. Not everyone can create masterpieces on a wing, a prayer, and some oats. So, for those few people like me – I get it.
Is the coconut flavor strong?
If you like coconut or don't like coconut this coconut almond granola is for you. My husband despises coconut (we all have our flaws) and he loves this granola! If you are coconut fanatics go ahead and add another half to a full cup of coconut EXTRA, not chopped up. Stir that in with the other ingredients to up the coconut flavor.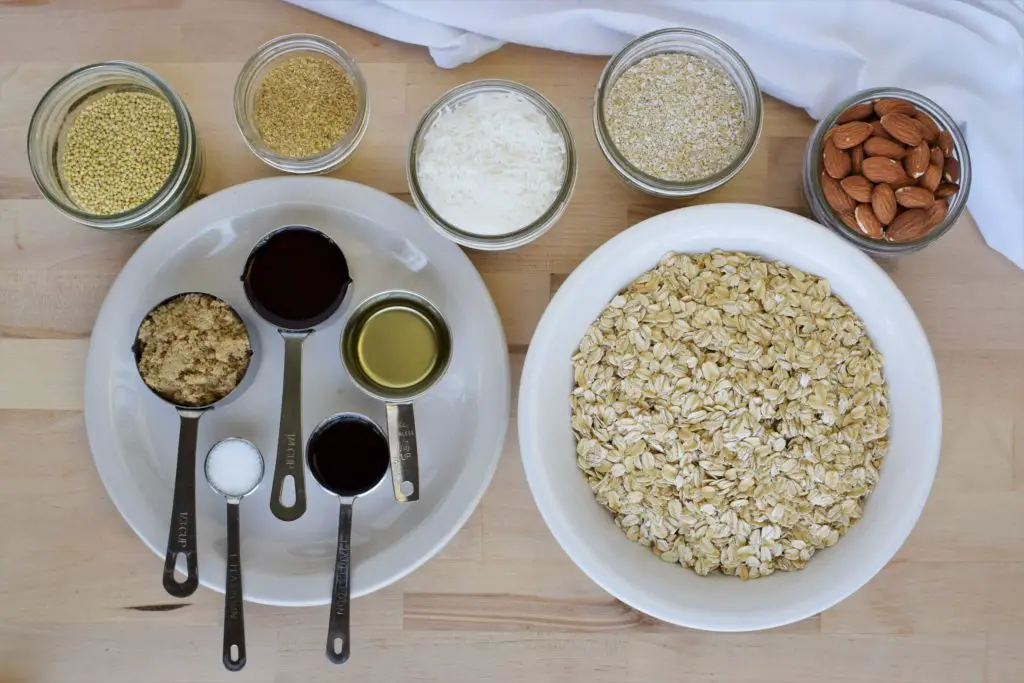 Do I have to use a food processor to make granola?
Truthfully, no. The food processer is used to chop the coconut up some, so it blends in more cohesively with the rest of the granola flavor-wise and texturally. The chopping of the coconut can easily be done with a knife and a cutting board as well. Just bust out those mad cooking channel skills and give that coconut a bit of a chop all over.
A ¼ cup of the almonds are also pulsed in the food processor to get a much finer texture than I achieve with my rough chop of the other ¾ cup of almonds. However, I will admit that I have skipped the food processor altogether sometimes when I A) don't want to wash the food processor pieces or B) want to get in a bit of a forearm workout so I can earn that extra spoonful or two of granola I KNOW I will be 'sampling.' When I don't use the food processor, I use a nifty chopper like this and just do the full cup of almonds in it, coconut too – let's save on dishes. Some almonds are chunkier and some almonds end up pretty fine – and it WORKS! Don't worry my recipe follower friends, I won't lead you astray too far.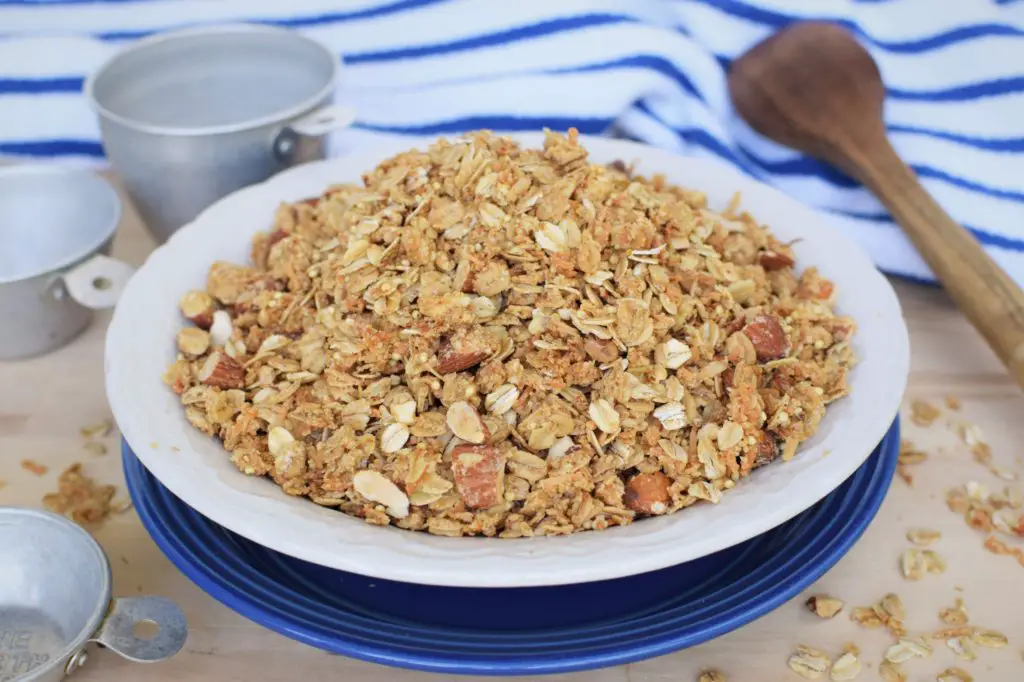 What if I don't have some of the ingredients?
As long as you have the basics of rolled oats, almonds, a neutral oil, and sweetener you can make granola from whatever you have on hand – no special store trip required. Will it be exactly like this Coconut Almond Granola recipe? Well no, but who's to say you won't create something yummy yourself.
Needed Ingredients for granola
Rolled oats – yup those are important. If you are gluten-free, make sure your oats are certified gluten-free.
Almonds – You don't HAVE to use almonds as your nut, but I HIGHLY encourage you to do so. Almonds have such a mellow flavor undertone and toast up beautifully. You could also use pecan or walnut if needed.
Dark brown sugar and maple syrup – you can use dark or light brown sugar. You can also omit brown sugar altogether and either double the maple syrup or do half maple syrup and half honey.
Coconut oil – Any neutral oil will work, sunflower seed and avocado oil are great as well.
Salt – you need salt, baking needs salt, it brings out other flavors. (You can read one of my salt rants here.) Using a different salt, though, IS an option. Sea salt or your average table salt both work well.
Optional but recommended ingredients
Coconut – once again, unless you are allergic to coconut, go ahead and toss this in. It adds to the nutty sweetness without screaming coconut – just ask my husband!
Oat bran, millet, and flax seed – any of these can be changed up or omitted if you don't have them and you have a strong hankering for granola pronto. However, they each add their own deliciousness with flavor and texture PLUS bonus health benefits. Let me tell you though, health is not what I am thinking about as I chow down on this granola. I'm glad my sister thought of it for me, thanks sis! (You're welcome  )
Vanilla – Okay so here is my admission. I added this. Katlyn didn't have it in her recipe. But I am taking my right with artistic license and throwing it in. I just love vanilla and the comforting warmth it gives. So no, you definitely don't need vanilla, but I sure recommend it. 😊
A huge thanks to Katlyn for my family's absolute favorite coconut almond granola recipe, AND for her willingness to indulge me and share her creativity here with you all. Have I mentioned how much I adore her?!  Now you too can benefit from some of her creative genius. Go bake this delicious granola and be in awe of the magical combination of flavors… and its ability to bring ice cream to the breakfast table. 
More delicious Recipes
'Four Cups of Zucchini' Bread – Dairy Free
Allergy Friendly Baked Oatmeal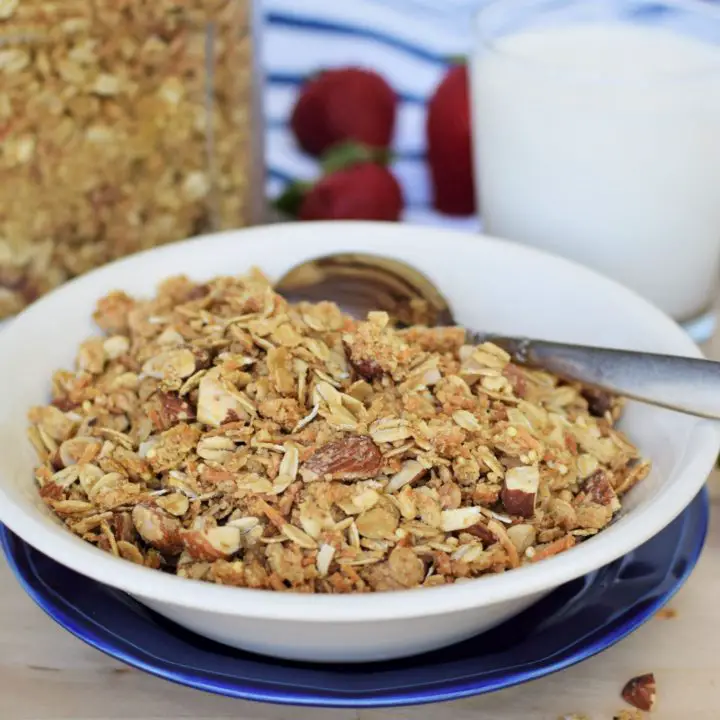 Coconut Almond Granola
Cook Time:
1 hour
15 minutes
Total Time:
1 hour
25 minutes
Don't be intimidated by this pantry staple. Simple and delicious granola for every occasion can be yours in a few simple steps. With the nutty flavor backdrop, subtle sweetness, and warm spices, this granola is ready for a myriad of combinations.
Ingredients
3 cups rolled oats*
3/4 cup almonds, chopped
1/4 cup almonds, pulsed in food processer**
3/4 cup shredded coconut, pulsed in food processor***
1/2 cup oat bran
1/4 cup + 2 Tbs millet, hulled
1/4 cup ground flax seed
1/4 cup dark brown sugar, packed****
1/4 cup maple syrup
1/4 cup melted coconut oil
3/4 tsp salt
1 1/2 tsp vanilla
Instructions
Preheat oven to 250 degrees Fahrenheit. Prepare two baking sheets with silicone baking mats or line with parchment paper.
In a large bowl mix the dry ingredients: oats, all the almonds, chopped coconut, oat bran, millet, and flax seed. Stir to combine.
In a separate medium bowl, mix together the wet ingredients and salt: brown sugar, maple syrup, melted coconut oil, vanilla, and salt. Stir until combined.
Pour wet ingredient mixture into the large bowl with the dry ingredients. Stir until combined.
Pour granola out on your two prepared baking sheets. Bake for a total of 1 hour 15 minutes, stirring about every 15 minutes.*****
Remove from oven and let cool completely before storing granola in an air tight container. Granola can be kept at room temperature in a closed container for a couple of weeks.
Notes
See post for helpful tips on making this granola including ingredient substitutions if needed.
For a more hands off and clumpier granola: follow recipe directions but press granola down on the sheet pans and stir after 30 mins and then only one more time during the suggested baking time.
*If you are making this gluten-free, be sure to use certified gluten-free oats.
**Pulse almonds in food processor until they resemble course gravel or a bit bigger. Perfection, not required. See post for tips on making this recipe without a food processor.
***Pulse coconut in food processor a few times until no longer 'stringy'. Once again, perfection is NOT required. See post for tips on making this recipe without a food processor if desired.
****Light or dark brown sugar both work.
*****Tip, since I forget the easiest things at times, I set two timers. One for the full length of time and one that I set and reset every 15 minutes.
Nutrition Information:
Yield:

12
Serving Size:

1
Amount Per Serving:
Calories:

255
Total Fat:

14g
Saturated Fat:

6g
Trans Fat:

0g
Unsaturated Fat:

7g
Cholesterol:

0mg
Sodium:

216mg
Carbohydrates:

29g
Fiber:

5g
Sugar:

11g
Protein:

6g
This information was obtained using an ingredient calculator to provide an idea of nutritional value. To obtain the most accurate numbers for nutrition information of any recipe, you should figure the nutritional information with the ingredients you used in the recipe. Each individual user is responsible for making sure that any nutritional information used is correct.
---
---