Go-To Baked Oatmeal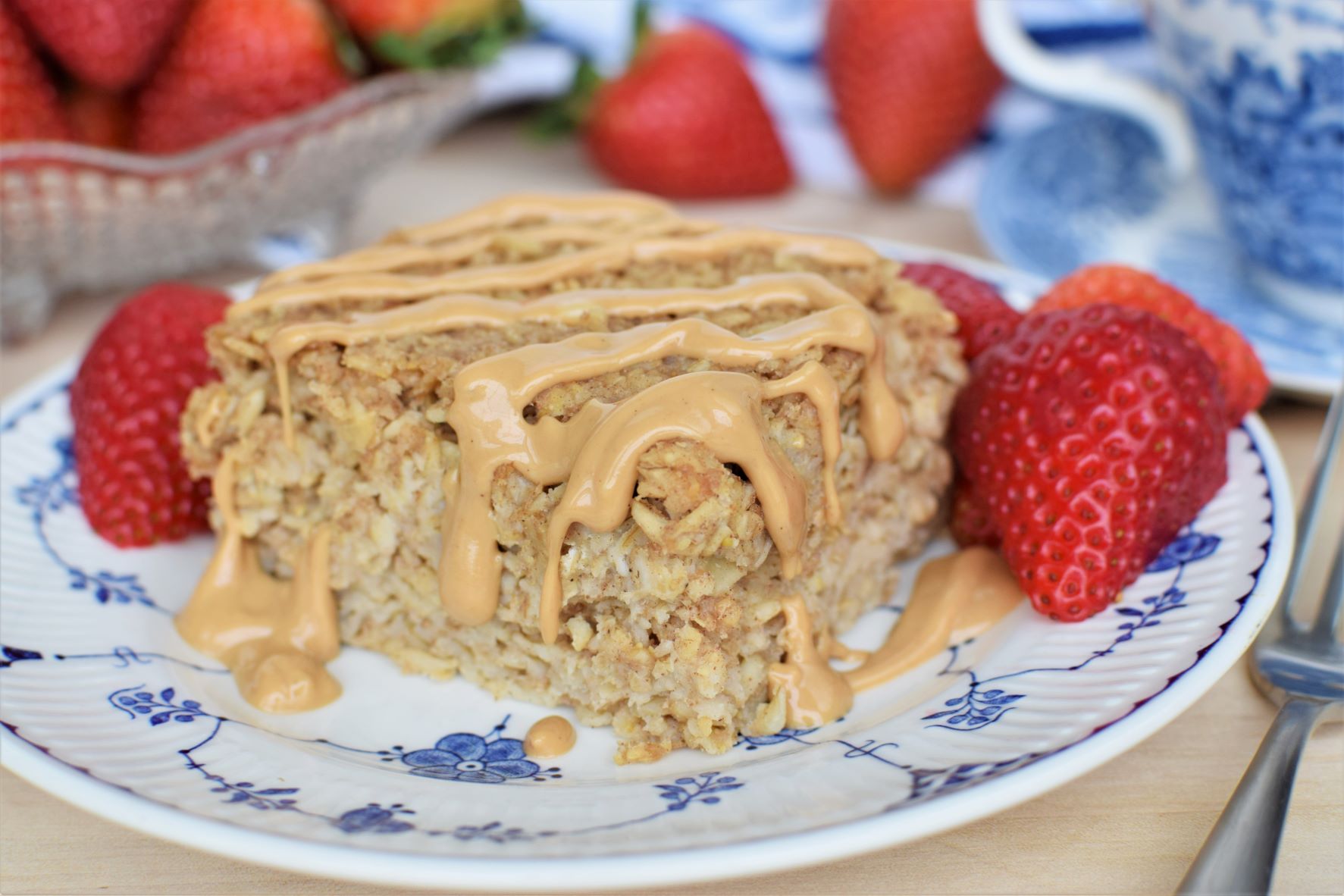 I am proud to say I am in constant training for a marathon. Not the actual running of 26.1 miles (I wish!) but motherhood. Specifically, getting kids ready and out the door. As I'm sure many of you are familiar with this matter, I am not going to belabor the point. Just know I am right there with you, and I come bearing my GO-TO Baked Oatmeal ready to go for busy mornings!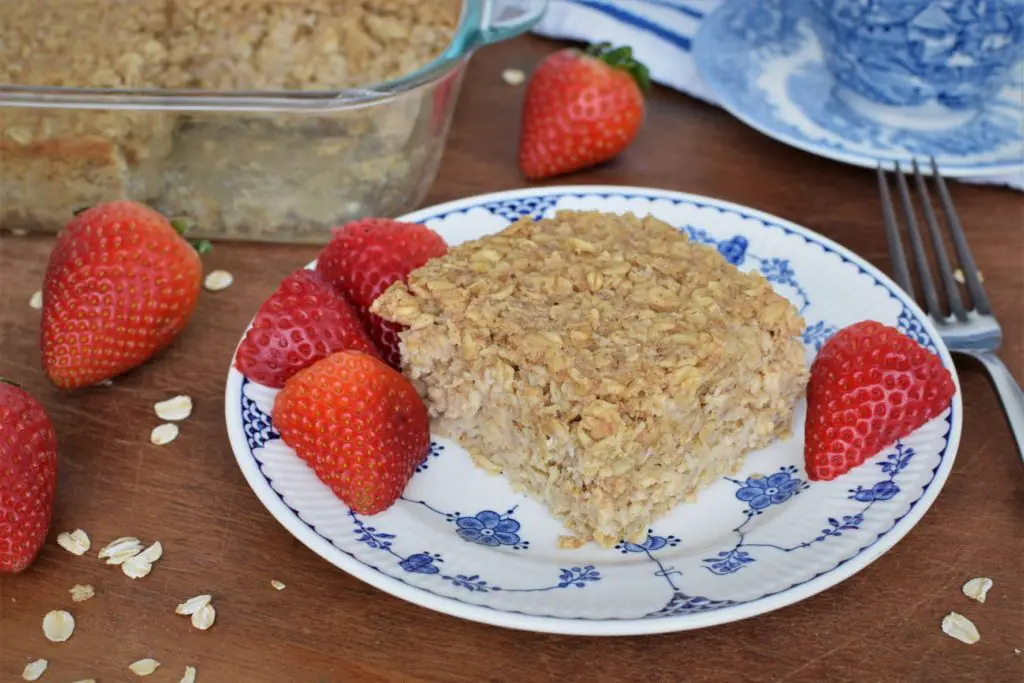 Love at first baked oatmeal bite
I started my love affair with baked oatmeal after having Rosie and wanting a hearty breakfast I could easily grab in the morning. My love affair then turned into a solid committed relationship after months of trying MANY different recipes. A couple of my favorites are this Blueberry Lemon Baked Oatmeal from Love Grows Wild and this Peanut Butter Banana Baked Oatmeal from Joy Food Sunshine.
Then along comes Ellie and my long FPIES journey of eliminating foods for her benefit. I then realized to keep this meaningful baked oatmeal relationship alive, I was going to need to create my own recipe that was equally delicious and versatile. After many pans of baked oatmeal (I make this EVERY WEEK folks – I am talking COMMITMENT), I came up with my GO-TO Baked Oatmeal.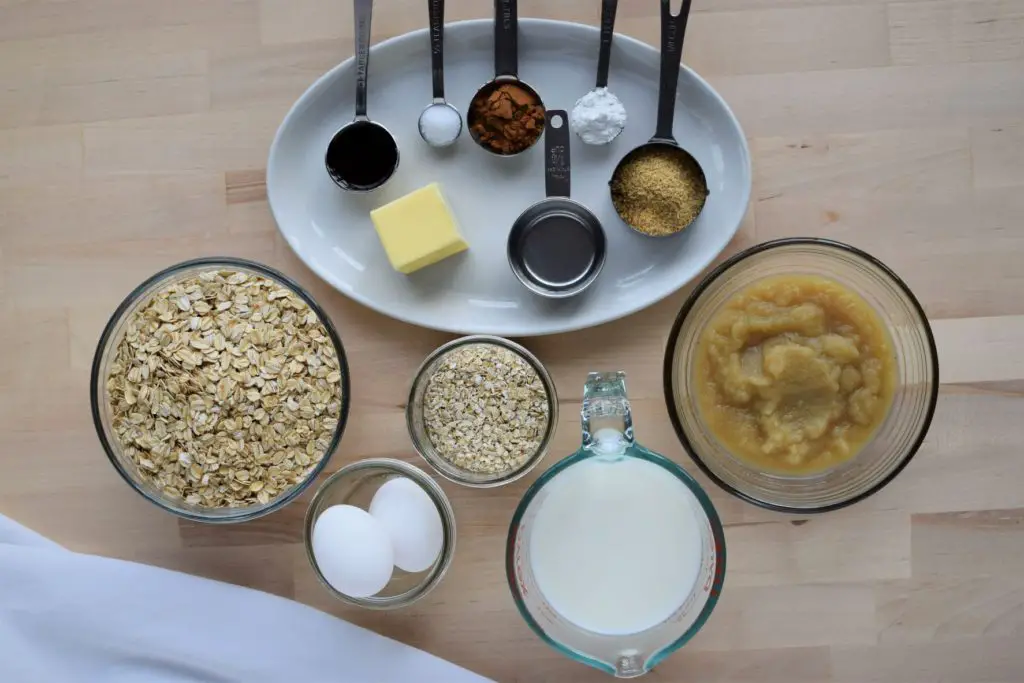 My one and only, Baked Oatmeal
My Baked Oatmeal Recipe is incredibly easy to make. One bowl, stir, and done kind of easy. This baked oatmeal has a slight sweetness from applesauce and brown sugar but isn't too sweet. The cinnamon and vanilla add some great depth and warmth in flavor, making this an anything but boring oatmeal. The biggest thing in baked oatmeal – for me at least – is texture. This oatmeal isn't just a dish of mush, but it doesn't crumble apart because it's so dry either, it is the best of both worlds (looks AND personality )
This Go-To recipe is also incredibly easy to alter if you have certain dietary restrictions, or if you are like me and sometimes just don't have all the ingredients. If you want an already allergy friendly baked oatmeal recipe without having to figure out substitutions, try this Allergy Friendly Baked Oatmeal.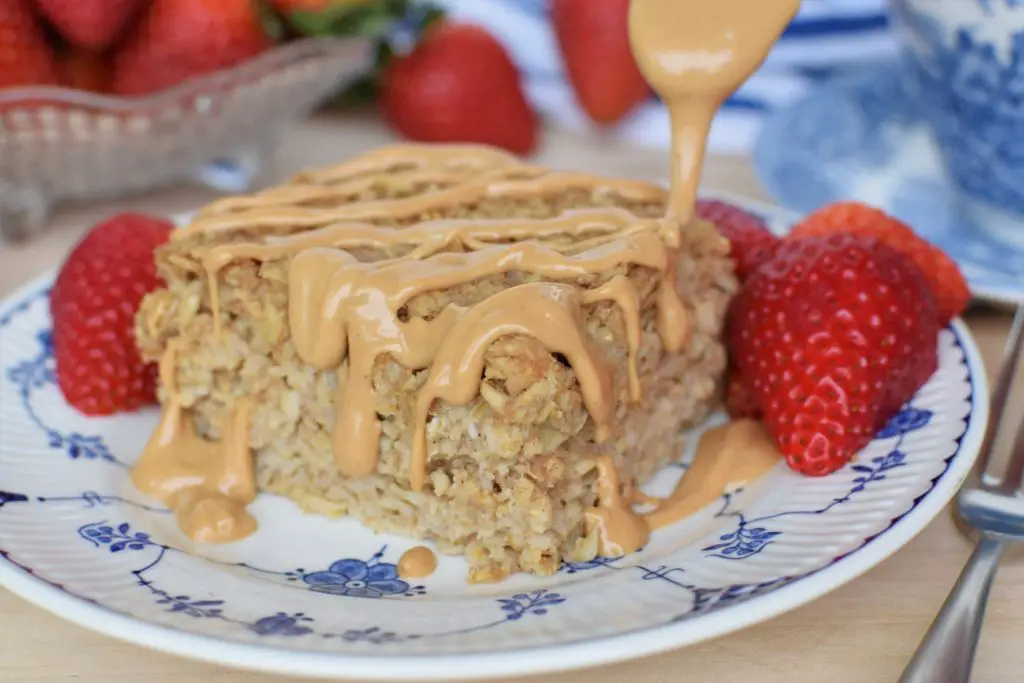 Flavor Variations of Baked Oatmeal
I normally bake this oatmeal after the girls are in bed, so it's ready to go in the morning. Or Rosie helps me whip a batch during Ellie's nap. My husband, Rosie, and I love eating a piece of this oatmeal heated up in the morning. Such an easy and hearty breakfast! I personally like smearing the top of my piece of baked oatmeal with a layer of cashew butter before heating it. This turns into a frosting like topping that makes this taste more like a treat than the healthy breakfast it is. I'm okay with that! Feel free to drizzle with syrup, top with fruit, or even just enjoy it plain.
I have also included flavor variations in the notes of this recipe, if you just want to switch things up sometimes. Peach, Lemon Blueberry, PB and Banana, Chocolate Chip – something for everyone!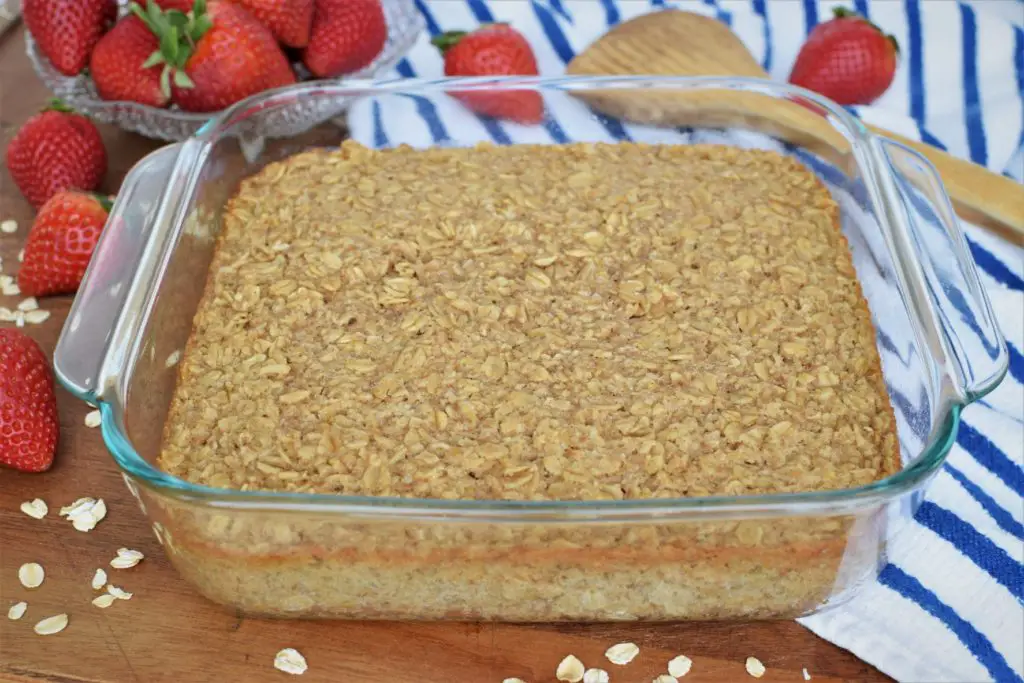 Do yourself a favor and whip up this Baked Oatmeal the night before and enjoy an extra cup of coffee in the morning instead of cooking breakfast. Just heat up and serve! Or if you don't have toddlers in the house and are a morning person, bake it the morning of (because it's that easy of a recipe) and enjoy an extra cup of tea while this healthy and delicious breakfast is baking.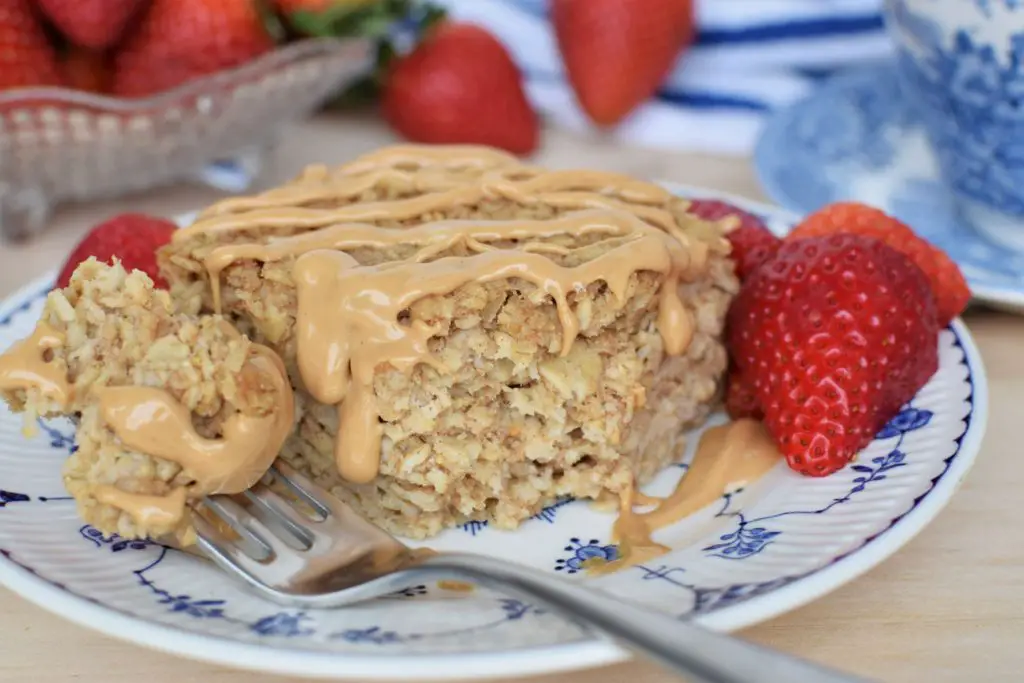 More Yummy Breakfast Ideas
Raspberry Muffins with Crumb Topping
Cinnamon Applesauce Snack Cake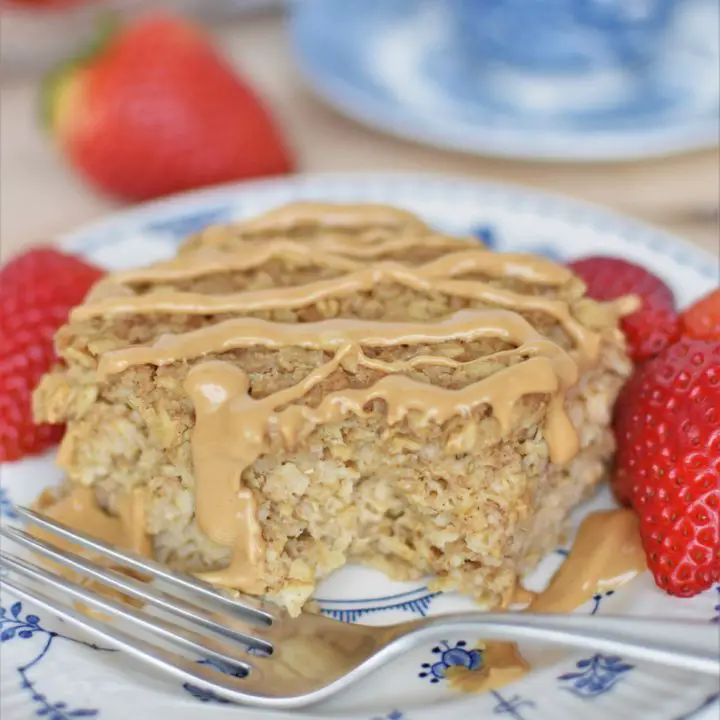 Go-To Baked Oatmeal
Do yourself a favor and treat yourself in the mornings with a delicious, hearty, and already prepared breakfast! This slightly sweet and entirely comforting baked oatmeal has so many flavor and dietary variations; I guarantee you can find your perfect one.
Ingredients
1 cup applesauce
2 egg whites*
1/4 brown sugar
2 Tbs ground flax seed
1/4 cup water
2 tsps vanilla
1 1/2 cup milk**
2 1/2 cups rolled oats***
3/4 cup quick oats
1/2 tsp salt
2 tsp cinnamon
1 1/2 tsp baking powder
1 tsp vanilla
4 Tbs butter (melted)****
Instructions
Preheat oven to 350 degrees Fahrenheit. Prepare a 9x9 baking dish by spraying the inside with a non-stick cooking spray.
In a large mixing bowl stir together the applesauce, egg whites, brown sugar, water, and ground flax seed. Add milk and vanilla and stir until combined.
On top of your milk and applesauce mixture dump both types of oats, salt, cinnamon, and baking powder. Slightly mix the cinnamon and baking powder into the oats by lightly stirring with a measuring spoon you just used, or if you are really fancy, a whole new clean spoon (I'm not that fancy). This does NOT have to be precise, perfectionists you can take a breath.
Once slightly mixed, stir oats fully into the wet mixture until incorporated. Stir in melted butter.
Pour mixture into your prepared baking dish and bake for 30-35 minutes until middle is set and edges are lightly brown.
Enjoy hot out of the oven (Please do wait a minute for it to cool first, I have made this mistake too many times. You would think I would learn!), room temp, cold from the fridge or reheated in the microwave until hot (about 1 minute for one piece). I like to smear cashew butter (any nut butter would work) on top of mine before heating it and this becomes magically like a frosting. I'm not saying that is the only way to eat it, but you have to try it like that at least once, you wont be sorry!
Store covered in the fridge for up to a week and enjoy your breakfast every morning with GREAT satisfaction!
Notes
*Instead of two egg whites, you can use one whole egg. You can also use two whole eggs to get all of the protein, just add another 1/4 cup or so of quick oats as well.
**Any kind of milk or non-dairy milk work here. I have used normal milk, mixed up powdered milk, oat milk, and almond milk.
***If wanting a gluten free baked oatmeal, make sure your oats state 'gluten free'.
****If you are wanting a 'healthier' option of baked oatmeal you can reduce the butter to 2 Tbs or use 2 Tbs of melted coconut oil. If you are wanting a dairy free baked oatmeal, replace butter with non dairy butter for the same amount or use 2 Tbs of melted coconut oil.
Peanut Butter Banana Baked Oatmeal
Replace the applesauce with 3/4 cup banana and 1/4 cup PB.
Banana Bread Baked Oatmeal
Substitute all of the applesauce for mashed banana. Make sure to use all of the 4 Tbs of butter. Increase brown sugar to 1/3 cup.
Blueberry Lemon Baked Oatmeal
Add zest of one lemon and use only 1 tsp of cinnamon. Add 2 Tbs lemon juice and only 1 tsp of vanilla. Add an additional 1/2 cup of quick oats. Increase the brown sugar to 1/3 cup. Stir in 1 1/2 cups of blueberries before baking. This one may need to bake an additional 5-10 minutes.
Peach Baked Oatmeal
Add 2 Tbs lemon juice. Add an additional 1/2 cup of rolled oats. Optional to increase the brown sugar to 1/3 cup, depending on sweetness of your peaches. Stir in 1 1/2 cups of chopped peaches. May need to increase baking time an additional 5-10 minutes.
Chocolate chip Baked Oatmeal
I feel like this one may be the self-explanatory but just for thoroughness, here it is. Stir in 1 to 1 1/2 cups of chocolate chips. Sprinkle a handful of chocolate chips on top before baking - so it's pretty. Optional to drizzle melted chocolate or melted nut butter on top after baked, or both! Mmmmm, dessert for breakfast.
Nutrition Information:
Yield:

6
Serving Size:

1
Amount Per Serving:
Calories:

312
Total Fat:

13g
Saturated Fat:

6g
Trans Fat:

0g
Unsaturated Fat:

5g
Cholesterol:

25mg
Sodium:

450mg
Carbohydrates:

41g
Fiber:

6g
Sugar:

10g
Protein:

9g
This information was obtained using an ingredient calculator to provide an idea of nutritional value. To obtain the most accurate numbers for nutrition information of any recipe, you should figure the nutritional information with the ingredients you used in the recipe. Each individual user is responsible for making sure that any nutritional information used is correct.
---
---