Oven Roasted Candied Nuts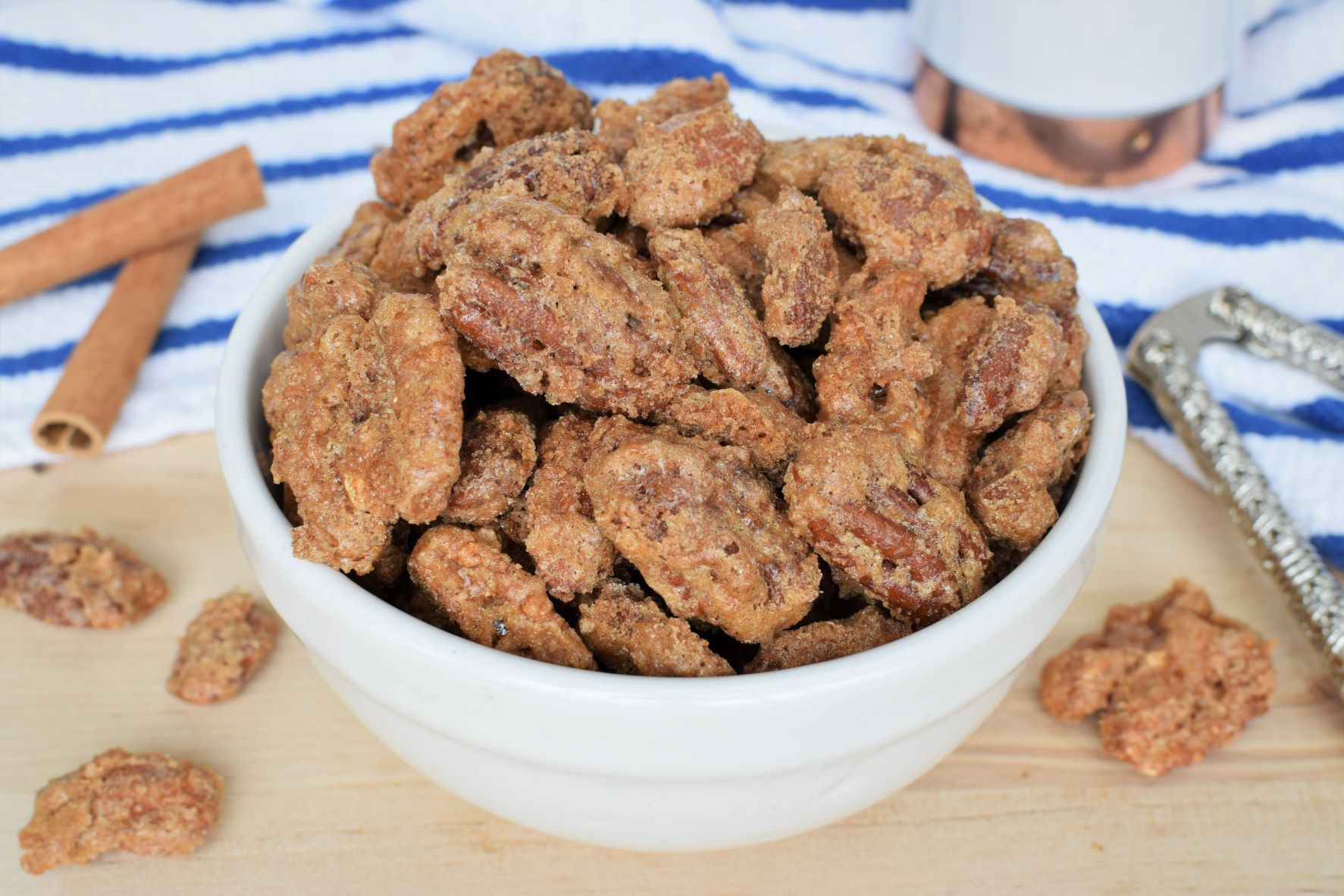 OH NUTS! The Super Bowl is this weekend, and I don't have snacks! Obviously, my expectations for this event are eating yummy snacks and watching in anticipation for some good commercials – come on Doritos ad! Time to whip up some of my delicious Oven Candied Nuts, these are guaranteed to get a win – even if the ads or the team you are cheering for don't.
Candied Nut Perfection
I normally make these nuts around the Holidays to share with family and friends, because they seem so festive! But I also have been known to bring them to meetings, get-togethers, and Tuesdays, when they feel like
Monday 2.0. They are enjoyed and requested by so many people – for good reason!
These nuts are every delicious aspect of a candied nut all rolled into one. These are not the nuts that you are afraid to bite into because you may break a tooth, no, I don't eat those nuts. These Oven Roasted Candied Nuts have the perfect crunch, an almost airy, sugary crunch, with cinnamon and a hint of vanilla.
The secret to the airy crunch achieved in the oven is a lightly whipped egg white. This beaten egg white creates the light airy sugary shell coating that makes these candied nuts so addicting! Such a delicious way to eat your protein.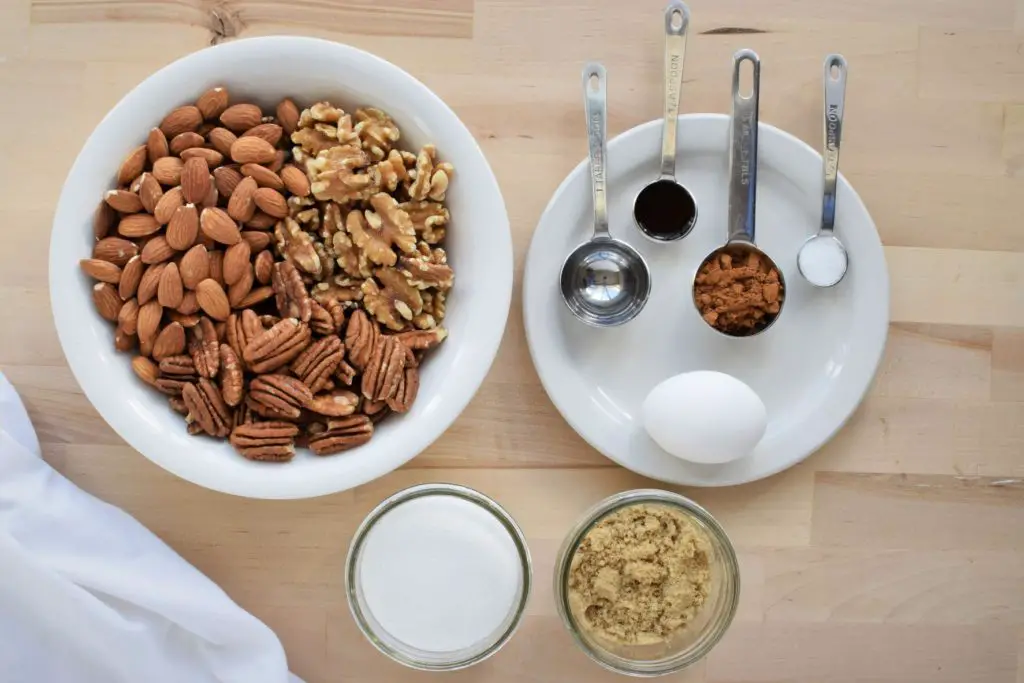 Worth the wait
The hardest part of making these nuts? Waiting. These nuts will take over your kitchen in the best way possible – the aroma! Then having to wait an hour while they cook, it'll be a challenge. But I have faith in you! They are actually pretty hands-off. You only have to stir them 3 or 4 times while they cook, so if the temptation is too strong, you can go try to be productive while waiting on these gems to be done. I suggest reading (ahem..maybe via audiobook if you are me) but being productive is also a good option I'm told.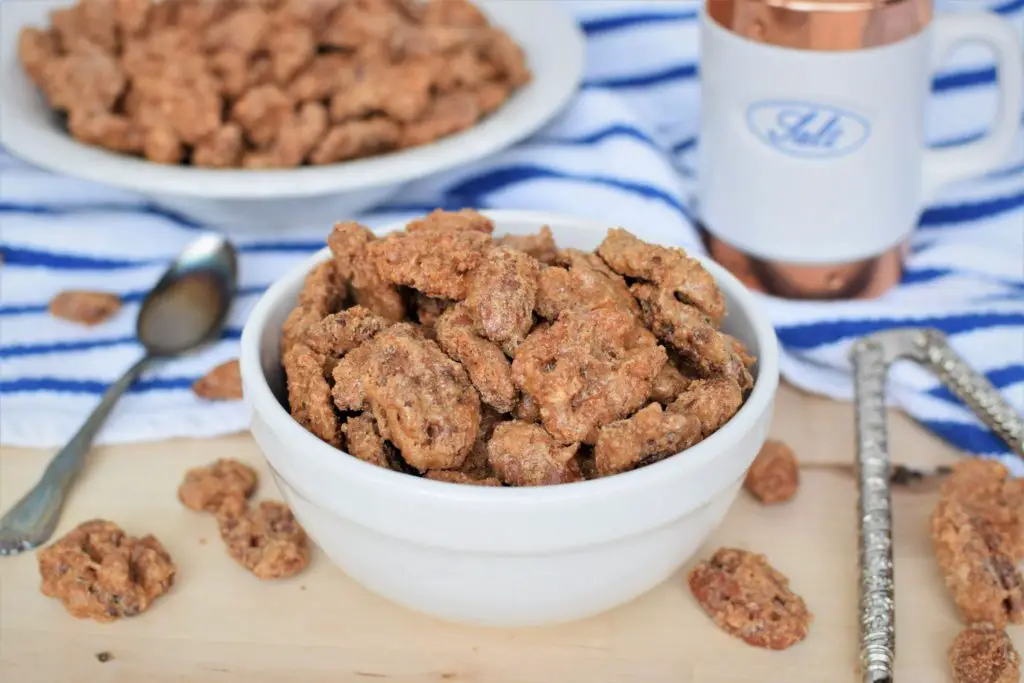 Sweet vs Salty Nuts
I know many people crave salty snacks for enjoying with their cold beverage of choice during football games, and I get that. Salty snacks are delicious, but you need a sweet to balance all the salty options. These candied nuts are the perfect sweet option to snack on and still have the hint of salt to pair perfectly with your salty chips and savory dips.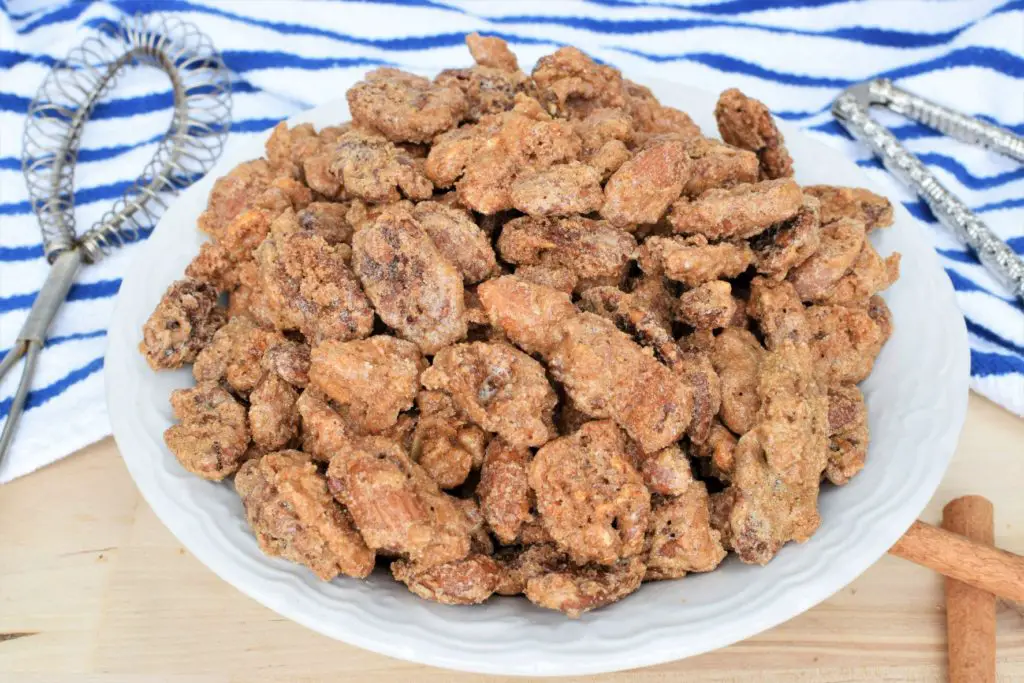 Nuts for Everyone
…because everyone is a little nuts. This recipe works really well with a variety of nuts. Pecans, walnuts, and almonds have been our family picks (sadly we are a peanut-free household due to an allergy). When I am making them for the holidays, I normally make a combination of pecans and walnuts. Their cracks and crevices hold ALL of that amazing sugary crunch perfectly.
I absolutely love almonds, and even if they are the underdog of the candied nut world, I happily include some in all of our batches at home. There are never any complaints, just lots of satisfied, happy chewing and an empty bowl of crumbs.
If you are a candied nut purist and want to stick with just one favorite type of nut, great, it'll be delicious! If you want to mix and match your nuts, go crazy! Just know the crinklier the type of nut, the more of the sweet cinnamon crunch you will get. Any nut baked with this recipe is bound to be delicious, it's just a fact.
From one nut to another, enjoy these Oven Roasted Candied Nuts!
More Yummy Sweet 'snacks'
Applesauce cinnamon snack cake
'Good' Coffee Cookies with Chocolate Drizzle
Chewy Ginger Molasses Cookies – G/F, D/F
Raspberry Orange Shortbread Bars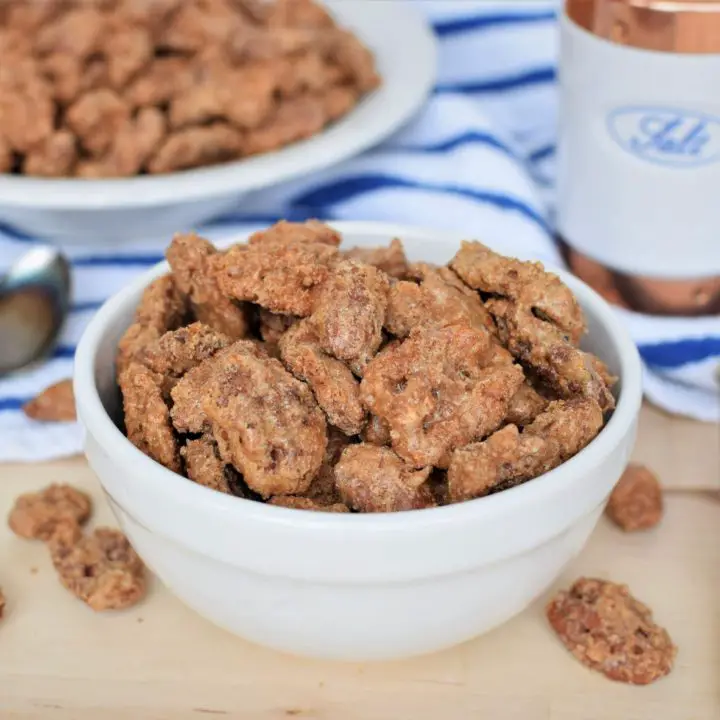 Oven Roasted Candied Nuts
Total Time:
1 hour
5 minutes
A perfectly airy crunch to the candied coating of these oven roasted nuts make them absolutely irresistible. The flavors of cinnamon, brown sugar, vanilla, and a little salt are so delicious that you will make these nuts again and again. These oven roasted candied nuts walnut disappoint - unlike that pun.
Ingredients
1 large egg white
1 Tbs water
1 tsp vanilla
3/4 cup granulated sugar
1/4 cup packed brown sugar
2 tsp cinnamon
1/2 tsp salt
3 cups unsalted nuts (pecans/walnuts/almonds)
Instructions
Preheat oven to 275 degrees Fahrenheit. Line a baking sheet with a silicone mat or parchment paper, and set it to the side.
In a medium bowl combine the two sugars, cinnamon, and salt.
In a large bowl whisk egg white, water, and vanilla until all frothy and there isn't any noticeable 'liquid' left.
Add nuts to egg white mixture and toss gently to coat.
Add sugar mixture to the nuts and stir gently until all nuts are well coated.
Spread nuts in a single layer on the prepared baking sheet.
Bake 1 hour to 1 hour and 15 mins, gently stirring nuts every 15-20 minutes.
Remove from oven and let cool completely before storing. Nuts will crisp up even more when they are completely cool.
Nuts can be stored at room temperature for a week in a sealed container and not loose their amazing crunch. Probably even longer, but they don't last that long for me to test it at our house.
Nutrition Information:
Yield:

8
Serving Size:

1
Amount Per Serving:
Calories:

411
Total Fat:

28g
Saturated Fat:

5g
Trans Fat:

0g
Unsaturated Fat:

22g
Cholesterol:

23mg
Sodium:

293mg
Carbohydrates:

36g
Fiber:

4g
Sugar:

26g
Protein:

11g
---
---