Lemon Zucchini Muffins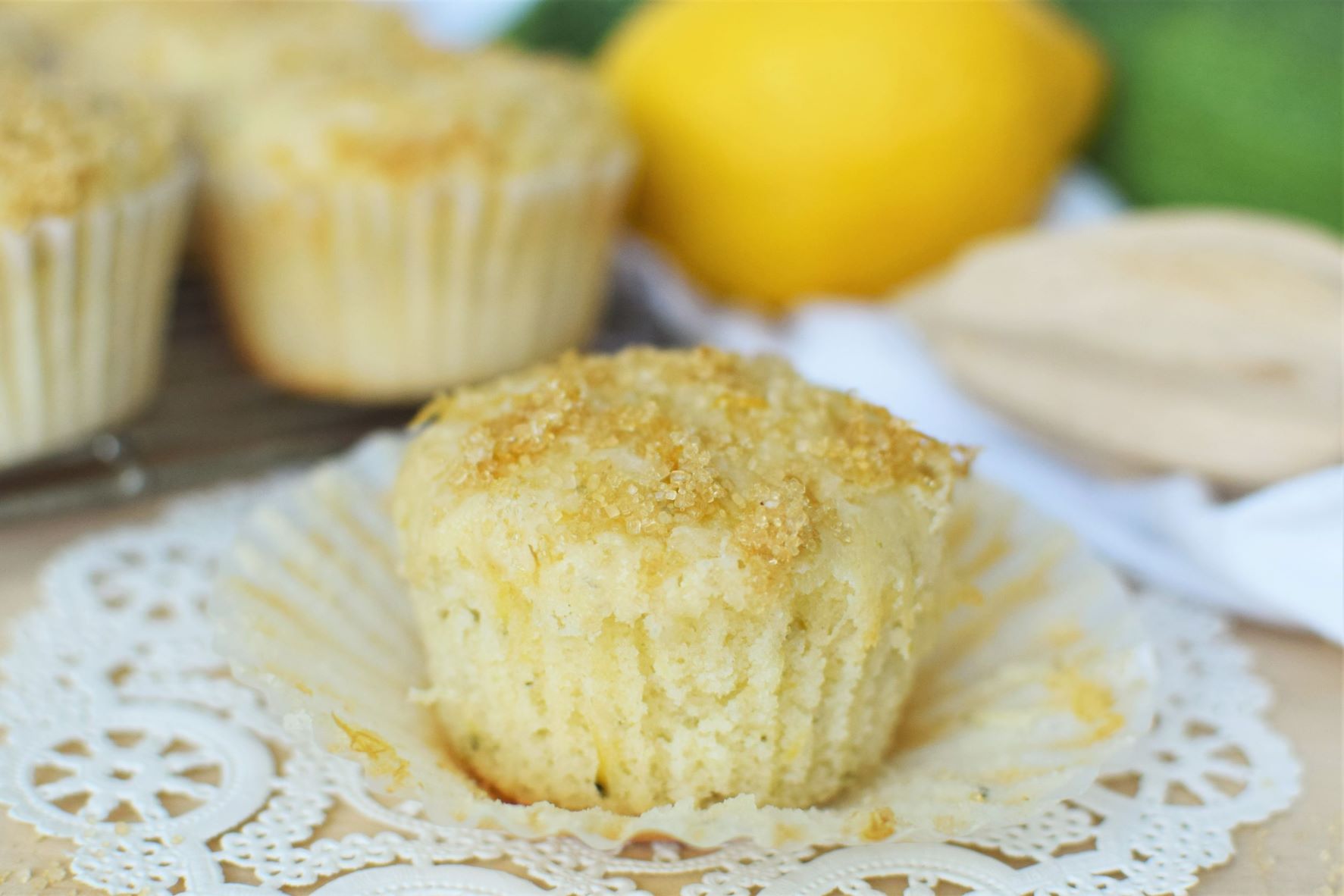 Wait! Hold the phone and stop the presses. You can make a sweet, flavorful, and tender zucchini muffin WITHOUT cinnamon, but instead, use lemon?! Oh yes, I am beyond pleased to tell you – this is true. The world is a beautiful place and a delicious one too thanks in part to these Lemon Zucchini Muffins.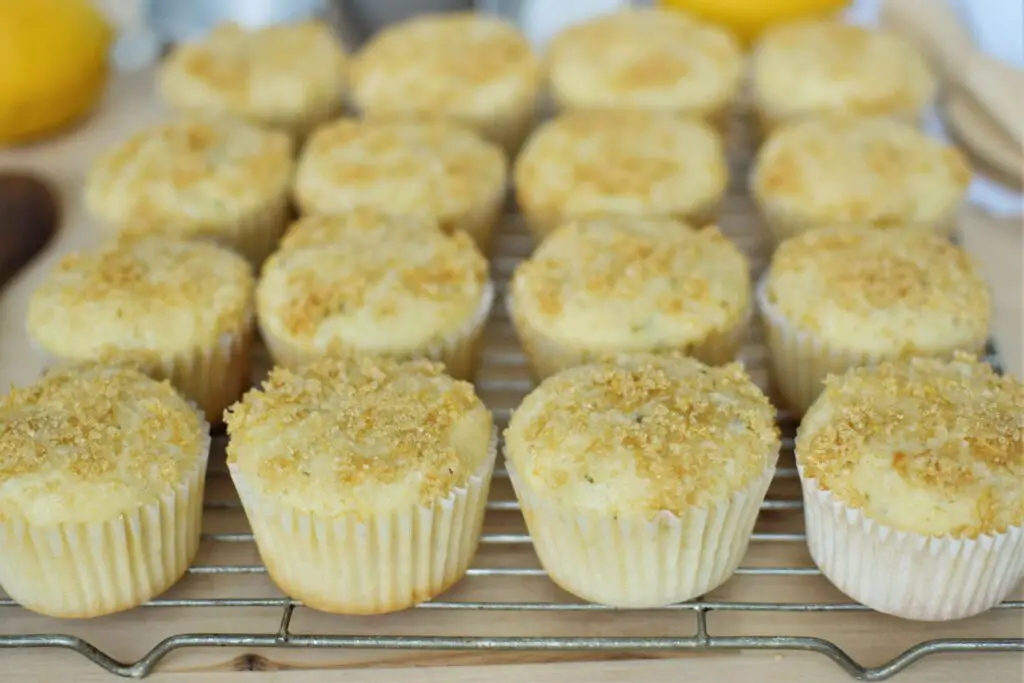 Classic Zucchini Muffin
I love a classic zucchini muffin. I love everything it encompasses: the cinnamon, vanilla, the balanced sweetness, and the tender and moist crumb. You can take the classic and add and subtract flavors and ingredients to suit your flavor preferences on any given day, but underlying those changes, you still have your classic warm spiced zucchini muffin.
Now, if I haven't made it clear, there is NOTHING wrong with the classic zucchini muffin or bread, we are a HUGE fan of this delicious zucchini recipe in our home to utilize our abundant supply of garden zucchini. However, I am also an ardent lover of lemon.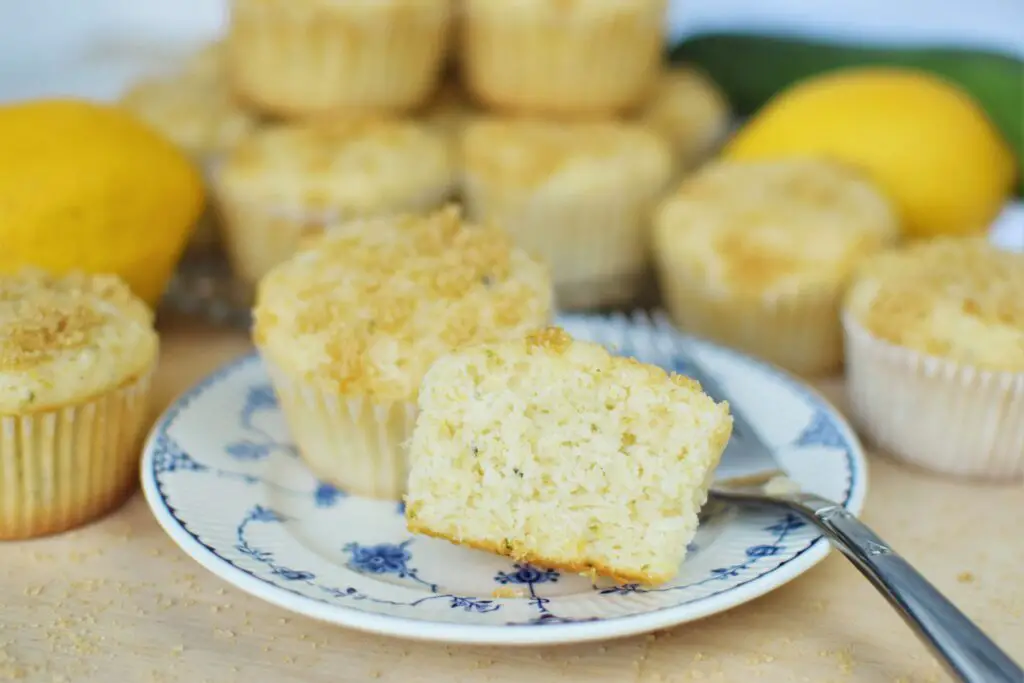 Bake with Lemon
There is just something so inviting about a lemon baked good. The balance of tart versus sweet, when done right, is so satisfyingly delicious. Why I had never ventured with my trusty garden zucchini into the world of lemon quick breads before, I don't know. I do know that I am happy to be here now, with a plate of these delicious Lemon Zucchini Muffins.
I have previously shared my obsession of baking with citrus zest. The flavor you can add to baked goods without compromising the integrity of the baked goods makes this the only way to go. I use lemon zest whisked into the granulated sugar as well as a little lemon juice in the muffins to carry the lemon flavor through the bake. Then these muffins are topped with a generous amount of turbinado sugar whisked with, you betcha, more lemon zest. This sugar topping not only give more zip to the lemon flavor, but also adds a slight crunch to the top of these muffins…  Which makes it hard to stop at just one lemon zucchini muffin.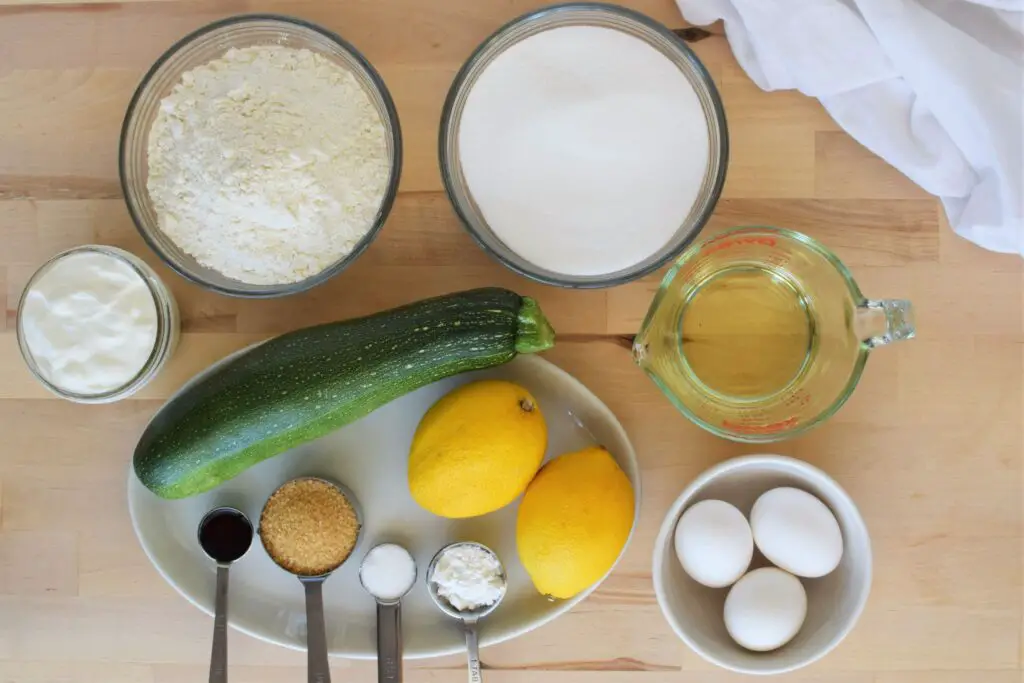 Zucchini tips and tricks for lemon zucchini muffins
I have some recipes that are in line with the "more is better" approach to zucchini. This is not one of them. There is enough zucchini to get that hint of zucchini, but they are predominantly lemon-flavored. The zucchini adds slight textural interest, some moisture, and helps achieve that perfect muffin mouthfeel.
To avoid excessive "string" from the large zucchini shreds in these lemon zucchini muffins, I chose to use the small grater side on my box grater. The fine grate allowed the soft bite of a good lemon muffin and slight zucchini texture – the best of both worlds!
To achieve the moist texture and delicious soft bite of a muffin I use Greek yogurt in the muffins. Since the zucchini isn't responsible for providing all of the moisture in these muffins, we remove most of the moisture before adding the zucchini to the muffin batter. With the zucchini grated fine, the moisture is a lot easier to remove.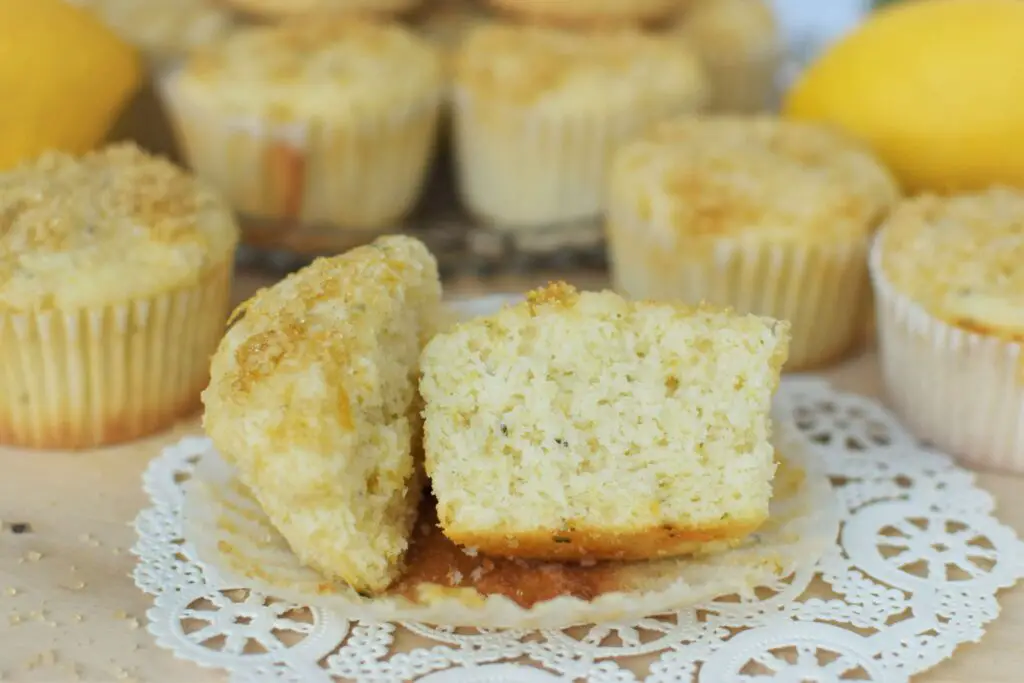 I grate the zucchini, measure it, and then place it in a fine mesh sieve over a bowl. I press the zucchini against the sieve to remove most of the moisture, and then place the drained zucchini in a flour sack towel or a couple paper towels and squeeze out the remaining moisture.
The drained zucchini will now resemble a tight, dry ball of finely shredded zucchini. The key to using this zucchini is to loosen it some and take it apart with your fingers, then add bits at a time to your muffin batter and stir. Make sure there are no lumps of zucchini before you stir in the flour and yogurt, you don't want to overmix the batter when you add the flour mixture – that can lead to a tough muffin, and no one wants that.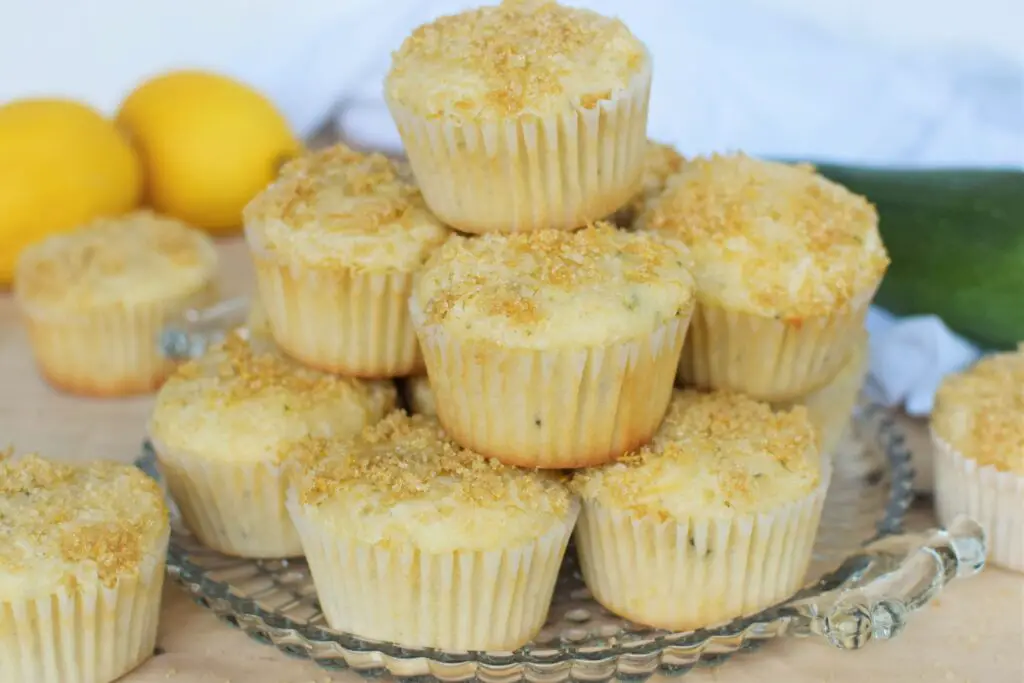 Irresistible Lemon Zucchini Muffins
These Lemon Zucchini Muffins are bound to become a fast favorite and change up your traditional zucchini lineup. Put these muffins in rotation with your favorite zucchini bread (like this one with four cups of zucchini), Chocolate Zucchini Bundt Cake, tasty Zucchini Bread Pancakes (Smitten Kitchen) and delicious Zucchini Brownies (Two Peas & Their Pod). Zucchini and lemon lovers alike will be singing the praises of these flavorful and tender Lemon Zucchini Muffins.
More delicious recipes to enjoy
Raspberry Muffins with Crumb topping
Roasted Butternut Squash Pancakes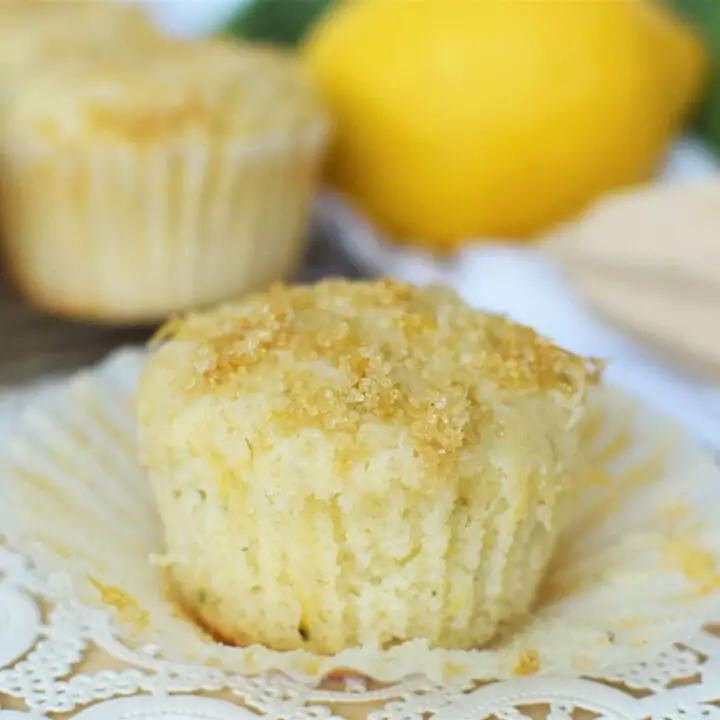 Lemon Zucchini Muffins
Zucchini and lemon lovers alike will be singing the praises of these flavorful and tender Lemon Zucchini Muffins.
Ingredients
3 eggs
1/2 cup vegetable oil*
1 1/2 cups granulated sugar
Zest of 1 lemon
1/4 cup lemon juice
1 tsp vanilla
1 1/2 cup finely shredded zucchini (7.5 oz before squeezing liquid out)
2 1/4 cup all purpose flour (270 g)
2 tsp baking powder
1 tsp salt
1 cup plain Greek yogurt**
Sugar Topping Ingredients
Zest of one lemon
1/4 cup turbinado sugar
Instructions
Preheat oven to 375 degrees Fahrenheit. Line muffin tins with muffin papers and set aside.
Finely grate zucchini with the fine side of a box grater and measure 1 1/2 cups. Squeeze out moisture from zucchini by pressing zucchini in a fine mesh sieve to remove moisture. Squeeze zucchini in a flour sack towel or paper towels to remove most of the remaining moisture.
Zest lemon with zester. In a medium bowl whisk together granulated sugar and lemon zest until fragrant.
In a large mixing bowl beat eggs until lighter in color. Slowly add lemon zest sugar while mixing. Mix until egg and sugar mixture is light in color.
Slowly add oil, lemon juice, and vanilla while mixing.
Gently pull apart zucchini with your fingers and stir drained zucchini into egg and sugar mixture.
In a medium bowl whisk together dry ingredients. Stir Greek yogurt before measuring to make sure it is smooth and not chunky, this will allow it to smoothly mix into muffin batter.
Alternatively stir in Greek yogurt and dry ingredients into egg mixture. Stir until just combined, be careful to not overmix.
Fill prepared muffin tins with muffin batter about 3/4 full.
Whisk together lemon zest of the second lemon and turbinado sugar in a small bowl until flavorful. Sprinkle sugar over the tops of the muffins, using all of it.
Bake muffins for 17-20 minutes depending on muffin size and oven. When muffin tops spring back or when a toothpick inserted into muffin comes out with only a few crumbs, muffins are done.
Remove muffins from muffin tin and allow to fully cool on a tea towel. Store muffins in an airtight container at room temperature for up to 4 days, then refrigerate for up to a week.
Notes
*Any neutral oil such as canola, vegetable, safflower, sunflower, or coconut oil will work.
**I original used full fat Greek yogurt with this recipe, but I have also tried it with low-fat and non-fat Greek yogurt with success. Make sure to stir Greek yogurt until smooth before adding to muffin batter for best results. You could also use sour cream if that is what you have on hand.
Nutrition Information:
Yield:

19
Serving Size:

1
Amount Per Serving:
Calories:

202
Total Fat:

7g
Saturated Fat:

1g
Trans Fat:

0g
Unsaturated Fat:

6g
Cholesterol:

30mg
Sodium:

191mg
Carbohydrates:

32g
Fiber:

1g
Sugar:

20g
Protein:

4g
This information was obtained using an ingredient calculator to provide an idea of nutritional value. To obtain the most accurate numbers for nutrition information of any recipe, you should figure the nutritional information with the ingredients you used in the recipe. Each individual user is responsible for making sure that any nutritional information used is correct.
---
---